Editor's Note: Monthly Ticket is a CNN Travel series that spotlights some of the most fascinating topics in the travel world. In November, we're checking into the world of hotels and resorts.
With most of the world fully open again, we're all more than ready for a big, celebratory, this-pandemic-is-finally-easing-up trip.
From tropical island escapes in the Maldives and Hawaii to glamorous urban getaways in Sydney, Hollywood and Singapore, we're dreaming of – and saving for – these hotel splurges.
Starting rates are in US dollars per night.
The Brando, French Polynesia
If you're after an over-the-top, bucket-list splurge, you can't beat The Brando, Marlon Brando's ultraluxurious private island resort on Tetiaroa, 30 miles north of Tahiti.
The far-flung resort is a favorite of celebrities such as Leonardo DiCaprio, Bradley Cooper and Ellen DeGeneres. Former President Barack Obama also famously escaped to the island to write his memoir there after he left office in 2017. (More recently, Kim Kardashian hosted her lavish 40th birthday party on the island in October 2020.)
It's got just 35 thatched-roof villas, each one decked out with a private infinity pool, outdoor dining area and all the creature comforts you might expect to enjoy at a five-star hotel in London or New York.
But the biggest luxury of all? Your own private stretch of powder-white sand and turquoise ocean, mere steps from your bedroom.
The Brando, Tetiaroa private island, French Polynesia. Rates start at $3,200.
Matakauri Lodge, New Zealand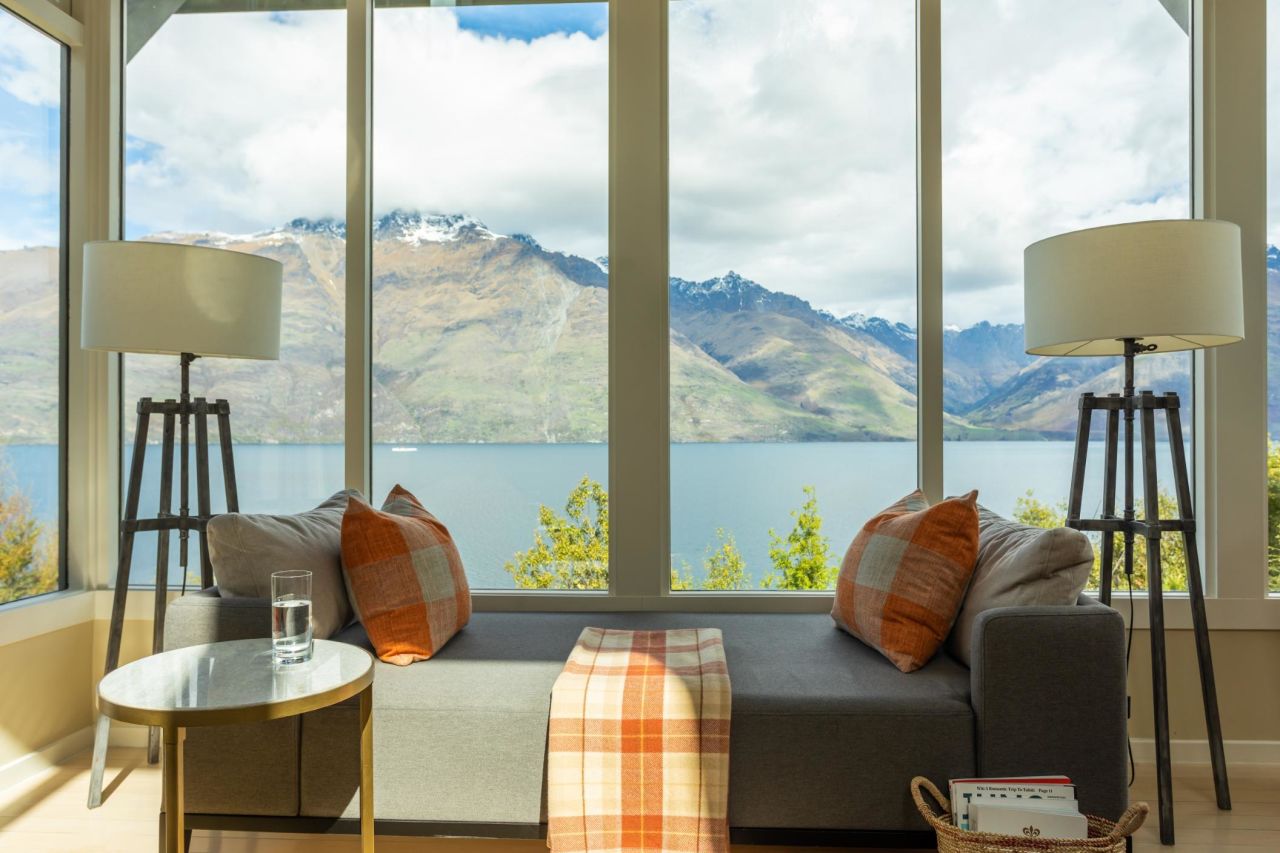 The views alone are worth the splurge here. With mountains rising behind serene Lake Wakatipu, Matakauri Lodge boasts a stunning setting in New Zealand's South Island.
Located just outside Queenstown, the 12-suite, lakeside lodge looks out at Cecil and Walter peaks and the aptly named mountain range The Remarkables.
Excursions include bungy jumping, skydiving, rafting, canyoning and wine tours, but with scenery like this, pandemic-weary travelers might just want to book treatments in the full-service spa with uninterrupted views of the lake and towering 1,978-meter (6,490-foot) Cecil Peak.
Matakauri Lodge, Farrycroft Row, 569 Glenorchy Road, Queenstown, New Zealand. Low-season rates from $1,130 for double occupancy lodge rooms. Gourmet meals leaning heavily on local produce are included.
Sensei Lanai, A Four Seasons Resort, Lanai, Hawaii
This adults-only wellness retreat is the epitome of post-pandemic luxury. For starters, it's located on the Hawaiian island of Lanai, which is so peaceful and secluded it feels like you're on your own private island.
Then there are the plush suites, hidden so discreetly amongst Lanai's jungle-filled, mist-covered mountains you'll barely notice the other guests.
Finally, you get a personalized wellness itinerary crafted by your own Sensei Guide, which sets you up with spa treatments and wellness activities – everything from morning meditation to sound baths – aimed at melting away any lingering stress or anxiety.
Sensei Lanai, 1 Keomoku Highway, Lanai City, Hawaii. Rates start at $1,320 single occupancy / $1,760 double occupancy, including $600 per person in Wellness Experience credits (room-only rates from $880, single or double occupancy).
Hotel Château du Grand-Lucé, France