Editor's Note: CNN Travel's series often carries sponsorship originating from the countries and regions we profile. However, CNN retains full editorial control over all of its reports. Read the policy.

Once upon a time, Hong Kong dim sum sessions were about tea appreciation – that's why dim sum meals are commonly known in Cantonese as yum cha (or "drink tea").
The baskets of delicate dumplings were a foil for the fragrant drink and considered snacks rather than a full meal.
These days, dim sum itself is a main player on the culinary stage.
The diversity and sheer number of Hong Kong dim sum restaurants is stunning.
Noisy Cantonese joints where people eat with such determination there's a slight madness in the air; gilded, hushed dining rooms where waiters anticipate your every move; tranquil oases hidden on a mountaintop … it's all available in Hong Kong.
We've picked our favorite Hong Kong dim sum restaurants to make it easy for the food-in-steam-basket fanatics.
Hong Kong: Insider Travel Guide
How to eat dim sum like a Hong Kong local
Best value: Tim Ho Wan
The secret didn't last long.
When former Lung King Heen chef Mak Kwai-pui (affectionately known as Pui Gor, or "Brother Pui") opened a hole-in-the-wall in Mong Kok, crowds flocked here for top-quality Hong Kong dim sum at rock-bottom prices.
Then came a Michelin star. And the masses descended.
A two-hour wait became a daily phenomenon. And that's considered short.
For purists looking for the original experience, Tim Ho Wan's shoebox-sized Mong Kok store has unfortunately closed down.
The good news is Mak's opened six larger locations around Hong Kong – and many more franchises overseas.
Despite changes, Tim Ho Wan is still worth it, wait and all.
Saying the quality is high and ingredients are fresh is an understatement.
Simply, this is what dim sum is meant to taste like.
The beef balls are firm but tender, with plenty of coriander. The pig liver cheung fun is earthy. The siu mai is packed with fat shrimp and succulent mushrooms. The radish cake actually tastes like the white radish it's made from.
And of course there are the char siu (barbecued pork) baked buns, now widely imitated but never matched.
The Sham Shui Po branch, the second Tim Ho Wan after the Mong Kok store, is still said to house the best chefs.
How to be a Hong Kong local: 10 tips
Best after-hours: San Hing
This is the place to go for a dim sum fix at dawn.
The tables are shared by a mix of elderly folk, celebrities and drinkers on a last stop before home.
Located in Kennedy Town, San Hing technically opens at 3 a.m., though customers arrive earlier to secure seats.
In the small hours the shop is a madhouse, especially on weekends.
Staff frantically churn out a wide selection of dim sum, stacked into giant bamboo towers.
Customers perpetually hover around the food arrival counter, while an unending stream of new customers mill about looking to snatch seats.
Photographs on the wall show Canto-pop star Eason Chan giving props to San Hing's lau sa bao – signature yellow custard "quicksand buns."
Other San Hing specialties include quail's egg siu mai, deep-fried milk and various seasonal dishes often not listed on the menu, such as osmanthus jelly during the summer.
The prices are a bargain, with dim sum dishes ranging from HK$12 to $17 ($1.5-2).
Best for dim sum virgins: Yan Toh Heen
If you're looking for a first and only dim sum experience, there aren't a lot of places that can rival Yan Toh Heen.
It was recently upped from one Michelin star to two.
But local dim sum fans have been worshiping it since the 1980s, before the InterContinental hotel took over the space from The Regent in 2001.
Yan Toh Heen Superior Dumplings is the most popular combo – it includes a dumpling with steamed scallop, black truffles and vegetables, a steamed lobster and bird's nest dumpling and a steamed dumpling with king crab leg and vegetables.
The crispy shrimp with avocado dumplings and mango mayonnaise is fresh and crunchy.
The crispy fried taro net topped with an abalone may be the best deep-fried taro mash in town.
The restaurant also offers a 270-degree Victoria Harbour view.
Food is eaten with exquisite jade tableware.
Best dim sum in style: Mott 32
The dark and spacious loft-style space underneath a bank building in Hong Kong is nothing like a proper dim sum restaurant – even the service is kind and attentive.
But we're sold once the barbecued pork arrives.
Mott 32's char siu uses Iberico pork and is glazed with Yellow Mountain honey. It's perfectly barbecued to give it a mildly charred surface and juicy insides.
The siu mai is made of Kurobuta pork wrapped around a soft-boiled quail's egg.
Sliced garoupa and black truffle are paired in slippery rice rolls.
The xiaolongbao and shrimp dumplings, however, are bland in comparison.
Best VIP treatment: Fook Lam Moon
The first thing we encountered at Fook Lam Moon was a Rolls-Royce Phantom pulling up at the main entrance, dropping off a weary looking man and his two hungry offspring, who bounced noisily to the door of the Hong Kong dim sum restaurant as though they were visiting grandma's house.
It isn't called the "canteen of the wealthy" for nothing.
Even though the place is frequented by the rich and famous, anyone can rock up to Fook Lam Moon and feel like a billionaire.
The service is six-star-hotel-perfect without feeling robotic.
They don't over-service because, you know, celebrities just want to be left alone.
But staff have real charm that they turn on for every customer that walks through the doors – not just wealthy regulars.
Each dim sum gave our taste buds an education.
Har gau (shrimp dumplings) are succulent and juicy, almost to the point of being soupy.
The skins are perfectly translucent.
A signature shrimp cheung fun (rice rolls) has a layer of crisp bean curd sheet to add another dimension of texture to an old standby.
The lau sa bao surpassed our favorites at San Hing.
The bread casing is barely a centimeter thick and the custard filling spills out in an appropriate visual expression of its "quicksand bun" name.
Best "hot, noisy" atmosphere: Lin Heung Kui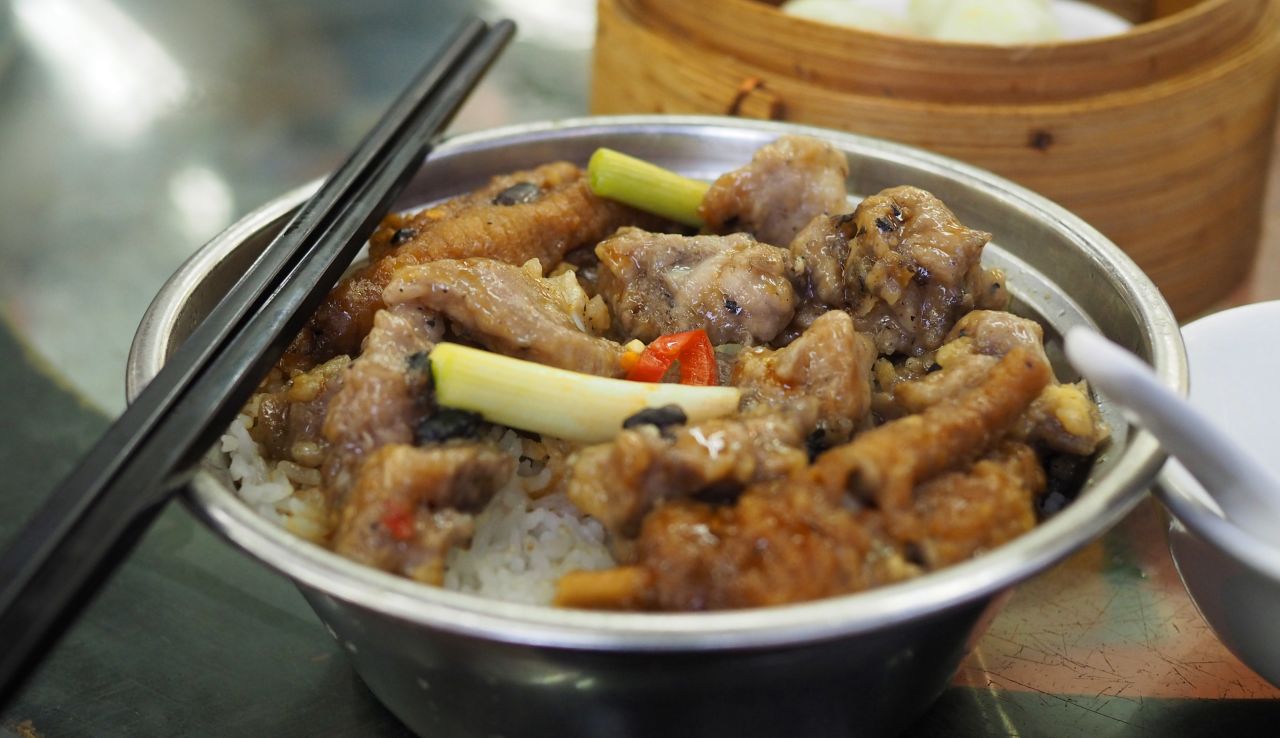 Exported from Guangzhou in the early 20th century, Lin Heung Teahouse in Central has retained a lot of its retro flavor.
But its newer sister store Lin Heung Kui has been gaining momentum among locals since opening in 2009.
Inheriting Lin Heung Teahouse's style and decades-old recipes, Lin Heung Kui produces traditional Cantonese flavors.
Dim sum typical of Lin Heung are siu mai topped with a slab of liver and Chinese sausage rolls – old-fashioned dishes hard to find anywhere else.
The atmosphere is classic Cantonese.
Harried women push traditional dim sum carts through the dining hall.
Diners rush up to the carts to fight over the bamboo baskets of dim sum that can't seem to come out of the kitchen fast enough.
Service is – just – slightly more neighborly and less sour than Lin Heung Teahouse.
However, we find the attitude easy to ignore as we become engulfed in the irrepressibly jovial "hot and noisy" atmosphere (yeet lau) favored by Chinese diners.
Best rural experience: Choi Lung Restaurant
Choi Lung Restaurant is a three-story family-run teahouse partway up Hong Kong's highest peak, Tai Mo Shan.
It's a great place to stop during a hike.
Diners have to prepare their own tea and rest on simple plastic stools.
Despite the humble setup, Choi Lung has been running for more than 40 years, thanks to a group of dedicated fans.
"People would drive all the way here from Sai Wan for a bowl of black bean ribs with rice," waitress Shek Wai Ling told us a few years ago when we first wrote about the place.
We recommend the bean curd sheet wraps filled with chicken, taro and fish maw.
The taro is cooked lightly with a crunchy outer layer, the chicken is tender and the fish maw is juicy.
A vegetable stall outside Choi Lung's front door is well known for selling locally grown produce.
In November, the restaurant serves fresh watercress purchased directly from the farms nearby, which Shek said are "very sweet and rarely found."
It's best to visit Choi Lung on the weekend as some dim sum are not served on weekdays, such as the black sesame rolls.
Choi Lung Restaurant, 2 Chuen Lung Estate, Route Twisk, Tsuen Wan, Hong Kong; +852 2415 5041. To get there, take a taxi from Tsuen Wan station for around HK$60 or take minibus 80 at Chuen Lung Street near Tsuen Wan wet market.
Best vegetarian option: Pure Veggie House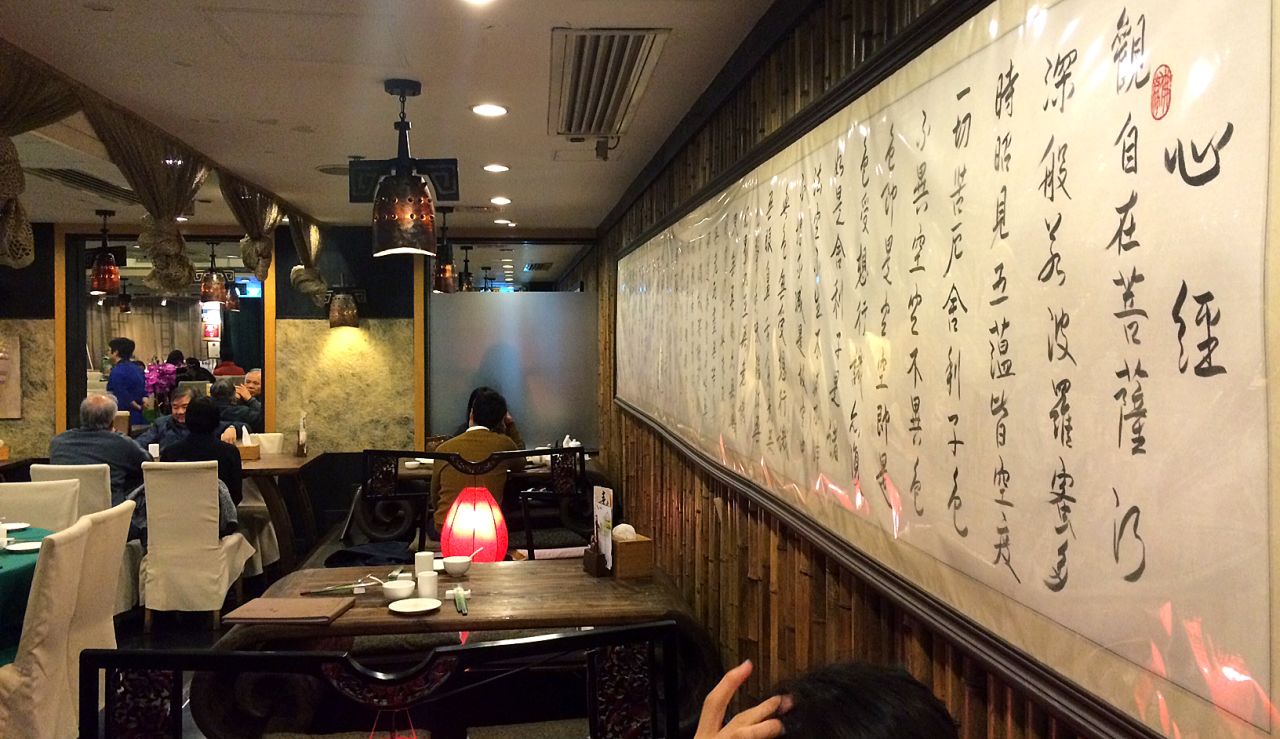 Proving that great vegetarian dim sum isn't an oxymoron, you won't even notice the lack of meat when eating at Pure Veggie House.
Unlike most vegetarian Chinese restaurants, Pure Veggie House doesn't offer imitation meat made with bean curd and mushrooms.
Pure Veggie House prides itself on its lack of artificial coloring and MSG.
The addictive, bite-sized siu mai is our favorite – it consists of sticky rice and spinach.
Mushroom dumplings are pocketed with fragrant truffles.
You can also opt for brown rice instead of the usual white variety to make it extra healthy.
The ownership group also manages an eco-farm, which supplies some of the restaurant's vegetables.
Best sense of community: Lam Kee
There's something about the tile floors, high ceilings and boisterous atmosphere of a wet market food hall that makes a meal even more fun.
Located in the Tai Po Hui Market's food court, Lam Kee is a casual neighborhood Hong Kong dim sum spot with simple, delicious fare.
The portions are small but inexpensive – most cost less than HK$10 (US$1.30), which allows for plenty of experimentation.
Particularly memorable are the bean curd wraps, which contain an assortment of ingredients that work together remarkably well, like baby corn, taro, chicken and spam.
The black bean spareribs are fantastic and so are the tiny har gau.
But the best part of any meal is the company.
At the Tai Po Hui food court, patrons sit in a communal dining area.
Neighbors bump into each other as they head to the food stalls for a break during a grocery run.
If it's early morning, older women fuel up for an afternoon of mahjong by chatting over pots of tea.
Lam Kee, shop 8-9, 2/F, Tai Po Hui Market Cooked Food Centre, Tai Po
Best power lunch: Lung King Heen
As one of Hong Kong's few Michelin three-starred restaurants and a Four Seasons Hotel signature, Lung King Heen enjoys an elevated status.
It's the perfect setting for special occasions: harbor views, central location, crease-free white tablecloths.
This is dim sum as fine dining. The menu is full of classics that have been given novel twists.
Lobster and scallop in a thin wrapper resemble decadent siu mai. Cheung fun is filled with garoupa. Dumplings are stuffed with duck liver.
The hotel atmosphere can't be dismissed.
The service is a little mechanical and halfway through the meal we start craving the controlled chaos of a typical Cantonese restaurant.
But Lung King Heen isn't a typical Cantonese restaurant.
Book ahead.
Best way to get fat: Tai Wing Wah
Sure, we live in a world obsessed with staying slim.
But in Yuen Long, Tai Wing Wah is making a killing from hearty "walled village cuisine" made with lard.
Punti and Hakka villages, settled in Hong Kong during the Ming and Qing dynasties, were protected by high village walls.
The food originating from these walled villages is the focus of Tai Wing Wah's menu.
Hugo "To To" Leung is the culinary brains behind the restaurant and he's adamant about maintaining authenticity.
That means, apart from Hong Kong dim sum classics, such as excellent har gau, or a bright yellow and delicious Malay sponge cake, Tai Wing Wah also serves a rustic white rice mixed with lard and soy sauce that'll leave you wanting more.
If you get a table and order before 11 a.m., most of the dim sum costs HK$12.
Best unpretentiously posh: Lei Garden
It's Michelin-starred and a haunt for celebrity families, but the atmosphere at this Hong Kong dim sum restaurant is relaxed and unpretentious.
Offering superbly executed Cantonese dishes and extremely popular for its dim sum, Lei Garden also stands out for warm service.
It's rumored the wait staff are trained more vigorously and compensated more handsomely than at any other Cantonese restaurant chain in town.
The plain cheung fun are al dente at first bite and perfectly tender inside; the siu mei is moist and meaty, with a nice crisp snap to the skin of the siu yuk and roasted duck.
Lei Garden's har gau are stuffed with fat shrimp and expertly wrapped.
Essentially, it's a procession of Hong Kong dim sum hits, with only a few slight misses, like the underwhelming xiaolongbao.
Lei Garden Restaurant, 121 Sai Yee St., Mong Kok, Hong Kong; multiple locations
Best cinematic backdrop: Luk Yu Teahouse
Central's Luk Yu Teahouse offers old Hong Kong glamor with art deco styling, a retro menu and a rich history.
It's no wonder it regularly appears in movies and literature.
Opened in 1933, Luk Yu Teahouse relocated to its current location in 1976.
The building's colonial facade opens into a three-floor restaurant dripping with nostalgia.
Eating at Luk Yu is like falling through a time warp.
A dim sum meal easily averages more than HK$100 per person per meal.
Some customers are paying for the teahouse's history and ambiance.
Others are long-term patrons who stay all day.
Hard-to-find items harkening back four or five decades make up the menu, such as excellent liver siu mai and deep-fried dumplings in soup.
Service is notoriously bad and wait staff can be intimidating to non-regulars.
So much so that customer neglect has become a signature of the restaurant.
Dim sum dining tips
First-time dim sum sessions can be intimidating, especially in a "yeet lau" Cantonese diner like Lin Heung Kui.
Servers don't necessarily speak English and it's often loud and chaotic.
Here are some tips and useful hand signals you can use to yum cha like a pro.
1. Be squeaky clean
The beginning of every dim sum session is when you embrace your inner clean freak.
Once diners are seated, they roll up their sleeves and start rinsing utensils at the table.
First, pour some hot tea (it's the best grease remover) into the big bowl provided, dip your cup into it sideways and spin it.
Then, scoop some tea with your washed cup and pour it over the chopsticks.
Empty all the tea into the larger collecting bowl.
2. How to order
There are three main types of dim sum restaurants.
At the traditional ones, dim sum is rolled around on carts. Diners just have to watch for the right cart and grab their desired dim sum.
However, nowadays most teahouses provide dim sum ordering forms.
Check off the types of dim sum and write in the number of baskets you want.
Circle your orders to make sure they don't get lost in the long list of choices.
Then hoist it in the air to show you're ready.
In more upscale restaurants, waiters take orders off regular menus.
3. Master your chopstick skills
What should you do when there are just three pieces of lau sa bao between the six of you?
Apart from ordering another basket of dim sum, a Cantonese person will tell you sharing is the right way to go – it allows you to save stomach space to sample more dishes.
Tear a bun with your fingers – forget about the cleanliness we just mentioned.
You can split smaller dim sum by crossing your chopsticks.
4. Tap two fingers for "thank you"
In most high-end teahouses, waiters will refill your teacup with hot tea before it's empty.
In other situations, the youngest person at the table is often entrusted with the task.
You don't lift a hot teapot without pouring tea for others as well – and always pour for others first.
When being served, you just have to tap your index finger and your middle finger in front of your cup to show gratitude.
5. Empty pot?
By lifting the lid of a teapot and hanging it on the handle, or simply on the table, you send a signal that you need a hot water refill.
6. "Maai daan!"
To get the bill, raise your hand with your index finger pointing downward, then twirl it like you're drawing a circle in the air.
Or simply shout "maai daan" (in Cantonese it literally means "closing the bill").
Most importantly, don't be shy and say "Mm goi" (thanks) whenever you can.
This article was originally published in April 2016.
Video by CNN's Jane Sit, Albert Chan and Sarah-Grace Mankarious.