Beer aficionados the world over flock to Belgium for its internationally renowned brews.
The tiny country of less than 12,000 square miles has more than 800 years of experience – monks first began brewing behind abbey walls back in the 12th century.
This ancient tradition of Trappist beer still lives on today alongside centuries-old family breweries scattered across Belgium.
Belgian breweries' time-honored methods produce outstanding beer, but they're not always equipped to welcome curious visitors. In fact, most abbeys prohibit guests from entering altogether.
But these seven breweries are more than ready to welcome you on your next trip.
1. Cantillon, Anderlecht
This family brewery in Anderlecht has been in operation since 1900 and is famous for its lambic beer made with wild yeast strains and native bacteria.
Visitors can drop in anytime between 10 a.m. and 4 p.m. and do a 45-minute self-guided tour with a tasting for seven euros ($8) per person.
You might even catch them brewing using the same 100-year-old equipment. Some of the favorites are beers flavored with fruit such as raspberries, peaches or strawberries, or the traditional gueuze, a blend of lambic beers of different ages combined for a secondary fermentation in the bottle.
Belgian beer & Belgian food: Tram route 81 delivers passengers across the canal to Friture René, another neighborhood stalwart in operation since 1932. It serves Belgian classics like mussels and fries and Flemish meatballs to diners seated at tables draped in red-and-white tablecloths. Of course, Cantillon beer is on the menu, too.
Cantillon Brewery, Rue Gheude 56, 1070 Brussels; +32 25 20 28 91
Friture René, Place de la Résistance 14-15, Brussels; +32 2 523 28 76
2. De Halve Maan, Bruges
Medieval Bruges is a jewel of a town near the Belgian coast with a thirst-quenching brewery visit for the avid beer lover.
The De Halve Maan brewery offers a stair-heavy, 45-minute tour (available at 11 a.m .and 4 p.m. daily for nine euros – $10 – per person) rewarded at the end with a tasting of their Brugse Zot Blond, a golden ale with subtle flavors of fruit and spice.
True beer enthusiasts might want to splurge on the XL tour with a guide who leads you through a tasting of three different specialty beers in the cellars of the brewery. Reservations are encouraged.
Beer in a pipe: The brewery is home to the world's first beer pipeline. The two-mile pipe opened last year and connects the brewery to a bottling plant in the suburbs, cutting down on the use of trucks rumbling through the city's historic center.
De Halve Maan, Walplein 26, 8000 Bruges; +32 50 44 42 22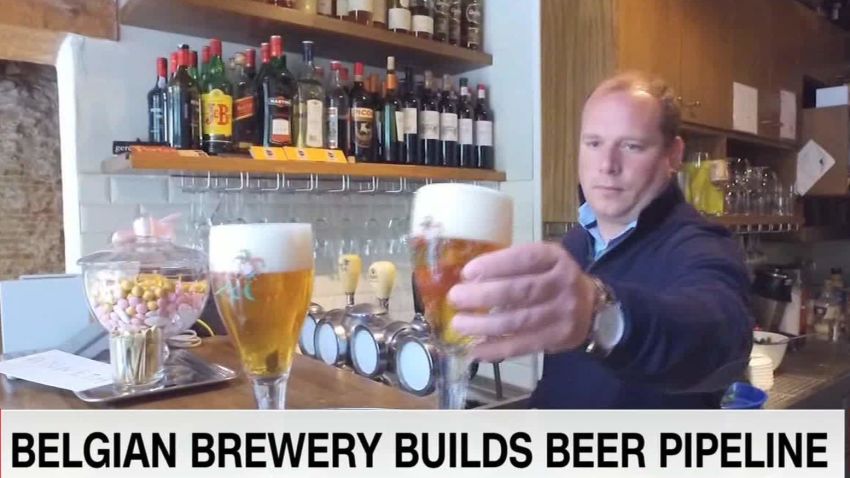 Belgian brewery builds beer pipeline
3. De Koninck, Antwerp
This might be one of Belgium's most accessible brewery tours, open between 10 a.m. and 4.30 p.m. daily except Monday.
Although this amber-colored ale has been brewed at Antwerp City Brewery since 1883, the brewery tour got a 21st-century upgrade after the brand was purchased by the Duvel Moortgat company in 2010.
The self-guided program (12 euros – $14 – per person, 75-90 minutes) walks visitors through 10 different rooms equipped with video and other interactive displays which explain the history of the brewery, its beers, and the importance of the bolleke (De Koninck's famous goblet-shaped glass).
The tour ends with a beer tasting, while the full portfolio of Duvel Moortgat's beers, including the golden Triple d'Anvers, is available at the on-site cash bar.
Beer, chocolates and cheese: The brewery also houses top-notch food shops where you can try handmade chocolates at Jitsk, Belgian cheeses at Van Tricht, and cured sausages at De Laet & Van Haver butchers.
De Koninck, Mechelsesteenweg 291, 2018 Antwerp; +32 38 66 96 90
MORE: The world's best beer-brewing countries
4. Duvel, Puurs
Between Antwerp and Brussels lies the rural town of Puurs on the River Scheldt, home to the Duvel Moortgat brewery.
The guided tour (nine euros per person, 2-2.5 hours) includes an introductory film, a walk through the brewery and bottling plant (except on Saturdays), and a lesson in correctly pouring this iconic Belgian ale into its corresponding tulip-shaped glass.
Founded by Jan-Leonard Moortgat in 1871, the recipe for Duvel was inspired by English ales using a yeast strain procured from a Scottish brewery. It's still used in every bottle of Duvel today.
Visitors are welcome Mondays through Thursdays at 1 p.m., 4 p.m., and 7 p.m., Fridays at 1 p.m. and 4 p.m., and Saturdays at 11 a.m. and 2 p.m.
What's in a name?: Duvel was originally called Victory Ale when it was released soon after World War I. The name was only changed after a local shoemaker stated during a tasting session: "This is a real devil" ("duvel" means devil in the local dialect). The beer was then renamed in 1923.
Duvel, Breendonk-Dorp 58, 2870 Puurs; +32 3 860 94 00
5. Het Anker, Mechelen
One of the oldest breweries in Belgium has operated inside an old beguinage (a sort of convent) in the historic city of Mechelen since 1471. The Van Breedam family then purchased it in 1872. They're still running it today, producing beers like Gouden Carolus Classic dark ale and Lucifer, a strong and bitter blonde.
The visit takes less than two hours, including a tasting, and ends on the rooftop with an unparalleled view of Mechelen's famous St. Rumbold's Tower.
Soak up (or sleep off) the beer buzz: A good sponge for all that beer is a plate of stoofvlees (Flemish beef stew) and other Belgian dishes at Het Anker's brasserie. The brewery also has an on-site hotel.
Het Anker, Guido Gezellelaan 49, 2800 Mechelen; +32 15 28 71 41
6. St. Bernardus, Watou
This brewery in the remote village of Watou on the border with France has been making dark and blonde abbey ales since 1946. It was thoroughly renovated in 2009, adding a tasting room and a hopfield right next to the brewery.
The 90-minute tour (12.50 euros per person) includes a film and visit to the brewery, brewhouse and bottling plant. Then there's a beer tasting in the café, with guests receiving a gift pack containing beers like their Tripel, Pater 6, Prior 8, Abt 12, and a distinctive balloon-shaped Belgian beer glass. Individual visitors should reserve a place in advance.
Bonus beer: This brewery visit is easily combined with a stop at Saint-Sixtus Abbey of Westvleteren, home of the famous Trappist beer of the same name. Call to make a reservation in advance before visiting the abbey shop to purchase beer.
St. Bernardus, Trappistenweg 23, 8978 Watou; +32 57 38 80 21
7. St. Feuillien, Le Roeulx
In the Wallonian town of Le Roeulx, this 144-year-old brewery hosts visitors without reservation every Saturday at 2 p.m. or on Sunday at 10:30 a.m. Admission is seven euros.
Founded in 1873 by Stéphanie Friart, it's been operated by the same family ever since, save for a short hiatus in the 1990s. The fifth generation of this family is still turning out abbey-style beers like a brown ale, a tripel and a farmhouse ale called Saison.
Barges and beers: This tiny town near the French border has one other claim to fame – the 335-foot-high funicular boatlift of Strépy-Thieu along the Canal du Centre is a UNESCO World Heritage Site. Experience crossing this feat of engineering by barge.
St. Feuillien Brewery, Rue d'Houdeng 20, 7070 Le Roeulx; +32 64 31 18 18