Story highlights
Leave the contaminated nut dish alone, these are the bar freebies you want
Free truffle arancini, anyone? New York's Dovetail serves this dainty snack on a wooden cheese board
Milwaukee's AJ Bomber's "P-nut delivery system" shoots legumes around the bar via overhead zip line
Stale nuts and pretzels are standard fare in most bars.
But some establishments across the USA aren't only taking their countertop cuisine to new levels – bomboloni, gougères, croque monsieur – they've decided to give it to patrons on the house.
Gratis bar food may be a dying tradition in some quarters, but we found a number of joints that don't care about cost or mess, opting to dry your whistle before they wet it.
Be sure to check these destinations out:
1. Crunch-fried hominy
Yardbird Southern Table & Bar, Miami
While fried chicken is the star at this James Beard-recognized Southern indulgery, the crunch-fried hominy is the snack that keeps drinkers sated, free of charge.
Chef Jeff McInnis provides a menu packed with other cuisine beloved by ladies and gents who are more than picky when it comes to Southern food.
1600 Lenox Ave.; 305-538-5220; www.runchickenrun.com
2. Gougères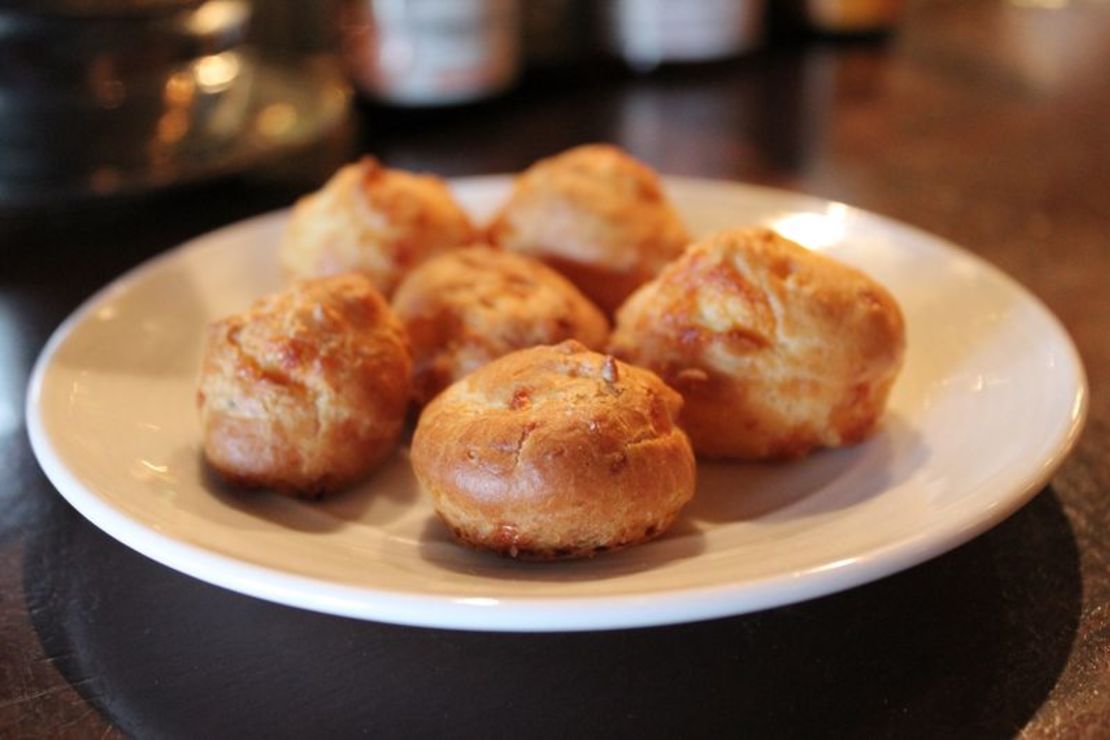 No. 9 Park, Boston
If you haven't tried a gougère, yet – a baked savory choux pastry of dough and cheese – it's time you started.
You can test your taste buds for free at No. 9 Park in Boston They're so good you'd gladly pay for them – except you don't have to.
9 Park St.; 617-742-9991; www.no9park.com
3. Mussels
Cucina di Pesce, New York
Free nuts and popcorn tell you you're in a dive bar, but free mussels? That's classy.
Cucina di Pesce has been serving them up with the purchase of a beverage for more than 20 years, and with restaurants suspending their free-food deals left and right, those mussels taste all the sweeter. (Well, saltier. You know what we mean.)
87 E. Fourth St.; 212-260-6800; www.cucinadipesce.com
4. Truffle arancini
Dovetail, New York
Guests at Dovetail's bar are served a complimentary snack trio consisting of a truffle arancini, a whole wheat rosemary cracker and house-made white cheddar cornbread. Dainty and delicious, it's served on a wooden cheese board from chef John Fraser.
103 West 77th St.; 212-362-3800; www.dovetailnyc.com
5. Peanut Bomb
AJ Bombers, Milwaukee
Any bar can serve free peanuts, but only one has set up a "P-nut delivery system," which shoots legumes to various sections of the bar via overhead zip line. It's possible to situate your open mouth under the P-nut Bomb bay doors, though it's not recommended.
And the shells? Just throw 'em on the floor – it's what everyone else does.
1247 N. Water St.; 414-221-9999; www.ajbombers.com
6. Hot pretzels
OAK at Fourteenth, Boulder, Colorado
Copious amounts of butter and fried goodness are promised at this New American spot, where bursting flavors are the culinary norm.