Editor's Note: This CNN Travel series is, or was, sponsored by the country it highlights. CNN retains full editorial control over subject matter, reporting and frequency of the articles and videos within the sponsorship, in compliance with our policy.
Turkey's Aegean coast is summer personified. Inhabited by a mostly Greek community under the Ottoman Empire before the creation of the Turkish republic in 1923, the historic towns and villages are gaining new life, attracting a new surge of visitors and defining a modern Aegean culture. Dishes are prepared with the region's sun-drenched herbs and produce, olive oil from its many groves and seafood straight from the Aegean. Wines from local vineyards are uncorked and cocktails are reimagined with local ingredients.
Alongside classic beach towns like Bodrum and Alaçatı, two of the coast's loveliest spots are the little-known seaside town of Ayvalık and the nearby island of Cunda. The pair sit a little under 100 miles north of Izmir, across the water from the Greek island of Lesbos.
Ottoman architecture and Greek churches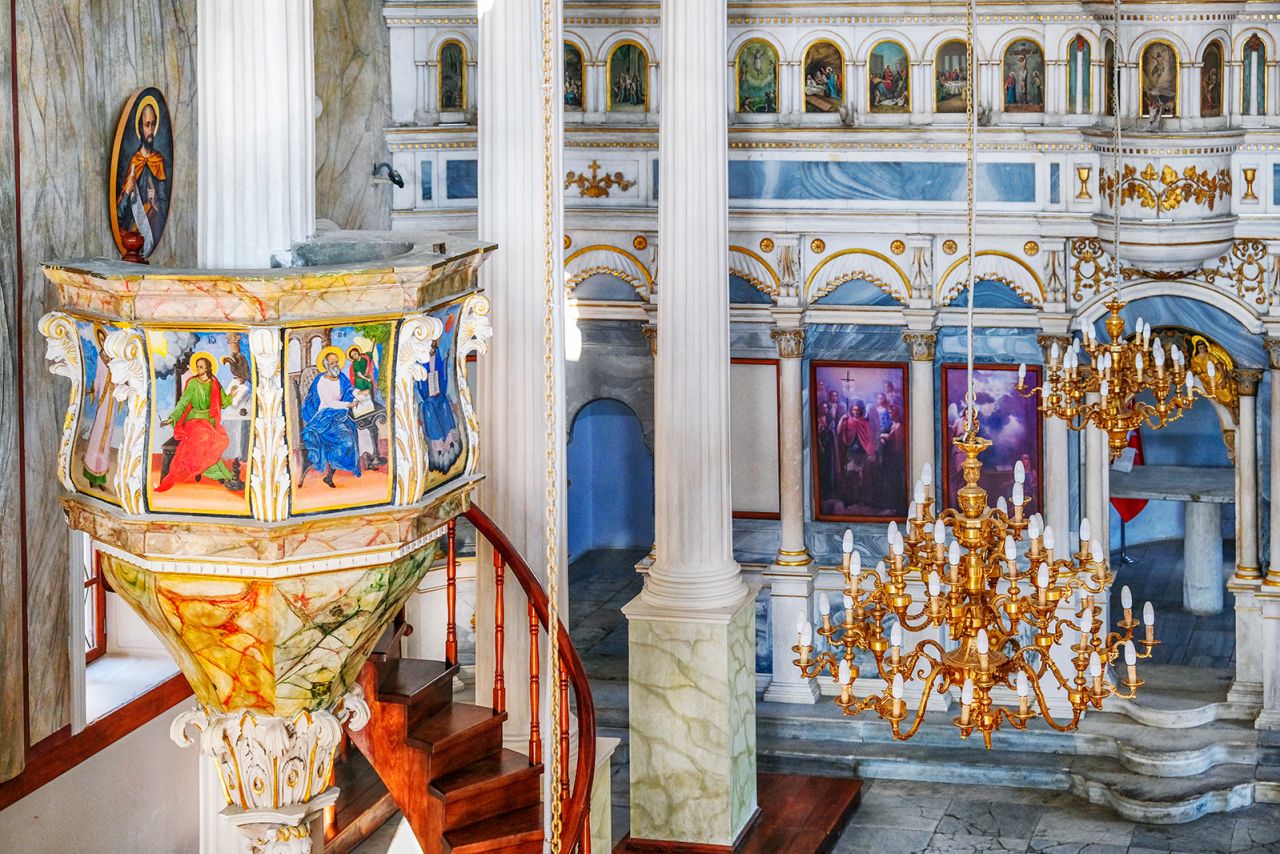 Once the center of olive oil production during the Ottoman era, the chimneys of Ayvalık's old factories can still be seen while exploring the winding cobblestone alleys that lead past historic churches and old stone houses with colorful window shutters.
The architecture reflects its history, with Greek and Ottoman buildings side by side. Standouts include the Çınarlı Mosque, formerly the Greek Orthodox church of Ayios Yorgis, built in 1790 with its ionic columns and cinquefoil windows. The Taksiyarhis Memorial Museum, meanwhile, isn't a museum as such – it's a Greek Orthodox cathedral, built in 1844. Used as a warehouse in the 20th century and then abandoned, it's been restored to its former glory, complete with decorated marble columns and frescoed vaults.
Shopping with artisans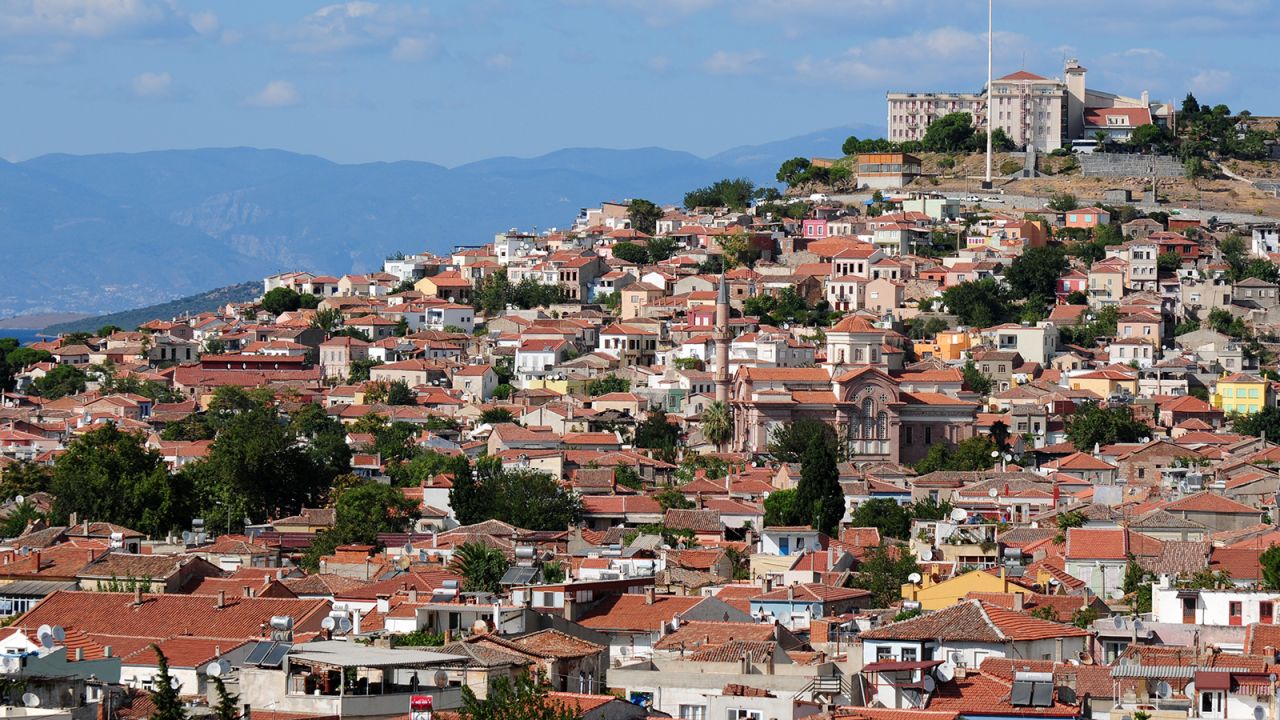 The old houses of Ayvalık offer an attractive space for ateliers and artisan workshops, so shopping in the center revolves mostly around handmade goods, whether wood, ceramic or textile.
Near the Taksiyarhis Memorial Museum, in a beautifully renovated historic house with large arched windows, is Moyy Atölye. Owner Özlem Erol works with local female artisans who produce organic clothes from feretiko, a traditional hand-woven hemp cloth from Turkey's Black Sea region.
Near the waterfront, the porcelain studio of Santimetre sits in a renovated neoclassical townhouse. Designer Tulya Madra, who's also worked in New York, is known for her hand-cast, glazed dinnerware in colors ranging from Aegean blues to soft pinks, greens and sunny yellows.
Modern Aegean eats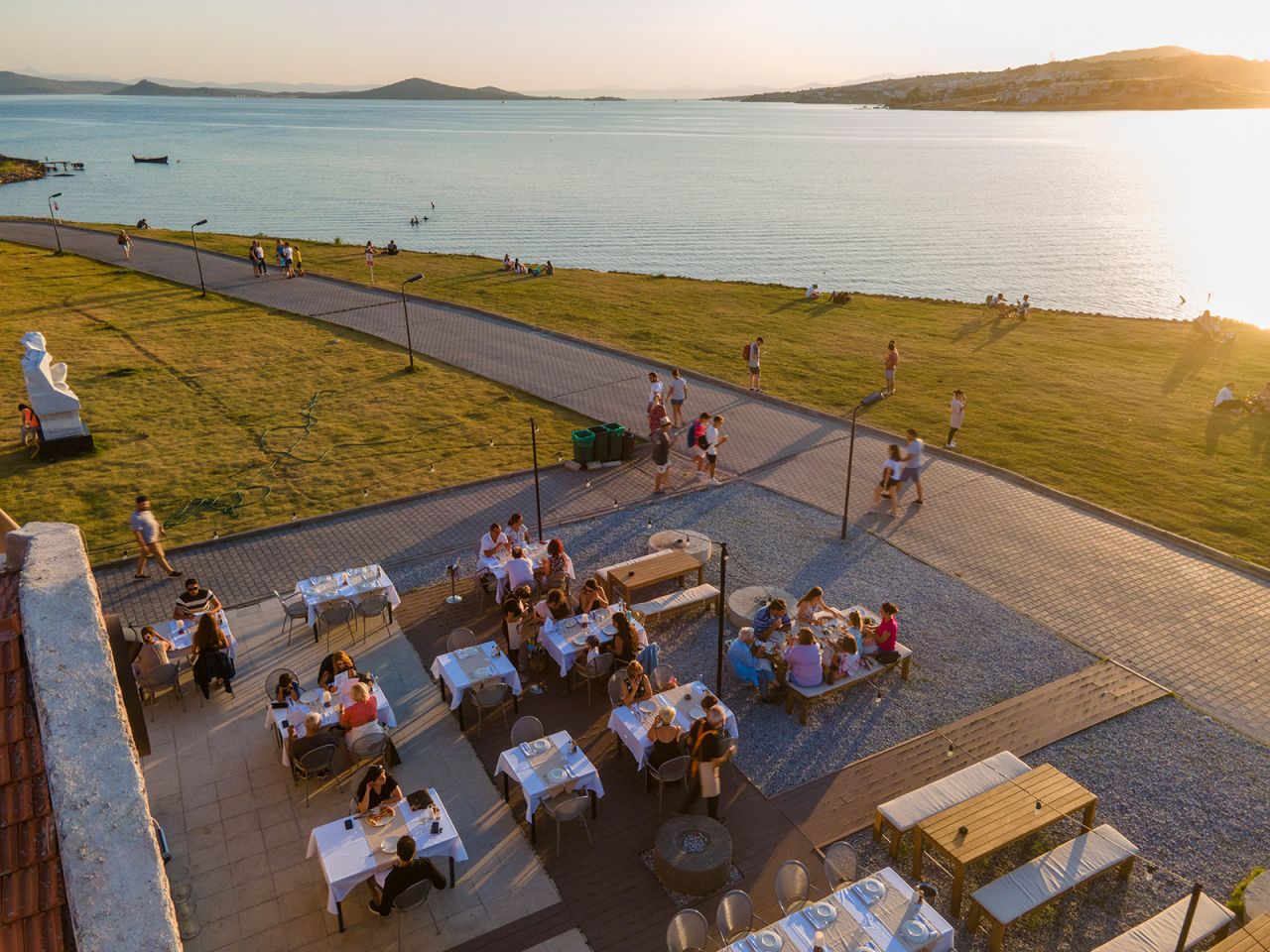 Near the sea and surrounded by verdant olive groves and orchards, Ayvalık's gastronomy is downright Aegean, with dishes centered round fresh and local ingredients. Inside a renovated old house with baby-blue window frames, Sofia Ayvalık serves modern Aegean dishes including pilaf with coriander and artichoke, stuffed dried tomatoes with sour cherries, and celery soup with sage and rosemary. It's all accompanied by local wines, and tables are set up in the alley outside as well as upstairs overlooking the sea.
Located right by the sea inside a repurposed olive oil factory, Cleto's is one of Ayvalık's most popular restaurants. Founded by chef Anacleto Salciccia and his wife Funda Kocadağ Salciccia, the upscale restaurant serves classic Italian food, from seabass carpaccio with lemon mayonnaise to linguine with squid ink and prawns.
For a truly Aegean dining experience inside an olive grove, Karina Ayvalık is worth the 10-minute drive south to the village of Küçükköy. Run by couple Özge and Sinan Sabuncu, the menu doubles as their declaration of love for fresh, local ingredients from the Aegean – think seafood pasta or grilled calamari, paired with carefully selected wines from the region.
Olive oil is still central to the area's identity. Also in Küçükköy, Kürşat Ayvalık – the region's most respected olive oil producer – recently renovated their mill, adding an additional building to house a museum, shop and restaurant. A family-run business with roots in Crete, siblings Zeynep and Ali Kürşat continue their grandparents' trade, harvesting olives by hand so as not to bruise the fruit.
At their restaurant, Ayna – 15 minutes northwest of Ayvalık, on the nearby island of Cunda – you can taste simple Aegean dishes, from seabass ceviche with capers and orange zest to rolled phyllo dough with local cheese, oregano and wild honey.
'I feel history as I walk'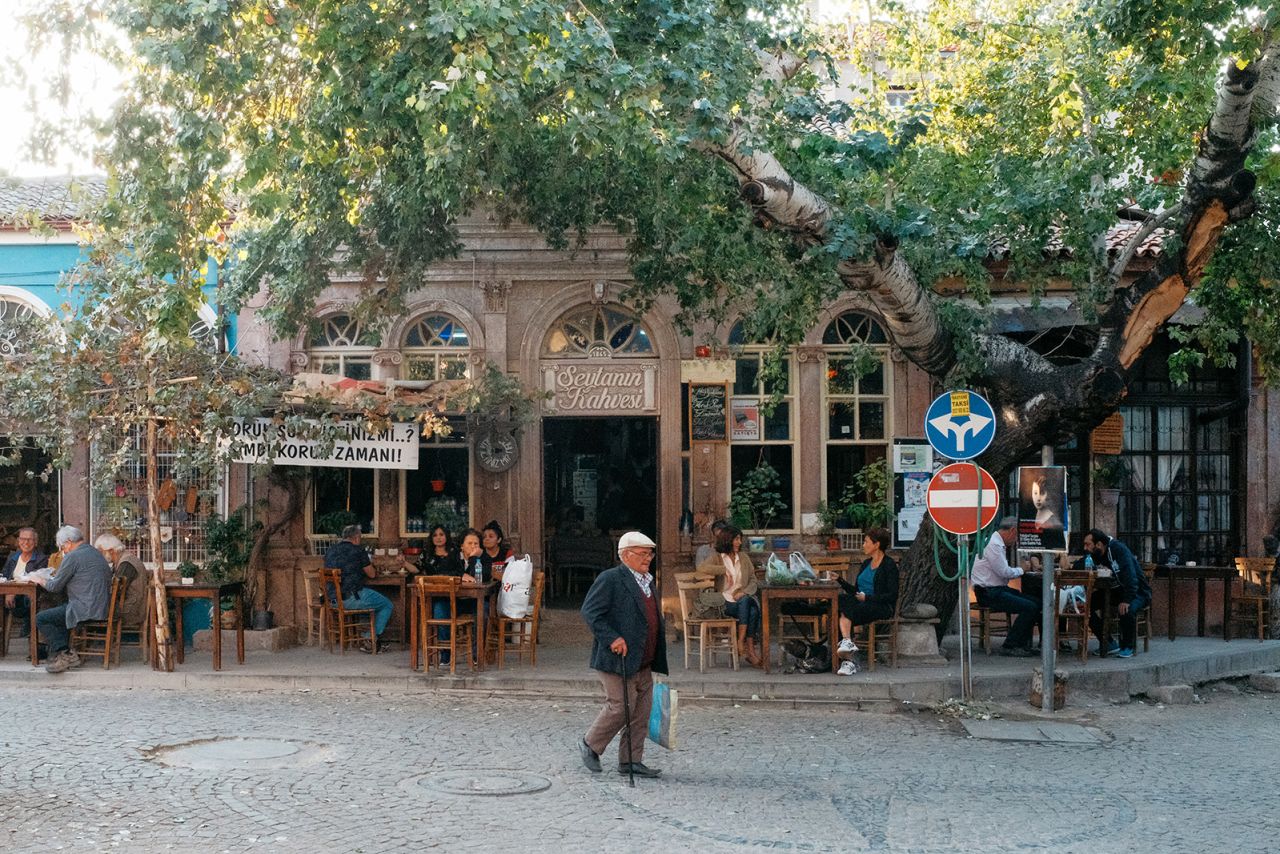 Istanbul-based photographer and paper sculpture artist Deniz Yılmaz Akman has spent the last 20 summers at her family home in Ayvalık, capturing the town's locals and its many hidden corners with her lens. The historic houses on 13 Nisan Caddesi (April 13th Street) are one of her favorite photo-friendly spots.
"Ayvalık is a summer getaway that also has the feel of a city," she says. "I can breathe in the Aegean air and feel history as I walk through the old streets with their historic houses. It's a place where I can while away [the hours] at a historic café or browse antique shops but then also taste modern Aegean flavors at a trendy restaurant and sip cocktails at a cool bar."
"I would recommend that visitors catch a classical music concert at the Ayvalık International Music Academy; try the famous local black mulberry and sour grape juices at Camlı Kahve; try muhallebi [milk pudding] with mastic at Macaron Muhallebicisi, and mastic cookies and ice cream at İmren Pastanesi."
She also recommends the famous Ayvalık toast (with melted cheese, Turkish fermented sausage and pickles) at cafe Şeytanın Kahvesi, and the fried cuttle fish and mezze at restaurant Hüsnü Babanın Yeri.
Island life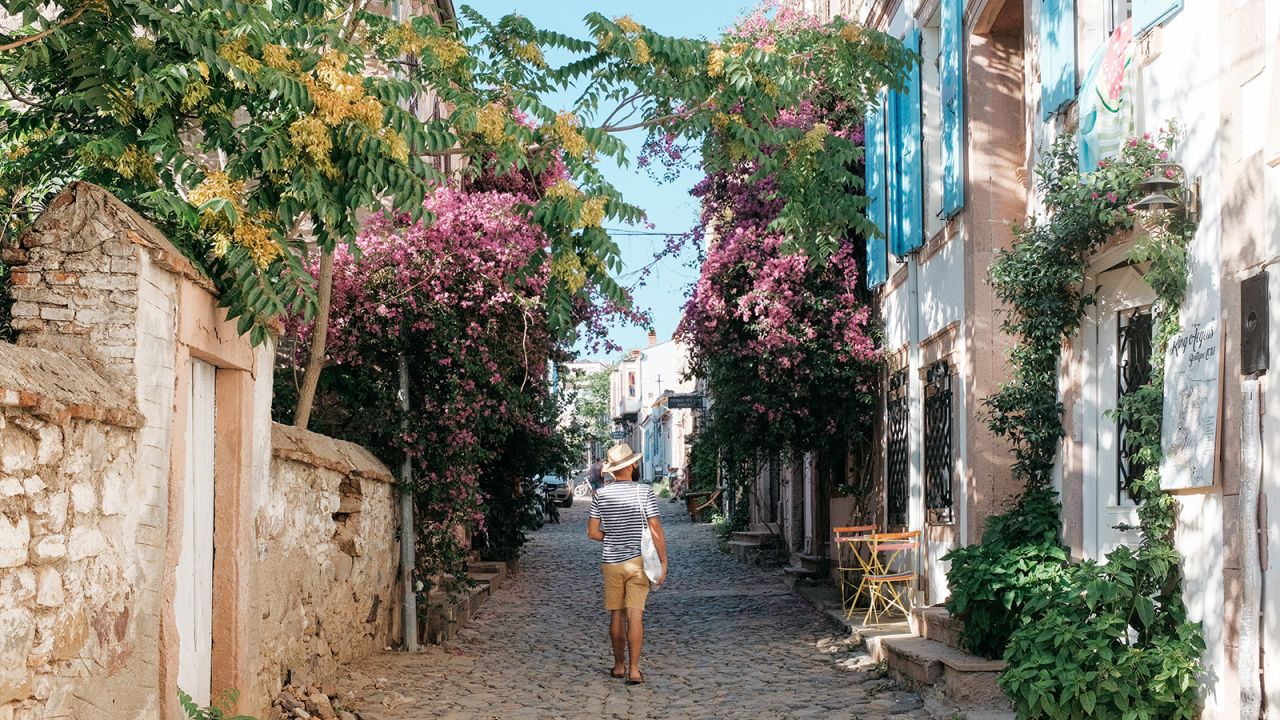 Connected to Ayvalık via a causeway, Cunda is a popular summer getaway for Turks, who spend their days exploring the small island on foot and their nights at the restaurants and bars around crowded Hayat Caddesi near the seaside. Some of the favorites here include modern Italian restaurant L'arancia, with its Sicilian-inspired décor, and third wave coffee shop Nona, which does a mean cappuccino and lemon cheesecake. In the evening, cocktail bars such as Orman and Çeşni are filled with young people sipping craft cocktails made from the best of local ingredients like elderflower, satsuma and linden.
Cups of freshly roasted Turkish coffee are served inside Taş Kahve, a historic café, while the smell of fresh bread and pastries wafts through the street where Cumhuriyet Fırını has been baking since the 1990s.
Off the main drag, Cunda is more serene. Pomegranate trees hang heavy with fruit in gardens in the labyrinthine alleys that lead uphill and away from the shore. Residents sweep the fallen leaves off their front steps as stray dogs nap beneath flowering vines.
Getting lost on Cunda leads to discoveries – like the Cunda Taksiyarhis Rahmi M. Koç Museum inside a renovated Greek Orthodox church with a collection of antique cars, motorcycles and toys. It's another rescued structure that was once in a state of disrepair but which, repurposed, is now full of life.
And so to bed
So where to stay? Ayvalık's most unique vacation rentals were created by the architect couple Erdoğan Altındiş and Gabriele Kern-Altındiş who run Manzara, a collection of design-forward homes in both Istanbul and Ayvalık. The properties here consist of five carefully restored stone houses with secluded gardens, sea views and modern interiors, while preserving preserved historic architectural details. Otherwise, on the town's seafront is Villa Pietra Hotel, with its restaurant cantilevered over the water.
The Küçükköy Otel, in the village of the same name, has pretty rooms with exposed brick walls and a peaceful small pool.
And on a quiet side street in Cunda, in a renovated stone house, is Engin Reis. One of the island's most tasteful hotels, it has a coastal aesthetic, clad in white linens and wicker furniture.
Feride Yalav-Heckeroth is a freelance writer based between Istanbul and Lake Constance and the author of her own guidebook, "The 500 Hidden Secrets of Istanbul." Her writing has been published in Kinfolk, Brownbook, The Travel Almanac, Wallpaper* and Travel + Leisure.