It's a fact of life for travelers. Airports can make the journey a stressful and frustrating experience.
Yet airports throughout Asia are making the once-dreaded terminal a destination in its own right thanks to cutting edge technologies and carefully crafted, ultra-modern spaces.
It's no surprise, then, that Asia based airports dominated the 2018 Skytrax World Airport Awards.
So what separates them from the global pack?
Aviation writer Harriet Baskas, founder of StuckAtTheAirport.com, points to the bonus amenities that make both travelers and the non-traveling public look forward to a day at the airport.
"Asian airports – especially Singapore's Changi Airport and South Korea's Incheon Airport – have perfected the art of creating airport terminals that are destinations unto themselves with art, culture, food, entertainment, restful spaces, green spaces and, of course, plenty of shopping," she says.
Technology takes over in Seoul
Passengers arriving at Seoul's Incheon airport (number two on this year's best airports list) for the Pyeongchang 2018 Olympic Winter Games in February were among the first to try out the airport's state-of-the-art new Terminal 2, opened only weeks before.
As well as adding much-needed capacity to the country's main international gateway, developers designed the building around passenger needs by focusing on technology.
The centerpiece of the terminal is the Great Hall, which covers four stories. Decorated heavily in granite and wood, it features artworks by local artists.
But the fun starts when you notice the fleet of robots on hand to help passengers navigate the airport.
Forget finding an information desk or complicated terminal map.
These friendly helpers will scan your boarding pass and escort you to your gate, conversing with you in any of four languages – Korean, English, Mandarin and Japanese.
When not directly interacting with passengers, the robots helpfully wander around flashing final boarding calls.
Robots at Incheon are not only there to help guide passengers, however. There's also a model tasked with making sure the new terminal is kept clean and tidy, remembering where the dirtiest places are and efficiently working its way around like a giant Roomba.
"I was also impressed to find live music, centers where people could learn about and try out traditional arts. and fun play areas for both kids and adults," says Baskas.
The best airport in the world
World's best airports for 2018 named in Skytrax awards
When it comes to building a unique and world-leading passenger experience, Singapore's Changi Airport surely sets the benchmark.
In March, it was voted the world's best airport for an impressive sixth year running by Skytrax.
According to the airport's CEO, Lee Seow Hiang, the award "spurs us to continue to deliver the best passenger experience for all who travel through Changi Airport."
So what sets it apart from every other crowded hub airport?
The stand-out feature is the number of leisure facilities on offer. The four terminals are crammed full of retail, dining and entertaining options for both arriving and departing passengers.
Terminal 3, Baskas explains, "has its famous multi-story slide, a butterfly garden and several other themed garden spaces", while passengers waiting for a flight can visit the cinema. The world's tallest airport slide is of course loved by kids.
Over in the departure hall of Terminal 2, the Enchanted Garden is a sensory experience of twinkling lights, meandering paths and motion-activated sounds of nature as travelers pass giant flower sculptures.
If all that sounds a little too overwhelming, the terminal's orchid and sunflower gardens offer a much more tranquil experience before take off.
Terminal 4, which opened in 2017, offers the latest in automated technology.
Passengers can check in at a kiosk and print their luggage tags electronically thanks to a facial recognition system that bypasses the need for manual identity checks.
Moving through the departure gate is a centralized experience, with an automated two-in-one approach (boarding card and passport check in one go). At the final security check, passengers don't need to remove electronic equipment from their bags thanks to the use of CT scanners.
The final boarding is also serviced by automated gates equipped with a facial recognition system.
So what's next? In 2019 Changi is to open its flagship "Jewel" terminal, where the boundaries between airport and fantasy are to be blurred even further.
Centering around a floor-to-ceiling indoor waterfall and rainforest, the 10-story donut-shaped structure will be filled with dining and shopping experiences and a new hotel. It will be linked to all terminals for passengers, or even curious tourists, to enjoy.
Photos: Singapore Changi Airport's automated and funky new terminal
Japan: Clean and customer focused
Japan's aviation sector has long been helmed by forward thinkers.
When the country's original urban airports were hemmed in by growing cities, the aviation sector led the way in developing offshore airports.
For instance, Osaka's Kansai International Airport, opened in 1994, sits on a man-made island in Osaka Bay. It was built to ease congestion at Osaka International Airport.
Then, Japan pioneered incorporating high speed rail and other transport exchanges into its airports to allow seamless onward travel around the country.
These days, airports in Japan are working on the passenger experience.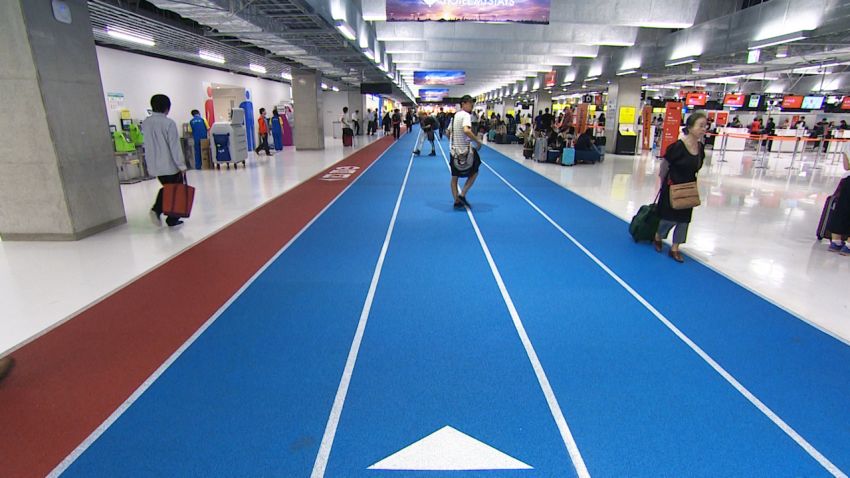 Running late for a flight? Would a racetrack help?
Stepping into any of the three terminals at Haneda airport near Tokyo offers a master-class in designing for clarity and efficiency. Another 5-Star Skytrax airport, voted third in this year's poll, it's been lauded for its cleanliness and comfort, plus the all-important friendliness of staff and immigration officials who direct passengers in good English should the clear, interactive signs not suffice.
Again, like other airports in the region it's looking to robotic technology. This includes the use of automated wheelchairs that can take passengers with limited mobility safely to their gates.
Further to the south, another one of the country's famous island airports is Chubu Centrair, near Nagoya.
Opened in 2005, it has a shopping mall that's been organized into streets. Upstairs in the terminal is something few airports offer – a bath house to relax in before or after a long flight.
From early in the morning, passengers can deposit their bags (and their clothes) and enjoy the four pools and spa facility, and even dry off while watching the aircraft on the outdoor deck.
Beijing: A model for future airports
Passengers traveling to and around the Asia-Pacific region are set to increase by 1.8 billion over the next 20 years and the region's airports are readying for the deluge.
In China, which is planning to build 136 new airports by 2025, an aviation monster is emerging near the capital.
Daxing International Airport is set to supersede Beijing Capital airport when it opens in late 2019.
Recent images from inside the huge, flower-shaped superstructure hint at the scale of the project, which will eventually have a capacity of 100 million passengers per year.
Inside it will offer short walking distances to gates, while gardens and tall ceilings will give the impression of space.
But how will passengers travel between the city, some 67 kilometers away, and the new airport?
That's where the new inter-city train link comes in.
It's set to whisk passengers away at 350 kilometers per hour, making light work of the distance and cutting journey times significantly.
Compare that to the gridlock and poor public transportation options at many other airports and you'll see why Beijing has the problem covered before the airport has even opened.
Article originally published in April 2018, updated October 2018
Matt Falcus is a British aviation writer and editor of the popular Airport Spotting Blog, which delivers daily news on airline and airport operations around the world. He is also the author of numerous books on airports and aviation history.