It was raw and in-your-face, sleazy yet seductive, but Amsterdam's famous Red Light District has been cleaned up and a new character is emerging.
Behind the permissiveness, the brothel windows and the cannabis coffee shops lurked rampant criminality – a world of of sex trafficking, forced prostitution and money-laundering – and authorities decided enough was enough.
In 2008 Mayor Job Cohen launched Project 1012 (named after the postal code of the area), a 10-year plan to improve the district and attract a different type of visitor.
A host of disreputable businesses, such as the famous sex club Yab Yum, were closed down as the municipality tightened its grip.
Sex workers have been replaced by young artists who showcase their paintings, sculptures and clothes behind the windows, where once millions passed by to glimpse the forbidden fruit.
Not all of the brothel windows will disappear. Out of 470, about 150 had to close their curtains indefinitely. Other landmarks such as museums celebrating the area's sex and drugs trade are also likely to remain.
As a local, born and raised in Amsterdam, the Red Light District has always been a favorite place for me to hang out. I liked the roughness it gave to Amsterdam, but its old character is disappearing at a rapid pace.
In its place is emerging a new, cleaner area popular with students and hipsters, with better-quality bars, restaurants and one-off clothes and trinket shops.
Slow-dripped, light-roasted coffee served by trained baristas is found at several new coffee shops, replacing the coffees shops that once sold marijuana.
It's become a great place to wander around, but I worry the secrets and the strange will slowly be replaced by the average. I wonder if the new venues are in the right place, and risk ruining Amsterdam's soul – her red lighted, stubborn, fearless soul.
Here's where to drink, eat and shop in Amsterdam's new Red Light District.
Amsterdam: Insider Travel Guide
TO DRINK
De Koffieschenkerij
This is one of the best-located coffee places in Amsterdam. It's hidden inside the Oude Kerk – the city's oldest parish church – in the middle of the Red Light District.
De Koffieschenkerij, Oudekerksplein 27, Amsterdam; +31 6 52653302
Quartier Putain
Around the corner from De Koffieschenkerij. The cheeky name of this coffee shop is French slang for the activity that made the district famous.
Quartier Putain, Oudekerksplein 4, Amsterdam; +31 20 895 0162
Koko Coffee & Design
This is a coffee place combined with a store selling a range of hand-picked Scandinavian and Dutch fashion designs.
Koko, Oudezijds Achterburgwal 145; +31 20 626 4208
Want something stronger?
Besides the lager, stout and Jägermeister shots you will find at any old-style red-light district bar, there are some places where they put just a little bit more love into making the drinks.
Cut Throat Barber Brunch & Bar
A barber, a coffee shop, a brunch, lunch and dinner bar and a place to sip craft beer, all under one roof.
Cut Throat, Beursplein 5, Amsterdam; +31 6 253 43769
De Prael
Not exactly a newcomer, but too much of an icon not to mention. This local brewery works with people facing obstacles in the work market and gives them a chance to excel.
De Prael, Oudezijds Armsteeg 26, Amsterdam; +31 20 408 4470
Porem
Top-notch cocktails mixed, shaken and stirred by equally top-class bartenders in a cross between a traditional Amsterdam brown café and a quality cocktail joint.
Porem, Geldersekade 19, Amsterdam; +31 6 22614496
The cool way to get around – Amsterdam by bicycle
TO EAT
The neighborhood is famous for its little Chinatown and the heart of this area is the Zeedijk, a small street full of brown cafés, gay bars, coffee shops and a host of Asian restaurants with a modern twist.
Dum Dum Palace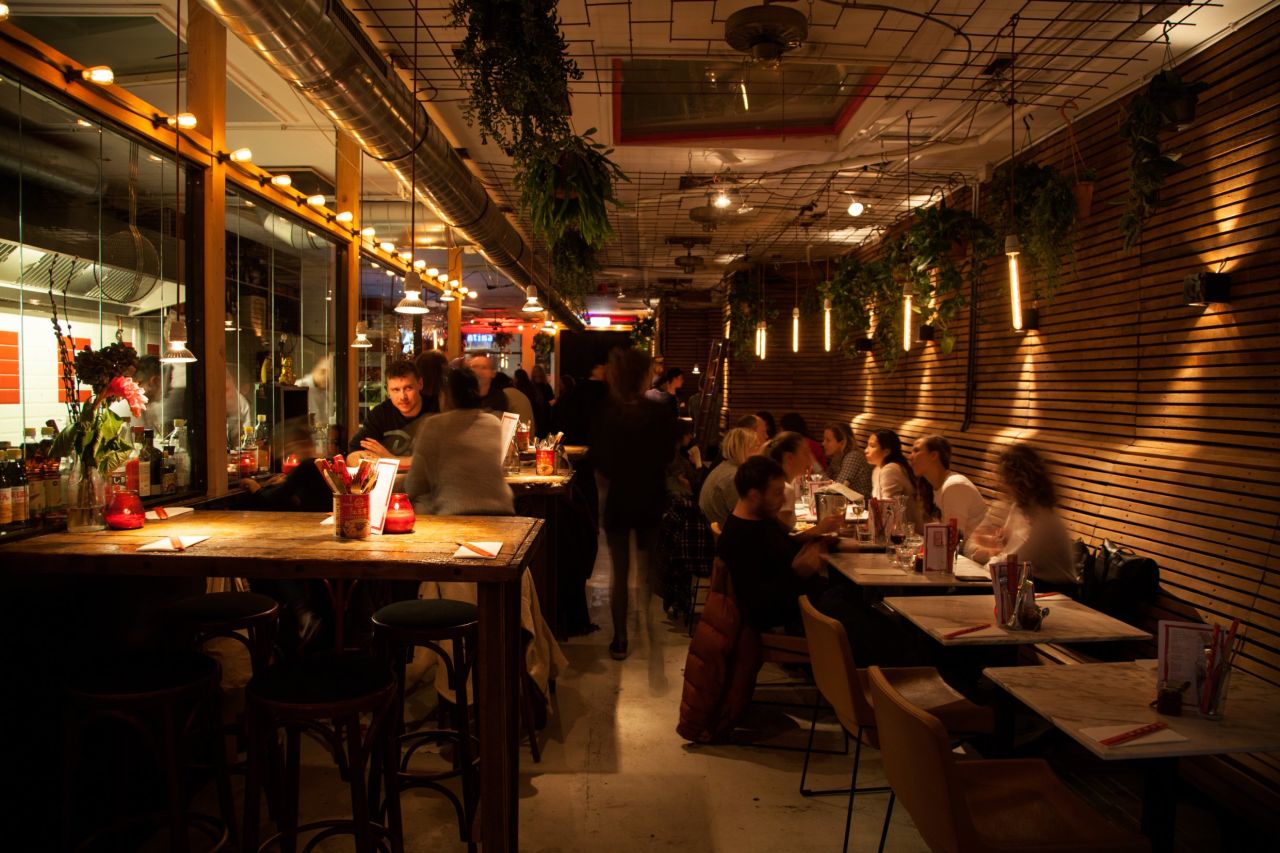 Located on the Zeedijk, dim sum central Dum Dum Palace competes with some of the established Asian restaurants like Nam Kee. The place is packed every night.
Dum Dum Palace, Zeedijk 37, Amsterdam; +31 20 304 4966
Mata Hari
Mata Hari was one of the first new restaurants to open after the red-light district clean-up began. It's a cosy restaurant serving local, seasonal food with one of the best located terraces in the district.
Mata Hari, Oudezijds Achterburgwal 22, Amsterdam; +31 20 205 0919
Cannibale Royale
Meat lovers will be at home at Cannibale Royale, a brasserie dedicated to unashamed carnivores, with exotic beers and fine wines.
Cannibale Royale, Lange Niezel 15-17, Amsterdam, +31 20 218 2120
Latei
Latei has been rocking its pies and sandwiches for several years now and is well known by the in-crowd. The place has the atmosphere of a vintage store.
Latei, Zeedijk 143, Amsterdam; +31 20 625 7485
Stach
Stach is a food store with 11 branches across Amsterdam. They sell fresh salads, soups and other meals alongside craft beer, granola bars and organic bread.
Stach, Nieuwendijk 13, Amsterdam; +31 20 737 1640
Around Amsterdam in 7 strange museums
SHOPPING AND MORE
Ivy & Bros
At Ivy & Bros you can shop for some global-chic clothing, or imaginative gifts after you have had lunch or coffee at the same place.
Ivy & Bros, Oudezijds Voorburgwal 96HS, Amsterdam; +31 6 11924244
Anna + Nina
Anna + Nina started as an agency promoting jewelry but has expanded into a brand in its own right. Now it has a web shop and three stores, one of which is in the Red Light District.
Anna + Nina, Kloveniersburgwal 44, Amsterdam; +31 20 261 5213
TonTon Club
Play some air hockey, jenga or retro arcade games at this quirky bar-slash-games café on the site of a former erotic supermarket. At TonTon Club they combine nostalgia with modern treats. Virtual reality Duck Hunt anyone?
TonTon Club, Sint Annendwarsstraat 6, Amsterdam; + 31 20 261 89 24
A 'safe' way to see Bangkok's seedier side
Colombia's 'love motels' – themed rooms booked by the hour
Katja Brokke is a freelance journalist and editor from Amsterdam specializing in food, travel and media. Follow her on Twitter at @KatjaSchrijft or take a look at katjaschrijft.nl.