Becoming a successful Chinese restaurant in the United States is tricky. You need to cater to the American palate, but still be authentic enough to be considered a reputable Chinese joint.
With more than 41,000 Chinese restaurants in the United States, it's not easy picking a top 50. But, based on interviews with chefs and Chinese restaurant associations, surveys of local food writers and polls, and our own experiences, here are the 50 best Chinese restaurants in the country, arranged by state.
Arizona
1. China Magic Noodle House, Chandler
Watch through a window as the noodles you just ordered are handmade and pulled for you. China Magic Noodle House serves outstanding beef noodles for less than $10. Huge portions and you can get them dry or with broth.
The egg rolls are a good appetizer, but spicy marinated pig ear is also on the menu. If that isn't enough, they serve freshly squeezed juice and boba milk tea.
2015 N. Dobson Road, Chandler
2. Beijing Pie House, Monterey Park
Beijing Pie House isn't a traditional Chinese restaurant. No white tablecloths, moo shu pork or dim sum carts here. The place trumpets the glories of meat pies – flaky pies stuffed with searing hot pieces of meat. All for $7.
If you haven't gotten your carnivore on yet, you can always pair your pie with a savory beef roll. Cash only.
846 E. Garvey Ave., Monterey Park
3. Chef Chu's, Los Altos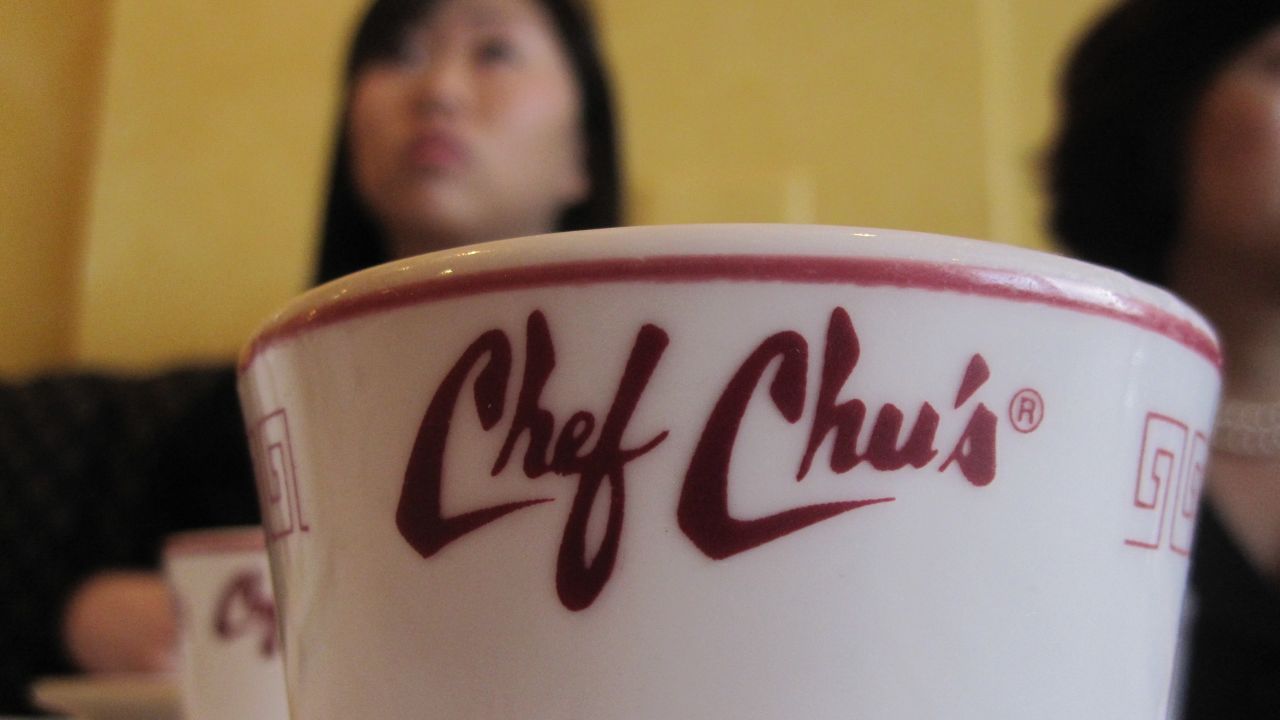 Extensive selection, big portions and reasonable prices. Chef Chu's was opened in 1970 by Lawrence C.C. Chu himself. Since then the chef has made countless media appearances and become a best-selling cookbook author.
The Los Altos-based restaurant serves dishes covering all regions of China, but manages to cater to the American palate. Specialties are Peking duck (order four hours ahead) and a scintillating chicken salad with hot-mustard peanuts.
Notable diners include Bill Clinton, Margaret Thatcher, Mikhail Gorbachev, Jimmy Carter and none other than the Biebs, Justin Bieber.
1067 N. San Antonio Road, Los Altos
4. Class 302, Rowland Heights
Class 302 is as close as you get can to authentic Taiwanese food outside Taiwan. The restaurant is structured like a traditional Chinese classroom.
The pork belly rice gets it just right and you know you're in a solid place when you see customers flocking from all over Southern California just to get their tongues on the highly touted shaved snow (shaved ice). Cash only.
1015 S. Nogales St., No. 125, Rowland Heights
5. Del Mar Rendezvous, Del Mar
Located close to the ocean, Del Mar Rendezvous sports acclaimed and extensive gluten-free, vegetarian and vegan menus. The craft beer selection is also impressive.
With top-notch service and an inventive Chinese fusion menu – the duck breast Shangri-la with teriyaki glaze is superb – Rendezvous is a long-time favorite among locals.
The Xango dessert is a banana cheesecake wrapped in a cinnamon pastry topped with caramel and chocolate sauce. It's like your cell phone – leave the restaurant without it and you'll have to go back.
Del Mar Plaza, 1555 Camino Del Mar, No. 102, Del Mar
6. Dintaifung, Arcadia
This dumpling house's reputation stretches far and wide – especially in Taiwan, where it originated.
Dintaifung is known for its succulent xiaolongbao, or soup dumplings. The dumplings are tiny, but there are pocketfuls of juice in every bite. Definitely be prepared for a long wait. The restaurant is always busy. Additional location in Seattle.
1108 S Baldwin Ave., Arcadia
7. Enjoy Vegetarian Restaurant, San Francisco
A veggie restaurant with two branches in San Francisco, Enjoy has vegan food that not only looks but tastes like real meat. Lots of gluten-free options and a fair selection of Americanized-Chinese food, such as sweet-and-sour chicken.
No MSG, garlic or onion in any dishes. Even meat eaters have become addicted to the place. Well, some.
754 Kirkham St., San Francisco
Visiting San Francisco? Insiders share tips
8. Little Sheep Mongolian Hot Pot, San Mateo
With locations all over the world, including China and Japan, Little Sheep sets the standard when it comes to hot pot.
You can get different flavored broths, but the favorite tends to be the spicy one. You can also divide your pot in half if you have people in your party who can't stomach lots of spice.
It's family style, so this is a group event. You'll walk out smelling like hot pot. Additional locations in Texas, California and New York.
215 S. Ellsworth Ave., San Mateo
9. San Tung Chinese Restaurant, San Francisco
The main attraction at San Tung is the dry-fried chicken wings – juicy wings lightly fried and drenched with a sweet and tangy sauce.
San Tung adopts the Shandong (the Chinese region known for its flour-based foods) style of cooking and so plays up the pot stickers and fresh noodles. The restaurant is usually packed, so be prepared for a wait.
1031 Irving St., San Francisco
10. Savoy Kitchen, Alhambra
Savoy Kitchen is a hole-in-the-wall in Alhambra has developed a cult following for its Hainan chicken rice.
The chicken portions are substantial with much more meat than bone, with chicken-broth rice with ginger and an orange hot sauce on the side. Everything about the dish is well worth the money.
138 E. Valley Blvd., Alhambra
11. Sea Harbour Seafood Restaurant, Rosemead
Located in the San Gabriel Valley, a Chinese foodie hotspot, Sea Harbour Seafood Restaurant is a classic dim sum joint that's always packed on weekends. There are no dim sum carts. Instead, you order from a checklist.
From the extensive dinner menu, the Hong Kong Dungeness crab is both a customer and L.A. food-critic favorite. With an amazingly flaky crust and hot egg-y center, the egg tarts are a dim sum dessert classic.
3939 Rosemead Blvd., Rosemead
12. Newport Tan Cang Seafood Restaurant, San Gabriel
Newport Tan is one of the most acclaimed Chinese restaurants in the San Gabriel Valley, especially known for its house special lobster. It's smart to come with a large group so you can order a variety of seafood, such as fish with basil-and-walnut shrimp.
If you're craving red meat, the filet mignon cubes are outstanding.
518 W. Las Tunas Drive, San Gabriel
13. R&G Lounge, San Francisco
Heavily promoted by restaurant personality Anthony Bourdain, R&G Lounge in San Francisco constantly rakes in rave reviews. The salt and pepper crab is messy, but delicious.
The Peking duck is served Cantonese style, so you get buns instead of pancakes to go with your crispy duck slices.
631 Kearny St., San Francisco
Colorado
14. Star Kitchen, Denver
Star Kitchen gets a shining star for its dim sum, which are priced around $3 a pop.
The dinner menu has a great seafood selection that comes from live tanks of fish, crab and lobster. The barbecue pork buns are memorable and you can get anything from tofu to goose intestine to frog from the hot pot menu.
2917 W. Mississippi Ave., No. 5, Denver
Florida
15. Tropical Chinese, Miami
A dim sum restaurant with a lot of class, Tropical Chinese sports a sophisticated decor. The restaurant's website provides a good visual introduction to the upscale offerings.
Consistent favorites are orange beef, shrimp dumplings and egg tarts. For dim sum fans who don't want to wait, there's a take-out menu.
7991 S.W. 40th St, Miami
Georgia
16. Canton House Chinese Restaurant, Atlanta
This Cantonese restaurant serves dim sum for breakfast, lunch and dinner. Talk about commitment to craft.
Tables near the kitchen are the best. You get front row seats and dibs on the carts of steaming dumplings rolling by. Impressively fast service, too.
4825 Buford Highway, Atlanta
17. Tasty China, Marietta
Once you've tried the spicy fried eggplant with the numbing beef roll at Tasty China, a Sichuan restaurant, you probably won't have enough sensation in your tongue to go for more. Get some raw vegetables with this combo, as they will tone down the heat. You're going to need them.
585 Franklin Road S.E., Marietta
Hawaii
18. Legend Seafood Restaurant, Honolulu
Legend is a Honolulu dim sum joint by day and by night a seafood restaurant that's very popular with the locals. Seats fill up quickly. It's best to arrive before 10 a.m. on weekends. Deep fried taro puffs should be ordered without a moment's hesitation. They run out fast.
100 N. Beretania St., No. 108, Honolulu
19. Sweet Home Café, Honolulu
A Taiwanese BYOB joint, Sweet Home Café is constantly flooded with locals who come to get their hot pot fix. Hot pots are served family style and you get to make your own dipping sauce.
The restaurant is so crowded that there's a 90-minute time limit to eat.
2334 S. King St., Honolulu
Illinois
20. Lao Sze Chuan, Chicago
The spicy chicken at Chicago Chinatown's Lao Sze Chuan will make your eyes water. It's loaded with red-hot chili peppers. Despite the burning sensation, you'll probably keep reaching for more because it's absolutely addictive.
The Peking duck is perfectly cooked and served with the usual condiments. Go ahead and suck on the bones – they're just that good.
2172 S. Archer Ave., Chicago
21. Sun Shui, Arlington Heights
Mixed genres are normally a red flag, but Sun Shui is a Chinese restaurant with a sushi bar that delivers high quality.
It's a classy and inexpensive venue for a date. The "Dinner for Two" option comes with soup, a starter, two entrees and dessert. This the American heartland, so General Tso's chicken is a popular pick.
155 W. Rand Road, Arlington Heights
Louisiana
22. Trey Yuen, Mandeville
Talk about adaptation. Trey Yuen is a Chinese restaurant that serves Cajun-influenced dishes. Sichuan flavorings are added to alligator and crawfish to create the ultimate Louisiana-meets-China cuisine.
600 N. Causeway Blvd., Mandeville
Maryland
23. China Bistro, Rockville
China Bistro is dumplings depot. It's a mom-and-pop shop with no more than a couple tables, but each dumpling is handmade and served fresh. Mama's Special is a unique blend of pork, shrimp, chive and nappa. Refreshing bubble tea is also served.
755 Hungerford Drive, Rockville
Massachusetts
24. Gourmet Dumpling House, Boston
In Boston's Chinatown this one is, obviously, known for dumplings. The crispy scallion pancakes pair perfectly with xiaolongbao (soup dumplings).
The restaurant combines northern and southern Chinese flavors and serves an assortment of Taiwanese appetizers, such as oyster pancakes and stinky tofu.
52 Beach St., Boston
25. Taiwan Cafe, Boston
Taiwan Cafe has the best soup dumplings in Boston and a wide variety of Taiwanese specialties, such as oyster pancakes and pork over rice.
Nothing extraordinary about the venue or location, but the Chinatown restaurant is probably the closest thing to Taiwan in Massachusetts.
34 Oxford St., Boston
Michigan
26. Best China, Canton
Best China really is the best in Michigan. With less than a dozen tables, it's a hole-in-the-wall, but the Shanghai-style rice cakes (nian gao) achieve the perfect level of chewiness without being gummy. There are two menus – Chinese and English. As at any authentic Chinese place, adventurous eaters can ask for the Chinese menu (they're usually differ slightly from the English menu) and get recommendations from waiters.
7233 N. Lilley Road, Canton
Minnesota
27. Little Szechuan, St. Paul
Little Szechuan's mapo tofu and typically spicy Sichuan fare will leave your taste buds screaming for water, but don't worry; there are plenty of milder options.
For those unfamiliar with authentic Chinese foods, pictures are provided on the menu. Entrees tend to be larger than expected. We're not complaining.
422 University Ave. W., St. Paul
Nevada
28. Joyful House, Las Vegas
No fusion or Americanized dishes at Joyful House, a Las Vegas favorite. Just consistent and authentic Cantonese selections from a Hong Kong-trained chef.
The honey-walnut shrimp is a treat – not too heavy on the mayo glaze, good shrimp-to-walnut ratio and expertly cooked. The restaurant is located near Chinatown. Picture menus make it easy to order.
4601 Spring Mountain Road, Las Vegas
29. Wing Lei, Las Vegas
A Michelin-starred restaurant inside The Wynn casino on the strip, Wing Lei's decor offers a twist on French-influenced Shanghai. The food is as classy as the atmosphere, with prices on most dishes starting at around $30.
Peking duck is the house specialty. It's carved whole next to your table and served two ways, with steamed buns and hoisin sauce, and also diced in a lettuce cup.
Wynn Las Vegas, 3131 Las Vegas Blvd. S., Las Vegas
New York
(See also Little Sheep Mongolian Hot Pot in the California section)
30. Excellent Dumpling House, New York
It says it on the tin: this is a great spot for melt-in-your-mouth dumplings, which go for about $4.95 each. Excellent Dumping House is in a prime spot in SoHo and perfect for feasting on delicious Chinese treats.
111 Lafayette St, New York
31. Joe's Shanghai, New York
Specializing in wonderful soup dumplings, Joe's Shanghai is a local favorite has three locations: Midtown, Chinatown and Flushing. The crab and pork dumplings with a plate of scallion pancakes could make this your new favorite Chinese place. Dumplings come in sets of eight and average around $5 per set.
Midtown: 24 W 56 Street, New York
Chinatown: 9 Pell St., New York
Flushing: 136-21 37th Avenue, Flushing
32. East Dumpling, New York
You'd be hard pressed to get a better dumpling deal anywhere in the United States. And the dumplings aren't only cheap, but tasty.
The restaurant sits on the former site of legendary Prosperity Dumpling and offers $3 for 10 dumplings. Best deal ever this side of Shanghai.
46 Eldridge St., New York
33. Xi'an Famous Foods, New York
Xi'an Famous Foods serves Muslim-inspired dishes that taste as good as they do in western China. Lamb burgers are the highlight of this very authentic establishment. You can watch as they hand pull noodles right in front of you.
88 E. Broadway, No. 106, New York
North Carolina
34. Gourmet Kingdom, Carrboro
With more than 150 dishes on the menu, Gourmet Kingdom doesn't lack in variety. Prices average around $15 per dish, but you get a hearty amount, so drag along friends.
The lunch special is a steal, with choice of appetizer (the eight-piece dumpling order is a good option) paired with an entree such as the highly recommended take on the old standby kung pao chicken.
301 E. Main St., Carrboro
Ohio
35. Sichuan Bistro, Mason
Sichuan Bistro is as close as you're going to get to China in Ohio. The servers are Chinese and the menu is in Chinese (English translations provided). Cumin lamb is a customer favorite that will have you returning for more.
No worries for those who can't stomach the authenticity. Sichuan Bistro divides its menu into traditional Chinese and American-friendly Chinese.
7888 Mason Montgomery Road, Mason
Oregon
36. Shandong Restaurant, Portland
Shandong offers "a new look at classic dishes" in a pleasant though simple dining room.
The ginger-infused, hand-rolled pot stickers are large and one of the best-selling items. There are also freshly hand-pulled noodles and a unique deep-fried pork dish cooked in a cherry and ginger sauce. Cheap happy hour appetizers, such as pan-Pacific wontons, Chilean rock crab and shiitake dumplings, are available from 4 p.m. to 6 p.m.
Is this the cutting edge of Chinese cuisine? A growing number of devotees think so.
3724 N.E. Broadway, Portland
37. Wong's King Seafood Restaurant, Portland
Wong's is an authentic dim sum joint in an Asian strip mall where you can get the whole carts-piled-with-steamed-buns-and-dumplings experience. Dim sum hours are from 10 a.m. to 3 p.m. weekdays and 9:30 a.m. to 3 p.m. during the weekends.
No reservations available during dim sum hours and Sundays tend to be packed to the brim.
Despite the long lines, servers are friendly, the food emotes pure Hong Kong goodness and there's no rushing you out the door, an unfortunate practice in too many popular dim sum places. The pork shu mai and steamed buns are customer favorites.
8733 S.E. Division St., Portland
Pennsylvania
38. Han Dynasty, Philadelphia
The glaring red of Han Dynasty's storefront suggests tongue-numbing spice and the place definitely doesn't disappoint heat-seekers.
Dan dan noodles are a customer favorite. They're silky and soaked in flavorful pork broth. Most selections are drenched in chili oil or fried with Sichuan peppercorns. Approach with caution.
Han Dynasty, 108 Chestnut St., Philadelphia
39. Yangming, Bryn Mawr
In Bryn Mawr, Yangming is an Asian-fusion joint, catering to a mostly American crowd.
That's not a complaint. The golden crabmeat purse appetizers, shrimp coconut soup and lemongrass sake shrimp are all noble and tasty twists on Chinese cuisine. Chocolate-covered fortune cookies come at the end of every meal. How's that for Asian fusion?
1051 Conestoga Road, Bryn Mawr
South Carolina
40. Red Orchid's China Bistro, Charleston
Red Orchid is an Americanized Chinese restaurant, but that doesn't mean it's not delicious. The barbecue pork buns are fantastic and the dumplings are one of the most frequently ordered times.
Matching the expertly crafted and presented food is a pleasing ambiance and contemporary decor.
1401 Sam Rittenberg Blvd., Charleston
Texas
See also Little Sheep Mongolian Hot Pot in the California section.
41. Asia Cafe, Austin
You know you've stepped into an authentic place when the menu on the restaurant whiteboard is completely in Chinese. Don't let language barrier or its location in an Austin strip mall deter you. Asia Cafe serves remarkable Sichuan, such as spicy fish soaked in oil and pepper flakes, and the best mapo tofu in Texas.
8650 Spicewood Springs Road, Number 115, Austin
42. First Chinese BBQ, Austin
Leave it to Texas to have a top-notch Chinese restaurant that centers around barbecue dishes. First Chinese BBQ has a row of roasted duck carcasses hanging from the ceiling.
This Texas chain serves authentic Chinese, with marinated meats as the specialty. Roasted duck and barbecue pork are reliable bets for first-timers.
10901 N. Lamar Blvd., No. 401, Austin
Utah
43. Little World Chinese Restaurant, Salt Lake City
Cheap food, big portions, fast service. As the name suggests, the restaurant is small, cramped and doesn't have more than a couple of tables. But the flavor eclipses the hassle.
The pork and eggplant hot pot is heavenly, with a large serving of eggplant and finely cut strips of pork. The eggplant is flash fried before being transferred into a pot with broth, scallions and cabbage.
1356 S. State St., Salt Lake City
44. Red Maple Chinese Cuisine, West Valley City
Great service and good dim sum often don't come hand-in-hand, but Red Maple is one of those rare places where they do. Dim sum carts are filled with the usual fare and there's a decent seafood selection.
You can't go wrong with Singapore noodles and honey-walnut shrimp.
3361 S. Redwood Road, West Valley City
Vermont
45. Single Pebble, Burlington
Single Pebble's specialty is a mock eel: shiitake mushroom braised in a ginger sauce.
Owned by Chiuho Duval, a Taiwanese photojournalist-turned-chef, Single Pebble is all about authenticity and flavors from Taiwan, Hong Kong and regions of China, including Sichuan and Chengdu. The eight-course Chef Tasting menu is well worth a long dinner event with a group.
133 Bank St., Burlington
Virginia
See Washington, D.C.
Washington
See also Dintaifung in California section.
46. Chiang's Gourmet Restaurant, Seattle
Chiang's is a pure Chinese joint in Seattle located in an awkward spot off the freeway. We can't rave about the service or location, but the food is authentic and cheap, with most dishes under $10.
The restaurant has a vegetarian menu (rare for most authentic Asian places) and a Sichuan menu, catering to those with a spicier palate. The stinky tofu is the real thing here, a pungent offering that divides any table into lovers and haters.
7845 Lake City Way N.E., Seattle
47. Facing East, Bellevue
Facing East's Taiwanese pork burgers are simple. They're made with a large piece of fatty pork sandwiched in a bun with salted vegetables, chopped nuts and cilantro. They're also the reason why there's always a long line at this authentic Taiwanese joint.
You can get two for around $4.
There's good shaved ice for dessert.
1075 Bellevue Way N.E., B-2, Bellevue
48. Judy Fu's Snappy Dragon, Seattle
Get the hand-rolled noodles.
Judy Fu's Snappy Dragon was started up by none other than Judy Fu, an immigrant from the northern Chinese city of Tsingtao. Her noodles are rolled and cut upon order and you can get them sautéed or served in flavored broth. The dumplings are another customer favorite that you can also buy frozen to make at home.
Judy Fu's Snappy Dragon, 8917 Roosevelt Way N.E., Seattle
Washington, D.C.
49. Harmony Café, Washington D.C.
A vegetarian cafe, Harmony is a homey Georgetown place that offers Chinese food with delicious fake meat. They have an awesome lunch deal for $5.95 that comes with salad, spring roll, white rice and an entree.
Customer favorites include the crispy shiitake mushroom and mock chicken with cashews.
3287 M St. NW, Washington, D.C
50. Peking Gourmet Inn, Falls Church
It's not every day you can dine in a restaurant visited by generals, diplomats and presidents. Peking Gourmet Inn has an impressive clientele list.
As the name suggests, the star attraction is the Peking duck.
The duck comes out perfectly bronzed and crisp and is hand-carved in front of you. Complimentary pancakes, cucumber strips, scallions and hoisin sauce are provided.
Reservations strongly recommended.
6029 Leesburg Pike, Falls Church, Va.
Editor's note: This article was previously published in 2012. It was reformatted and republished in 2017.