Tea has an image problem in the US, and there's an Angeleno trying to fix that.
Josh Zad, a Los Angeles native, is the founder of Alfred Tea (named for the butler in Batman), and he is ready to change your mind about tea.
This isn't your grandmother's hot cup of water and tea bag kind of tea. This is the real deal, and Zad, who enlisted the help of a tea consultant to legitimize his offerings, has gone to great lengths to ensure that the Alfred Tea experience is different, unexpected and absolutely delicious.
Zad asked me to meet him at Alfred Tea's second location in the Brentwood neighborhood of Los Angeles (the first LA spot is going strong on Melrose Place) on opening day in September 2018.
"This is probably the thirtieth drink we've made all day," Jordan G. Hardin, the company's food and beverage director said, pointing out that my iced matcha with coconut milk was approximately "lucky number 30."
The shop is an Instagram story's dream (even without the pink balloons out front celebrating its debut), and Zad openly embraces the trend of people posting pictures of their pretty little drinks on the visually-driven social media platform.
(At the time of this writing, Alfred Tea's Instagram following is a not-too-shabby 66.9K.)
"I figured if I can get people in here for a cup and for the photo opportunity, Jordan can sell them on the world of tea — that it's more than what you imagined." If they can accomplish that, Zad's pretty confident they'll come back for more.
Both Zad and Hardin agree that tea deserves its time in the spotlight. Coffee easily commands respect, but there's room for tea they say (even if they admit they may be a little ahead of the curve).
While Hardin is busy perfecting the craft — the tea offerings themselves — Zad's paying attention to the overall look and feel of the shop. Outfitting it in pink tile, cool décor, trendy sayings and items for purchase, Alfred Tea is memorable.
But first, coffee
While you may have seen this catchy phrase before (a coffee shop in this writer's Brooklyn neighborhood frequently displays it on its chalkboard), it is, in fact, trademarked and belongs to Alfred coffee.
Coffee is the first thing many of us want in the morning, and it's also the first beverage that Zad built a business around.
In spite of, or maybe because of, coffee's stronghold in the US — unlike tea, it's reputation tends to be strong — entering the coffee game was a bit risky, Zad will admit. There are no shortage of coffee shops, especially in a city like Los Angeles.
In Silver Lake, on Los Angeles's Sunset Boulevard alone, there are at least half a dozen "boutique coffee shops" to choose from. Zad acknowledges it's a "coffee mecca." And yet on a recent visit, Alfred was packed inside and out. Credit the cool vibes, the expertly made drinks or the now-ubiquitous avocado toast, the LA cafes are consistently abuzz.
But with the coffee market in Los Angeles somewhat cornered — it may not be as pervasive as Starbucks, but you don't have to wander far before you stumble into a shop hawking fair trade beans — Zad decided to turn his attention to something that was beginning to seem obvious to him, even if it wasn't so obvious to everyone else.
The more tea drinks that Alfred coffee made, the closer Zad came to the vision of the LA tea house. He brought in Hardin to help see it through.
Hardin, who has worked in the food and beverage industry since he was a kid, says that beverages is where he really found his focus. When he saw the job listing for tea consultant, he thought "this is amazing." He came in to consult, and the two developed a vision of a modern, urban tea house.
Now Hardin, whose knowledge of tea is indeed vast, oversees the development, training and menu-building at Alfred Tea Room. He was an integral part in the company's expansion to Japan.
Tea yes, you maybe
The tea house's motto is cheeky, cute, a little punk — just right, according to Zad.
He says it's gone over well in the LA locations, but notes that it's really taken off in Japan: "There's been a decade-long trend of female empowerment [in Japan] and making sure there's equal status and so on. So they've taken it, since it is a little more pink and a little more feminine, they've taken it to be kind of this empowerment motto."
In Los Angeles, people are having more fun with the motto, but the tea itself is actually quite serious, which is not to say that it's inaccessible.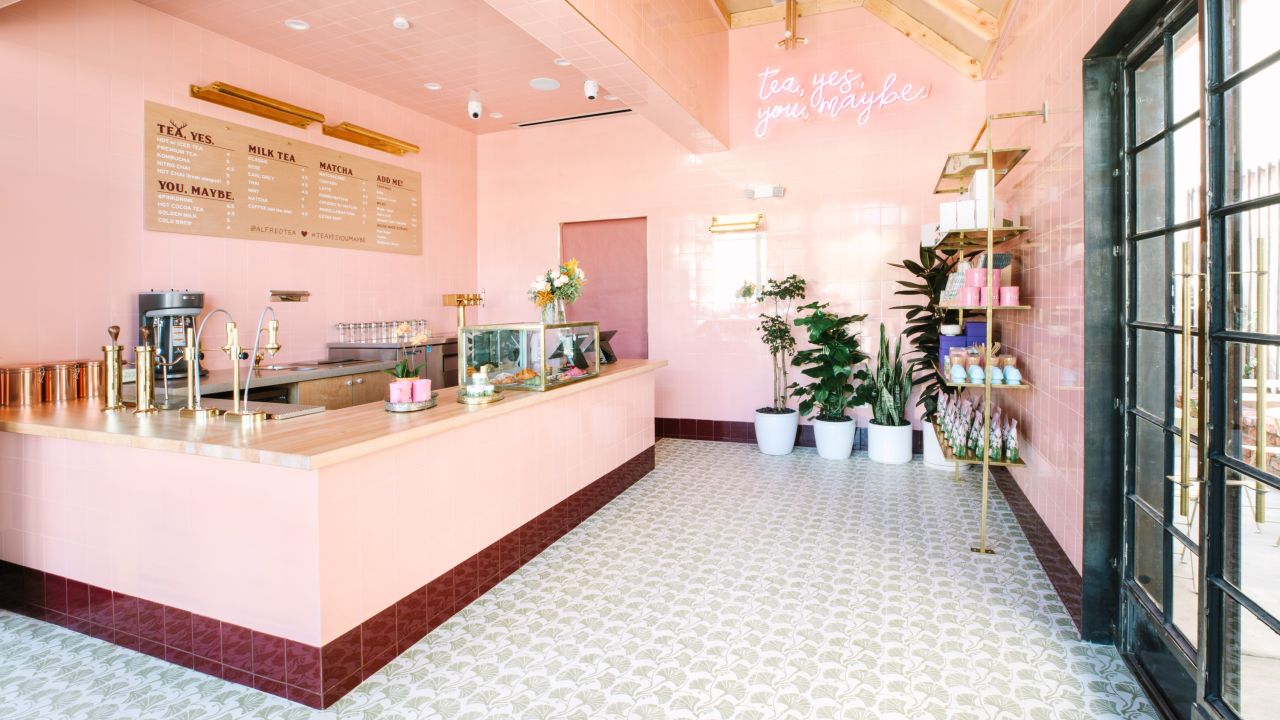 You won't find any snooty baristas or tea gurus in Alfred. Says Zad, " I want the barista to be like, 'Have you been here before? What's your preference? What do you normally order?'"
He wants there to be a conversation, wants people to discover new teas and flavors and even side effects of drinking tea.
While the healing properties of tea are somewhat well known, Hardin's goal is to get people to drink it on the regular — not just when they're in a health-conscious mood.
Hardin's guidance is this: "Start your day with coffee, and then just switch to matcha later in the day, and you'll be fine. You'll be great."
What he means by this is that by making the switch from caffeine to theanine (the alpha wave brain-boosting chemical that physically relaxes you), you avoid the crash that many coffee drinkers are all too familiar with.
And it's a convincing argument: "I can drink matcha all day and be alert, be focused, and never crash. It's just a good feeling," says Hardin.
Plus, it's delicious.
But matcha, Hardin believes, is just the beginning. Hardin wants to introduce woul-be tea consumers to the other four pillars of tea as well: Kombucha, Hot & Iced Tea, Chai/Tea lattes, and Milk Tea/Boba. "Milk Tea and Boba typically go hand in hand, but many enjoy Milk Tea without Boba, which is an optional add-on," he explains.
Hardin says there are a lot of great boba places in LA, and given the city's strong Asian communities, who've been drinking boba tea for decades, standing out as a quality place to get boba among the discerning Asian community is no small feat. And neither is convincing new groups of people, especially ones who aren't sold on tea in the first place, that boba isn't just a trendy phenomenon.
Alfred Tea Room's strategy is to create boba tea that's really special. Each batch, which takes an hour to make, is created with high-end freshly brewed teas and no syrups.
Drink to this
But Zad isn't satisfied with just fixing tea's image problem. He's got other plans, and they involve Mexican beer.
"I've had this idea for a while that no one does anything really exciting in the beer space," Zad explains. His response was to develop Calidad Beer. The word Calidad means simply "quality," and it's a Mexican-style beer made in California – which is to say it's a basic, easy-drinking lager.
The pair believes that the IPA craze — super hoppy, bitter beers — will be coming to an end soon, and in its place, they'll be offering a beer that "tastes like Pacifico," aka light and refreshing.
It's wholesale-only, though there'll be a tasting room in West Hollywood when it launches this month.
First there was coffee, then there was tea, and now there's beer. It may not seem like the perfect trifecta at quick glance, but Zad isn't concerned. "People trust me with Alfred now, so I'm saying I'm making Mexican beer. What's the worst than can happen?"
Part of Zad's confidence stems from the fact that he knows his city. He grew up in Beverly Hills and was determined to open an Alfred there, even though brokers suggested that he was crazy based on previous businesses' failure to succeed in the neighborhood. He persisted, trusting his familiarity and instinct: "I'm born and raised in LA. I know it like the back of my hand."
He never considered launching his business anywhere but his hometown.