"Everyone is going to Alaska this summer," declares the woman sitting next to me on a flight from San Francisco to Anchorage. "When I told friends we were going, so many of them said, 'So are we!'"
There were times during my recent 10-day visit to the Last Frontier when that definitely seemed to be the case. And there's no doubt that a lot more people are vacationing in Alaska this summer than at any point since the pandemic began.
In Anchorage, I had to wait more than an hour for a table at a breakfast spot popular with tourists. The waits weren't so dire at other places around the state but restaurants were humming, almost every table taken.
None of the traditional rental car companies had vehicles, part of a well-publicized nationwide shortage. But I was able to snatch a Volkswagen SUV through the local branch of Turo, an online vehicle-sharing marketplace that's basically a transportation equivalent to Airbnb.
When my day trip to view grizzly bears and other wildlife at Lake Clark National Park & Preserve was canceled because of bad weather, I was told it wouldn't be possible to reschedule for more than a month because the flights are suddenly so popular again.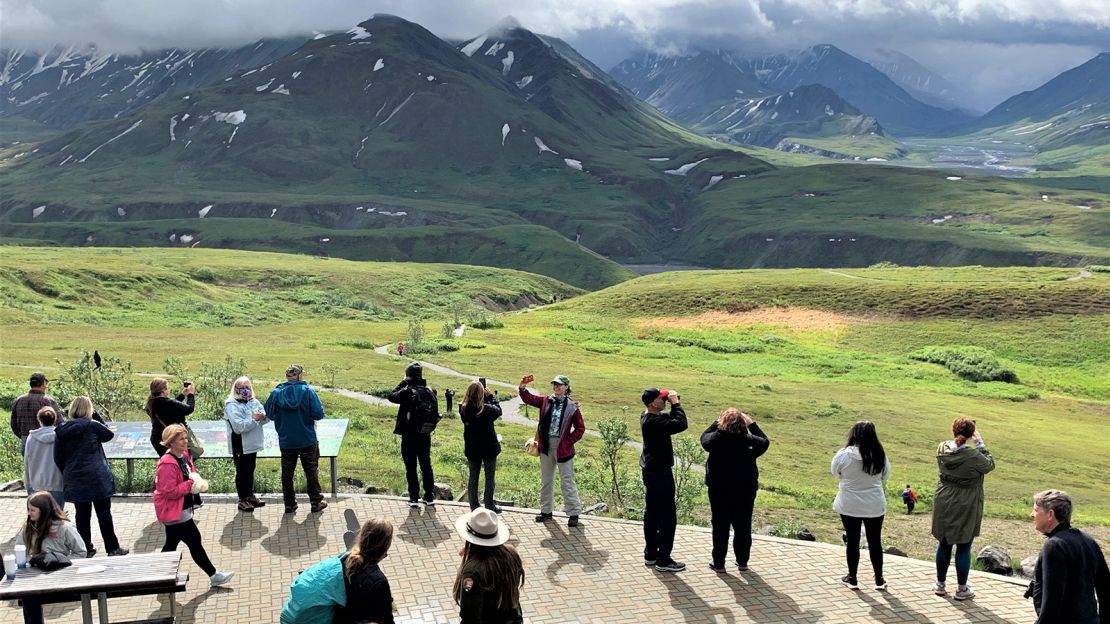 "We've been slammed since we reopened in May," explains my server at the McKinley View Lodge restaurant near Denali National Park. "We're expecting the whole summer to be super-busy even without the big tour buses that bring cruise ship passengers up here."
Denali's renowned adventure road tours were running at nearly full capacity the day that I hopped aboard one of the vintage school buses for a drive along the park's only road for a close-up look at grizzly bears, caribou, moose and other iconic Alaskan wildlife.
"It's definitely not as doom and gloom as we thought it would be," says Teri Hendricks of Visit Anchorage. "Our marketing to independent travelers in the rest of the country – rather than international visitors or potential cruise ship passengers – has been pretty successful."
It's not all good news, though. In recent weeks, Covid cases have been rising dramatically in Alaska, where roughly 45% of residents are fully vaccinated. And a