Editor's Note: Sign up to CNN Travel's Unlocking Italy newsletter for insider intel on Italy's best loved destinations and lesser-known regions to plan your ultimate trip. Plus, we'll get you in the mood before you go with movie suggestions, reading lists and recipes from Stanley Tucci.
For years, Italians have been notoriously prickly about preserving their culinary traditions. Pineapple on pizza? Non si fa. Spaghetti bolognese? Che orrore.
But now, some Italians seem to be wising up to the fact that other countries can make good Italian food, too.
Enter 50 Top Pizza, an international guide run by Italians that produces a series of annual rankings rewarding some of the best pizzerias on the planet. The 2023 European list has just been published – and, according to 1,000 anonymous "inspectors" across the continent, the best pizza in Europe is in… Spain.
Sartoria Panatieri, in Barcelona, was judged the best on the continent. The award was announced at a ceremony, which was also held in Barcelona.
Second place went to Copenhagen restaurant Bæst, while coming in third was 50 Kalò in London, a spin-off of the original 50 Kalò pizzeria in Naples.
There's a catch of course. Italy was not in competition. The entity – a pizza guide, which has been ranking restaurants since 2017 – has separate listings for the 50 best pizzerias in the cradle of pizza.
Sartoria Panatieri is run by Rafa Panatieri and Jorge Sastre. Panatieri grew up in Brazil, but with Italian origins, from Pisa and Calabria. Initially training as a veterinarian, he changed tack to become a chef in South America and Italy, before moving to Spain. He worked in Michelin-starred restaurant Nectari in Barcelona before opening his pizzeria.
In a statement, Panatieri said: "We are very proud to have been named the best pizzeria in Europe. This award is a recognition to the dedication that we put every day in Sartoria Panatieri since we opened five years ago with the intention of fulfilling a dream that today we have been able to fulfill thanks to the work of the entire team."
Panatieri also took home the award for Pizza of the Year 2023 with his "Salsa de tomates cherry asados, mozzarella y holandesa de albahaca" wood-fired pizza: tomato sauce, mozzarella, roasted cherry tomatoes and basil hollandaise. The pizza costs €12.90 ($14.20). Pie prices at the restaurant start from $12.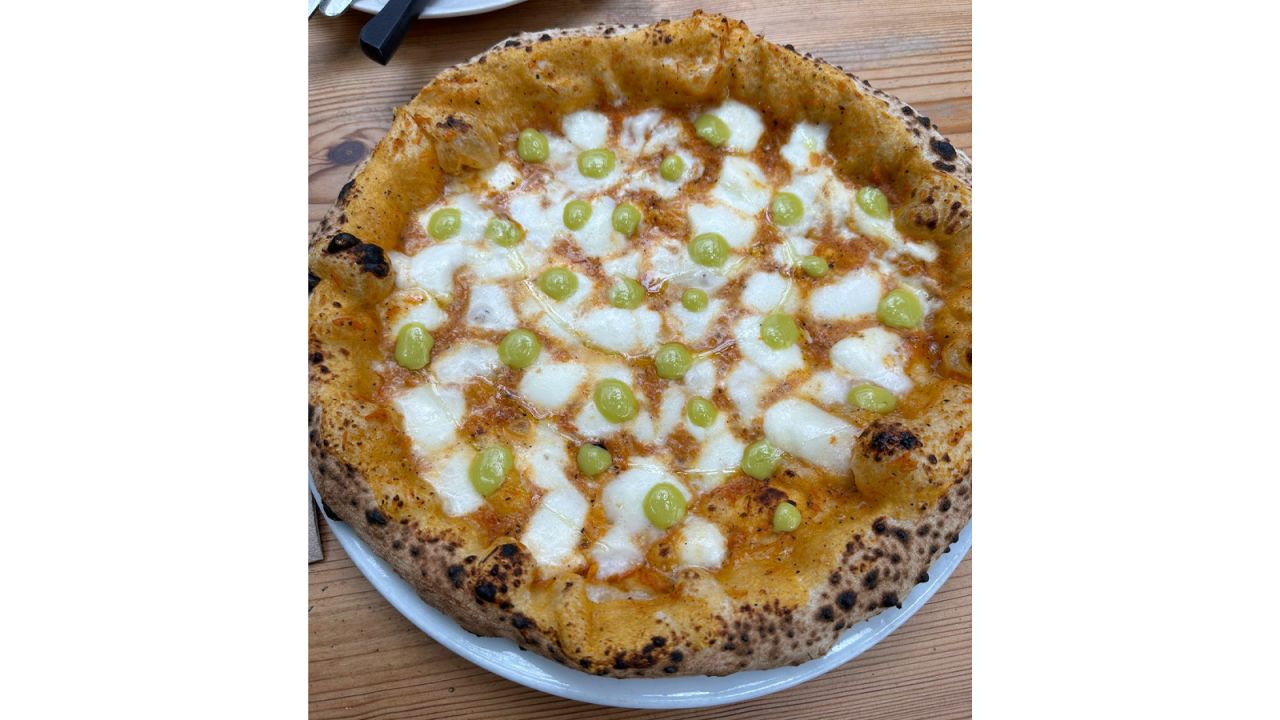 Meanwhile, 50 Kalò, which had been awarded first place in previous rankings, has slid down the list in recent years. However, it did take home the award for the "best fried pasta pie" this year.
50 Top Pizza has listings for pizzerias across the globe. They're created by around 1,000 "inspectors" around the world, who first vote for the best places in their own countries, and then make anonymous visits.
"For each pizzeria we have several reports of anonymous visits that help us complete the work of ranking," Barbara Guerra, one of three curators, told CNN. "Basically the ranking is the result of a group work in which we curators are the coordinators. We believe that only the work of a large team can help us make a list that primarily conveys current trends."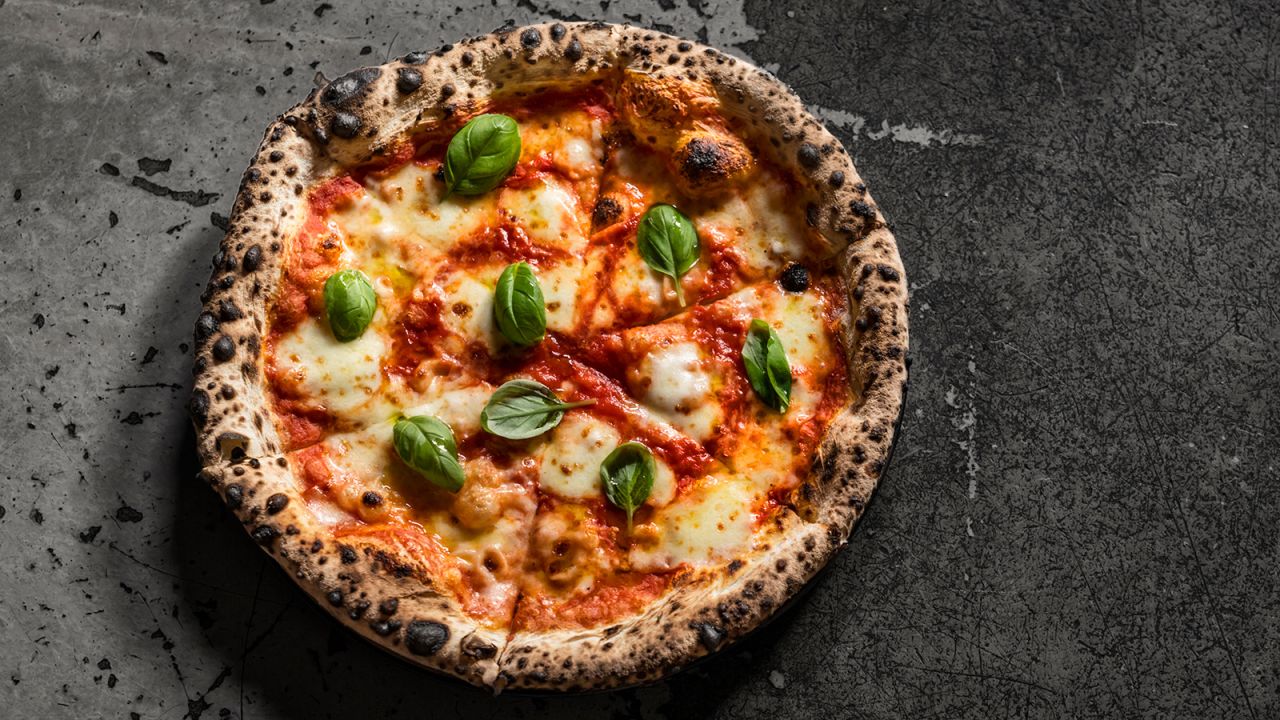 Guerra said that Neapolitan style pizza is still the world's favorite, but that the inspectors aren't specifically looking for it.
They reward "establishments that have personality and consistency, offer great pizza (of any style) and have friendly service," she said, adding that Sartoria Panatieri and Bæst are both Neapolitan-inspired but with "a completely different personality."
Guerra said that Italians are rightly proud of their culinary traditions.
"Italy is the country of pizza and Naples is the capital of pizza, it is normal that Italians have a lot of pride and strongly defend this product," she said.
"However, every Italian who travels [abroad] can easily realize how much the quality has grown in all European capitals. This is thanks to so many Italian pizza makers in the world but also thanks to people of all nationalities who have learned the art of making pizza in Italy or with Italians. The model is almost always the Neapolitan pizza but then it is expressed in so many ways."
She explained that the rise of real Italian pizza abroad is a relatively recent phenomenon. "Ten years ago in London or Paris you would find so many pizzerias where an Italian would find it hard to identify himself," Guerra said. "You would see a national product treated very badly. Today this is not the case."
As for the Italy rankings, they will be revealed in Rome on July 12.
They're preceded by the top 50 listings in Asia-Pacific (May 30) and USA (June 27). The big one – worldwide rankings – will be held on September 13 in Naples. The top 25 ranked European pizzerias will go through to the world finals, in which 100 from across the globe will be ranked against each other.
So why do we all love pizza? For Guerra, it's "a food that brings joy, simple and satisfying – and is the only food at an affordable price that's prepared in front of your eyes.
"The real value of pizza, especially Neapolitan pizza, is that it is healthy food with fresh ingredients, freshly prepared at an affordable price," she added.
50 Top Pizza's top 10 European pizzerias for 2023
1: Sartoria Panatieri: Barcelona, Spain
2: Bæst: Copenhagen, Denmark
3: 50 Kalò: London, UK
4: Via Toledo Enopizzeria: Vienna, Austria
5: Pizza Zulù: Fürth, Germany
6: Fratelli Figurato: Madrid, Spain
7: Forza: Helsinki, Finland
8: Napoli on the Road: London, UK
9: nNea: Amsterdam, Netherlands
10: La Balmesina: Barcelona, Spain