Hear the wind whisper through the pines while perched high in a fire tower in the Cheyenne Mountains, sway in a suspended sphere in the Canadian rainforest or relax in a solar-powered yurt in the Alaskan wilderness.
Why not skip the predictable four walls of a traditional hotel room and travel to a resort that promises to reconnect visitors with Mother Nature?
Though these resorts are unconventional places to stay, guests won't find sleeping bags and pop-up tents at the end of the day. In addition to the proper beds and bathrooms, cushy perks like fireplaces and hot tubs give guests creature comforts while enjoying their natural surroundings.
Here are 10 of our favorite destinations to be at one with nature.
1. Jade Mountain Resort, Saint Lucia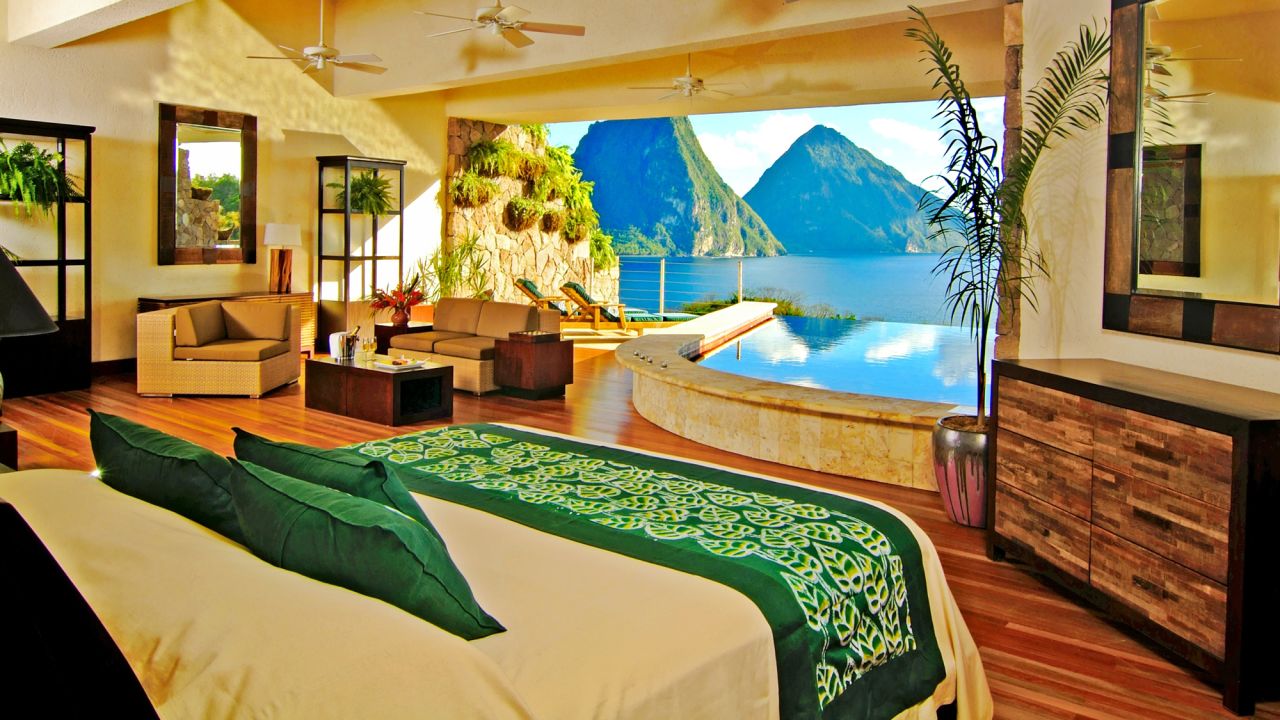 Jade Mountain Resort's 24 private infinity pool sanctuaries are harmoniously woven into the hillside. Each is constructed without a fourth wall, giving guests a private space that is fully integrated in the island's ecology.
The innovative three-wall concept assures sweeping views of the photogenic twin Pitons, Saint Lucia's famed volcanic plugs, as well as the Caribbean. The resort offers butler service and guests may choose from the sanctuaries or five sky Jacuzzi suites.
The resort prides itself on its low-tech ethos. With no televisions or Wi-Fi in the guest accommodations, there's nothing to distract from the serenity.
Jade Mountain Resort, open year-round, 1000 Anse Chastanet Road, Soufriere, St. Lucia, West Indies; +1 800-223-1108 (US) or 758-459-7000
2. Free Spirit Spheres, Qualicum Beach, British Columbia, Canada
Sleep in a suspended sphere nestled in the trees in Vancouver Island's temperate rainforest ,and you'll be swayed to sleep like baby in a cradle.
The three handcrafted spheres are designed to maximize communion with nature and the utmost care has been taken not to disturb the pristine setting. Each is a functional work of art.
The acoustics that the orb's circular shape present means even a whispery wind may be transformed into a surround-sound concert.
Each sphere feels extremely private and is equipped with heaters, snug bedding and a generous snack basket. There's a shared sauna to soothe tired muscles after a day spent walking, cycling or just soaking in the alluring British Columbia scenery.
Free Spirit Spheres, open year-round, 420 Horne Lake Road, Qualicum Beach, BC V9K 1Z7, Canada; +1 250-757-9445
3. El Cosmico, Marfa, Texas
Few places blend the rural Southwest with cutting edge visual encounters the way art-infused Marfa does.
El Cosmico embodies a like-minded haute-hippie spirit. Guests may sleep in a designer teepee with a queen-size bed complete with a heated mattress pad as a buffer from the chilly night air. If you prefer, stay in a yurt, safari tent or a restored vintage trailer.
The communal vibe means it's easy to strike up a spontaneous conversation by the fire pit or while grabbing morning coffee in the lobby (included in the price of your stay).
You can relax in the hammock grove after a soak in the wood-fired hot tub and gaze at the seemingly endless West Texas high plains desert. Or pedal one of El Cosmico's bikes and explore the galleries, museums and art installations that have put this little town on the map.
El Cosmico, open year-round (yurts available March-October), 802 South Highland Ave. Marfa, TX 79843; +1 432-729-1950
4. Conestoga Ranch, Garden City, Utah
This remote Utah ranch is a countryside retreat infused with the flavor of the Old West.
You can reserve one of the Conestoga wagons, based on the authentic 19th-century design. They're equipped with bunk beds, linens and electricity as well as a private bathroom located in the main lodge.
If a glamping-style tent is more your thing, the Royal Tent Suite has luxurious delights such as a king-size bed and en suite bathroom with a claw-foot tub big enough for two.
The ranch is a recreational wonderland centered around the glimmering waters of Bear Lake. You can fish, kayak and swim in the cool water, or if you prefer your fun on dry land, trails are excellent for hiking, biking and horseback riding.
Conestoga Ranch, 427 N. Paradise Parkway, Garden City, Utah 84028; +1 844-Go-Glamp; check with ranch for opening and closing dates
5. Orca Island Cabins, Seward, Alaska
You can immerse yourself in the supreme beauty of the Alaskan wilderness on a private island in the unblemished waters of Humpy Cove in Resurrection Bay.
You'll sleep in a stylish, solar-powered yurt bathed in natural light courtesy of the northern summer sun streaming through the skylight. The seven yurts are discreetly tucked into groves of spruce trees, built to minimize human impact on the island, connected by a maze of wooden walkways.
Sea kayak, stand-up paddleboard or hike to a waterfall. If you keep your eyes down as you paddle along the edge of this calm cove, you'll be rewarded with visions of plump starfish romping on the sea floor. If you're craving beauty of the man-made variety, stop by the owner's art gallery housed in the eighth yurt.
If you cruise the bay, you'll spy abundant wildlife including sea lions, harbor porpoise, humpback whales and bald eagles. You can borrow fishing gear and catch halibut, salmon or sea bass for a grill-it-yourself supper.
Orca Island Cabins, Humpy Cove, Resurrection Bay, Seward, AK 99664; +1 907-362-9014; check for opening and closing dates
6. The Broadmoor Cloud Camp, Colorado Springs, Colorado
Cloud Camp sits 9,200 feet on top of Cheyenne Mountain, offering 360-degree views of the Colorado Rockies. Getting to this wilderness experience is an adventure in itself; guests arrive by mule, foot or SUV.
The property consists of 12 individual cabins and six rooms in the American West-style lodge. The most striking accommodation is the secluded fire tower suite, built atop the stone foundation of a historical fire tower.
To reach it, climb 145 wooden steps that wind past towering pines and giant boulders. Once you arrive, there's a double bed and plenty of windows for marveling at Pikes Peak. An observation room with a telescope and a hot tub are bonuses.
While at Cloud Camp, guests enjoy impeccable cuisine, guided hikes, archery and evening campfires. Guests can also enjoy golf, spa treatments and other amenities at the main resort 3,000 feet below the camp.
The Broadmoor Cloud Camp, 1 Lake Avenue, Colorado Springs, CO 80906; +1 855-634-7711; check with camp for opening and closing dates
7. El Capitan Canyon, Santa Barbara, California
Smell wild sage, observe butterflies flying and be serenaded by a chorus of frogs at rustic El Capitan Canyon. The canyon sits alongside a seasonal creek, fringed by towering oak and sycamore trees.
You can stay in an upscale heated cedar cabin complete with a soaking tub, sleeping loft and kitchenette, reserve a fully equipped safari tent or book a yurt with a domed skylight.
If you follow the hiking trail past the organic garden you can meet El Capitan's resident llamas, sheep and goats. Weekly wine tasting and seasonal Saturday evening concerts add a dash of panache to the experience.
Although the hotel is usually open year-round, it was closed after a January 2017 flood damaged the area. The projected re-opening is May 26.
El Capitan Canyon, 11560 Calle Real, Santa Barbara, CA 93117; +1 805-685-3887
8. Schooner Stephen Taber, Rockland, Maine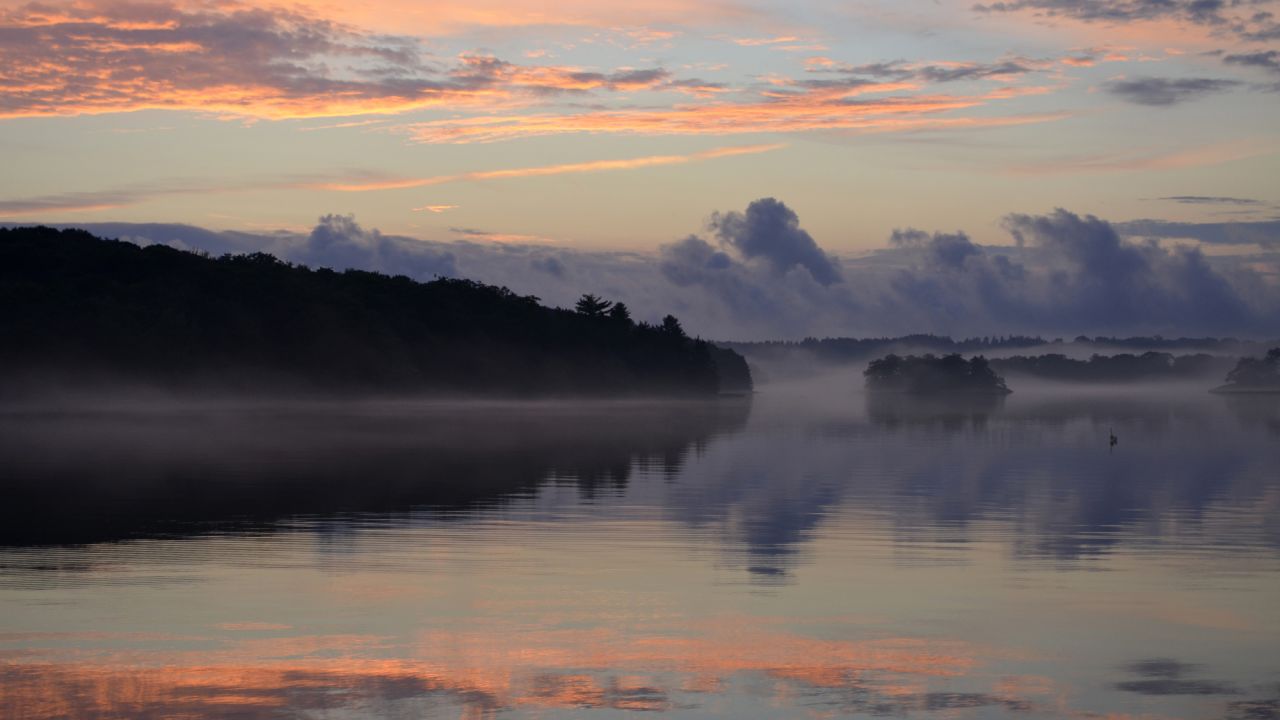 In Maine, the craggy coastline and some 4,000 islands off the coast can be enjoyed from many vantage points. To really savor this state's nautical charm, experience it on the water when you book a windjammer cruise aboard the Schooner Stephen Taber.
Each seafaring adventure lasts between three and six nights. The boat's course is determined by wind, weather and tides, so there's no set itinerary. Still, you may enjoy up-close views of wildlife including harbor and fur seals sunning themselves and whales and porpoises romping.
Mealtimes are an epicurean spectacle showcasing local products, with wine poured at dinner. Passengers sleep in compact private cabins with comfortable beds, reading lights and a sink but some prefer to snooze in a deck chair under the starry sky as the captain softly strums his guitar.
Schooner Stephen Taber, 40 Tillson Avenue, Rockland, ME 04841; +1 800-999-7352 or 207-594-4723; check for departure dates
9. Saugerties Lighthouse, Saugerties, New York
Fancy spending the night in a working Hudson River lighthouse? The Saugerties Lighthouse is situated on a remote shoal that is reached by walking a flat half-mile trail, so tranquility is guaranteed.
Outdoor decks and the light-tower offer views of the Hudson River Valley straight out of a Pete Seeger songbook. The majestic Catskill Mountains across the Hudson are visible as well, so it's a smorgasbord of scenery.
Operated by the not-for-profit Saugerties Lighthouse Conservancy, the lighthouse rents out two bedrooms, each with a double bed, homespun quilts and river views. The rooms are frequently rented together by families or small groups, as they share a single bathroom. A hearty breakfast, cooked by the resident lighthouse keeper, is included in the rate.
Saugerties Lighthouse, open Thursday-Sunday year-round, 168 Lighthouse Drive, Saugerties, NY 12477; +1 845-247-0656.
10. Treehouse Cottages, Eureka Springs, Arkansas
Sleeping in a tree house is a childhood dream straight out of Swiss Family Robinson. Bring the fantasy to life when you reserve one of eight tree house cottages.
More than 20 feet off the ground, these lofty abodes allow guests to enjoy the splendorous sight of the Ozarks.
Three treehouses (plus a ground level cottage for those who want to remain at ground level) are located in this bucolic resort town. An additional four are nestled in a 33-acre hidden forest of tall pines on the outskirts of town. Private decks, fireplaces, fine linens and glass-enclosed hot tubs with a bird's-eye view heighten the experience.
Treehouse Cottages, open year-round, 165 W Van Buren, Eureka Springs, AR 72632; 479-253-8667.
Allison Tibaldi is a New York City-based travel and food writer who has written for USA TODAY-Go Escape, Time Out New York, am New York, off Metro and other travel publications.