Inside Apple's big September event: Live updates
4:15 p.m. ET, September 10, 2019
iOS 13 is coming on September 19
Apple is releasing iOS 13 on September 19 as a software update for iPhone 6s models and later.
Major features include dark mode, a revamped Reminders app, and new efforts to address spam calls, such as sending calls from numbers that aren't in your contacts straight to voicemail.
Here's what else to expect with iOS 13.
Apple also said additional features will be available on September 30 with iOS 13.1, such as improvements to AirDrop.
3:15 p.m. ET, September 10, 2019
The iPhone 11 Pro cameras can record multiple videos at a time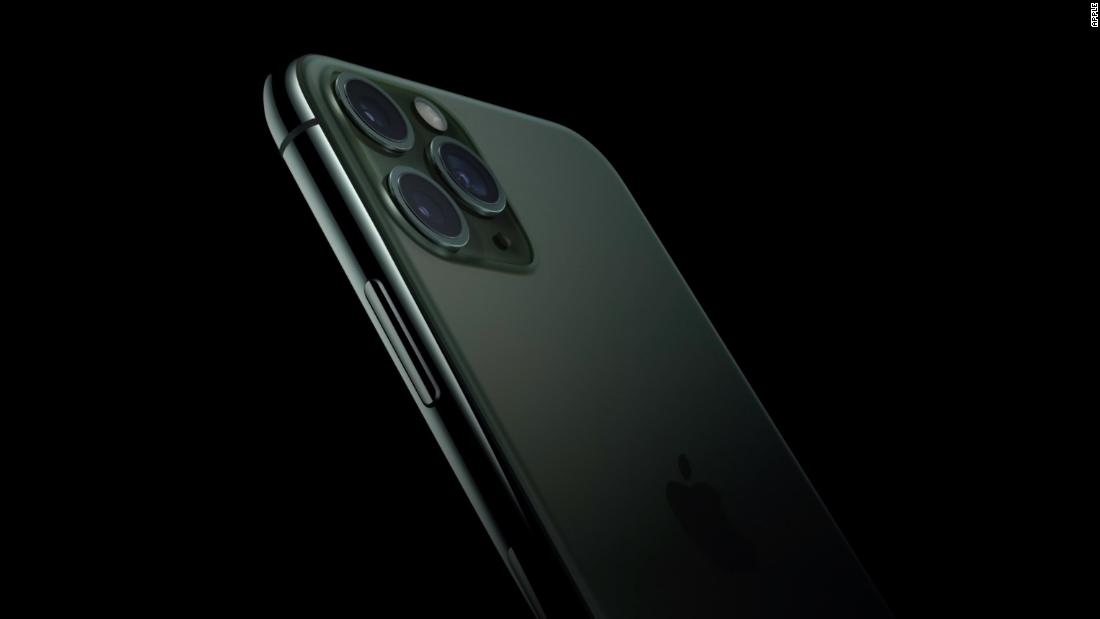 The three cameras on the iPhone 11 Pro and iPhone 11 Pro Max are able to record multiple videos at a time. The Pro is targeted at professional videographers and photographers but will help anyone shoot pro-quality photos and videos at twice as many frames per second, according to Apple (AAPL).
The Pro phone includes telephoto, wide and ultra-wide cameras and can also shoot in a new night mode that lets people capture images in lower light.
3:29 p.m. ET, September 10, 2019
Here's what all the new iPhones will cost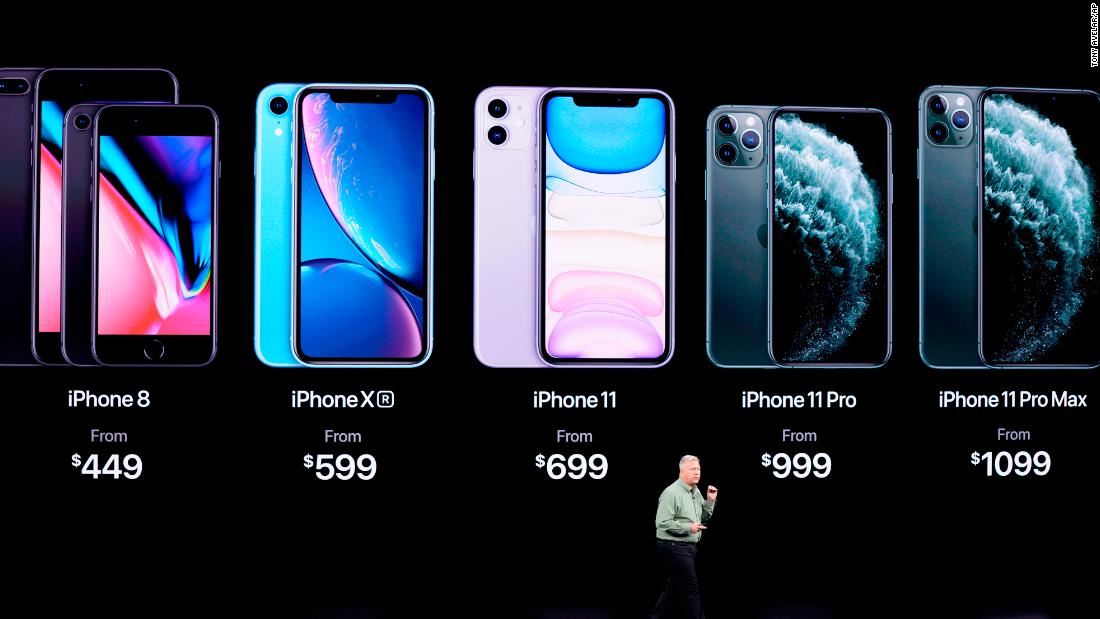 Apple announced three new iPhones on Tuesday. These are their prices:
iPhone 11: $699
iPhone 11 Pro: $999
iPhone 11 Pro Max: $1,099
Older models will be cheaper, too: iPhone 8 will now start at $449, while the iPhone XR will cost $599.
2:55 p.m. ET, September 10, 2019
At $4.99 a month, Apple TV+ undercuts streaming competitors
Apple TV+ will be the cheapest television streaming service on the market yet.
Investors and analysts were shocked when Disney announced in April that Disney+ would cost just $6.99 per month. But Apple said Tuesday that its service, which will stream original content with the likes of Oprah and Jennifer Anniston, will cost $4.99 per month when it launches November 1.
Here's how it stacks up in the increasingly competitive TV streaming field:
Apple TV+: $4.99/month
Disney+: $6.99/month
Amazon Prime Video: $8.99/month
Starz: $8.99/month
CBS (No Ads): $9.99/month
Showtime: $10.99/month
Hulu (No Ads): $11.99/month
Netflix (Standard Plan): $12.99/month
HBO Now: $14.99/month. (HBO Max price not officially announced yet. Note: HBO and CNN are divisions of WarnerMedia.)
Total: $90.91/month
2:41 p.m. ET, September 10, 2019
Don't forget the case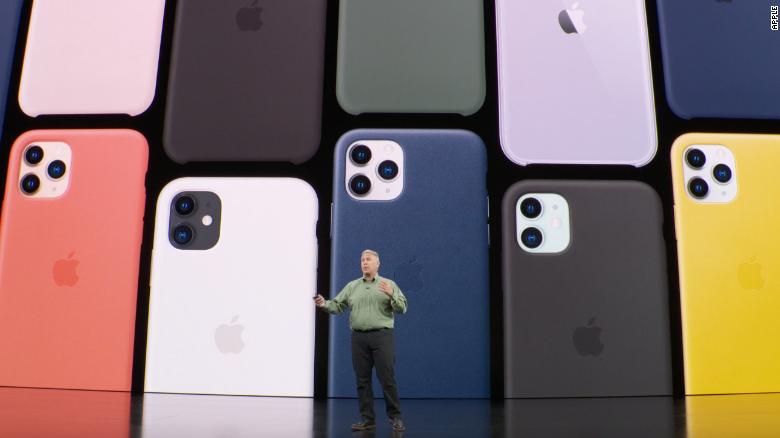 You don't want to scratch your new iPhone 11! So Apple (AAPL) is launching a new line of iPhone cases that come in a wide range of colors.
2:54 p.m. ET, September 10, 2019
Apple doesn't wow (or disappoint) Wall Street
iMeh? Apple didn't launch anything all that exciting Tuesday that wasn't expected. But that may not be a bad thing.
Shares of Apple (AAPL) were relatively flat before the unveiling of the iPhone 11 and other new products. The stock was still mostly unchanged as the event wore on.
But the reason Apple is up more than 35% this year has more to do with the company's shift toward subscription services than new phones, iPads and Apple Watches. And Apple did deliver some compelling new services Tuesday at consumer-friendly prices.
Apple said its Arcade gaming subscription service, which launches on September 17, and its Apple TV+ lineup of original programs that will debut on November 1, will each cost just $4.99 a month.
And while Apple's stock may not have done much Tuesday, investors in streaming rivals took notice of that low $4.99 price tag. Shares of streaming leader Netflix (NFLX) fell nearly 4% while shares of Disney (DIS), which will launch its $6.99 a month Disney+ service on November 12, were down more than 2.5%.
3:13 p.m. ET, September 10, 2019
Apple claims that its latest iPhones are more powerful than any other smartphone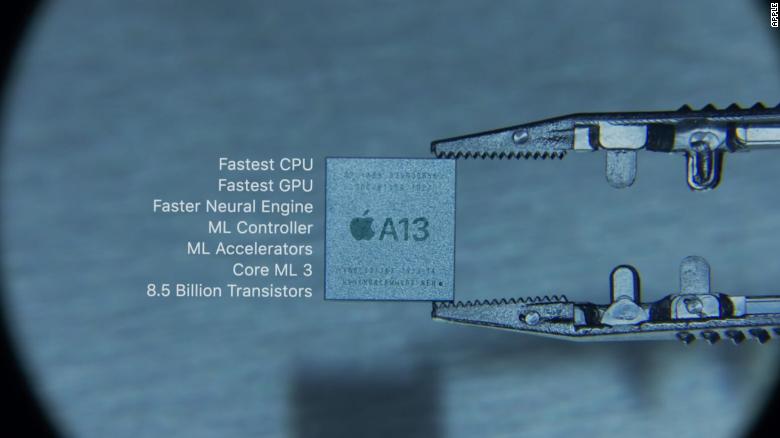 Every year when Apple unveils its latest line of iPhones it also announces a new bionic chip, and this year it's called the A13.
Apple (AAPL) claims that iPhones powered by the A13 bionic chip are more powerful than the phones from Samsung, Google (GOOGL) and Huawei.
To prove this point, the company showed two bar charts -- but they didn't have an X or Y axis. It said that the iPhone XR has already surpassed the Samsung Galaxy S10+, Huawei P30 Pro and Google Pixel 3 in computing power. It added that in terms of graphics, the new iPhone 11 also beat all three competitors.
Is the new iPhone truly going to be faster and more powerful than other flagship smartphones? Without more data, it's hard to take Apple's claims at face value.
3:00 p.m. ET, September 10, 2019
Apple adds "Pro" to its bizarre iPhone naming convention
What do "3G," S," "C," "Plus," "S Plus," "SE," "X," "R," "S Max," and "Pro" have in common?
They're all suffixes Apple has added to identify its iPhones.
For 10 years, Apple (AAPL) had a two-year upgrade cycle: In the first year, Apple completely redesigned the iPhone. In the second year, the iPhone got some internal upgrades but remained the same on the outside.
That was true for the 3G / 3GS, 4 / 4S, 5 / 5S, 6 / 6S and X / XS.
But in other years, Apple bucked the trend. The iPhone 7 and iPhone 8 had the same design as the iPhone 6 and iPhone 6S, and there was no 7S or 8S. (There was no iPhone 9 at all).
The bigger versions of the iPhone were once "Plus," and then they changed to "Max."
The colorful, plastic one was the iPhone 5C. The low-cost iPhone was the SE.
The slimmed down, basic version of the iPhone last year was labeled "R," and this year it's just "11." The souped up version is "Pro" this year (it was "S" last year).
Got all that?
2:13 p.m. ET, September 10, 2019
Wait, so Apple products are cheap, now?
$699 for the iPhone 11
$199 for an Apple Watch
$329 for an iPad
$5 a month for Apple TV+
$5 a month for Arcade
That's a lot less than folks were expecting. There are two reasons why Apple's prices are surprisingly low.
1) As Apple's hardware sales fall, the company is looking to expand its base, hitting the lower-end of the market by offering some cheaper products. It did the same thing with the iPod a decade ago, introducing the Mini, Nano and Shuffle versions of the MP3 player.
2) Apple (AAPL) needs subscribers to bolster its top line sales, which have been in a years-long slump. By charging just $5 each for Apple TV+ and Arcade, Apple is going to attract a larger group of people who will try out the new services.