Inside Apple's big September event: Live updates
3:06 p.m. ET, September 10, 2019
This is the next generation of the Apple Watch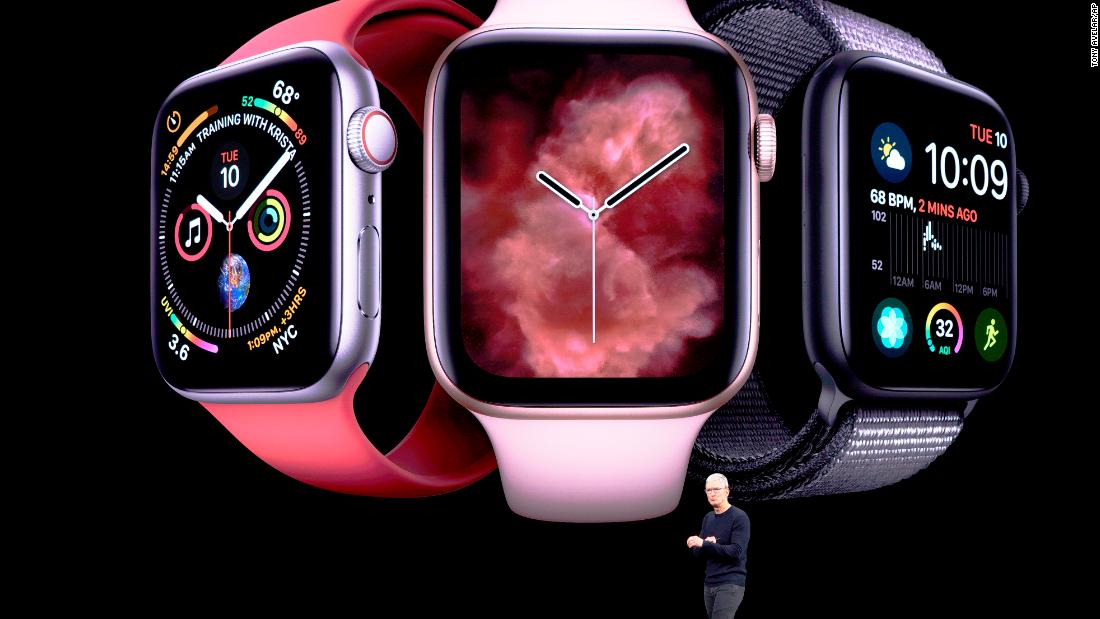 We just heard about the Apple Watch's health impacts. Now we're finding out what updates the hardware is getting: Apple Watch Series 5.
Series 5 will have a new Retina display that is always on. That means the watch face is always visible. It has 18 hours of battery life.
The cellular version has a new emergency SOS feature for when you're traveling internationally to over 150 countries, where you can press and hold down the side button to contact emergency services -- without needing your iPhone.
The GPS version starts at $399, while the cellular model costs $499. Series 5 is available starting today, and will hit stores on September 20. The Series 3 Watch will now cost $199.
4:21 p.m. ET, September 10, 2019
Apple TV+ includes original shows from Oprah and is cheaper than Netflix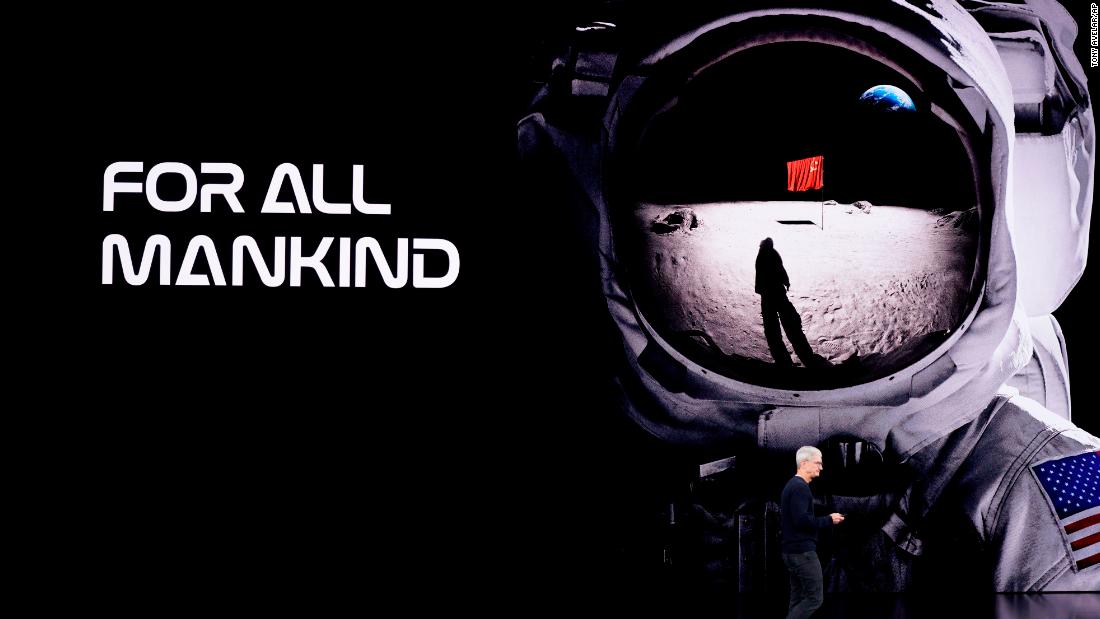 Apple announced a release date — November 1 — and a price for its TV subscription service, $4.99.
For that price, it runs cheaper than competitors like Netflix, Hulu and Disney+. But it doesn't have "Friends" to stream.
Instead, on Tuesday, Apple confirmed its lineup of original programming, including shows it had teased for months: Documentaries from Oprah Winfrey, a new Peanuts original called "Snoopy in Space" and "The Morning Show," a drama that stars and is executively produced by Reese Witherspoon and Jennifer Aniston.
2:09 p.m. ET, September 10, 2019
How many iPhone 11s could Apple sell?
This is expected to be the third straight year in which Apple (AAPL) maintains the current design of its iPhone. Yawn.
But one Apple bull thinks people won't find the iPhone 11 to be boring at all. That's because about 1/3 of the 900 million iPhone owners will be ready to upgrade their phones over the next year to 18 months, according to Dan Ives, Apple analyst at Wedbush Securities.
"Cook & Co. recognize this will be a crucial product cycle on the horizon that we believe could translate into roughly 180 million iPhone units sold in 2020," Ives said.
That's a lot of iPhones. Suppliers are planning on selling about 75 million iPhone 11s this year, according to Ives. That's slightly more iPhone XR and XS phones than Apple sold in 2018.
3:31 p.m. ET, September 10, 2019
Apple Watch doubles down on health tracking
The Apple Watch portion of the event kicked off with a promotional video of customer testimonials about the real-world impact of wearing the device, from flagging early sides of a heart attack to helping a pregnant mother know she needed an emergency c-section. "Hearing these stories just make my heart sing," Tim Cook told attendees.
The company also detailed how the Apple Watch is being used to in health research, including hearing, heart and fertility studies. A new research app called Studies, which will be open to Apple Watch users, will launch later this year.
3:05 p.m. ET, September 10, 2019
Apple unveils 7th generation iPad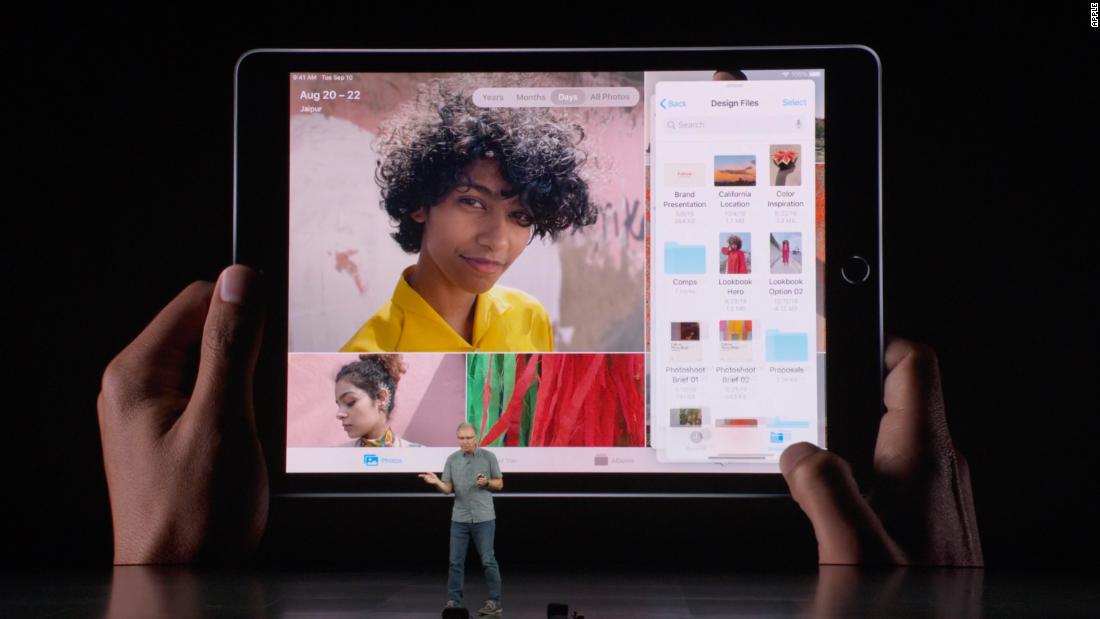 Apple showed off its seventh generation iPad with its biggest display yet: a 10.2-inch Retina display.
Apple says it's faster, supports a smart connector for keyboards and features more multitasking features. It's also made of 100% recycled aluminum.
Cost? It will start at $329.
It's available for pre-order now and will ship at the end of the month.
1:43 p.m. ET, September 10, 2019
Keep an eye on Apple's stock price
Apple's (AAPL) stock was down just a hair as it started unveiling Arcade, a new iPad and a number of other products. Then it ticked higher.
Typically, on days when Apple launches a new iPhone, Apple's stock has risen an average of 1.5% over the past seven years — since the iPhone 5 debut — according to Refiniiv.
The biggest iPhone launch stock move came on September 10, 2013, when shares fell 7.6%. That's when Apple launched the disappointing 5C (the plastic one) and the iPhone 5S. So we're not close to that today: Apple's only down less than 0.1%.
The best day came on September 10, 2015, when Apple launched the iPhone 6S (the one with 3D Touch). Apple's stock rose 3.7% that day.
"Today's iPhone launch should be a boon for Apple shares," said David Aurelio, senior manager of equity markets research at Refinitiv.
3:20 p.m. ET, September 10, 2019
Apple TV+ will cost $4.99 a month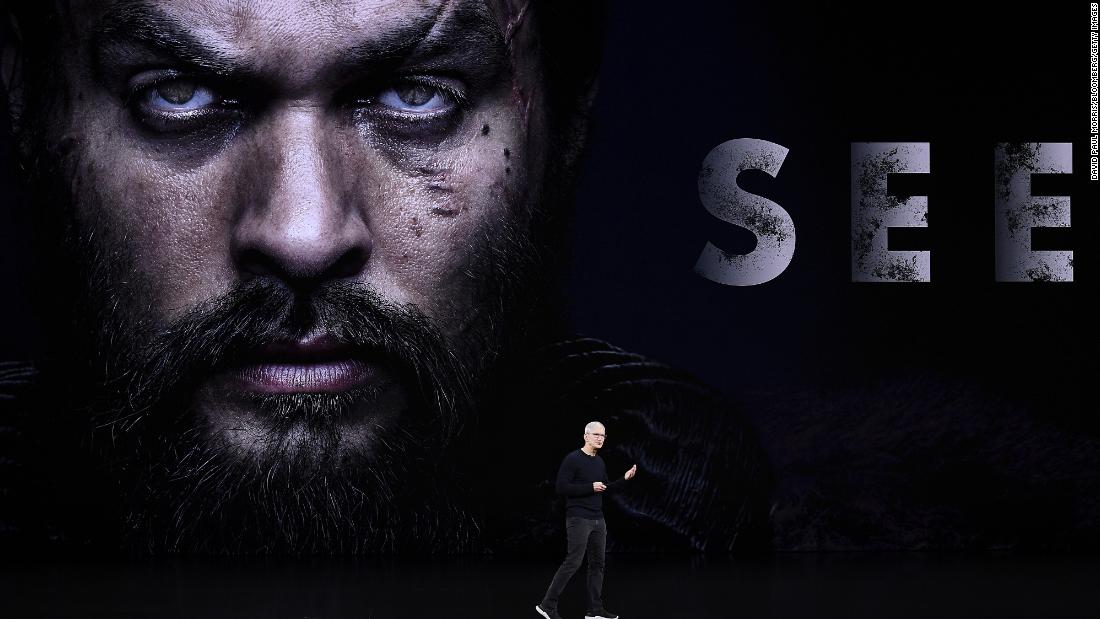 We've now moved onto Apple TV+.
Tim Cook unveiled the trailer for Jason Momoa's new show, 'See.'
The first shows will be available on November 1, 2019. More will get added every month. Apple TV+ will be available in over 100 countries at launch, Cook says. It will cost $4.99 per month.
3:23 p.m. ET, September 10, 2019
Apple kicks off iPhone event with news about its gaming subscription, Arcade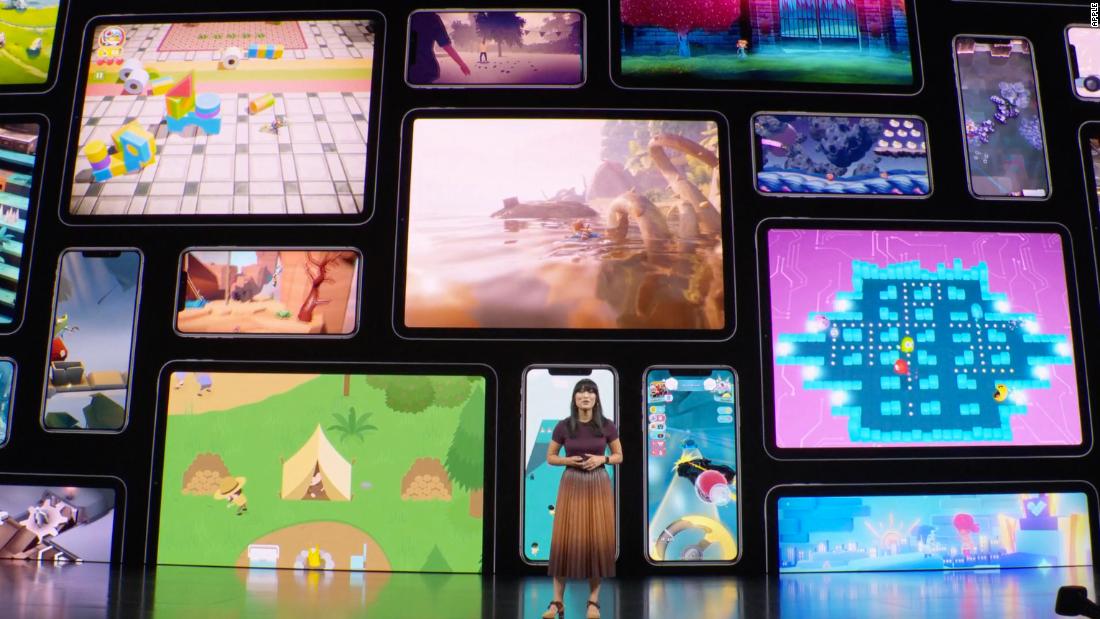 Apple wants to sell you video games.
Apple Arcade, a new subscription service, launches on September 19 and costs $4.99 a month. It provides access to a bunch of indie games and classic titles as well some from companies like Capcom and Annapurna.
While most mobile games are free to play and rely on a lot of in-game transactions to draw in revenue, Apple Arcade will be a premium option.
While iPhone revenue is on the decline, Apple has been leaning into services in the finance, publishing and entertainment industries.
12:21 p.m. ET, September 10, 2019
The scene at Apple's campus ahead of the event
Apple's big media event kicks off in about an hour -- and it's starting to get busy.
The media is filing in, lingering mostly in front of and inside the first floor of Apple's new campus. Apple (AAPL) staffers are dressed in new teal shirts. (It's unclear if that will be one of the new colors Apple announces for the iPhone). As in previous years, they're welcoming attendees with claps and cheers.
And there is at least one new twist to this year's event already: Apple famously stocked press areas with Smart Water, a rumored longtime favorite of Steve Jobs. But this year, the supplied water is in tin cans -- the company is called Proud Source and you can find it here. Nearby SFO airport recently stopped selling water bottles.