6:14 p.m. ET, March 25, 2019
Apple's big event felt small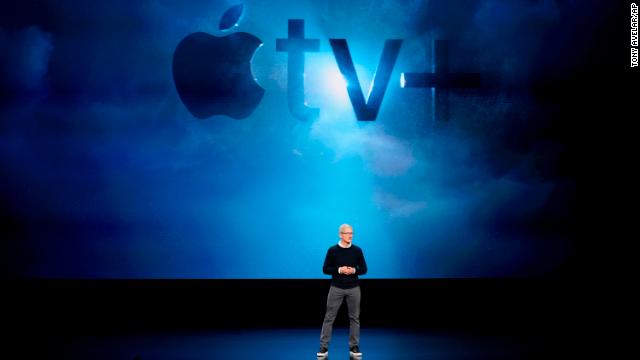 Apple events are known for their spectacle. But Monday's event with its reveal of Apple's new streaming video service, Apple TV+, felt kind of small (Hollywood star power notwithstanding).
The presentation was supposed to lay out how Apple (AAPL) was going to take on the streaming world, challenge Netflix (NFLX) and Disney (DIS) and the litany of others in the space. Many of us though the tech giant was going to change the way we watch TV Instead we just got more questions:
We don't know how much the new TV product will cost (Apple said pricing would come later).
We don't know when it'll launch (Apple said sometime in the Fall).
Even Steven Spielberg, Reese Witherspoon and Oprah felt like a collective meh because we didn't get to experience what these creators are actually creating. There were no trailers -- just lots of talking.
Okay, actually, Oprah is never meh so I take that last part back.
The whole thing felt very unlike Apple, as Recode's Peter Kafka pointed out.
"One thing Apple has been very good about is showing off a new piece of hardware or software, telling you why you'd like to use it, and telling you when you can get it," he wrote. "It usually tells you how much it costs, too."
Apple will eventually tell us more about its plans, but for now the reception on this TV is pretty fuzzy.
6:05 p.m. ET, March 25, 2019
Bummer, there's no Oprah talk show on Apple TV
Oprah Winfrey's content deal with Apple (AAPL) includes documentaries and a rebooted book club -- but not a regular talk show.
Winfrey got a standing O when she came out on stage, and again when she wrapped up.
Her deal with Apple was announced last June, but no one knew what she would be working on.
She said she has two documentaries in the works. And with the digital book club, she said "I want to literally convene a meeting of the minds."
Winfrey is also the CEO of the OWN cable channel. She is exclusive to OWN on cable, but has the ability to appear other places as well, for example on Apple's streaming service.
Speaking on stage, she summed up a key part of Apple's pitch to Hollywood:
They're in a billion pockets, ya'll. A billion pockets!"
Read more about Oprah and Apple from CNN's Sandra Gonzalez.
Also: Remember when 'The Oprah Winfrey Show' made us listen to each other.
2:55 p.m. ET, March 25, 2019
WW's stock shoots higher as Oprah takes the stage
What does WW have in common with Apple? Oprah.
WW, formerly known as Weight Watchers, hired Oprah as its spokeswoman in 2015. Apple (AAPL) just hired her to produce documentaries and host a book club on Apple's platform.
WW's (WTW) stock shot up about 1% the moment Oprah took the stage.
Oprah owns a little more than 8% of WW.
It's possible that high-speed trading machines were responsible for the spike in WW's stock. Shares came back down to earth minutes after Oprah started speaking.
6:15 p.m. ET, March 25, 2019
Apple saves the best for last: Oprah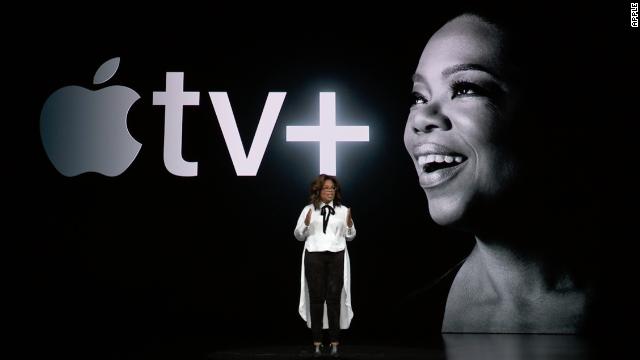 And you get an AppleTV+! And you get an AppleTV+! And you get an Apple TV+!
Apple CEO Tim Cook saved the biggest storyteller for last: Oprah Winfrey.
Oprah appeared on stage to cap off Apple's press event telling the crowd "there's never been a moment like this one."
We all crave connection," she said. "We search for common ground."
Oprah said that she "joined in order to serve this moment," and that the apple platform allows her to do what she does in a whole new way.
Oprah announced that she has two documentaries in the works. One documentary called "Toxic Labor" while the other is a yet unnamed documentary.
Oprah also said she's rebooting her famed book club with Apple (AAPL).
"All connected to Appppppple!" Oprah said, wrapping up the event.
"Thank you, I will never forget this," Cook said while hugging Oprah.
4:26 p.m. ET, March 25, 2019
Welcome to the Apple TV upfronts
Apple's event on Monday didn't feel like a normal "one more thing" Apple (AAPL) event that ends with a brand new innovative iPhone, but instead felt like a TV upfront.
A TV upfront, for the some of you who may not know, is a network's presentation of its new slate of shows to entice advertisers before the TV season. TV networks bring out talent, talk in wonky language about the series and it's all generally awkward.
Monday's Apple event was basically the same thing. Apple brought out Steven Spielberg, Reese Witherspoon, Jennifer Aniston and J.J. Abrams to talk about their upcoming series like "Amazing Stories" and "The Morning Show."
But instead of talking to advertisers, Apple and talent were talking to reporters in the room and viewers watching at home.
One big difference from the TV upfronts: Apple didn't show much in the way of trailers. It was more of a spoken-word trailer.
4:25 p.m. ET, March 25, 2019
Jennifer Aniston, Reese Witherspoon and Steve Carell talk Apple's new 'Morning Show'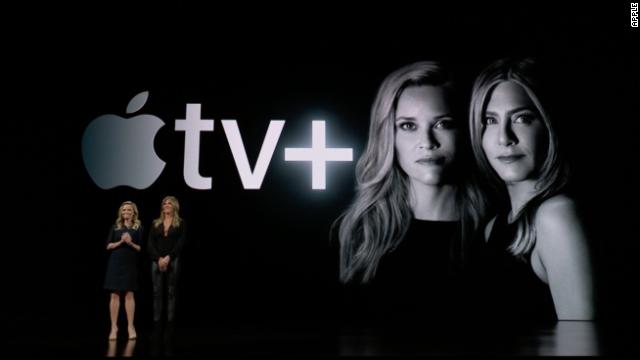 Jennifer Aniston and Reese Witherspoon appeared on stage to introduced their Apple (AAPL) series "The Morning Show" — a fun look into the wild world of morning news.
"Through the prism of those under-slept and over-adrenalined people behind and in front of the camera, we take an honest look at relationships between women and men in the workplace," Aniston said on stage.
The two are also executive producers on the show.
Steve Carell, who is also on the series, joined Aniston and Reese on stage and vamped about the series and his character.
"His colleagues love him and America love him," Carell joked.
(Full disclosure from CNN's Brian Stelter, who's reporting live at today's event: I'm a consultant on one of Apple's many shows, a drama set in the world of morning TV. But I don't know when or how the show is being released.)
2:51 p.m. ET, March 25, 2019
Steven Spielberg gets his own Apple series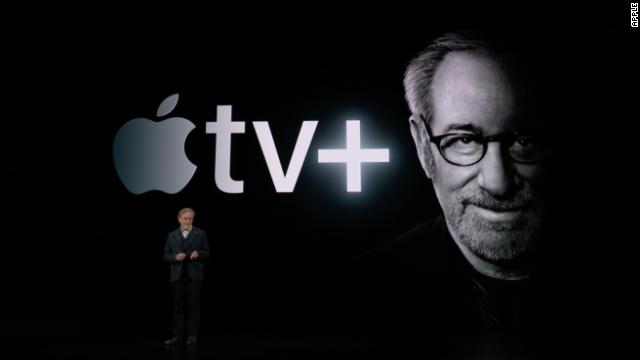 "I'm so grateful to be here today. This is my first time at Apple," Steven Spielberg said on stage.
Spielberg said an anthology series called "Amazing Stories " was his first encounter with science fiction, thus confirming reports that his series would be a part of the new Apple TV+
"We want to transport the audience with every episode," he said. He hopes that the first season of "Amazing Stories" will be a single thematic experience.
The original "Amazing Stories" ran on NBC from 1985 to 1987.
3:00 p.m. ET, March 25, 2019
Roku's stock tumbles as Apple announces its new TV offerings
Roku's stock fell more than 5% during Apple's TV and TV+ presentations.
Shares in the streaming device company had been up as much as 8%, but they are now up only a little more than 2%.
Roku (ROKU) competes with Apple TV, Amazon Fire, Google Chromecast and several other streaming video options. Roku dominates the space, more than doubling Apple's market share, according to Parks Associates. Apple TV will now be coming to Roku devices and smart TVs, but that may not be enough to comfort investors.
4:27 p.m. ET, March 25, 2019
And finally, here is Apple's original content
"Great stories can change the world," Tim Cook, Apple's CEO said, before introducing the name of Apple's new TV service: Apple TV+.
Apple (AAPL) said that Apple TV+ will work with artists and some of the biggest names in Hollywood.
Steven Spielberg, J.J. Abrams, Sofia Coppola, Jennifer Aniston, Reese Witherspoon, Damien Chazelle, M. Night Shyamalan and Ron Howard were all a part of a black and white film about how these Hollywood heavyweights work creatively.
Brian Stelter notes:
This is the heart of Apple's announcement -- a huge bet on original TV shows and films. Jamie Erlicht and Zack Van Amburg have Jamie Erlicht and Zack Van Amburg, the two Sony execs who were poached from Sony nearly two years ago, are speaking about "a new service dedicated to the best stories ever told." They've been working on it in secret, until now.
(Full disclosure from CNN's Brian Stelter, who's currently reporting live at today's event: I'm a consultant on one of Apple's many shows, a drama set in the world of morning TV. But I don't know when or how the show is being released.)