4:27 p.m. ET, March 25, 2019
And finally, here is Apple's original content
"Great stories can change the world," Tim Cook, Apple's CEO said, before introducing the name of Apple's new TV service: Apple TV+.
Apple (AAPL) said that Apple TV+ will work with artists and some of the biggest names in Hollywood.
Steven Spielberg, J.J. Abrams, Sofia Coppola, Jennifer Aniston, Reese Witherspoon, Damien Chazelle, M. Night Shyamalan and Ron Howard were all a part of a black and white film about how these Hollywood heavyweights work creatively.
Brian Stelter notes:
This is the heart of Apple's announcement -- a huge bet on original TV shows and films. Jamie Erlicht and Zack Van Amburg have Jamie Erlicht and Zack Van Amburg, the two Sony execs who were poached from Sony nearly two years ago, are speaking about "a new service dedicated to the best stories ever told." They've been working on it in secret, until now.
(Full disclosure from CNN's Brian Stelter, who's currently reporting live at today's event: I'm a consultant on one of Apple's many shows, a drama set in the world of morning TV. But I don't know when or how the show is being released.)
2:18 p.m. ET, March 25, 2019
Apple trolls Facebook and Google with emphasis on privacy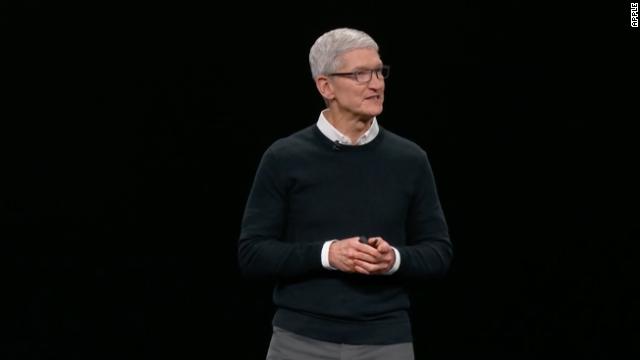 Apple (AAPL) wants you to know it takes your privacy really, really seriously.
Throughout the presentation, executives played up the company's focus on privacy and security.
Executives referenced its "on-device intelligence," which uses information from your device to serve up recommendations. For example, its news app will feature suggestions, but Apple won't know what you're reading and won't allow advertisers to track you. 
Meanwhile, Google (GOOGL) and Facebook (FB) have been under fire for how much information they collect about their users.  
Apple CEO Tim Cook also reminded the audience that Apple News has always relied on trusted sources, and articles have been curated by experts. Cook said this is a "different approach than others have taken" – a clear swipe at Facebook. 
5:23 p.m. ET, March 25, 2019
'This is how TV should be': Here's the new Apple TV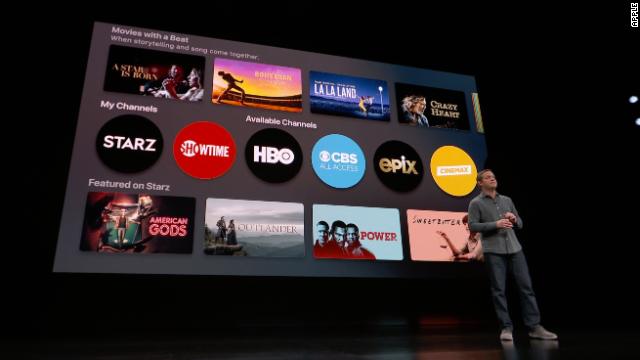 And it's showtime for TV!
Apple's big announcement: It is redesigning its Apple TV app to allow consumers to pay only for what they want, ad free, and share with their family.
Apple (AAPL) will allow consumers to subscribe to channels such as Starz, Showtime and HBO.
This is the first time the Apple TV app will be on Mac and smart TVs.
And Apple keeps emphasizing: The Apple TV app will not share consumers' personal data with anyone.
2:53 p.m. ET, March 25, 2019
Gaming stocks fall after Apple announces Arcade
1:54 p.m. ET, March 25, 2019
There's a lot of sizzle reels!
Apple (AAPL) is debuting different products across many different areas from news to banking to gaming. But the one common theme is, man, there are a lot of sizzle reels.
There's sizzle reels to show the beauty of magazines and I believe at least two sizzle reels that showed off much of the same video games.
I'm looking forward to the next sizzle reel for Apple Sizzle, which is an app that creates sizzle reels for Apple events.
1:53 p.m. ET, March 25, 2019
Apple launches game subscription service
The company unveiled Apple Arcade, which it calls the world's first game subscription service, for mobile, desktop and the living room. It will feature curated, brand-new games that Apple (AAPL) will help develop.
Games will work on iPhones, Apple TVs, Macs and iPads -- and you can pick off where you left off even if you change devices. Games are also available even without an internet connection.
Apple Arcade, which is available this fall, has over 100 games, and more will be added. They won't feature ads or in-app purchases. Pricing has not yet been announced.
1:59 p.m. ET, March 25, 2019
Apple wants to be your bank, too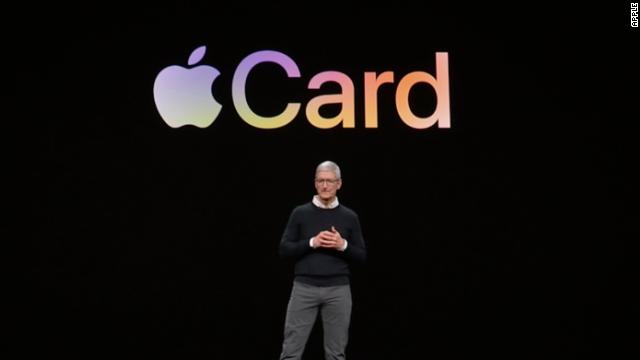 The company unveiled a new credit card called the Apple Card, in partnership with Goldman Sachs (GS).
Apple (AAPL) CEO Tim Cook says the company is "changing the entire credit card experience" and that credit cards should have simplified apps, lower interest rates and compelling rewards.
Customers don't have to wait days for the card: Apple said you can sign up on your iPhone, and start using it within minutes. The card will be in your iPhone's Wallet app. The physical card -- made of titanium -- has no number, security code, expiration date or signature for extra security.
It features perks like cash back every day, and tools to track your spending.
2:15 p.m. ET, March 25, 2019
How about paying $9.99 a month instead of $8,000 a year?
Extra! Extra! Apple News+ is launching today.
Roger Rosner, Apple's VP of applications, announced the company's new news service will be available on iPhones after downloading the latest version of iOS.
The service will be $9.99 a month, compared to the $8,000 a year it would take to subscribe to all the titles it will offer, according to Rosner. It will have over 300 outlets. The first month will be free.
Two of the biggest outlets in Apple News+ are the Los Angeles Times and the Wall Street Journal, which Rosner called "one of the world's top newspapers."
1:40 p.m. ET, March 25, 2019
You asked us: What will Apple's stock do?
Rami from Melbourne, Florida, asks: How do you expect the Apple stock to be have after today's announcement?
Apple's stock has a long history of falling after the company's big announcements. That doesn't necessarily mean Apple (AAPL) disappoints Wall Street every time Tim Cook gets on stage; it means Apple's announcements tend to leak, and investors are doing the "buy the rumor / sell the news" thing.
So far, Apple's stock has fallen about a half a percentage point since its presentation began.
One stock is soaring on Apple's announcement: Roku (ROKU) shot up about 8% today. Investors in the streaming set-top-box company apparently aren't overly impressed with Apple's news so far.
Got another question? Click here and let us know what you want to know. We'll do our best to answer.