Three-time Grammy award-winning artist Dua Lipa has co-designed a new collection for Versace, titled "La Vacanza," or "the holiday."
Lipa and Donatella Versace, the label's creative director since 1997, began working together in 2018 after the pop sensation wore a daring leotard and denim jacket combination for her first ever Brit Award performance. The rest, the pair said during a press conference on Tuesday ahead of the show, was history.
The collection — which debuted poolside at a topiary-filled villa in Cannes on Tuesday evening — was an intimate affair and timed to coincide with the world's most extravagant film festival. Invitees mainly consisted of influencers and Gen Z-friendly musicians including Rina Sawayama and Peggy Gou (though F1 racer and fashion luminary Lewis Hamilton made an appearance). Cannes attendees British model Rosie Huntington-Whitely and Australian singer-songwriter Troye Sivan were also spotted at the show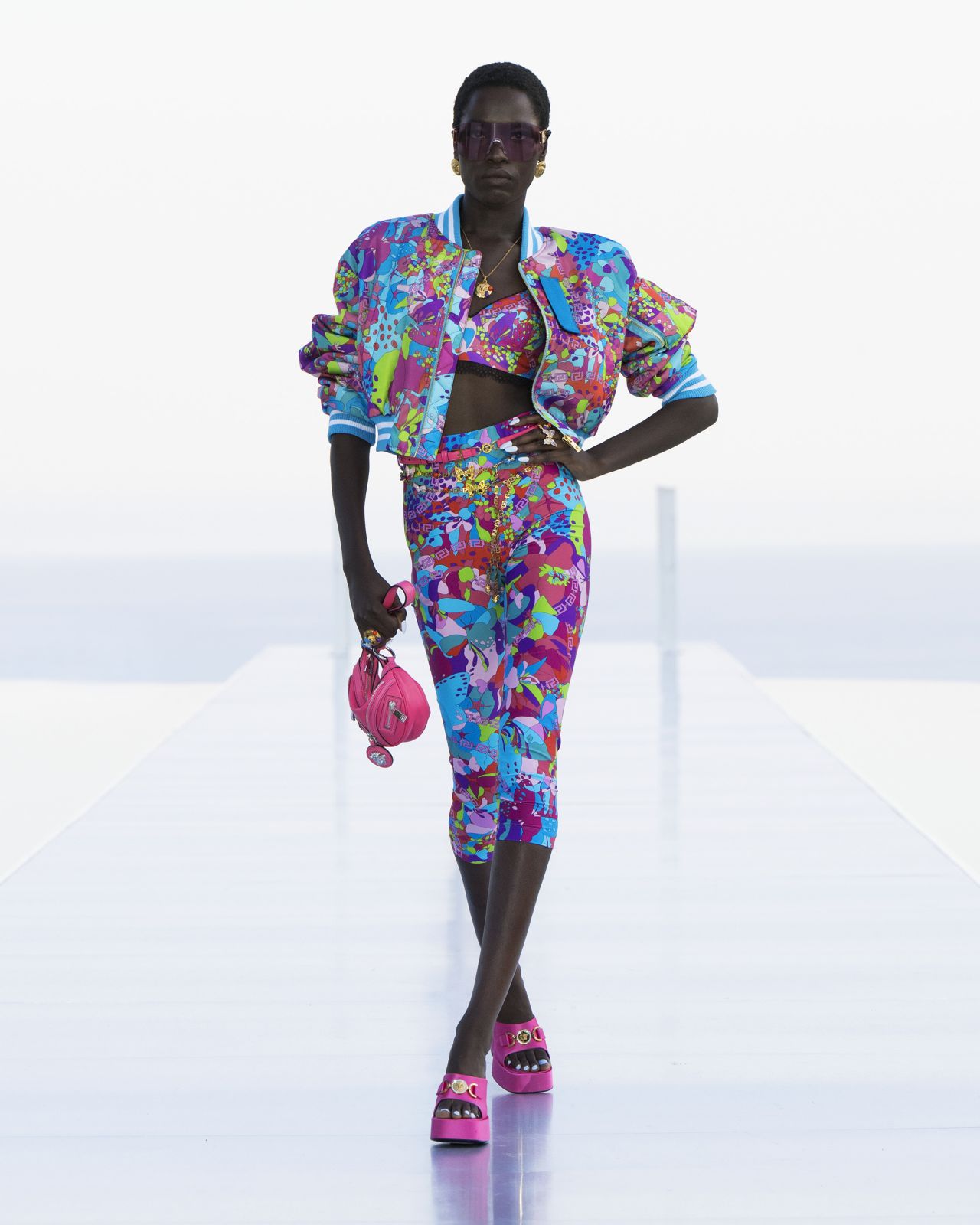 The Italian fashion house has long understood that fashion is about more than just clothes. For the late founder Gianni Versace — and his sister Donatella — the priority has always been celebrity, spectacle and engineering moments to transcend the industry and become pop culture history. Who could forget the risqué emerald green jungle dress Jennifer Lopez wore to the 2000s Grammys that prompted tech engineers to create Google Image Search?
Inspired by Versace's storied archives from the 1990s, the resort collection — an industry term referring to clothes produced outside of the traditional Spring-Summer, Fall-Winter seasons — began in October with Lipa sending Donatella sketches of her vision. "I really can't draw at all," the singer said at the press conference in Cannes. "It was enough!" chimed Donatella, who emphasized Lipa's involvement in the entire creative process ("from A to Z.")
Versace is not the only brand tapping into the power of high-profile co-designers — specifically musicians. Earlier this month Erykah Badu released a collection with Italian house Marni, and Blackpink's Jennie Kim unveiled a capsule collection with Calvin Klein. In March, Balmain creative director Olivier Rousteing collaborated with Beyonce to release 16 couture looks inspired by her acclaimed 2022 album "Renaissance."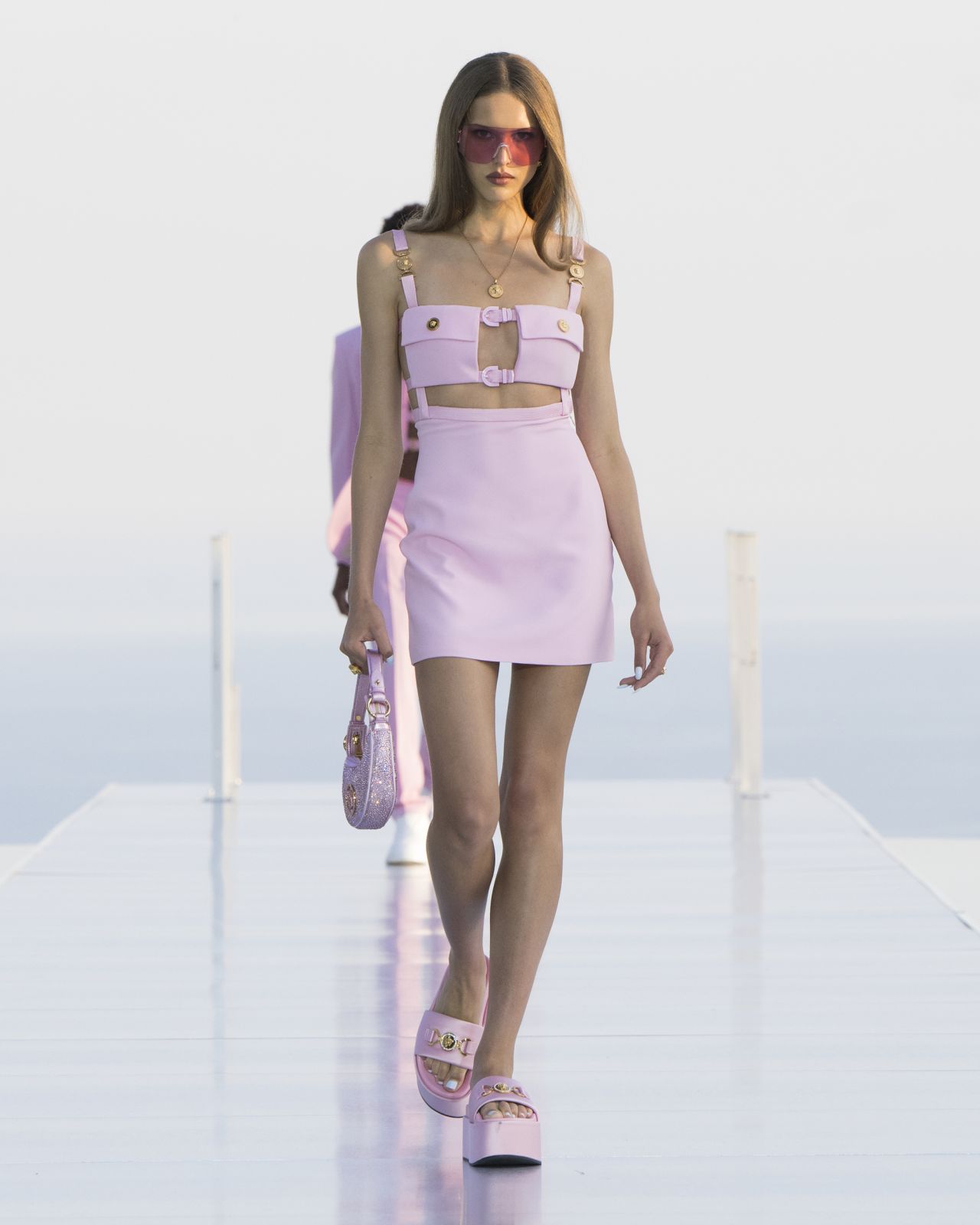 Out on the runway, the sartorial sensibility of "La Vacanza" was bright, blithe and unmistakably Barbie-coded (Lipa features on the soundtrack for Greta Gerwing's upcoming "Barbie" movie, and wore Versace to tease the track to her 88 million Instagram followers on Monday). There were faux metal-mesh dresses in aquamarine, miniskirts adorned with embellished butterflies and fluorescent capri leggings. When asked for the meaning behind the collection, Lipa gave an answer that could have been a tagline for Mattel's Barbie's Summer Beach range: "The weather's nice, we want to get dressed and look cute."
Aside from a number of all-black looks, the color palette remained almost exclusively pastel — from powder pink mini dresses adorned with the label's signature Medusa pendants and Greca key detailing, to sky blue monogrammed suits. "It's fun, it's flirty, it's really the summer colors" said Lipa.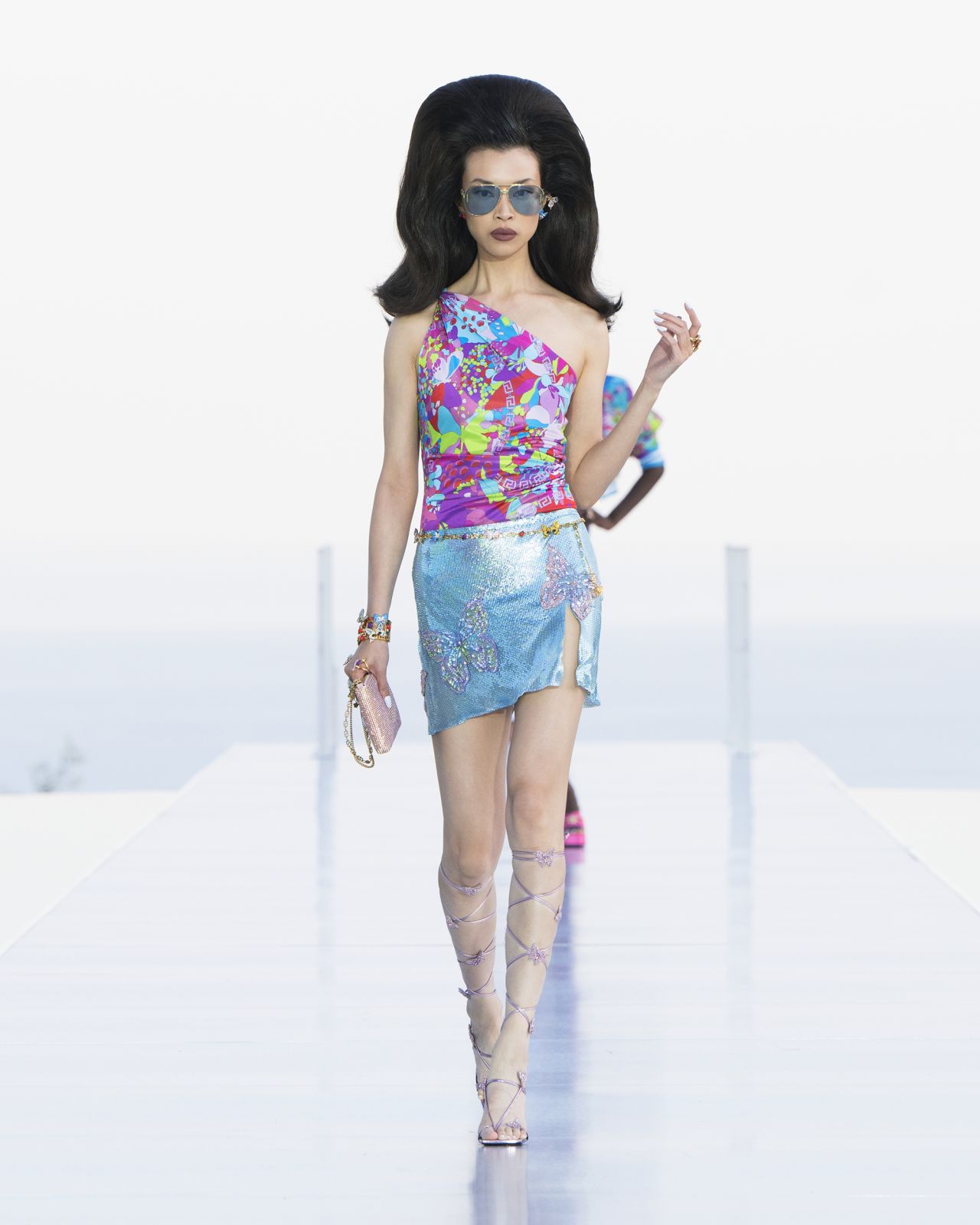 Versace is working hard to position itself as the designer to the stars, with its last show taking place in the Hollywood Hills two days before the Oscars (Lady Gaga went onto wear a hot-off-the-runway black gown with low-slung waist and mesh bodice at the red carpet). Instead of relying on traditional celebrity dressing opportunities, Versace's tactic of holding strategically-timed fashion shows around events such as the Oscars or Cannes capitalizes on the existing spectacle (and media attention) and uses it to their advantage.
As the collection was instantly available online, it won't take long to see if the strategy works for shoppers too.
This article was updated with details about guests attending the event.