Editor's Note: This article was originally published in March 2016.
Story highlights
One square foot in Hong Kong costs an average of $1,416 USD
LAAB Architects designed a convertible 'transformer' apartment in the city, to maximize space
The 309 square foot flat features a large kitchen, bathtub, cinema and smart gadgets
Like any first-time homeowners, when Andy Knight and Michelle Tennant began looking for a place to settle in Hong Kong, they had a wish-list in mind.
Between them, their list of amenities included a home cinema, a gym, a large kitchen, a full-sized bathtub, plenty of storage space and the latest smart gadgets.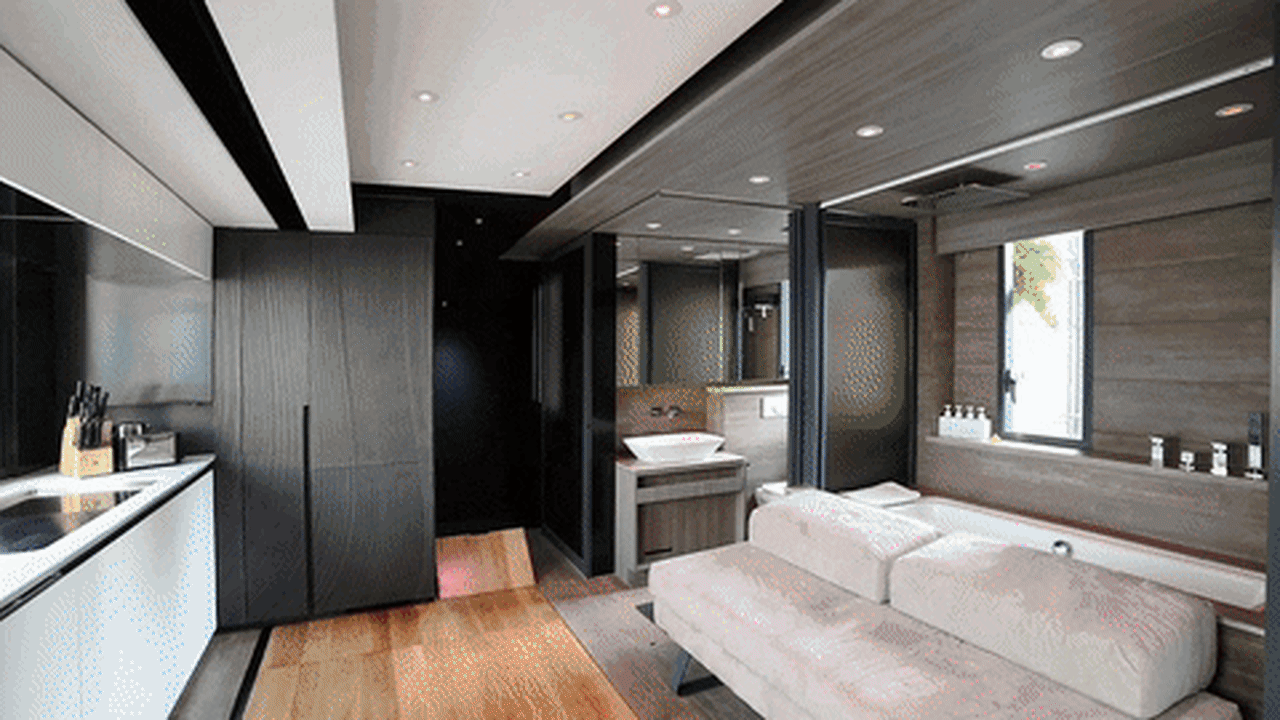 It was an ambitious checklist, given that the apartment they eventually settled on was a modest 309 square feet (28.7 meters).
But that didn't stop Knight and Tennant from dreaming big. "We effectively did the math," explains Knight, of their apartment in Central district.
"The one-million Hong Kong dollars ($128,700 USD) we would have spent for an additional 90 square feet, didn't give us much size to play with. To get more bang for our buck, we decided to put that money towards a super-efficient refurbishment."
Convertible spaces
The couple tasked Hong Kong-based firm LAAB Architects to design a convertible 'transformer' apartment.
"It felt like mission impossible," recalls LAAB Design Director Otto Ng, of when he first heard the brief.
Dream home crammed into 309-sqft transformer apartment
"It's very challenging to look at architecture that isn't static, but changes over time. Instead of living in a 309 square foot home, we wanted them to feel like they live in a 1000 square foot home."
The firm spent three months on the schematic design – shuffling through 40 iterations of the layout in 3D – before reaching a final concept. Five more months were spent on testing prototypes and the actual construction.
"We had to consider how to combine multiple functions that exist at different times of the day. For instance, the size of the bathtub, we noticed, is similar to the size of bed. By putting cushions on top of the bathtub, the area can be converted into a two-tiered seating arrangement for a home cinema."
The use of specific materials to fit each space was also taken into account. "Because the bathtub turns into a bedroom and living room, we had to make sure the fabric of the sofa was waterproof, and that there was a ventilator above to dry the wet areas," Ng explains.
Maximizing space
Demand for convertible designs is becoming popular in cities with pricey property markets.
According to Mercer's 22nd annual Cost of Living Survey, Hong Kong is now the world's most expensive city for expats. The global consulting firm's findings, released this week, cover 209 cities across five continents and compare factors such as housing costs.
Investment firm CBRE estimates that one square foot in Hong Kong​ costs on average $1,416 USD, ​positioning the city as the world's most expensive residential location ahead of London and New York.
In Knight and Tennant's convertible apartment, floorboards automatically lift for extra storage, cupboards drop down from the ceiling, a chopping board folds over the kitchen sink to create more counter space, and walls slide to divide rooms.
The apartment is equipped with smart technology, with locks and lights fully app-controlled.
The comforts extend to the couple's three cats, a playful ladder, walkway installed around the perimeter of the ceiling, a hidden litter box under the sink that has a separate ventilation system to keep the air smelling fresh, and a pullout drawer with feeding dishes.
Tennant explains that one of the challenges of living in such an apartment, is its jigsaw puzzle-style complexity. "If you move one thing, you can't do anything else. So the design appeals to a niche market."
"But I'm surprised it hasn't caught on more," Tennant adds.
"There's so much potential in these tiny apartments. Now it's obvious what you can do with a smaller space. It doesn't feel boxed in. Every nook and cranny in our space is utilized."
CNN's Zahra Jamshed and Tiffany Ap contributed to this report.