One of the Met Gala's most fervently anticipated guests finally arrived, albeit several hours after the cream carpet opened to attendees. But Rihanna made sure her look was worth the wait.
The Met mainstay closed out the public portion of the Met Gala — the red carpet — in an elaborate white gown by Valentino and a voluminous top embellished with massive fabric camellias. In a nod to Karl Lagerfeld, the late designer feted this year by the museum, Rihanna wore fingerless gloves and sunglasses, though her specs came with their own wispy false lashes.
Rihanna then wore the hooded top around her arms, revealing a tighter bodice with spaghetti straps. A$AP Rocky accompanied her, pairing a red tartan kilt with distressed jeans, a black suit jacket and a skinny tie. Like his partner, he, too, wore sunglasses, an essential component of Lagerfeld's daily uniform.
The singer's look paid homage to the "Chanel brides" who often closed out Lagerfeld's shows when he led the French fashion house. The brides' looks weren't always white, nor were they always gowns, but Lagerfeld used them to "make statements about gay marriage, gender identity, austerity, showmanship, and above all else, pure, unadulterated beauty," according to Vogue.
Met Gala co-chair Dua Lipa wore one of Lagerfeld's structured wedding dresses from Fall/Winter 1992 couture collection, minus the bridal fascinator it came with. (Claudia Schiffer first appeared in the look three decades ago).
Alton Mason, the first Black man to walk in a Chanel show, and Penelope Cruz also put their own spins on Lagerfeld's Chanel bride, among other attendees.
The Barbadian billionaire has debuted several instantly iconic looks at Met Galas past, including her marigold-yellow Guo Pei gown at the 2015 event, "China: Through the Looking Glass," and her intricately beaded Pope-inspired ensemble by Margiela, at the 2018 "Heavenly Bodies: Fashion and the Catholic Imagination" gala.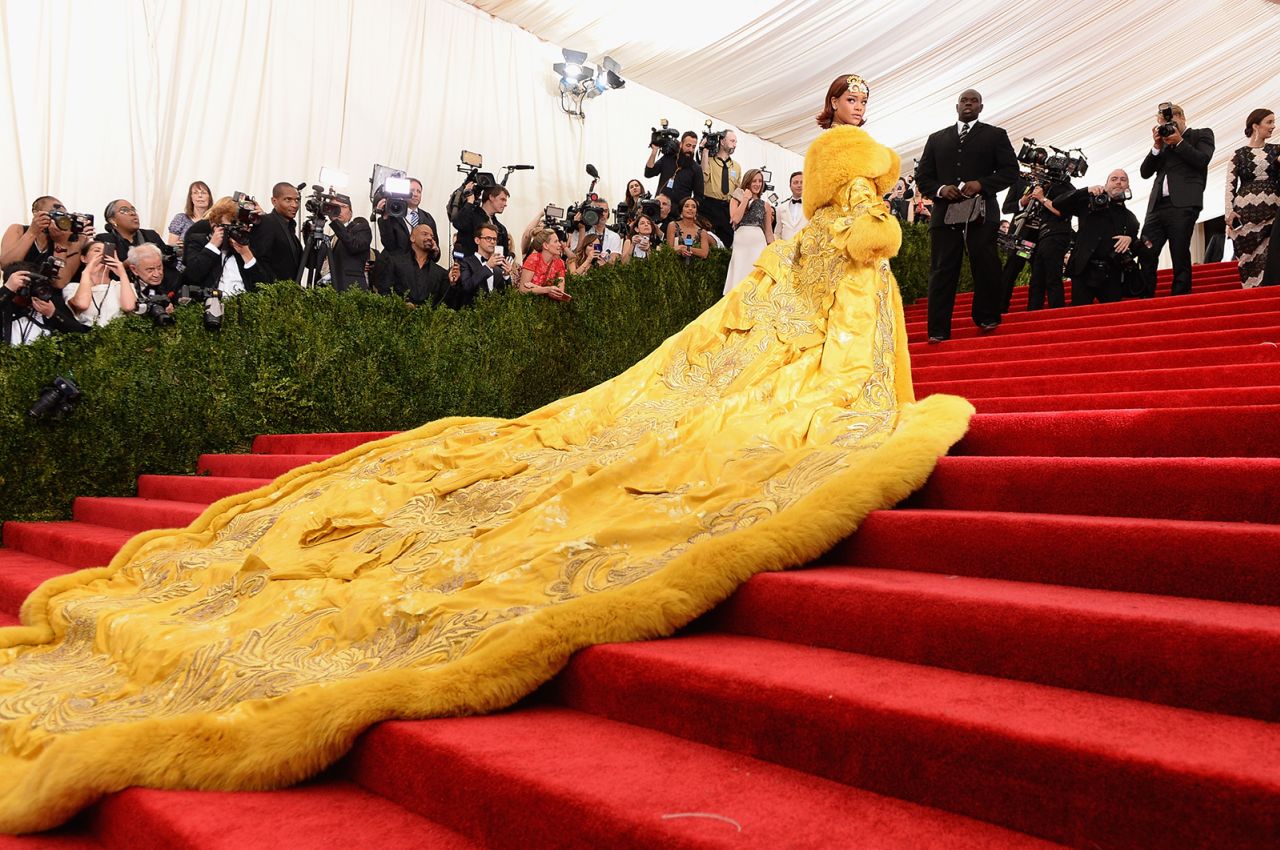 Rihanna is also known for arriving to the Met Gala fashionably late. (Anna Wintour joked in a Vogue "73 Questions" video that Rihanna is one of the only celebrities allowed to arrive late to the Met Gala). At the 2021 event, she and Rocky were two of the last celebrities to walk the carpet in an oversized Balenciaga gown with a matching hat. She skipped out on last year's Met Gala — giving birth to her first child later that May.