As the ashes settle in the embers of Notre Dame cathedral in Paris, the laborious restoration process can begin. Rebuilding will take years, possibly more than a decade. Yet, for a Gothic masterpiece that famously took 107 years to construct, and stood for centuries more, this may simply mark the latest evolution of a building that has been reshaped many times in its 850-year history.
Those looking for hope amid tragedy will be heartened by president Emmanuel Macron's assurance that the French will "rebuild together," and the fundraising efforts that reached $670 million within 24 hours of the blaze taking hold.
These generous early donations suggest that funding, the most difficult part of any major restoration project, may not be hard to secure. Assuming the necessary financial support comes through, how exactly will the process be carried out?
Safety first
As with any fire-damaged building, safety will be the principal concern. The main structure (and two bell towers) may have been "saved and preserved," according to French authorities, but parts of the cathedral could still be at risk of localized collapses and falling debris.
Before distinguishing between the salvageable from the unrecoverable, immediate steps will need to be taken to prevent further damage, according to architectural historian and broadcaster, Jonathan Foyle – not least, a temporary roof.
"It's already a wet building because of the water that's been pumped on it, so they're going to need to provide some kind of cover from the elements," he said in a phone interview.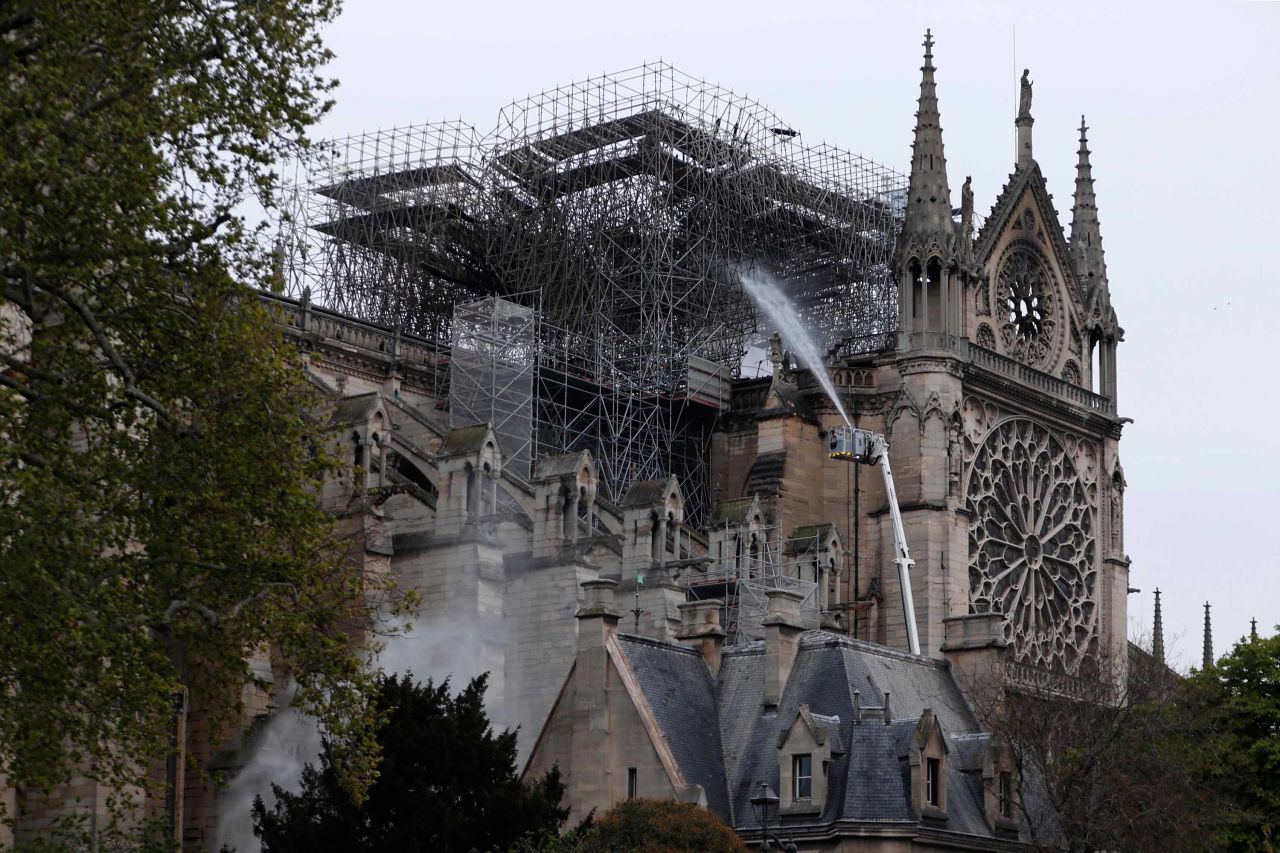 That's no small task in itself, said the head of the Group of Companies for the Restoration of Historic Monuments in France, Frédéric Létoffé, "This will require a lot of work since, beyond shoring and reinforcement, it will be necessary to build a scaffolding with an umbrella to be able to cover the entire roof that went missing, to ensure protection against weathering" he told reporters in Paris.
Securing the building
The first priority for restorers will be installing a temporary roof on the building, according to architect John Burton, a surveyor of conservation works at other English Gothic churches Canterbury Cathedral and Westminster Abbey. This will help experts carry out a detailed inspection of the site – in particular, how much of the structure is secure.
"Gothic structures are all about balance," said Burton. "The building stands up by all the components being compressed together." The flying buttresses that once carefully supported the entire building could now be out of balance, he said.
After protecting the building's remains, restoration teams will begin assessing the level of damage. That process itself could take years, he said.
An army of archaeologists
In order for French authorities to make any decisions about how to rebuild they will need to better understand how the medieval cathedral was constructed.
"The stripped roof and upper masonry will reveal aspects of the building's history which probably haven't been understood," Foyle said. "Notre Dame has virtually no building records. We know (that construction) started in 1163 and was basically completed by about 1240, but there are no building accounts.
"Evidence for the evolution of that building is in the physical fabric, so you'll need an army of archaeologists all over it to better understand which parts they're repairing and what they belong to."
Peter Riddington, an architect at Donald Install Associates, who worked on the restoration of Windsor Castle after it was damaged by fire in 1992, suspects one of the more immediate steps will be to carry out some archeological work.
"What was extremely useful for us (at Windsor Castle) was there was an archeological sift of debris," he said during a phone interview.
Investigators might decide to divide up the floor area into a grid, and assign a team to sift through every square, Riddington said. They'd pick up anything that might be useful – either items to reuse in the build or to be copied to make models.
"This sort of process could surface thousands of trays full of valuable debris and objects," he said.
Once the "forensic" part is over, Burton said, specialist committees will likely be set up to assess each of the elements – from stained glass to gold plating. It will then be down to a master architect to bring the overall design together.
Riddington recalls their being various "committees of taste" involved in the process during the Windsor restoration. "My guess is they will need to have a committee of taste to make decisions on even the most fundamental things like, what is the cathedral, once restored, going to look like."
Another episode in 'creation, destruction and repair'
The goal of restoration is not always to replicate the past. Modern tastes and technologies may influence how damaged structures are reimagined. Take, for instance, the recent restoration of the Cutty Sark, a 19th-century British clipper, renovated at a cost of £50 million ($65 million) following a devastating blaze. A contemporary glass structure, housing modern facilities, was added to the base of the vessel, a tourist attraction in London.
Authorities may wish to stay faithful to earlier renditions of cathedral. But it's also possible that France takes a bold new direction with one of its most iconic national monuments.
"We're assuming, maybe wrongly, that the cathedral will be restored as it was (before) the fire but that isn't the only way to go," said Riddington. "The cathedral has had fires in the past and it's been rebuilt in different styles over the years,"
Indeed, the spire that collapsed to gasps from stunned onlookers Monday evening, was itself a break from the past, having been built during a sweeping 19th century restoration. Its designer, the architect Eugène Viollet-le-Duc, made his spire taller and more elaborate than one that had existed previously.
That restoration also resulted in other significant changes to the cathedral's facade and interiors. "Notre Dame is not a building that has been fossilized in time, Foyle said. "It has not remained static since the early 13th century."
"It's not something that had been perfectly preserved which was totally destroyed last night. You might (instead) see this as a traumatic episode in the long history of cyclical creation, destruction and repair. It's lived through wars, it's lived through reformers, and this will, I think, prove to be another episode."
Discussions will no doubt long and emotional as those involved attempt to navigate through the erly phases of restoration. For Burton, it's important to acknowledge what happened through the process and new designs. "We don't want to build a replica of Notre Dame so it looks like it looked 800 years ago. We want to respect the fact it's been in a fire and leave traces of that – it's all part of the history of the building."
Skilled craftspeople
Many skilled labourers and craftspeople including masons, carpenters, jointers and carvers will all have to be recruited to work on this large-scale project.
John David, a master mason with over 45 years of experience, was heavily involved in the restoration of York Minster, the largest cathedral in Britain. The minster, a Gothic gem that is one of the largest in Europe, was severely damaged in a 1984 fire.
"What I've heard a number of times today is people saying 'we can't do this anymore, we haven't got the craftspeople to do it.' We have. We have plenty, and we have plenty of people who can train others."
Jean-Claude Bellanger, a head teacher at Les Compagnons du Devoir, a French institution offering training for skilled manual trades like carpentry and masonry, said: "We have the skills and the knowledge to repair this building. But a lack of trained staff to work on time to finish this project is the problem.
"We don't have enough masons, builders… We are missing over 500 masons every year all over France," Bellanger estimated.
David sees an opportunity for France now to train up their next generation of skilled workers.
"They will need more people, the job won't be done very quickly, perhaps ten to 12 years," he said. "It's an opportunity for them to train craftspeople not just for Notre Dame but for other buildings and disasters. This isn't the last."