Editor's Note: This article was originally published by The Spaces, a digital publication exploring new ways to live and work.
Every April, the creative world flocks to Milan Design Week to see the best new furniture and living concepts from the globe's most talented designers. The annual event (aka the Salone del Mobile) also gives the city an excuse to throw open the doors of some of its hidden treasures, letting visitors peer into private palazzos and tour the little-seen homes of design pioneers.
We've put together 10 installations not to miss at Milan Design Week 2018, ranging from a 1920s streetcar-turned-cinema to the city's first 3D-printed cement home.
Life in Vogue
Vogue Italia has tasked eight designers with reinventing its Milan HQ for the Salone del Mobile, creating spaces where design and fashion interact. Among them are Mario Bellini, Faye Toogood, Patricia Urquiola and Muller Van Severen. Faye Toogood is tackling the news room, blurring the lines between home and work, and covering walls in hand-painted canvases inspired by Vogue covers. The office will be open to the public during Milan Design Week (from 12pm to 8pm each day), giving a rare chance to peek at the inner workings of the fashion world.
17-20 April; Piazzale Cadorna 5. Book appointments via Vogue Italia
Alcova
A former panettone factory reopens its doors for the first time as a design space, featuring experimental pieces by 20 studios and galleries exploring contemporary living, design culture and new technologies. Amid the complex's crumbling surrounds – partly overrun by plants – you'll find objects like Superstudio's hot pink Onos bed. The exhibition is put together by Space Caviar and Studio Vedèt.
17-22 April; 11-13 Via Popoli; alcova.xyz
Villa Borsani: Casa Libera!
The home of architect and designer Osvaldo Borsani will open its doors to the public. They can enjoy a rare tour of the Modernist villa in the outskirts of Milan – completed in 1943 – and its extensive archival collection of drawings, letters and photographs. In celebration of a forthcoming retrospective of his work at Triennale di Milano in May, curator Ambra Medda has also invited New Zealand creatives to design new pieces to enliven the home, which has been unoccupied for a decade.
16-20 April; Via Umberto I, 115, 20814 Varedo (MB); book tickets
The Diner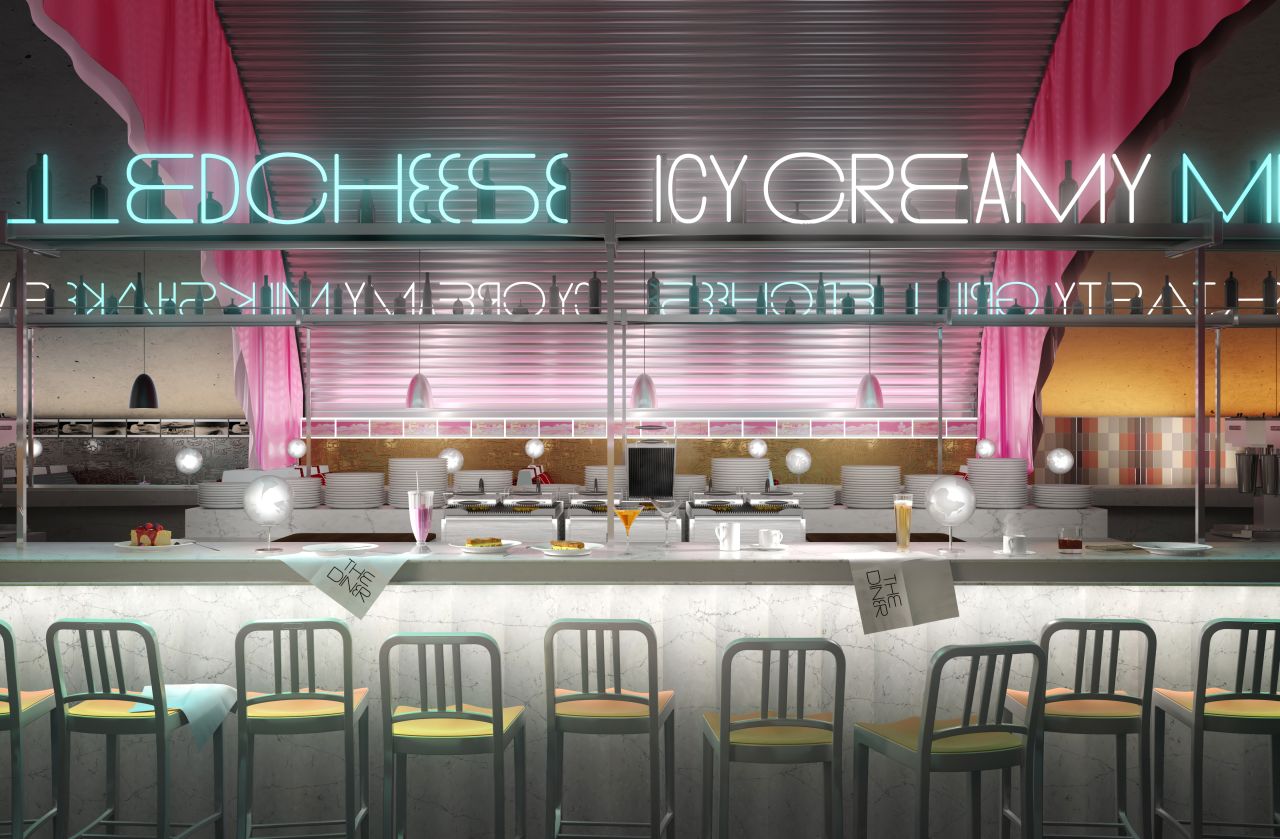 Architect David Rockwell and studio 2×4 are reimagining the traditional US diner at Ventura Centrale for Surface magazine, with the help of US and international design brands. The restaurant – housed in the empty warehouses beneath Milan Central Station – will be open for breakfast, lunch, dinner and cocktails, and includes four separate zones: Roadside Diner, East Coast Luncheonette, Midwest Diner and West Coast Diner. During the day it will host talks and events, while in the evenings, it will moonlight as a nightclub, hosting parties and performances.
17-22 April; Ventura Centrale, Via Ferrante Aporti 9; surfacemag.com
3D Housing 05
Milan gets its first 3D-printed concrete house courtesy of CLS Architetti's Massimiliano Locatelli – who plans to build a 1076-square foot (100 sqm) prototype in the Piazza Cesare Beccaria during the festival. This cement house of the future is designed to "integrate new, more organic shapes in the surrounding landscapes or urban architecture."
Piazza Cesare Beccaria; 3dhousing05.com
Disco Gufram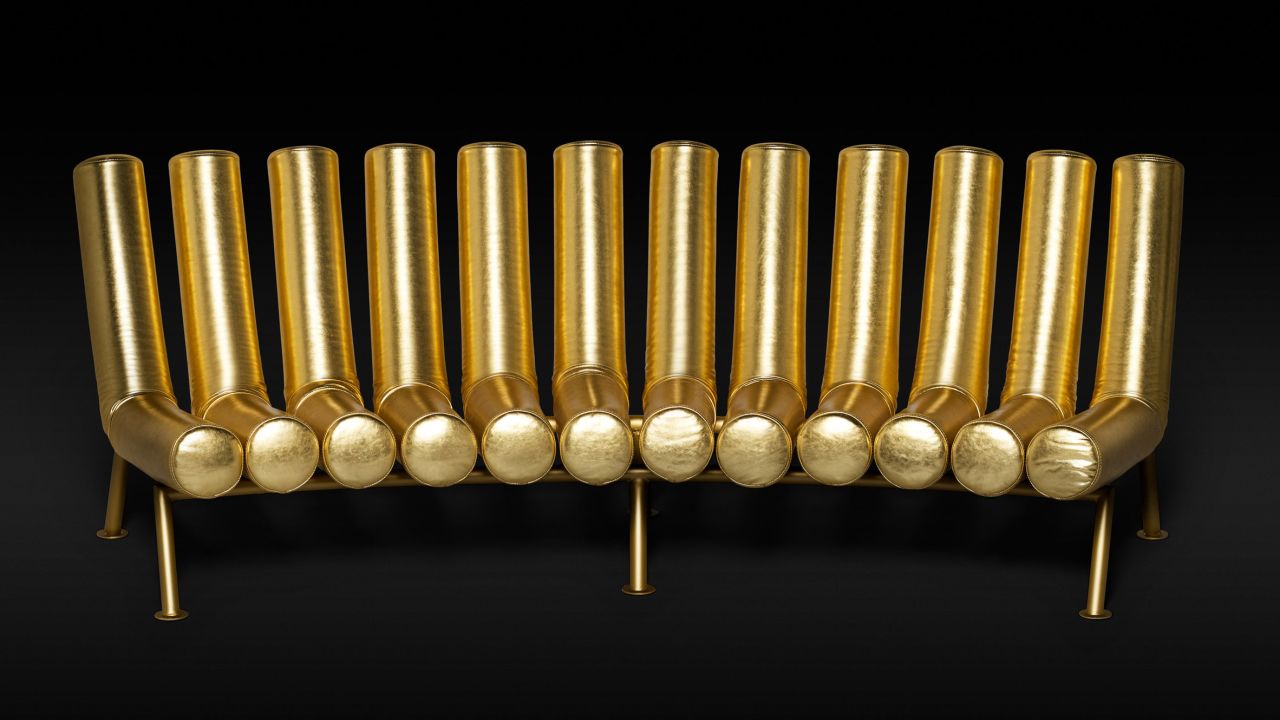 For Milan Design Week-goers who have had their fill of minimalism, Italian brand Gufram – famous for its cactus coat racks and lip-shaped sofas – is showing a new disco-inspired collection in a library-turned-nightclub. Expect carpets in kaleidoscopic patterns and furniture topped with melting disco balls.
17-21 April; Mediateca Santa Teresa, Via della Moscova, 28; gufram.it
TramCorallo
Step back in time for this traveling installation by Cristina Celestino, who has converted one of the city's historic trams into a 1920s-style salon and cinema on rails during Milan Design Week. This is a chance to enjoy a whistlestop tour of Milan's Brera district, while luxuriating in interiors decked out in Rubelli textiles.
17-22 April; tramcorallo.com
MINI Living – Built By All
London's Studiomama has designed a "self contained micro-neighbourhood" for Milan Design Week, featuring four future-living concepts as part of MINI's ongoing explorations into the spaces we inhabit. The installation – which follows a 140 square foot (13 sqm) residence Studiomama designed in London – explores the possibilities of integrating communal experiences into our lives, as well as ways in which architects and designers can work more closely with the public.
17-22 April; Via Tortona 32
Open Sky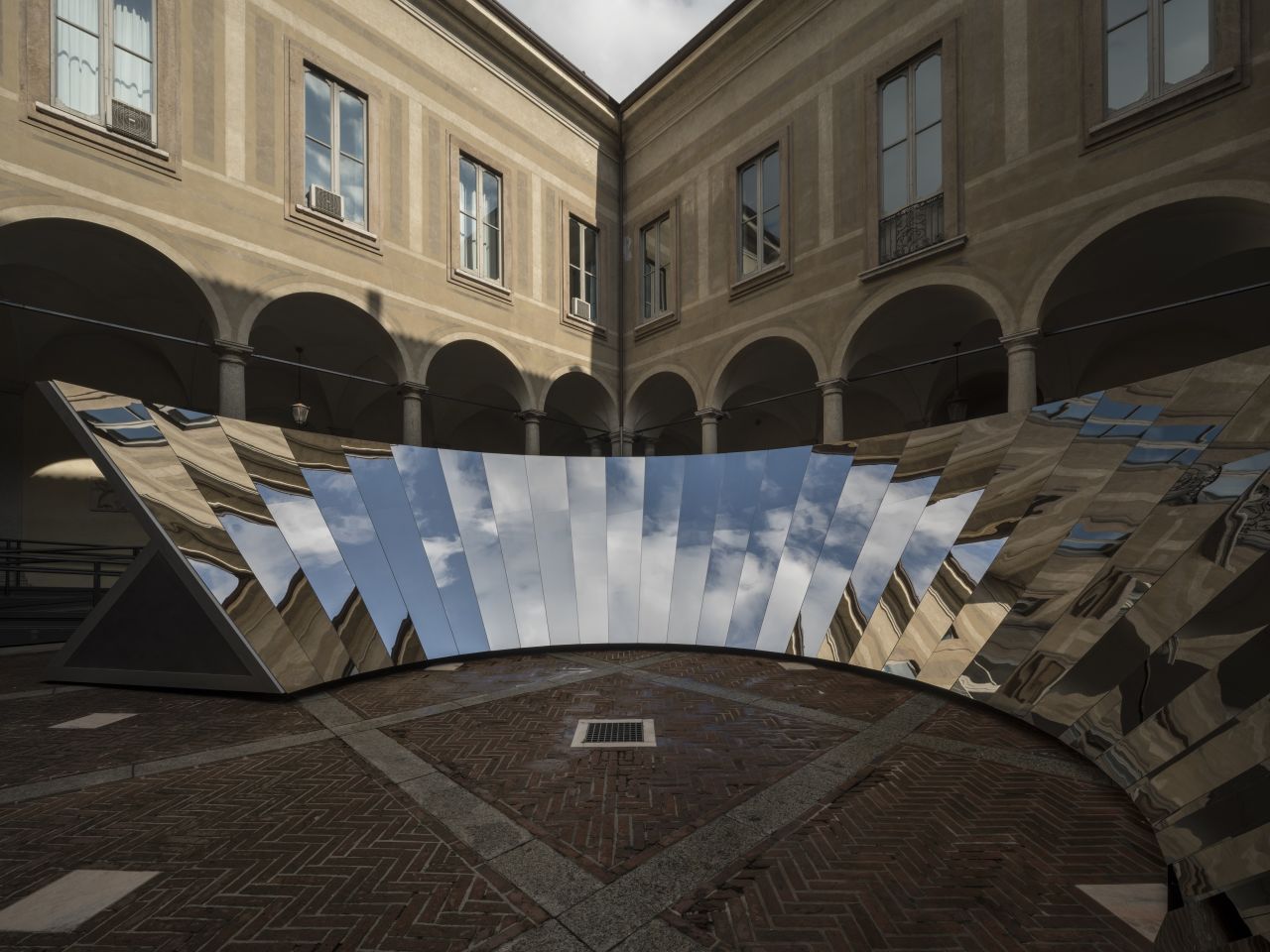 A 16th-century palazzo serves as the backdrop to Phillip K. Smith III's reflective installation for COS, which uses mirrors to "pull the sky to the ground." Sure to be a serene moment away from the busy design week crowds, this is also a chance to get up close with some of the city's historic architecture. Smaller versions of the main piece are also dotted about the palazzo's gardens, for those that want to wander.
17-22 April; Palazzo Isimbardi, Corso Monforte, 35
Dimore Gallery
Dimore's apartment gallery, which is overhauled for Salone every year, is a firm favorite during the Milan Design Week. This year, there's an excuse to linger a little longer on Via Solferino to enjoy the six shopfronts the studio is also taking over – filled with brass, lacquered and polished steel pieces designed by Dimore.
17-22 April; Via Solferino 11
Visit The Spaces for more design news.