A team of leading art researchers has revealed that two bronze sculptures of nude men riding panther-like creatures are the work of Michelangelo, bearing hallmarks of the Renaissance artist's oeuvre including distinctive toes and his signature "eight-pack" stomach muscles.
The team, led by the Fitzwilliam Museum in Cambridge, England, conducted close to four years of research to confirm a claim from February 2015 that the sculptures were Michelangelo's only surviving bronzes.
The museum released extensive evidence Wednesday confirming the attribution of the sculptures, known as the Rothschild bronzes, highlighting their unique anatomical features.
Researchers employed the expertise of scientists – including Peter Abrahams, professor of clinical anatomy at Warwick Medical School – to decipher key characteristics of the master's works.
Abrahams noted that while the statues took his breath away, he was focused on unveiling "anatomical, scientific accuracy."
"Being an observant person, both as a doctor and a scientist, I noticed that the toes on the bronzes were a bit off," the Daily Telegraph reported him as saying.
"I then went and had a look at all the toes that I could find anywhere in Michelangelo's oeuvre. Out of 40 toes, all except for two fitted this brief: they had a short big toe and a long second toe, and the big toe goes outwards – it looks like someone is wearing a flip-flop in between the toes."
He noted that the same toes can be seen on David and Moses in the Sistine Chapel in the Vatican, and added that other characteristics "shine through" in his work, including distinctive torsos and anatomically accurate pubic hair.
Moment Da Vinci painting sold for $450 million (2017)
"We all know a six-pack, but these guys actually have an eight-pack. I found two statues and five Michelangelo drawings that have that same, rare anomaly, which tells me that the model he used for those was the same model he used for these bronzes," he said.
He also pointed to highly distinctive pubic hair that goes "up towards the umbilicus" in Michelangelo's work, in contrast with the majority of classical and Renaissance sculptures, where pubic hair goes "down towards the genitalia."
Abrahams' conclusions were echoed by Victoria Avery, Keeper of Applied Arts at the Fitzwilliam Museum, who said the sculptures were the "real thing."
"We believe these to be made by Michelangelo. And we think these are the originals made around 1505-1507," she said, speaking at a press conference to announce the verification. "They are authentic Michelangelo, made when he was at the height of his creative genius, when he was desperate to outdo his contemporaries and dominate every medium on a massive scale."
Professor Geraldine Johnson of the University of Oxford, an expert on Italian Renaissance sculpture, told CNN that the "groundbreaking" research carried out on the sculptures will force art historians to reconsider their assumptions of Michelangelo's techniques.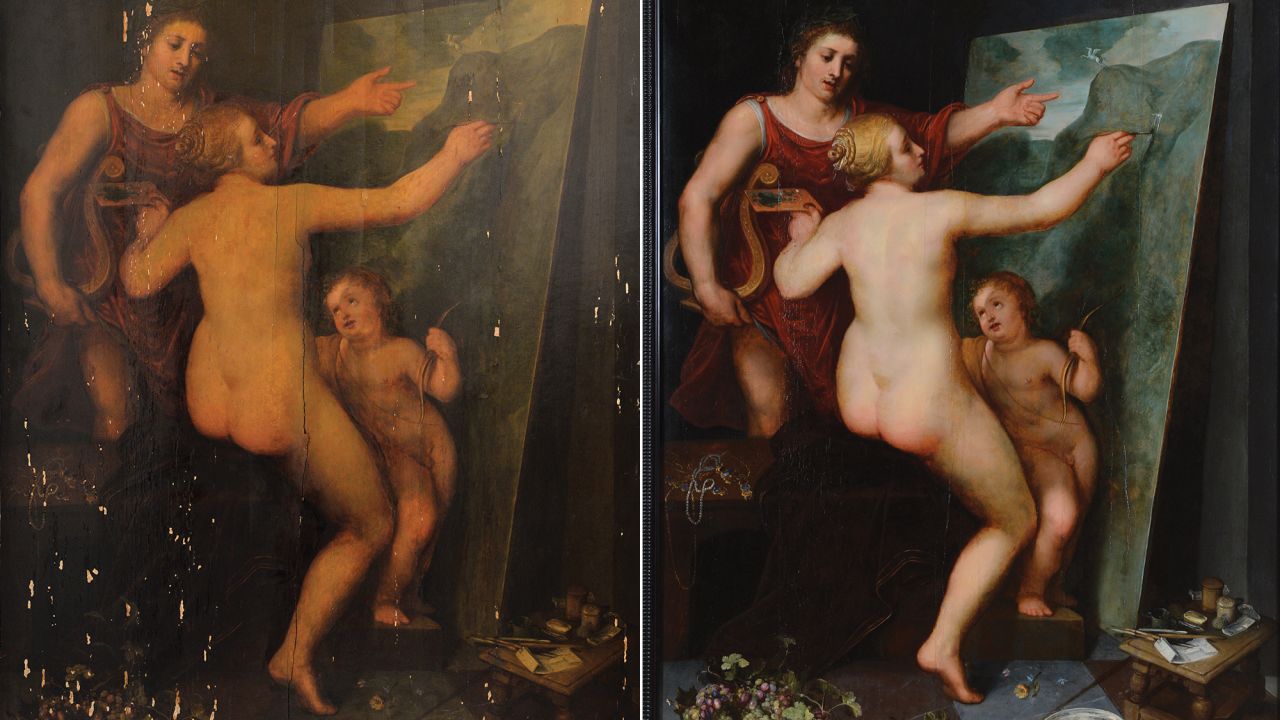 Lost and found: Incredible works discovered
"Although we know from Renaissance sources that he also made sculptures in bronze, no surviving examples of works in this medium were believed to have survived," she said.
The sculptures were first recorded as Michelangelo's bronzes in 1878, when they were owned by the Rothschild family, but later lost their attribution.
The Fitzwilliam Museum subsequently claimed in 2015 that they were indeed Michelangelo originals.
The pair of sculptures was last sold at Sotheby's in 2002, for around $2.3 million to a British collector, and was exhibited at the Royal Academy of Arts in London in 2012.