South African artist Mary Sibande's avatar Sophie – a human-scale sculpture modeled on herself – was born during her final year at the University of Johannesburg fine arts degree.
Sibande, whose older female relatives had been domestic workers, was assigned by one of her professors to tell a story through her artwork. "I remember talking to my supervisor and saying, 'I want to play detective and investigate why these women in my family were all domestic workers.' I wanted to pay homage to them," said Sibande.
Since graduating – with honors – in 2007, the artist, who is now 37 years old, has developed many larger-than-life sculptural variations of Sophie, all based on Sibande's body and cast in fiberglass and silicon.
Growing up in a small rural town in eastern South Africa, Sibande, whose work has been collected by institutions including the Smithsonian in Washington, and Zeitz MOCAA, in Cape Town, initially wanted to become a fashion designer.
This first aspiration is apparent in her work, which shows Sophie often draped in flowing fabrics. "I wanted to bring her to the foreground, hence these big dresses that fill the whole space," she said.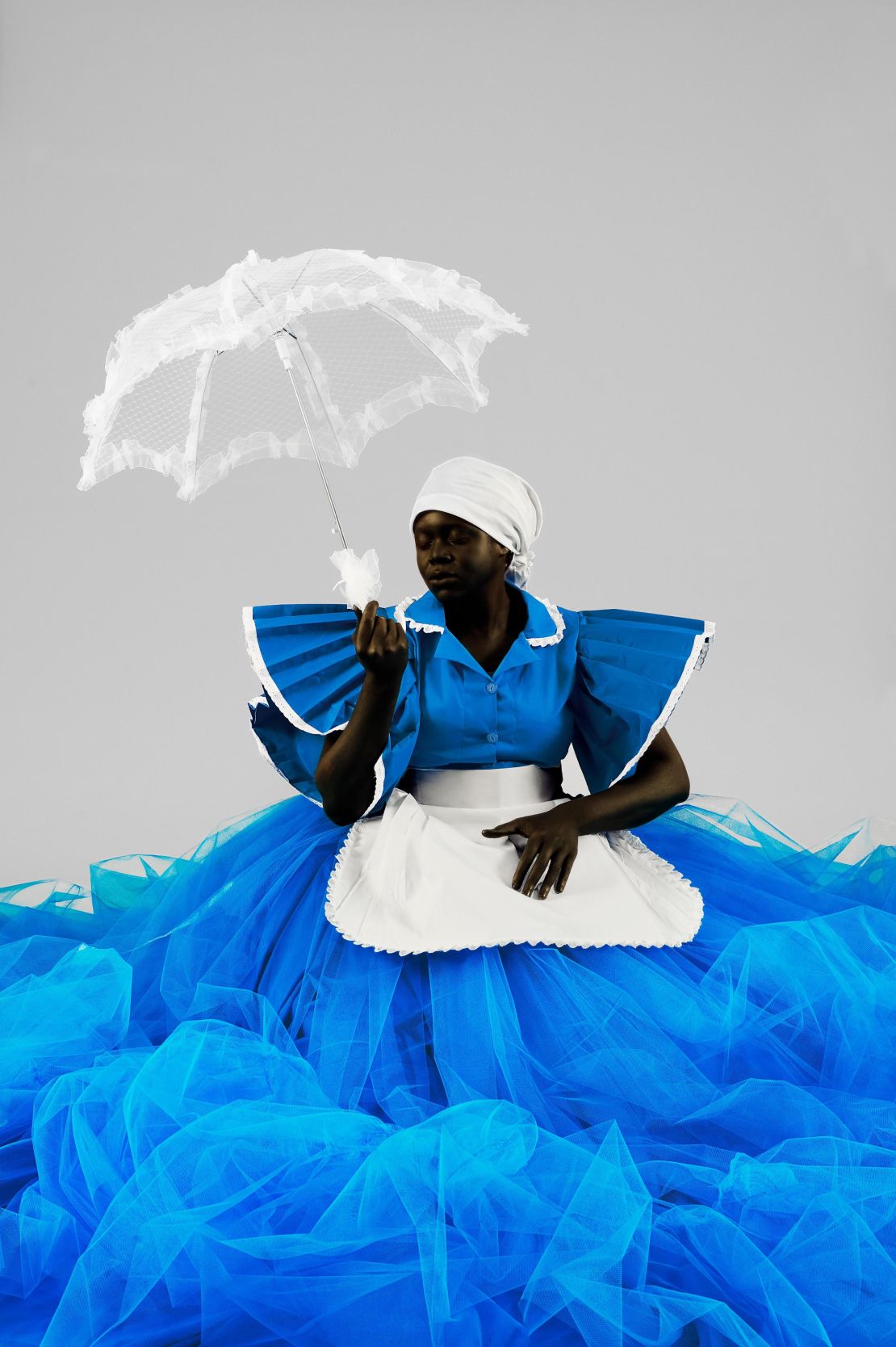 Sophie, whose eyes are always closed to indicate she is dreaming with elaborate scenarios where she can be anything, has appeared dressed up as everything, from a lady holding a parasol ("I'm a Lady" 2009), an African queen with an elaborate beadwork necklace ("Her Majesty Queen Sophie" 2010) to a conductor with an imaginary wand ("Silent Symphony" 2010) and a soldier in fatigues ("Living Memory" 2011).
Over the years, Sophie's representations have become more mature, illustrating the artist's thoughts around Apartheid, the fall of the regime and issues surrounding modern day South Africa.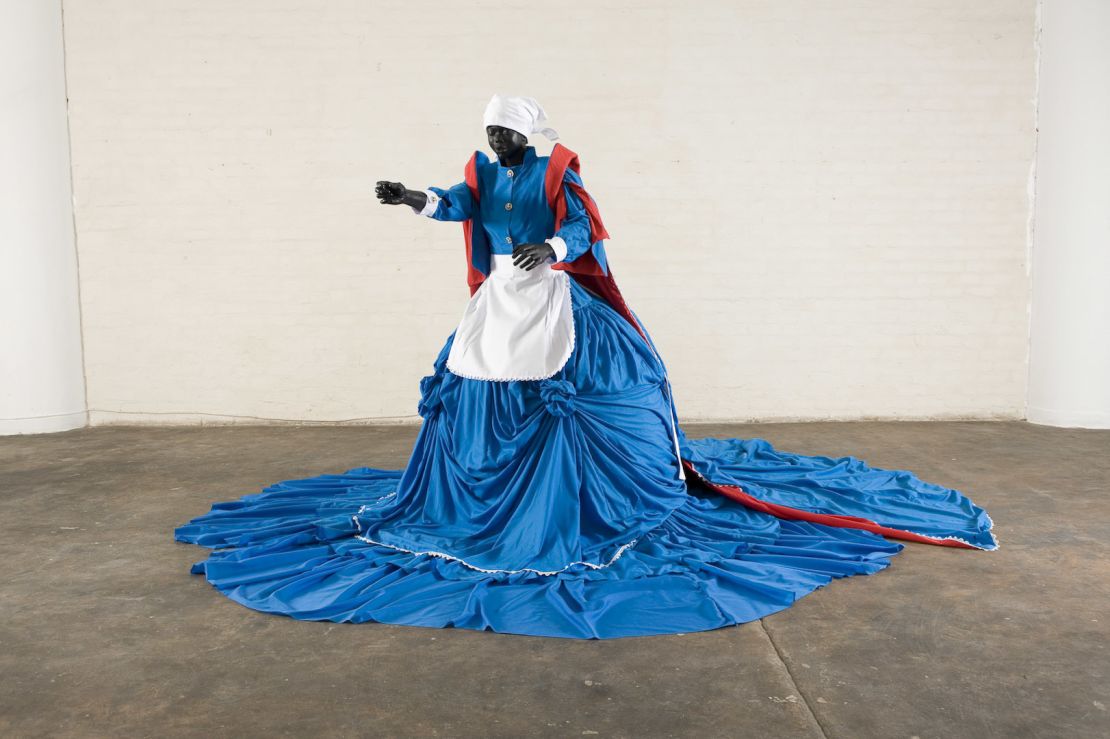 Sibande's striking use of color plays an important role in getting her message across. Sophie is usually lavishly dressed and displayed against backgrounds that are executed using a dominant, symbolic color.
For Sibande's first solo show at a professional gallery – "Long Live the Dead Queen" at Johannesburg's Gallery MOMO in 2009 – she introduced Sophie as a representation of Sibande's great-grandmother wearing a long cape inspired by Queen Victoria's coronation outfit in 1838. "I like the term 'royal blue' (turning) these domestic workers into royalty," she said.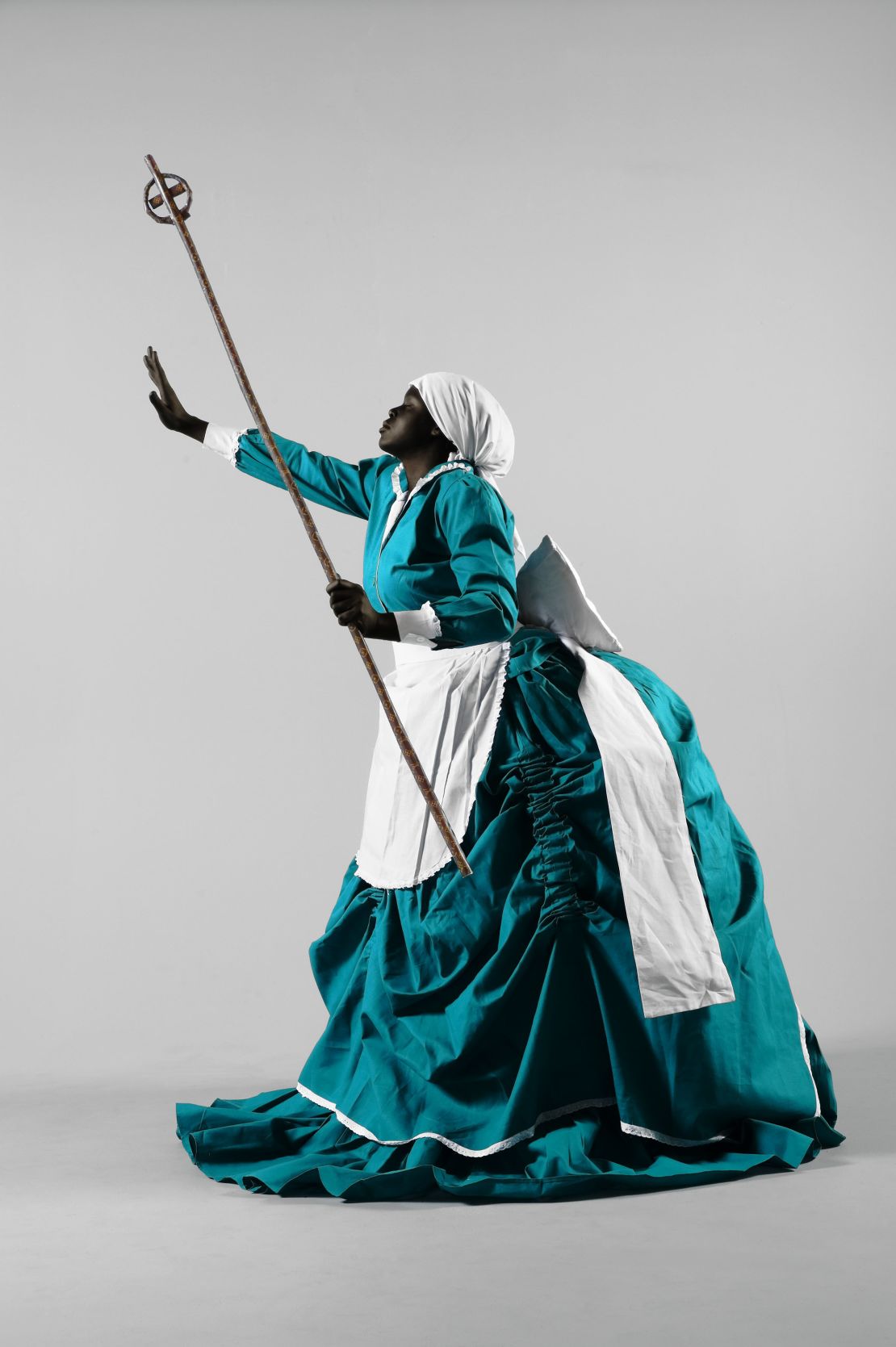 Both Sibande's mother and grandmother are proud of her artistic career, and her grandmother loves to show articles and reviews of Sibande's work to friends. "I collected a lot of stories form her," Sibande said. "And I remember one day she said to me 'this is amazing what you are doing, taking this ugly history and making it into these beautiful objects.'"

Four years after her first solo show, Sibande transitioned Sophie into purple, a color that has symbolic connotations of nobility, luxury and power. It is also the color that gave name to the "Purple Rain" 1989 anti-Apartheid protest, in Cape Town, where police marked demonstrators with purple dye sprayed from water cannons.
"At that time, I wanted to talk about me, I wanted to see where am I am among these women, where do I see myself," said Sibande. "These women worked so hard to put me in the forefront, to put me in a place that they wanted to be in, but they couldn't, and here I am living their dream."
Sibande, whose first UK solo show "I Came Apart at the Seams" is now on display at London's Somerset House, is two years into her red stage, a color that she feels helps tell the story of the legacy of Apartheid. "I am kind of playing psychologist," she said, adding that she is working on a large sculpture for Art Basel Miami, entitled "Domba Dance," featuring Sophie feeding exhausted red hell hounds a heart.
"I want to know why South Africans are angry, why they live the way they live."
"Mary Sibande: I Came Apart at the Seams" is on display at the Somerset House, in London, until January 5, 2020.