Bruce Lee, a beer parlor in Lagos and a triumphant dance on mud – sometimes the strangest of combinations can help produce the most spectacular of results.
Back in 1973, Lemi Ghariokwu was straight out of secondary school, spending his ample free time giving himself drawing assignments and making portraits for people in his neighborhood. Martial arts action film "Enter the Dragon," starring Bruce Lee, was a big hit at the time, and Ghariokwu was asked by a local bar owner to draw a poster of the movie for his pub.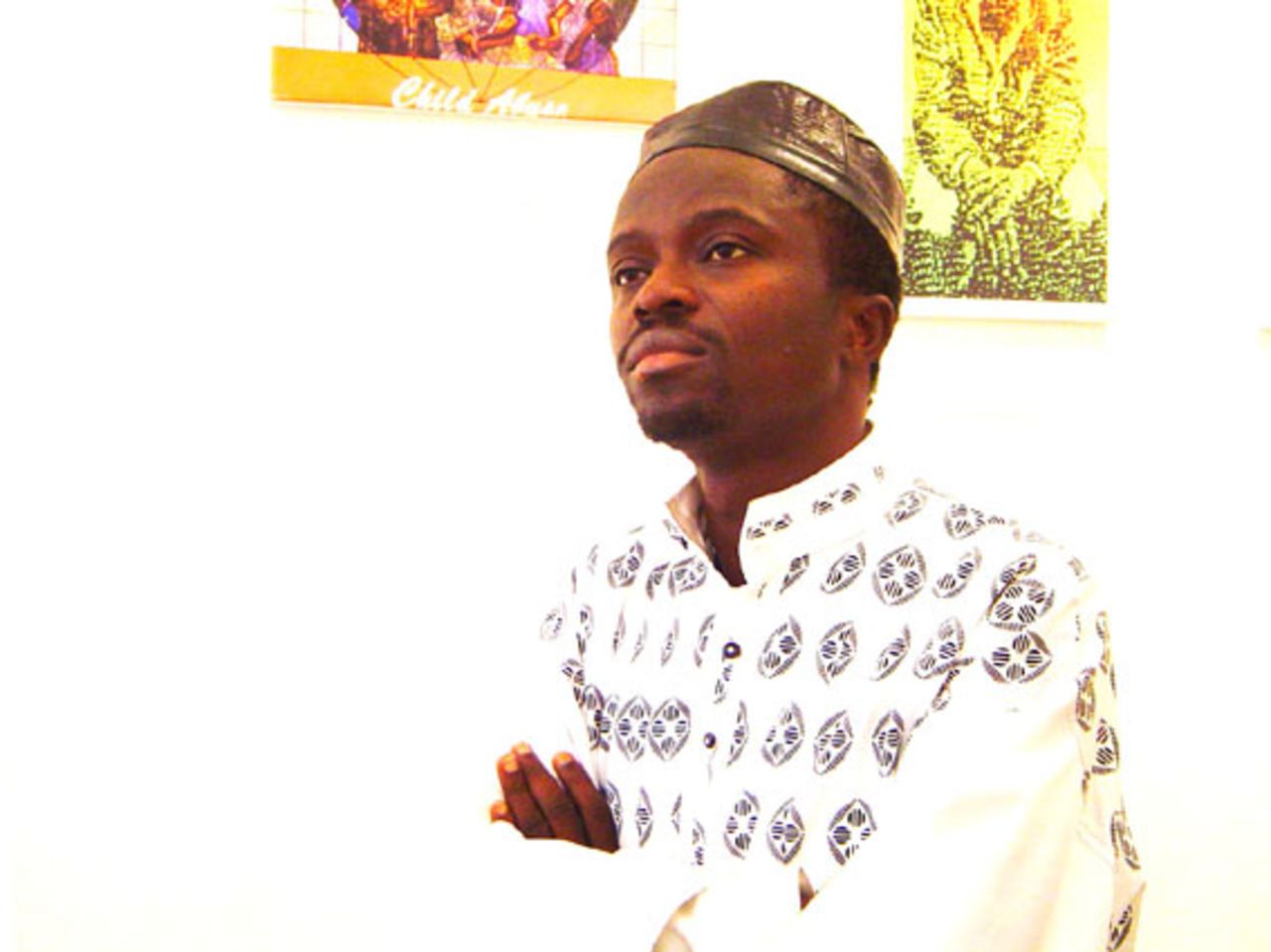 The self-taught designer did so, and a few days later a journalist called Babatunde Harrison entered the parlor, saw the poster hanging on the wall and quickly asked to see the person who'd created it. When he met Ghariokwu, who was living next door with his parents, Harrison requested to see more of his drawings. Amongst them was an illustration of Nigerian afrobeat pioneer Fela Kuti dancing on mud – Ghariokwu had previously bought an album by Kuti called "Roforofo Fight" (roforofo means mud in Yoruba) and had given himself the task of creating his own version of the album cover.
Impressed by Ghariokwu's work, Harrison, who was a friend of Kuti, asked Ghariokwu whether he could design album covers. The teen artist reluctantly said yes and then Harrison brought him a picture of Kuti to do a portrait as a test.
"I did the portrait and lo and behold he took me to Fela just like that," says Ghariokwu, recalling his first meeting with Kuti at his house, the infamous Kalakuta Republic. "When he saw the portrait, Fela said, 'wow, God damn it,'" he recalls, laughing. "It was the first time I heard these words. Fela loved the portrait so much and wrote me a check for 120 naira – I used to earn 30 naira for my portrait work – but I rejected it. I said 'I don't want money, I give you the work from the bottom of my heart.'
"He was very surprised so he tore up the check, took a sheet of paper and wrote 'please admit bearer to any show free of charge,'" continues Ghariokwu. "That was my ticket to Kalakuta; that was the beginning [of the journey]."
That journey would last for nearly 20 years, as Ghariokwu would come to be Kuti's main cover artist, becoming the man behind the iconic images synonymous with identifying the blistering afrobeat sound. Overall, Ghariokwu designed 26 album covers for Kuti, who died on August 2, 1997. To mark the anniversary of Kuti's death, we reached out to Ghariokwu to find the story behind some of the iconic album covers he'd designed for him. Read below to see what he had to say.
'Alagbon Close'
"That was my first cover for Fela. A few weeks after I'd met him, his commune was attacked by the police; Fela was really brutalized and was taken to hospital with skull injuries. This was all over the news and Harrison took me to see him at the hospital. Badly injured, Fela was talking about he was going to write a song to lampoon the police.
"After getting out, he started performing 'Alagbon Close' (that was the name of the street where the police headquarters were) at the Shrine and I became a regular there on Sundays – he eventually recorded the song and the next thing he said to me was 'Lemi, let me see what you have to do about this cover.'
"In my spirit I saw Fela working for the forces of good and I saw the police working for the forces of evil in society. So I came up with that illustration showing Alagbon Close as a decrepit jail house in flames, while on the other side of the cover, Fela's house, the Kalakuta Republic, stands on a rocky, solid foundation. A triumphant Fela has broken the chain and dances over a capsized police patrol boat. Actually that image of Fela was the same image I did on my version of the "Roforofo Fight" cover – if you look at the artwork very closely, you see that it's like a collage; I cut out Fela's image and pasted it so it was like getting it fulfilled because when I was drawing it I'd never dreamed – not in my wildest imagination – that I was ever going to meet Fela."
'No Bread'
"'No Bread' was my second cover. By 1975, I'd became very close to Fela. Like Bob Marley and Peter Tosh, Fela smoked marijuana copiously – nearly everyone in the community did. I was born a teetotaler – I don't smoke, I don't drink – but Fela said that smoking would help my creativity. I held Fela in so high esteem, he was like a demi-God, so I took up this challenge because he'd said so. So I tried some marijuana and got high – but I became edgy, confused and thought I was going crazy!
Tony Allen on Fela Kuti
"With me and Fela, it's a question of telepathy. That is why I was able to stick around this guy for 15 years – you know, I never did that with anyone before; the maximum time I stayed in a band was one year. Since I met him I knew that this guy had something, this is the type of challenge I needed … I just believed that I am meeting a genius and it's great to work with a genius."

Nigerian drummer Tony Allen is famous for helping create Afrobeat as member of Fela Kuti's "Africa 70" band.
"Fela saw I was uncomfortable and drove me home himself. He said, 'Lemi don't say anything to your parents, just say goodnight and go to bed and meditate, think about your new cover.' I slept for like 12 hours and when I woke up I started thinking about the artwork, like he'd suggested. So I took out my notebook and put all of my ideas down. In the end, I had too many completed for that square of the album cover space so I tried to include as many as possible.
"'No Bread' was an oil painting on a canvas board and it took about two weeks to complete. When I took it to Fela he freaked out; he said, "Wow, see, I told you!" but I know I have a light brain, I can't be intoxicated at all so eventually I just withdrew. I didn't bother to use marijuana any more. I realized I could use meditation – Fela and I were also meditating together when we studied metaphysics – to get up to that degree of focus."
'Kalakuta Show'
"This illustration is straightforward; it's just the attack on Kalakuta shown in a graphic way, a direct illustration of that event – like the song is directly talking about it.
"The cover describes how the police came with their batons, their guns and their axes. If you look at it, Fela has a plaster on his forehead; I also put the date of the attack near there: November 23rd 1974.
"You can also see Fela's lawyer Kanmi Osobu – I included him because Fela mentions him in the song; I also wanted to pay tribute to him because he was known as 'the people's lawyer' and he was always helping Fela to fight the government."
'Yellow Fever'
"Fela came up with this song called 'Yellow Fever' – this is a slang term describing women who bleach their skin – to lampoon the practice. Because of the colonial education we've gone through, the brainwashing, many Africans feel inferior to white people. African women love to bleach because our men love fair-skinned women more, so this makes a lot of women to want to bleach their skin. Also, because of the inferiority complex, the vast majority of our women straighten their hair and they put on wigs.
"When I heard the song, I loved it; Fela was caustic and very direct, so I felt I also needed to be very graphic about the bleaching of the skin and the bad effects it has on parts of the body.
"I actually used a real model for the cover, a Kalakuta girl named Kokor – she had fair skin and didn't bleach so I put all the blemishing just to underline my illustration's strong points."
'Zombie'
"'Zombie' is a tricky one, a troublesome cover. The song itself is trouble, big trouble, and was part of what led to the banning of Fela's house.
"It took me a while to make the cover – I wanted to illustrate but my spirit wasn't following and I couldn't come up with a direction to give my illustration. But one afternoon I got to Fela's place and there was Tunde Kuboye, the photographer and cinematographer husband of Fela's niece. He had with him a box of pictures, hundreds of photographs taken at the military parade for Nigeria's Independence Day on October 1. He just placed them on the ground for Fela to see. As I was looking at the pictures my spirit said to me this is album cover material!
"I chose about a dozen pictures from the collection. I remember as I was editing a number of pictures to fit my album cover square size, those three pictures fell within my drawn square like in an Ifa priest's divination. I quickly used masking tape to hold them down in that divine movement, applied my Cow Gum adhesive and cut out the overlaps! I then finished up with a thick brush lettering for the title 'Zombie' and 'Fela and Africa 70.' Fait accompli!"
'Beasts of No Nation'
"By the time I did 'Beasts of No Nation' I had parted ways with Fela – we had just a business relationship after "Sorrow Tears and Blood." Even though I wasn't close to Fela anymore, I knew his ideology so I could still do my work. I listened to the music over and over and I got the key points. I loved the song, the lyrics, I totally agreed with everything so I came up with that illustration.
"I had enough material because Fela mentioned names in the song: people like Ronald Reagan of the U.S., Margaret Thatcher of the UK, and P.W. Botha of South Africa. He also lampooned the military government in Nigeria that had sent him to jail – General Buhari, who interestingly is now the new president of Nigeria for the second time, and General Idiagbon.
"I put Fela in Black Power salute; he was free from the jailhouse and right in front of him the man paying obedience was the chief judge that actually condemned him to five years of imprisonment. I also added President Mobutu Sese Seko of Zaire and I put some rodents in military uniform with the insignia of the Nigerian army. So it was a dangerous cover but I've been lucky because the powers that be don't take visual art too seriously; they don't know the power that it has so that's why I escaped getting arrested."