Conservators at the Guggenheim Museum in New York have uncovered a small dog hidden beneath the surface of a Pablo Picasso painting.
The image of a charming lapdog wearing a red bow was revealed by museum experts during a technical analysis of the Spanish artist's painting "Le Moulin de la Galette" ahead of an exhibition of his early works.
Opened at the Guggenheim on Friday, the new show "Young Picasso in Paris" comprises 10 paintings and drawings made by Picasso upon his arrival in the French capital in 1900. "Le Moulin de la Galette" depicts a lively scene at the titular venue — a famous Parisian dance hall that was painted by other artists including Pierre-Auguste Renoir. A sea of couples are seen dancing in fine hats, rendered in quick brushwork, with three figures seated at a table in the foreground.
But studies ahead of the show, carried out by the Guggenheim in collaboration with experts from the Metropolitan Museum of Art and the National Gallery of Art in Washington, D.C., revealed a lively fourth guest at the table, covered up by a swath of dark paint.
Conservators were able to generate an image of what the dog originally looked like using X-ray fluorescence, an imaging technique that maps out the chemical elements in a painting, including pigments, according to the Guggenheim's senior paintings conservator, Julie Barten.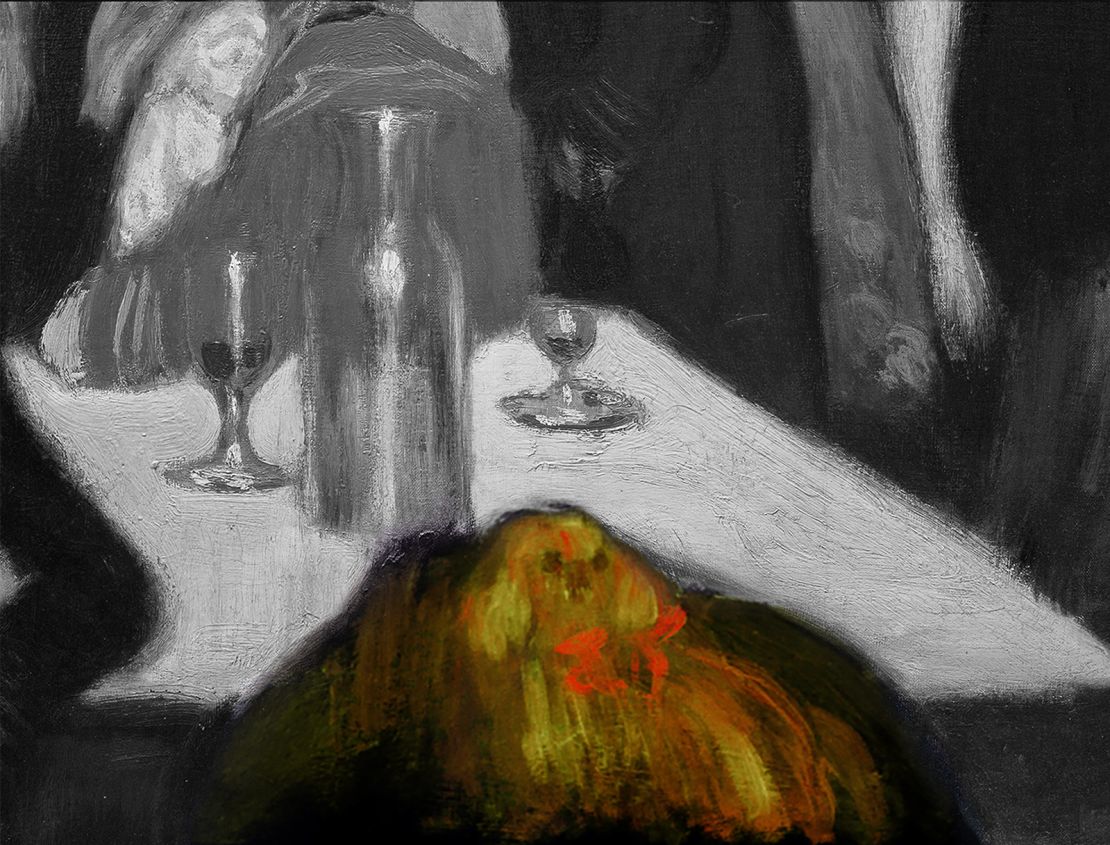 "It was interesting to me that he hastily painted over this dog, which would have been a rather compelling aspect of the composition," Barten said in a phone call.
The museum noted that the dog bears a close resemblance to a Cavalier King Charles spaniel. Though Barten cannot say for certain why Picasso opted to remove the cancine from the scene, she suggested that the painter might have considered its lively face and "enticing" bow too distracting.
"It would have stolen the show," she said, adding that covering up the dog allows viewers to "look more carefully at all of these other wonderful figures in the composition — to experience the space in different ways."
Works in progress
Picasso made other changes to the work, including switching the gender presentations of a dancing couple and painting out an empty chair, according to the study. Modifying paintings later became part of Picasso's regular practice, Barten said, adding that "Le Moulin de la Galette" is now considered one of the earliest examples of this.
"We see, more and more, that this was part of Picasso's working process," she explained. "As he developed a composition, he would paint out certain elements, or transform them into new compositional details. And, very often, he would leave aspects of the underlying original compositions still evident to a viewer who was looking very closely."
"Young Picasso in Paris" is one of over 50 exhibitions and events taking place around the world this year to mark half a century since the artist's death, in 1973.
Picasso arrived in Paris aged 19 during the final weeks of the 1900 world's fair, the Exposition Universelle, which featured his earlier painting "Last Moments," according to the Guggenheim. He settled in the city four years later, and lived most of his adult life in France.
"Le Moulin de la Galette" is the "centerpiece" of the Guggenheim's show, said Barten, who also restored the artwork's surface by removing decades of dirt and non-original varnish.
"The painting was really veiled by this layer of surface grime," she said. But now, Barten added, "all of the subtleties in his palette and his brushwork… all of the lavish textiles and expressions and gestures have really come to life."