Editor's Note: This is part of CNN Style's coverage on the "Art and China after 1989: Theater of the World." The exhibition will be shown at the Guggenheim Museum Oct. 6, 2017 to Jan. 7, 2018.
For Beijing-based artist Qiu Zhijie, maps are a way to "organize chaos" – sometimes logically and, in other instances, playfully. His creations are less about the physical geography of a space than the relationships of complex, often intangible subjects.
Over a period of months, Qiu will research topics such as fate, politics, religion and even mythical animals, meticulously positioning concepts in relation to one another using sketches and mind-mapping software. Elements of traditional maps, like roads, tunnels, railways, rivers and peaks, also feature, representing the connections between different ideas.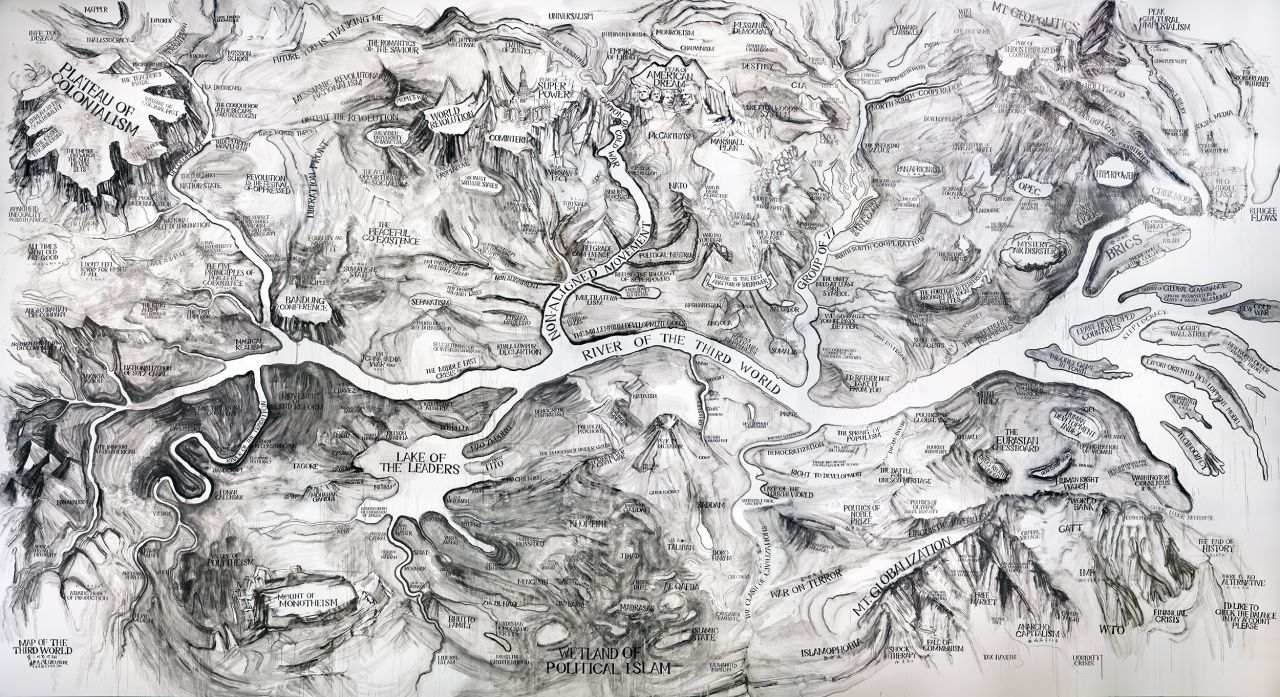 Then, drawing on his background in calligraphy, Qiu produces spectacular large ink maps.
"I have made a map of the Third World, religions, travelers, stories, architects, diseases," he said from his studio in Beijing, listing some of the dozens of artworks he has produced. "I plan to map all the world. It's a (life-long) job because any detail you pick up, you can dream it and it becomes a real map."
Mapping a nation's art
This month, Qiu will unveil a six-panel map commissioned by the Guggenheim in New York for its "Art and China after 1989: Theater of the World" exhibition. It charts the historical and political events and movements that have shaped contemporary Chinese art.
"We invited (Qiu) to make a map that responded to the story that we are attempting to tell in the exhibition," explained Philip Tinari, the director of the Ullens Center of Contemporary Art in Beijing and one of the exhibition's curators. "We wanted him to engage with it, to supplement it, to criticize it, and that's exactly what he's done.
On the map, various geographical entities like mountains, islands and seas represent big topics: Ronald Reagan in a rock face, a region marked "China-Taiwan relationship," a mountain range entitled "Peak of China Dream," and a whirlpool of fake news.
"It does a really amazing job of literally positioning artistic developments in an international and global context. I think you could actually teach a whole semester-long class about contemporary art in China from this map. If you unpacked every single thing he mentions in there, you would have an expert's knowledge of how this story unfolded over (the last) 35 years."
'Dangerous subjects'
Qiu's expansive knowledge of Chinese art comes from his formidable career as a multidisciplinary artist, critic and curator – most recently of the Chinese pavilion at this year's Venice Biennale. He is also a professor at the China Academy of Fine Arts, one of the country's most prestigious art academies.
Qiu's deep, sociological exploration of his country's art carries into the classroom, where he says his students can discuss "anything."
"I don't only teach art history," Qiu said. "I also have a course about Chinese social thought. We are discussing all the political processes in the classroom, and even some dangerous topics: the Cultural Revolution, how to understand Chairman Mao, liberalism and even Tiananmen Square.
"For me, (it's) very important. We don't need to have a certain ideological viewpoint before we start to discuss. We connect all the ideas from the internet, newspaper, Weibo, the government and people. It's quite free," he explained.
The power of maps
As an artist, some of Qiu's most famous works include a self-portrait from his 1994 "Tattoo" series, where the Chinese character "bu" ("no") is painted across his body, and an evolving multimedia project exploring the cultural impact and symbolism of the Nanjing Yangtze River Bridge – a beacon of China's modernity and a popular suicide spot.
"He does socially critical things, and he's an interesting and important voice for that reason," said Pulitzer Prize-winning journalist and author Ian Johnson, who has known Qiu since the early 1990s. He's written about his work in the past, and has included one of the artist's maps on religion in his new book.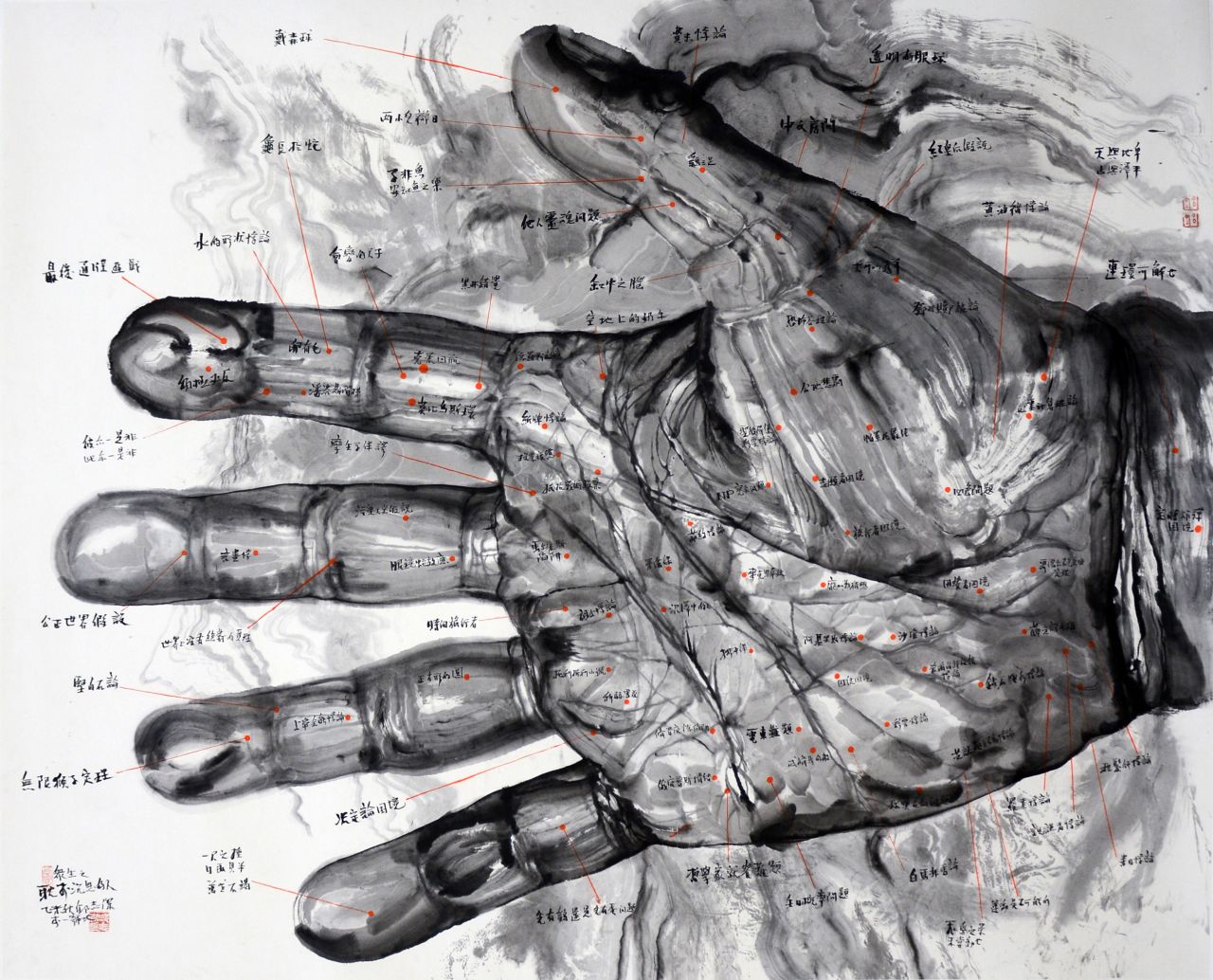 "He shows the interconnection of foreign and Chinese ideas, and I think that's great. Too often people think of China as if it were on a different planet. Instead, he makes a conscious effort to make (concepts) bleed into each other."
Then, of course, there are his maps, which Qiu has been making for the past decade. They are perhaps best read as an attempt to connect the dots and grapple with the repercussions of the country's fast-paced development.
"Nowadays we get information from the internet, and all this information is fragmented, so we need to have the whole sense to understand where we are," Qiu said.
"Mapping is really like children playing with toy bricks. (They) try to set up something, try to set up this relationship (between things). When you have the relationship, you really understand where you are and the world you're living in."
Momo Moussa, Serenitie Wang, Jonas Schönstein, CNN contributed to this report.