Anyone expecting the multiple costume changes of Super Bowls past might have been disappointed. But Rihanna nonetheless wowed at her halftime show in an all-red ensemble custom-made for her by luxury labels Loewe and Alaïa.
News that the star is expecting her second child may explain why she kept things simple — and why she opted for a pair of comfy sneakers in a complementary shade of red.
The Barbadian singer began her 13-minute halftime show on a suspended platform singing "B**** Better Have My Money" in a cotton canvas flight suit. The garment was almost entirely unzipped to reveal a matching silk jersey catsuit and sculpted leather corset (and, of course, a baby bump, as later confirmed to CNN by her representative.)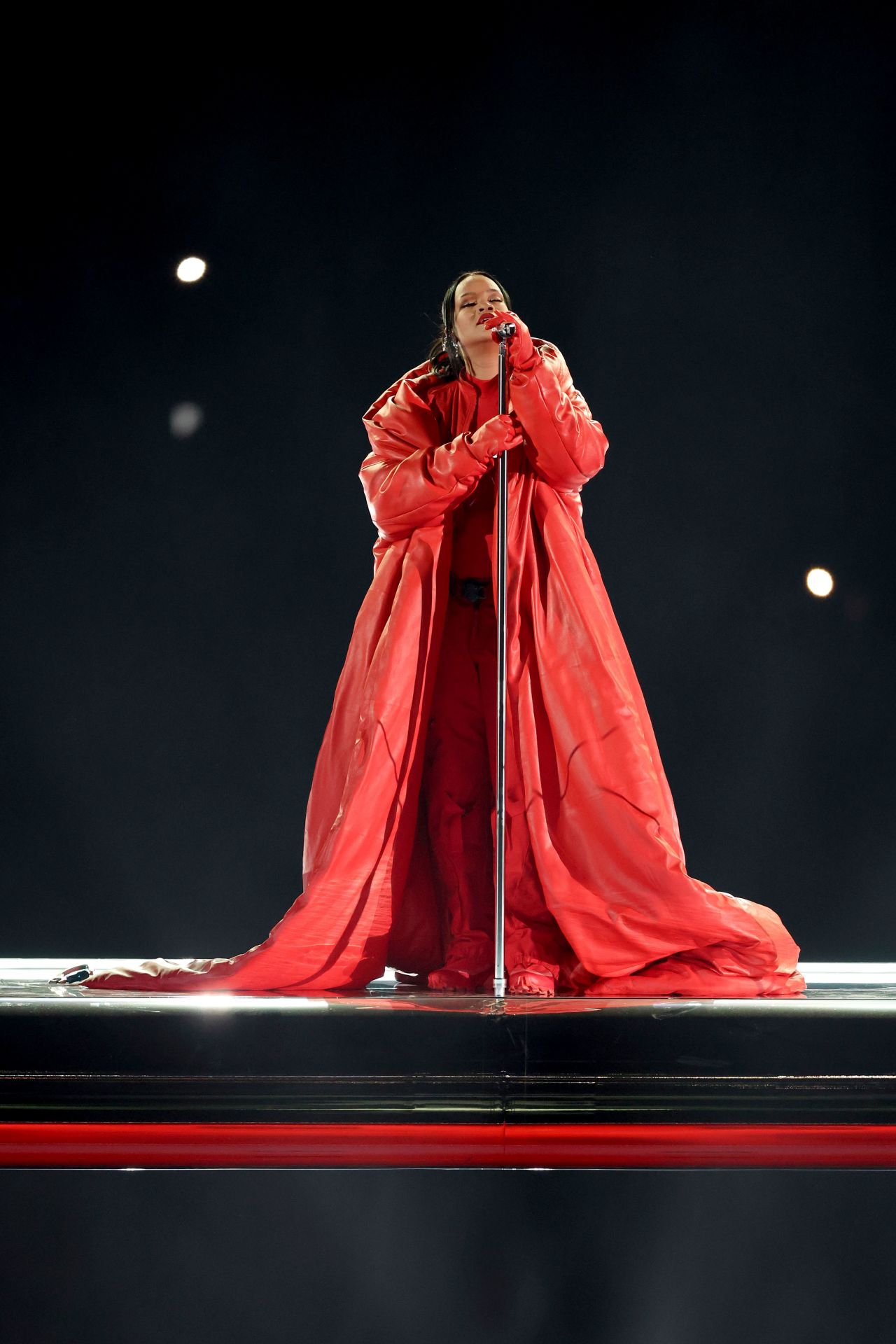 All three garments were custom-designed by Jonathan Anderson, creative director of Spanish label Loewe. The fashion house, which debuted a similar looking red breastplate as part of its Spring 2022 ready-to-wear collection, said her look had been inspired by flight gear and was "designed to build volume in step with the dynamic scenography of the show."
Rihanna completed the outfit with a pair of red sneakers from Maison Margiela's collaboration with sport shoe brand, Salomon. Over the top, she wore a leather puffer scarf with integrated gloves by Alaïa, the label founded by late Tunisian couturier Azzedine Alaïa.
The 34-year-old soon discarded the scarf, before embarking on a medley of hits including "Rude Boy" and "Umbrella." But she was back in another Alaïa piece for the finale, "Diamonds." This time it was a red leather maxi puffer coat — also with integrated gloves — designed by the label's creative director Pieter Mulier. (At the halftime show press conference Thursday, Rihanna had also opted for an aviator jacket by Alaïa, which just days ago opened a New York boutique after more than 30 years without brick-and-mortar presence in the city.)
The custom-made Alaïa puffer looked remarkably like Norma Kamali's 2000s-era red sleeping bag coat once owned and worn by the late fashion editor and stylist André Leon Talley. The piece is currently up for auction as part of a wider of sale of Talley's personal items. Representatives for Rihanna and Alaïa have yet to comment on what some are calling a "tribute" to Talley following his death in January 2022.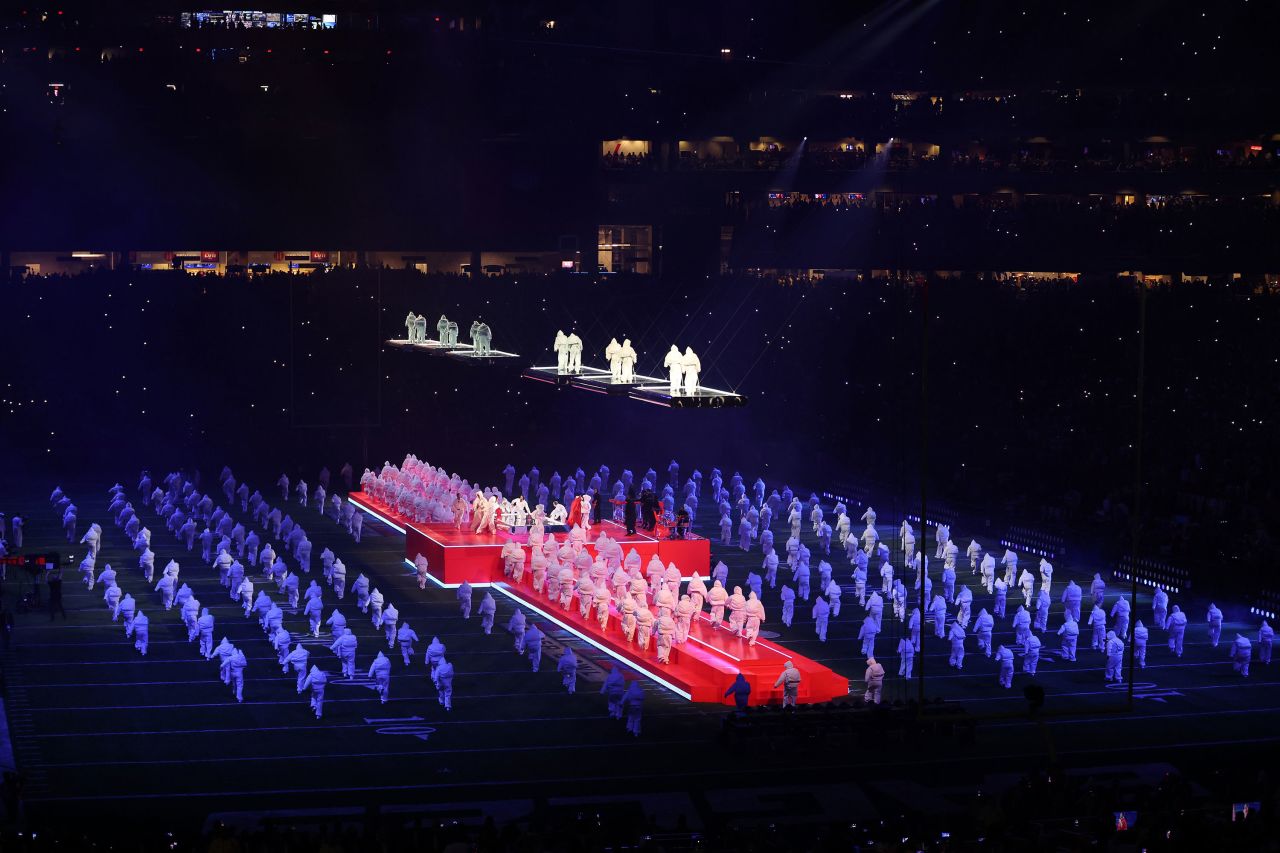 This was Rihanna's first live public performance in six years. And with the star spending much of the intervening time building her lingerie and beauty empire, fashion-watchers had speculated that she might wear items from her Savage X Fenty line. This, however, was left to her legion of back-up dancers, whose white hooded jackets opened to reveal various items from the underwear brand.
The fashion mogul's label took advantage of the moment, immediately reminding fans on social media that the dancers' sports bras, boxers and mesh tank tops are all available for sale.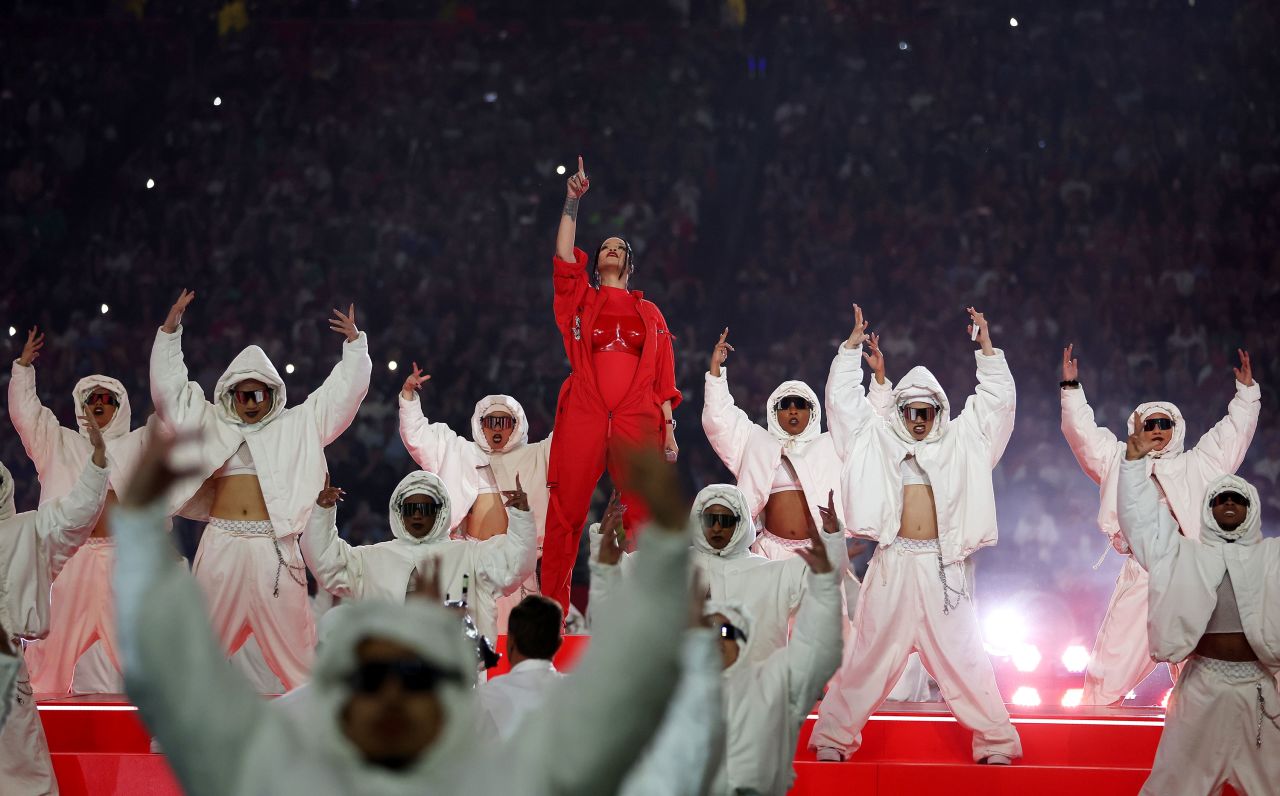 In a press statement issued by Loewe, whose parent company LVMH also owns a majority stake in Rihanna's Fenty Beauty brand, Anderson described the show as an "unforgettable moment."
"Rihanna is a true icon, and working with her to bring these stage looks to life feels like a wild, wonderful dream," he is quoted as saying.