Editor's Note: Style Cities is a new series exploring the world's cultural capitals through the eyes of their most creative residents and devotees.
New York has long been shaped by the visionary talents of the people who call it their home. So who better to unpack the city's enduring appeal than the artists, designers, photographers and tastemakers who are defining it today? We asked six of them…
Oh gosh, there are 29,000 reasons New York is so special. I always say that if you can't find it in New York, it doesn't exist. Despite what anybody says, pro or con, New York is the fashion capital of the world. You see everything here even before it becomes fashion.
The Costume Institute at the Metropolitan Museum of Art is very dear to me. They gave me my first show (2005's "Rara Avis: Selections from the Iris Apfel Collection") and they named a gallery in the Institute after my husband and me. It's a place where fashion is truly celebrated and it's wonderful to visit. –
I'm very lucky to live right by Madison Square Park – which is the most "New York" park in the city. You of course get all of the joys of the park's greenery and sense of fresh air, but it also has the food, the art, and the frenzied activity that define the city. You are steps away from some of the best restaurants in New York, from Eleven Madison Park all the way down to Shake Shack.
And the park's art program is one of the strongest public art programs in the city. Right now, there's a striking project by Diana Al-Hadid, and coming up this fall, the park will host the first major public art project by sculptor Arlene Shechet, who Pace began working with this past March.
Beyond that you also have the Math Museum and the Lego Store – what more could you ask for?!
New York City is a beautiful land of extremes. Step from one neighborhood to the other, and you'll hear different languages being spoken, access different types of cuisine, and find yourself surrounded by architecture unique to that area.
And just like the landscape, we New Yorkers are made of extremes, too. We have little to no patience and can be abrasive, but befriend a New Yorker and you've got an advocate for life. A New Yorker will 100% punch someone for you (if they did something to deserve it) and let you crash with them when you're between homes (because we've all been there.)
Every New Yorker's got a secret place they frequent to unwind and unravel. Mine is Giando on The Water in South Williamsburg. This Italian joint can be seen like a landmark from the Williamsburg Bridge. For the longest time I couldn't tell if it was a member's-only restaurant or a prison.
People get married there, celebrate Sweet 16s there, and I get dirty martinis there. The dining hall has floor-to-ceiling windows with a marvelous view of the bridge stretching over the East River. Go just before sunset, and see the horizon turn from orange to a hot pink. Special gems like these make me so proud to say, "I did it, I live in this crazy place, I'm a New Yorker!"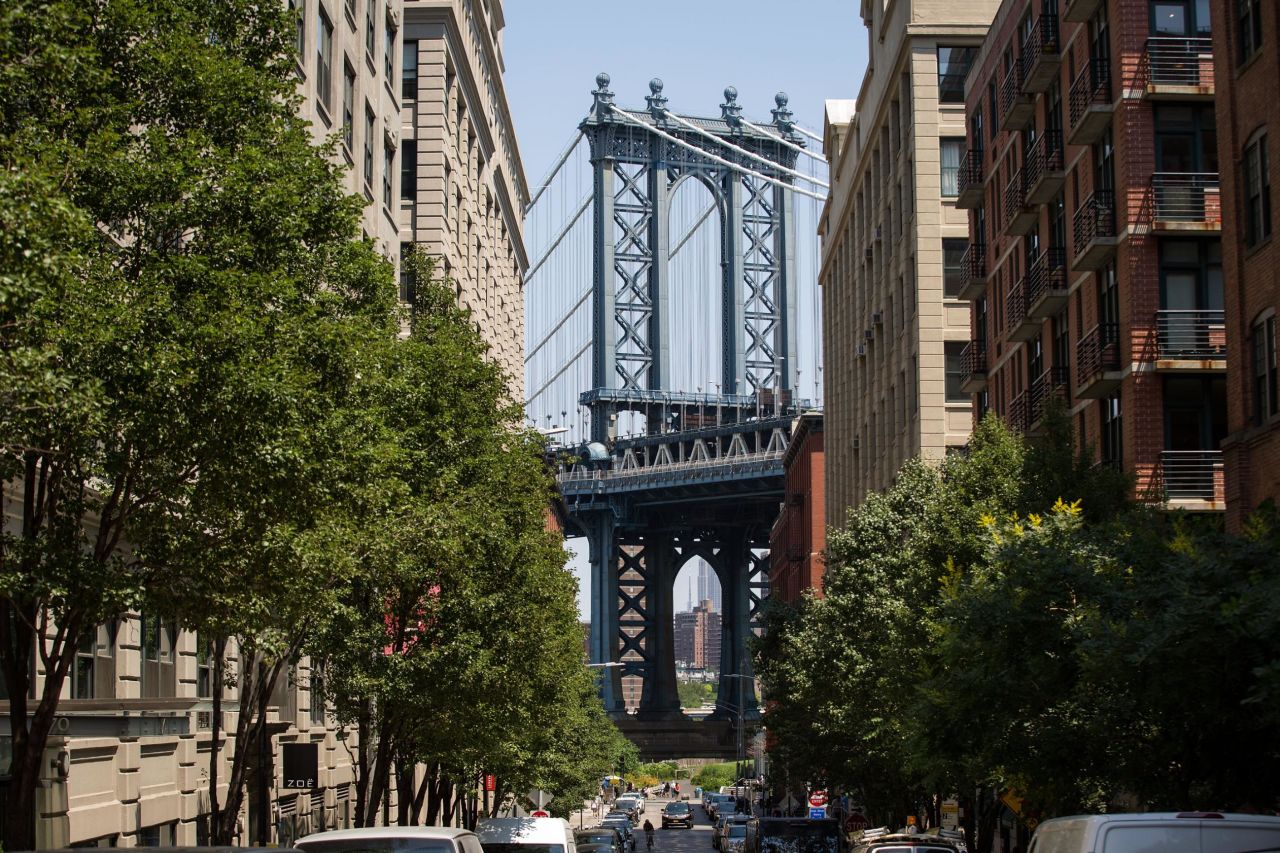 George Yabu: I chose to live in NYC for the simple reason of wanting to immerse myself and be a part of the most dynamic urban center on the planet. I also wanted to throw myself into the deep, to see if I had something to offer professionally within a truly competitive creative industry.
Toronto was a perfect incubator to establish our practice and New York is the stage the world sees. We have been living and working in New York for over 18 years now, we're beyond the rehearsals.
Glenn Pushelberg: One of our favorite places in New York City is the view from our home in the Richard Meier Towers on Perry Street across the Hudson River. The feeling of being in the heart of one of the world's most frenetic cities but having the immediacy of the connection to water is incredibly calming and grounding.
I love New York for the scale of experiences you can have in this city. There is an intensity to standing on the sidewalk next to huge towering glass skyscrapers that is belied by an intimate stroll through the windy streets of Lower Manhattan in Chinatown or the Financial District, where I love to just get lost.
This variety of experience plays out across all five boroughs of the city. If you walk slowly enough, you will find that each and every block is different and full of rich detail. My favorites places give you that sense of scale, such as riding a Citibike across the bridges – Queensboro or the Williamsburg Bridge are my favorite – or grabbing some friends for a spin on the Staten Island Ferry.
I've been really looking forward to checking out architect's Louis Kahn's last great work, the park on southern tip of Roosevelt Island for great views of Manhattan and Queens. But my ultimate favorite place is, without fail, an artist's studio, which I find nestled all over the city from Harlem, to the South Bronx, to the far corners of Bushwick, Brooklyn or Ridgewood, Queens. It is there that you can really indulge in the sense that anything is possible in a place like NYC.