Story highlights
Burning Man is an "architecture bootcamp," says Arthur Mamou-Mani
The French architect has designed the center temple for this year's festival
The digitally designed, 3D-printed structure is in-keeping with this year's "I, Robot" theme
Every year, in the last week of August, tens of thousands of revelers descend upon Nevada's Black Rock Desert to a city built from scratch. A week later, they leave the desert without a trace.
They come for Burning Man, a 10-day festival dedicated to community, where attendees are asked to follow a set of rules that include the practice of "gifting" – buying and selling anything is a strict no-no.
Founded in San Francisco in 1986, as a bonfire ritual for summer solstice, the event moved to Nevada in 1990. Over the years, it has grown in popularity, with the temporary metropolis becoming a celebration of art and architecture, showcasing futuristic structures made with state-of-the-art technology.
Since 2000, a wooden temple has formed the sacred center of Burning Man.
Last month, the design for this year's temple was announced. Galaxia – a space-age construction of 20 timber trusses that spiral towards one point in the sky – is the creation of French architect, Arthur Mamou-Mani.
Digitally designed and to be built using 3D printers and laser cutters, the temple demonstrates the power of robotic tools, in keeping with this year's "I, Robot" theme. The Burning Man Journal wrote that Galaxia "celebrates hope in the unknown, stars, planets, black holes, the movement uniting us in swirling galaxies of dreams."
Burning Man temples often have a symbolic meaning. Last year's temple, designed by artist Marisha Farnsworth, was made from 100 beetle-infested dead pine trees to highlight the decline of California's forests. The Temple of Promise (2015) was a tunnel of arches representing a journey from the immense to human scale, while the Temple of Whollyness (2013) was a geometric pyramid designed to make visitors reflect on how to become more whole.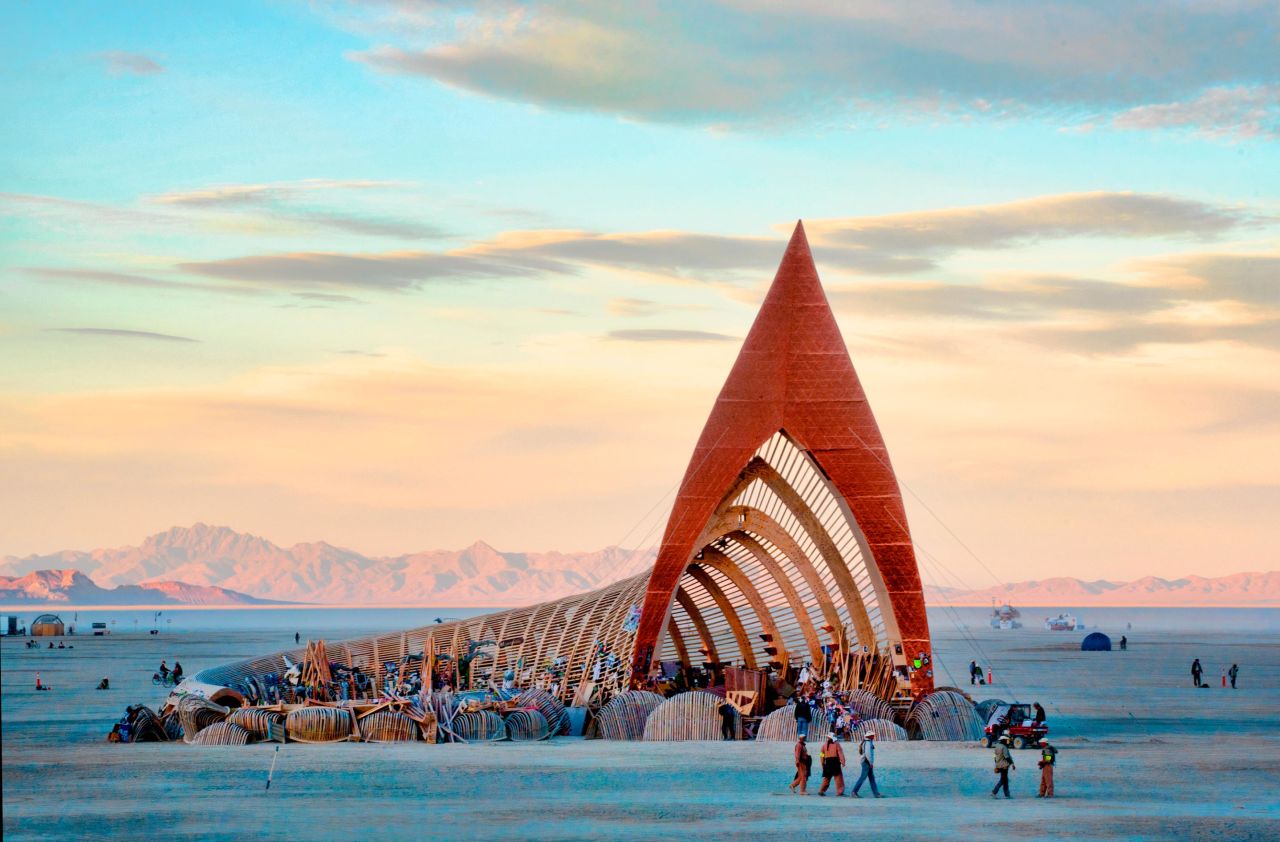 Burning Man climaxes with the cremation of the temple, which Megan Miller, Burning Man project's director of communications, says provides a "collective release."
London-based Mamou-Mani is no stranger to Burning Man. As an architecture lecturer at the UK's University of Westminster, he and his students have brought art installations to Black Rock City for the past six years. CNN caught up with him about his latest design.
CNN: What was your inspiration for Galaxia?
Arthur Mamou-Mani: Originally, I worked on a project for Virgin Galactic, designing a spaceport for astronauts as they prepare themselves for their trip into space. That project didn't happen, but it's always been in the back of my mind.
I think there is one thing that has united peopled spirituality over the years: we've always worshiped the sun, or things we can directly see, or which have a direct influence on us. Now we have a better understanding of astronomy, and we roughly know the shape of our galaxy, other galaxies, black holes and so on. So, I thought it would be interesting to have a spiritual place that has a close link to our scientific understanding.