When you think of the Met Gala red carpet, a few dramatic looks might come to mind.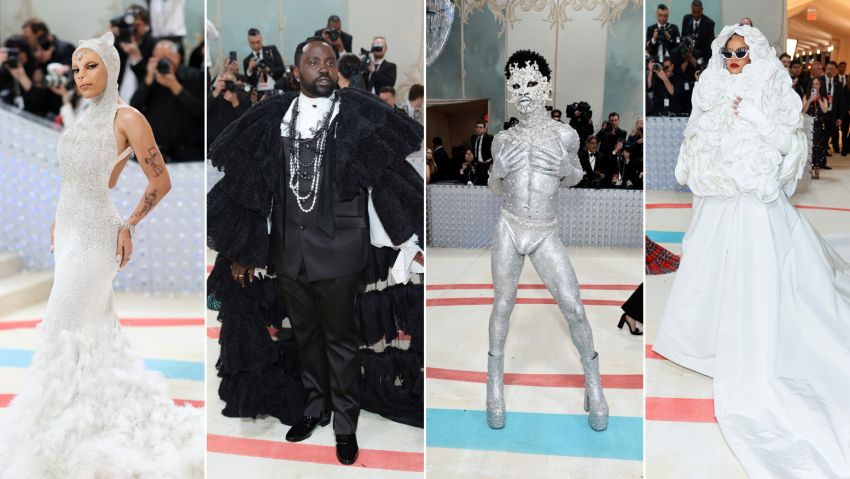 Watch: Pregnancy reveals, cat costumes and dramatic red carpet entrances at this year's Met Gala
Perhaps it's Beyoncé's gem-encrusted "naked" Givenchy dress from 2015, or Rihanna's show-stopping yellow Guo Pei couture cape gown that same year. It could be when Law Roach transformed Zendaya's magical Cinderella ball gown by Tommy Hilfiger on the spot in 2019, or the time Kim Kardashian showed up dressed like a Balenciaga shadow in 2021. (Or her controversial Marilyn Monroe tribute last year, the list goes on.)
But the Costume Institute soiree, which begins on the famed steps of the Metropolitan Museum of Art each May, hasn't always had the bar set quite this high for best-dressed.
Since the gala was established in 1948 it has always attracted fashion's elite, with Cher, Princess Diana, Jacqueline Kennedy Onassis, Diana Ross and Bianca Jagger attending over the decades. But vintage photos show a much more traditional luxury dress code than some of the unwieldy, restrictive, and sometimes impossible-to-sit-in (hello, Katy Perry as a chandelier) ensembles of recent years.
Though some repeat motifs would have fit right in decades ago — after all, Cher did the naked dress at the Met Gala in 1974 long before, well, any number of others at the event — the red carpet has more recently turned into a spectacle, with live streams and social media sharing giving the world a front row seat and encouraging ostentatious viral moments.
Click through the gallery to see some of the most talked-about outfits from over the years, from the classic and iconic to the outlandish.