Editor's Note: This is part of a series dedicated to Baselworld 2016. Josh Sims is a freelance writer, watch expert and author of "Icons of Style."
Story highlights
"Haute joaillerie" or "high jewelery" is a niche area of the luxury watch industry
Prices are so high for these one-off designs that they are often only available on request
To be successful, they must still be clear, well-crafted timepieces
There is another haute side to horology.
They call it "haute joaillerie" or "high jewelery" – watches so encumbered with jewels that it is often hard to see the timepiece beneath the karats.
Indeed, if the watch world now typically trumpets the limited edition, the sculture of haute joallerie usually covets the one-off. Prices are often on application.
Lessons in excess
And small wonder. Take, for example, Chopard's new Imperiale Joaillerie. It is covered with 581 sapphires totaling 47.98 karats, with the crown and lug covers set with amethysts.
The result of their arrangement is a rainbow effect of shimmering color. Oh, and it also tells the time.
Or look to the new Harry Winston Twist, with its 61 baguette-cut diamonds, 50 marquise-cut diamonds and 70 marquise-cut rubies. And that's just the case. The bracelet adds another 178 white diamonds and 110 rubies.
Such watches are not for the shallow of pocket, a point Hublot drove home last year when it launched an haute joaillerie collection of 10 pieces to celebrate the 10th birthday of its Big Bang watch.
The company kept things simple: each watch was priced at $1m.
Innovation and (relative) accessibility
But there are ways of getting a deal. Five years ago Graff revolutionized the industry by developing its patented "mosaic" setting that allowed the use of more but smaller stones to cover the bezel of its watches. This means that a piece that would typically cost perhaps $2.2m is now a more reasonable $1.2m.
"It makes the watch that more accessible, relatively-speaking," says Graff's CEO Michel Pitteloud.
Although such figures remain vast, it is this kind of innovation that has allowed the demand for haute joaillerie pieces to grow despite global recession – although cultural comfort with ostentation means that China, the Middle East and the US remain the dominant markets.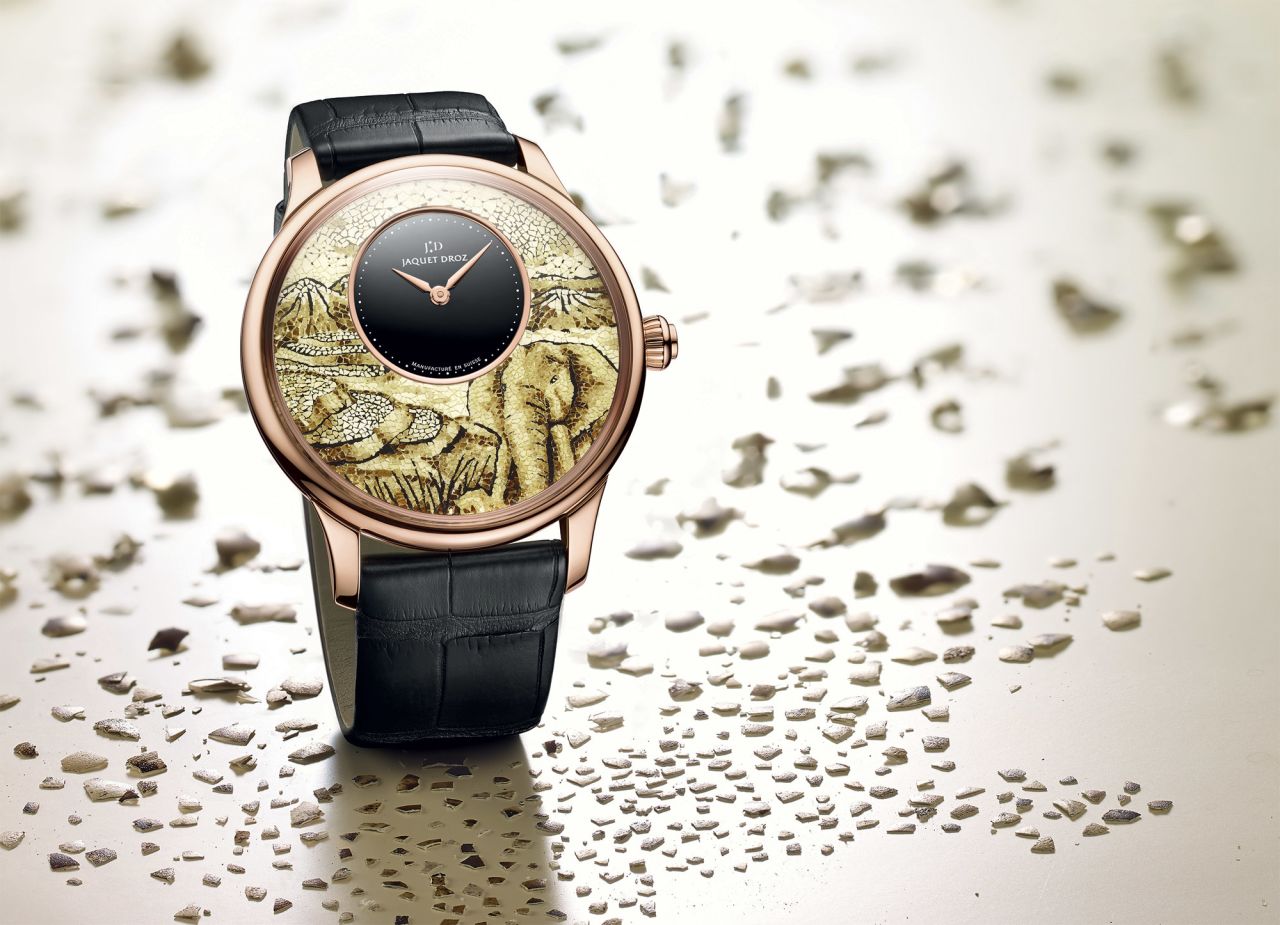 Baselworld 2016: How metiers d'arts are dominating the luxury watch industry
"We actually expected fewer orders to be placed this year but that hasn't been the case," says Pitteloud.
"Demand is definitely still there for such jewel-encrusted pieces, for two reasons. One, they look spectacular, in large part because of the investment the industry has put into original settings. And secondly, because customers are looking to those companies with a legitimacy in the area of jewelery design to provide watches, which they increasingly are."
A skilled business
Not that covering a watch with gemstones is as easy an option as it might seem.
Jean-Christophe Babin, the CEO of Bulgari, notes that it is one thing to have the expertise in stone-setting, another in the mechanics of fine watchmaking, and quite another in combining the two – as evidenced by its 2016 Serpenti Incantati piece, or its snake bracelet, in which the timepiece is found secreted in the serpent's mouth.
"That combination of skills is something very few companies could do," he adds – and he might well cite Chanel's latest diamond-dazzling Signature de Saphir and Signature Duo pieces, with 1,566 diamonds between them but both employing a quartz movement.
"One might think the watch element was less important but oddly even if the women who buy these pieces are typically drawn to the aesthetic, they still want the functionality of the watch. I think it's a mistake to not make the dial readable. Often with jewelery watches you can't even tell there is a watch there."
Less is more
That is certainly not like the new crystal-cased Astronomia Clarity from Jacob & Co, the company that arguably rebooted a trend for jewelery pieces among men by chiming with the hip hop community.
It's a watch that might well point the way to a less-is-more future of haute joaillerie, in which a rotating flying tourbillon is offset by the use of a single, 288 facet 1 karat blue diamond (plus a few more diamonds on the lugs).
"There are not many collectors out there for rare jewellery pieces like these, but they are more and more sophisticated," says Jacob & Co's founder Jacob Arabo.
"They all want to see the wow effect. But they want that to be a product of careful design. Not many people want just the standard boring diamond watch anymore."