4:00 p.m. ET, August 2, 2018
Our live coverage has ended. Scroll through the posts below to see how today's White House press briefing unfolded.
3:59 p.m. ET, August 2, 2018
Trump told security chiefs to talk to reporters about about election interference
From CNN's Kaitlan Collins
President Trump instructed the nation's top security chiefs to speak at the press briefing about countering attempts to interfere in U.S. elections, a White House official tells CNN.
This happened despite the President's brief meeting on election security last Friday that lasted half an hour and his refusal to confront Russian President Vladimir Putin over meddling while standing next to him on the world stage.
The official declined to say if Trump himself expressed interest in coming out today. 
2:05 p.m. ET, August 2, 2018
Sarah Sanders refuses to say the press is not the enemy of the people
CNN's Jim Acosta pressed White House press secretary Sarah Sanders if she, like the President has said multiple times, believed that the press was in fact the "enemy of the people."
She wouldn't say if she agreed with him, but she wouldn't say that she didn't.
Instead, Sanders said, "I appreciate your passion. I share it. I've addressed this question. I've addressed my personal feelings. I'm here to speak on behalf of the president. He's made his comments clear."
Here's how Acosta reacted on Twitter:
Context: The President's own daughter, Ivanka, said this morning that she did not share his belief that the press was the enemy of the people. "I've certainly received my fair share of reporting on me personally that I know not to be fully accurate, so I have some sensitivity around why people have concerns and gripe, especially when they're sort of targeted. But no, I do not feel that the media is the enemy of the people," the younger Trump said.
2:16 p.m. ET, August 2, 2018
Showing an ID to vote is "not outrageous," White House says
White House press secretary Sarah Sanders was asked if the Trump administration would consider a national voter ID law.
The question was spurred by President Trump's recent call for stronger voter ID laws, in which he said identification is required for buying groceries (it's not).
"We're looking into everything we can to protect the 2018 elections, the integrity of those elections and moving on beyond 2018 to 2020 and after," Sanders said. 
Then she added this:
Sanders then added that "it's not outrageous" for state and federal officials to require people to show IDs when voting.
"It's not unreasonable. If I return something to a department store, if I have to cash a check I have to show my ID in order do those things."
1:51 p.m. ET, August 2, 2018
The FBI is working with social media companies, director says
From CNN's Kaitlan Collins
FBI Director Chris Wray was asked how the agency is progressing in identifying interference threats on social media ahead of the 2018 midterm elections compared to what they were doing ahead of the 2016 presidential election.
Wray declined to talk about specific investigations but said it highlights the need for a public, private partnership to combat interference.
He added that the FBI is "spending so much of our effort to engage with social media companies" because they play an important role in monitoring and policing their platforms. 
He said the FBI is sharing intelligence with those social media platforms "in a way that wasn't happening before" and "they are sharing information back with us." 
"I do think progress is being made," Wray said. "We have to keep getting better at it."  
1:49 p.m. ET, August 2, 2018
Director Wray responds to White House criticism of the FBI
From CNN's Kevin Liptak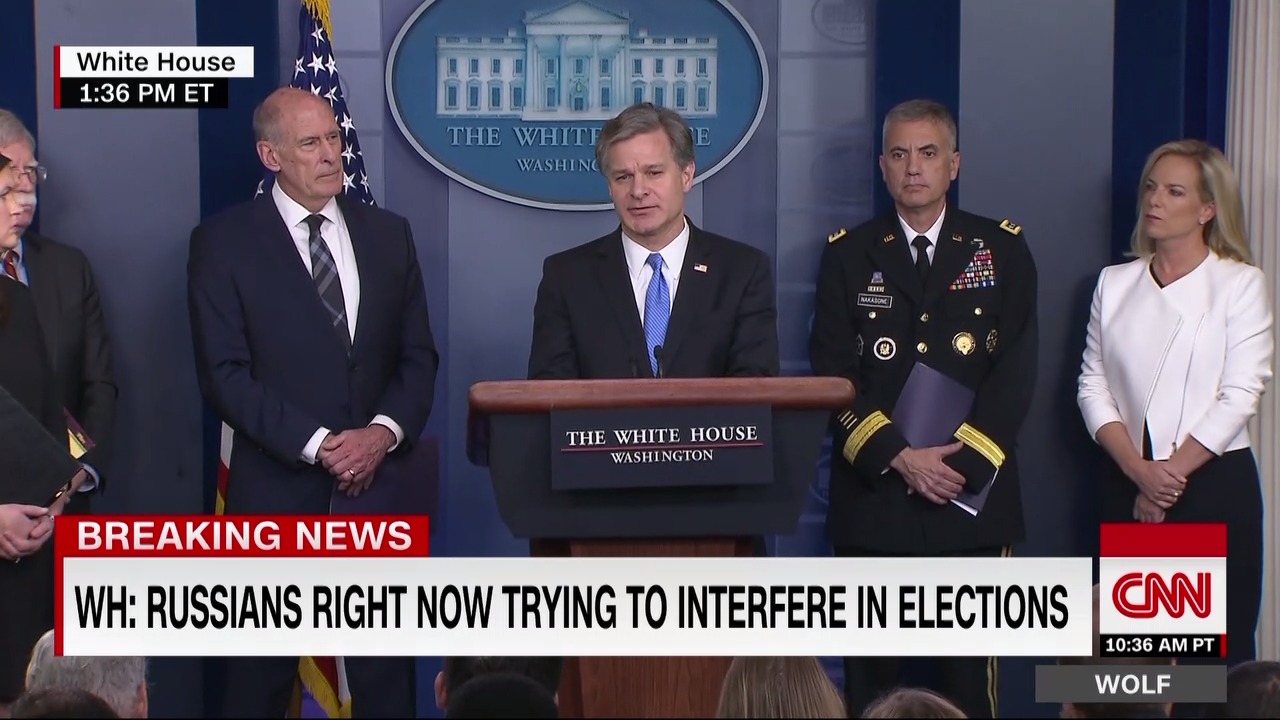 FBI Director Christopher Wray rebuked the White House that his agency contained corrupt elements. 
"I can assure the American people that the men and the women of the FBI, from the director all the way on down, are going to follow our oaths and do our jobs," Christopher Wray said.
He was asked about Trump's comments about the special counsel investigation, and his criticism of the FBI as it continues its probe into Russian meddling. Included in the question were press secretary Sarah Sanders' comments on Wednesday claiming there is a lot of corruption in the FBI.
Sanders was looking on as the question was asked.
1:44 p.m. ET, August 2, 2018
Coats says 2018 meddling isn't as robust as 2016 interference
Director of National Intelligence Dan Coats was just asked how threats to the upcoming midterm elections this November compare to the 2016 election interference.
Here's how he responded:
"Relative to what we have seen for the midterm elections, it is not the kind of robust campaign that we assessed in the 2016 election.
He continued: "We know that through decades, Russia has tried to use its propaganda and methods to sow discord in America. However, they stepped up their game big time in 2016. We have not seen that kind of robust effort from them so far."
1:43 p.m. ET, August 2, 2018
Bolton says Trump "cares deeply" about securing America's elections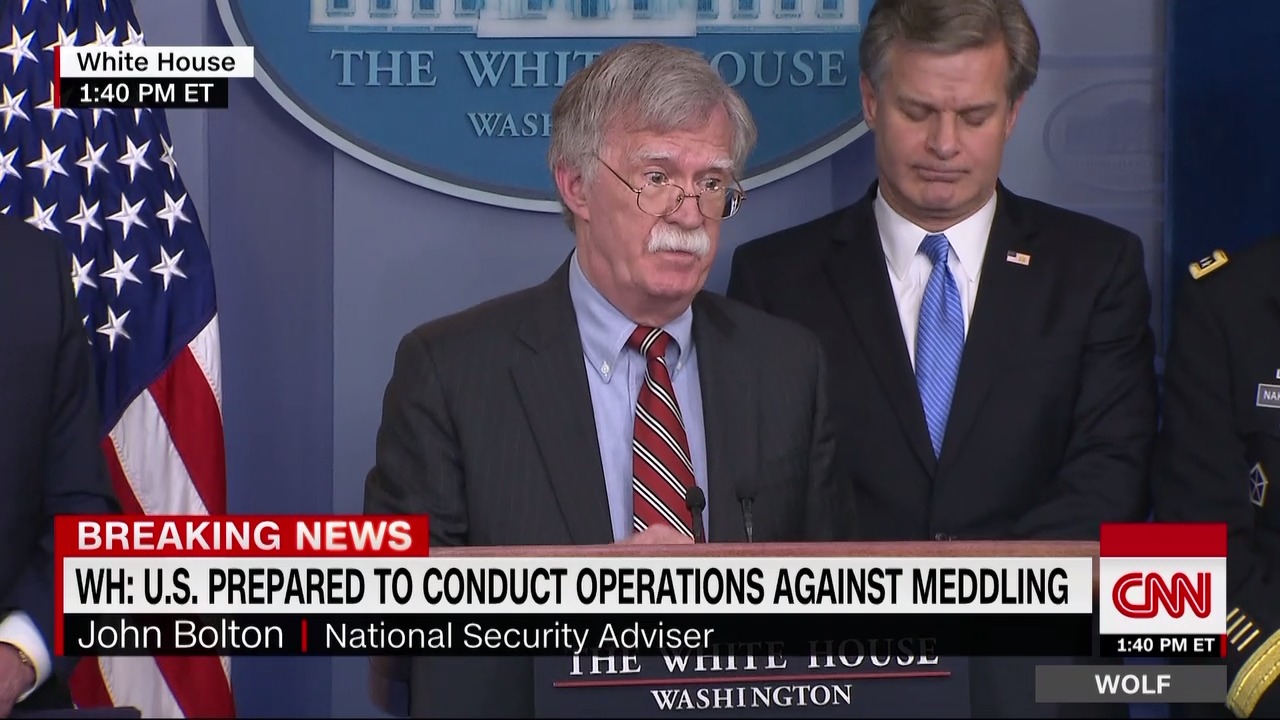 National security adviser John Bolton just said President Trump "cares deeply" about preventing Russian meddling and interference in US elections. The remark came in response to a reporter's question asking why Trump didn't use his press conference in Helsinki to highlight the activities they were talking about today.
The reporter asked:
At the [Helsinki ]press conference, the president didn't highlight any of the malign activities that you have and that his advisers have. So should Americans believe that he is listening to your advice or that he's going his own way when he's having meetings like he did with the president of Russia? 
Bolton responded:
I think the president has made it abundantly clear to everybody who has responsibility in this area that he cares deeply about it and that he expects them to do their jobs to their fullest ability and that he supports them fully. 
1:40 p.m. ET, August 2, 2018
Coats on Russian meddling: "We acknowledge the threat. It is real. It is continuing."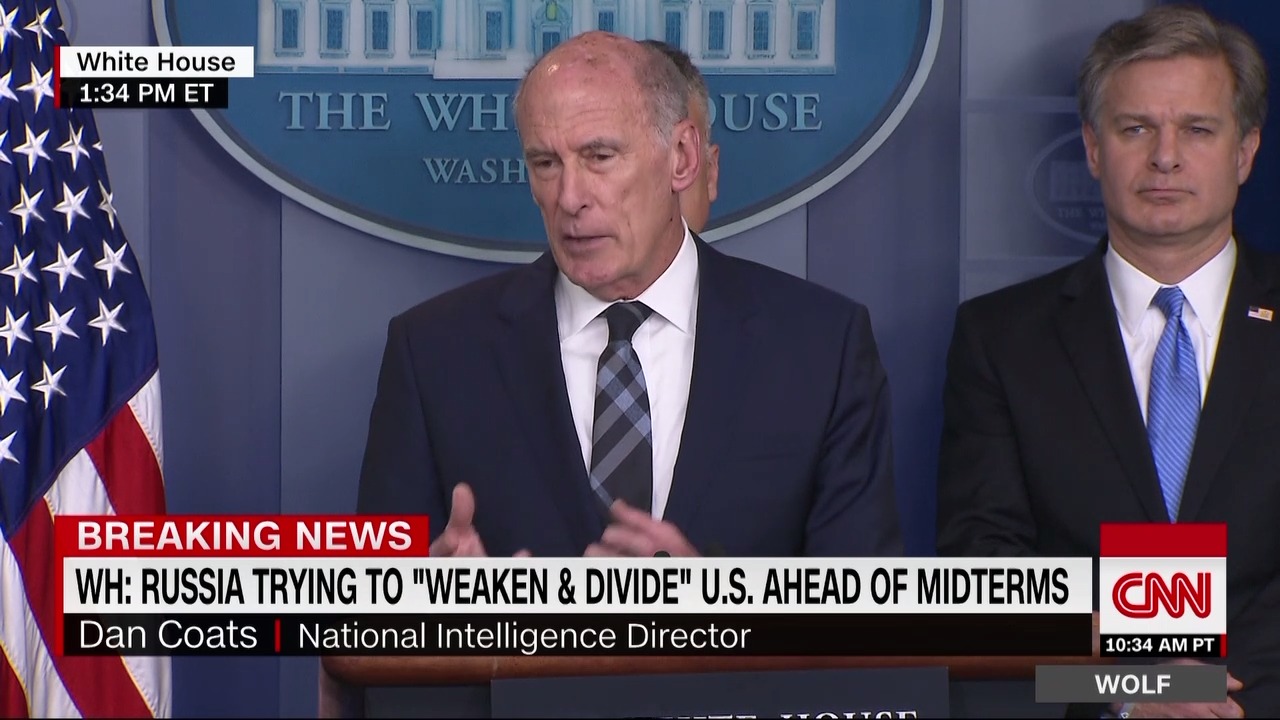 Director of National Intelligence Dan Coats made it clear why he and others in the national security corner of Trump's administration came to the briefing.
"Our focus here today is simply to tell the American people we acknowledge the threat. It is real. It is continuing. And we're doing everything we can to have a legitimate election that the American people can have trust in," Coats said.
He added it goes beyond the elections.
"It goes to Russia's intent to undermine our democratic values, drive a wedge between our allies, and do a number of other nefarious things. We are looking at that also, but today we are here to talk about the elections coming up and what," he stated.