Follow the White House press briefing
2:51 p.m. ET, September 10, 2018
Trump adviser concedes GDP tweet was false
Council of Economic Advisers Chairman Kevin Hassett suggested that blamed "somebody" for "adding a zero" in economic numbers that made their way to President Trump, who incorrectly claimed in a tweet this morning that the GDP rate is higher than the unemployment rate for the fist time in 100 years.
"I don't know the whole chain of command," Hassett offered, "but what is true is that it's the highest in 10 years. And at some point, somebody probably conveyed it to him, adding a zero to that, and they shouldn't have done that."
About those numbers
The first two numbers are correct, although they measure completely different things, and in different ways.
The overall US economy grew at a 4.2% annual rate in the second quarter. Unemployment was between 3.8% and 4% during the quarter, and it came in at 3.9% in August.
That's all good news.
"It's definitely better when it's true than when it's not," said Justin Wolfers, professor of economics at University of Michigan. "I like high GDP growth and low unemployment."
But Trump got it wrong — way wrong — when he said it hasn't happened in a century.
In the last 70 years, it's happened in at least 62 quarters, most recently in 2006.
Reporting by CNN's Chris Isidore
2:49 p.m. ET, September 10, 2018
In White House briefing, Hassett talks Obama and the economy 
Kevin Hassett, the chairman of the Council of Economic Advisers, kicked off today's White House press briefing with a rebuke of President Obama's speech last week taking credit for the economic numbers filled with slides and statistics and a few calculus jokes.
Hassett was asked specifically whether his appearance at the first briefing in 19 days was in response to Obama's speech.
He said it was "not in any way" related to the timing of the former President's remarks.
Asked whether he would give credit to Obama for economic growth, he declined to say.
"I prefer to give blame or credit to policies than individuals," he said, noting that it was "not fair" that Obama was criticized for the great recession which started before his term.
He added that Obama had a "whole bunch of policies that were very negative for growth," citing the Affordable Care Act, among others. 
2:43 p.m. ET, September 10, 2018
As Kevin Hassett speaks, the WH sends out this fact sheet on the economy
A Category 4 hurricane is barreling towards the Eastern United States, but the White House today decided to start the first press briefing in almost three weeks by talking about the economy.
It sent out a "fact sheet" on economic progress since the President took office with one clear argument: This economic growth is President Trump's, not President Obama's.
Here's a portion: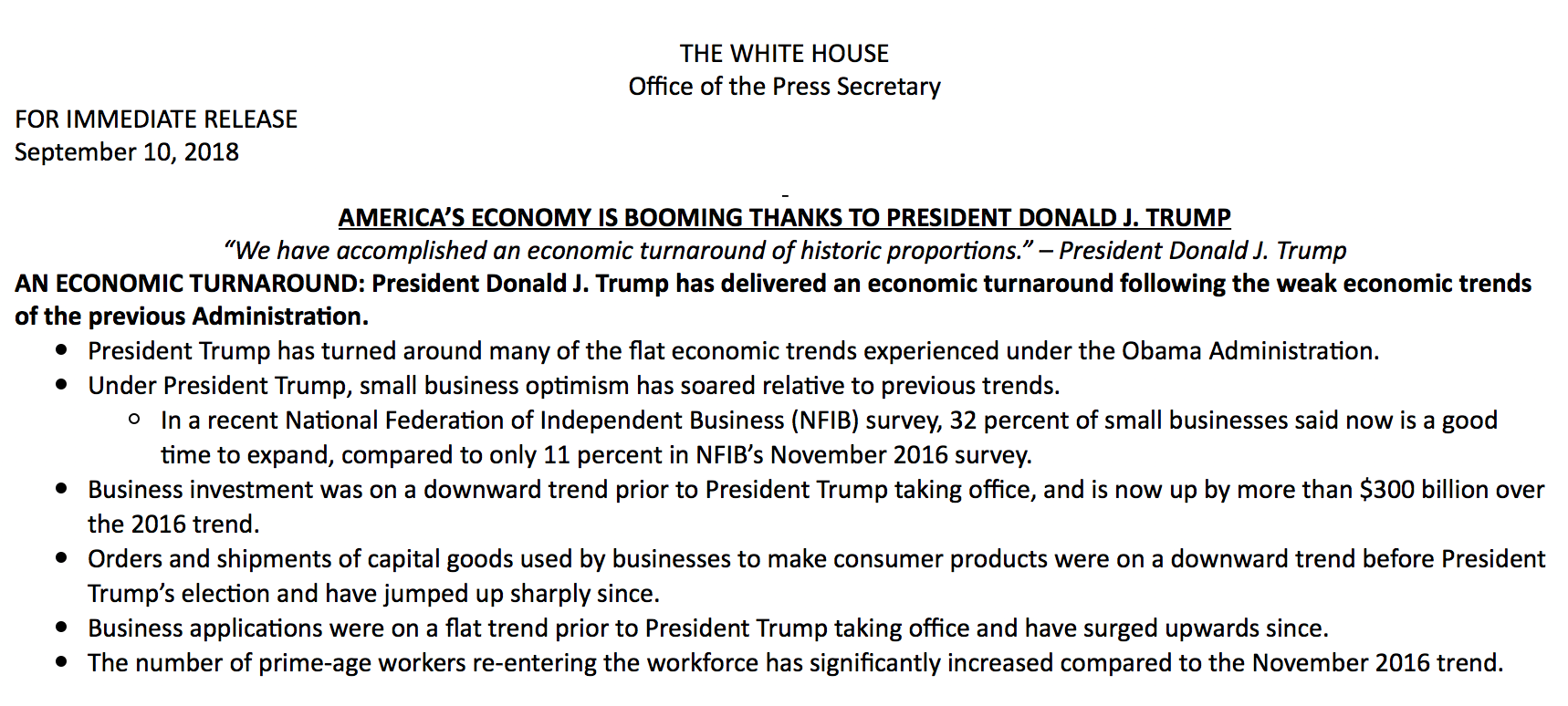 2:30 p.m. ET, September 10, 2018
NOW: Sarah Sanders starts briefing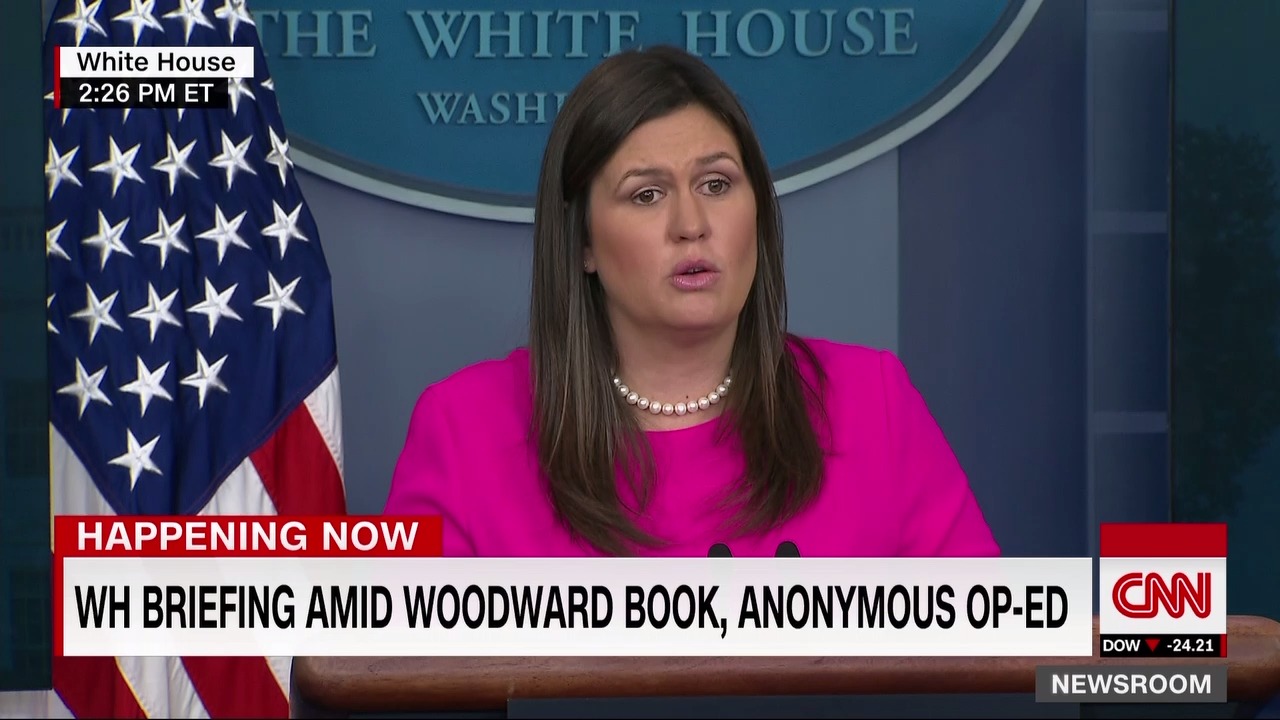 White House press secretary Sarah Sanders just opened the briefing by welcoming Kevin Hassett, the chairman of the Council of Economic Advisers, promising he would "go into greater detail on why the American economy is booming."
"I apologize in advance for Kevin's really bad calculus jokes," Sanders said.
Hassett brought slides -- the first one is on "small business optimism."
Sanders says she will take reporters' questions after he is done. 
2:06 p.m. ET, September 10, 2018
White House aides dust off briefing room podium, last used August 22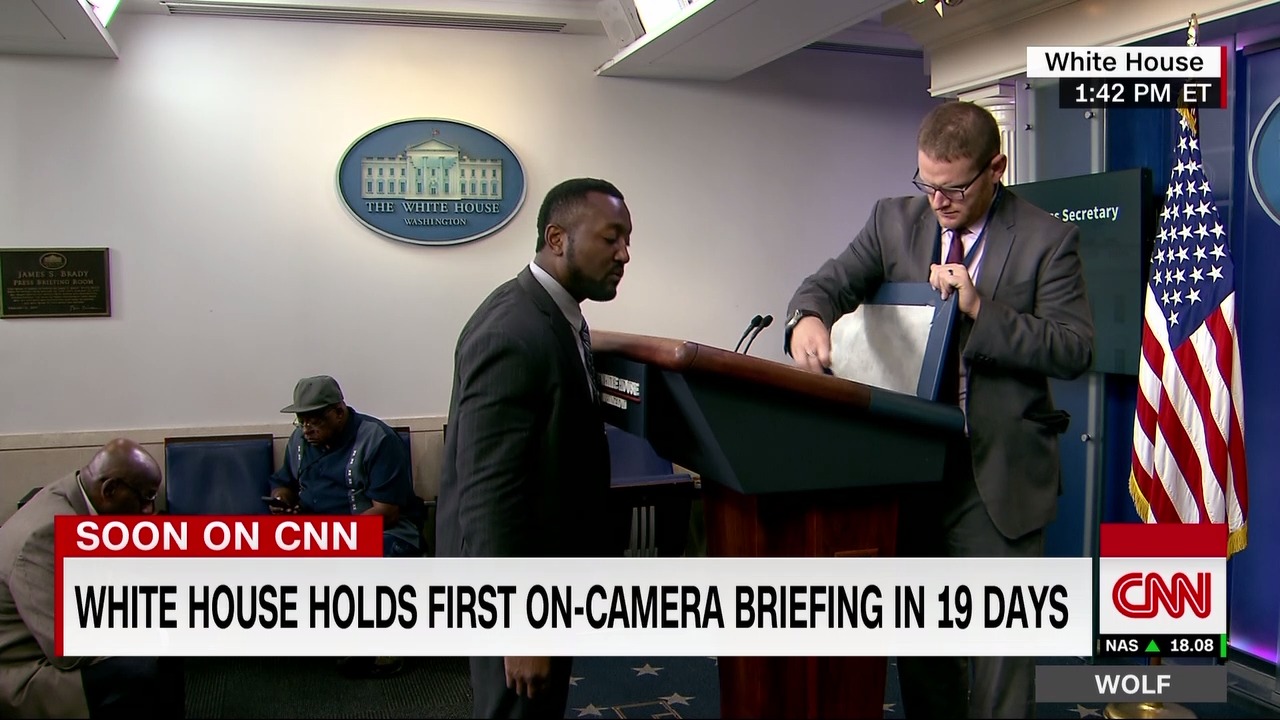 White House staffers were just seen cleaning off the briefing room podium, which has not been used for a briefing since August 22.
1:59 p.m. ET, September 10, 2018
White House press briefing set for 2 p.m. ET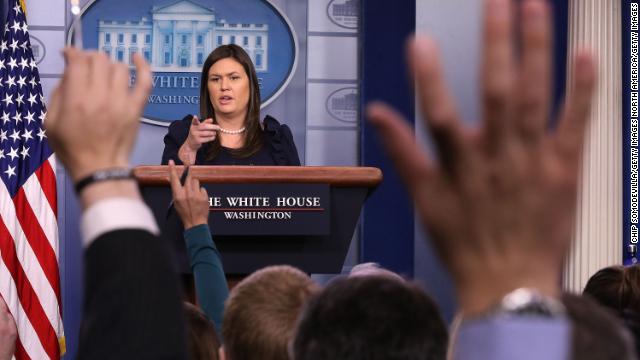 White House press secretary Sarah Sanders will hold a press briefing this afternoon.
It's the first briefing since excerpts from Bob Woodward's new book about the Trump administration were released and an anonymous New York Times op-ed claimed there is a "resistance" within the administration.
Here's a look at some of the key issues involving the administration:
New York Times' op-ed: The op-ed is written by a senior Trump administration official who says they are part of an internal "resistance" working to thwart parts of Trump's agenda and block his worst impulses, and was published amid questions of Trump's fitness and his control over his administration. The highest-ranking officials in the Trump administration denied they or their offices authored the op-ed in The New York Times.
Bob Woodward's book: The 448-page book, "Fear: Trump in the White House," provides an unprecedented inside-the-room look through the eyes of the President's inner circle. According to the book, Trump's closest aides have taken extraordinary measures in the White House to try to stop what they saw as his most dangerous impulses, going so far as to swipe and hide papers from his desk so he wouldn't sign them. Several Trump administration officials denied several references made about them in the book.
Trump's Supreme Court pick: Brett Kavanaugh's confirmation hearing wrapped up Friday. Democratic senators grilled Kavanaugh on his judicial record, Roe v. Wade, presidential powers and other landmark cases. The Senate Judiciary Committee is expected to vote on Kavanaugh's nomination the week of Sept. 17. A floor vote is expected the last week of September. The plan is still for him to be on the court before the term starts the first week of October.