Whistleblower alleges White House coverup
5:10 p.m. ET, September 28, 2019
Former UN ambassador says White House release of Ukraine transcript shows officials' accustomed to Trump's actions
Former US Ambassador to the United Nations Samantha Power knocked White House officials for thinking that the released rough transcript of a July 25 phone call between President Donald Trump and Ukraine President Volodymyr Zelensky would work to their benefit.
The call summary released Wednesday showed that Trump asked the Ukrainian leader to investigate Joe Biden.
"The fact that people put that transcript out and thought it would be somehow helpful for the President, I think, just speaks to how accustomed the people around President Trump have become to this pattern of behavior," Power, a former Obama administration official, told CNN's Ana Cabrera on Saturday.
The White House acknowledged that it moved the Ukraine call transcript, at the direction of National Security Council attorneys, to a highly classified system, despite it not containing information like intelligence secrets or military plans.
Power slammed the White House's decision to move the transcript:
"Putting a transcript like this, which could reasonably be classified, because it's an exchange between the President and a foreign leader, but putting it in a special compartmented code-word system, which is something that the lawyers appear to have insisted upon, speaks to the fact that outside this little circle of people who are accustomed to this level of corruption and self-aggrandizement and even bullying and extortion, somebody who's a little further away looks at it and says 'Oh, whoops. This is not kosher. This is not allowed.'"
3:41 p.m. ET, September 28, 2019
Top aide to Ukranian President expresses 'deep respect' for Kurt Volker
Andriy Yermak, a top aide to Ukranian President Volodymyr Zelensky, told CNN's Matthew Chance that he had "deep respect for Kurt Volker and appreciates all that he has done as the US Special Representative for Ukraine negotiations.
Volker resigned Friday, according to three sources familiar with the matter.
"His consistent and comprehensive support for Ukraine throughout his tenure means a lot for our country," Yermak told CNN. He is the Ukranian official who, a week after President Donald Trump's July 25 phone call with Zelensky, met with Rudy Giuliani in Madrid.
Volker was mentioned in the whistleblower complaint as trying to advise Ukrainian officials on how to deal with Trump and Giuliani. It was Volker who apparently set up the meeting between Giuliani and Yerkmak, Zelensky's aide.
3:48 p.m. ET, September 28, 2019
Beto O'Rourke argues 'best thing' to unite country is Trump's resignation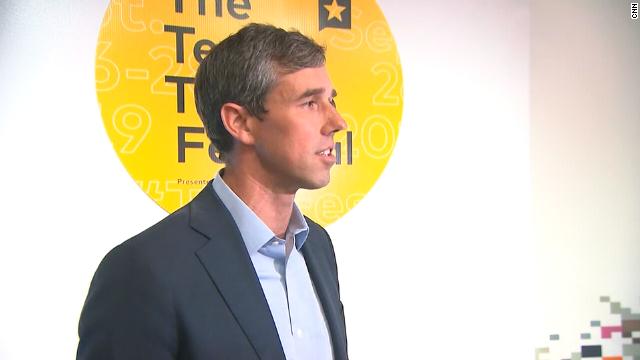 2020 Democratic presidential candidate Beto O'Rourke told reporters that the "single best thing" to unite the country would be for President Donald Trump to resign for his actions related to Ukraine.
Asked Saturday at the Texas Tribune Festival if impeachment would further divide the country, O'Rourke replied:
"This country is as divided as is ever been, is being driven further apart every day by this President. The single best thing to bring the country together would be Donald Trump's resignation."
The former Texas congressman said that Trump should step down in the same way that President Richard Nixon left office in 1974 over the Watergate scandal before an impeachment vote in the House.
He argued that those close to Trump, along with Republican senators, should "make clear to (Trump) that there is no way out of this" and lead Trump to "make that same decision" as Nixon. O'Rourke added that he believed a Senate trial would ultimately lead to Trump's conviction.
O'Rourke added:
"So yes, we're divided right now. And yes, impeachment is not easy. But if we were, because of a fear of division, or the politics or polling of this issue, to desist in the necessary effort to hold this President accountable, we will, by extension, have destroyed any chance of this country being able to continue as a democracy. So it's the right thing to do. Ultimately, it will unify us. But if we're concerned about that, best thing that the President could do now is to step down."
House Democrats have begun a formal impeachment inquiry into Trump related to a whistleblower's allegations that he pressured Ukraine's President to investigate Joe Biden, another 2020 contender.
CNN's Shawna Mizelle contributed to this report.
2:23 p.m. ET, September 28, 2019
Rudy Giuliani defends himself and accuses Democrats of cover-up in Ukraine
The President's personal lawyer Rudy Giuliani criticized Democrats on Saturday for their efforts to investigate him for his role in the Ukraine scandal.
The former New York mayor has alleged that Joe Biden sought to improperly help his son, Hunter Biden, when he publicly called for the Ukraine government to fire its prosecutor general. There is no evidence of wrongdoing by Joe Biden. After promoting the allegations about Biden, Giuliani traveled to Madrid and met with a top aide to Ukrainian President Zelensky. The meeting came days after Trump's July 25 call with Zelensky, during which Trump asked the Ukrainian leader to hear Giuliani out.
Giuliani has been among the people pushing a theory that Ukraine interfered in the 2016 election through "collusion" with Democrats.
All three Democrats mentioned -- Joe Biden, Hillary Clinton, and John Kerry -- have strenuously denied any wrongdoing and there is no proof of anything improper done by them in this matter.
Some Democrats on the House Intelligence Committee have said they would like Giuliani to testify before the committee in their impeachment inquiry into Trump.
Giuliani told CNN that he won't testify without consulting his client, Trump.
8:41 a.m. ET, September 28, 2019
2020 presidential hopefuls react to the whistleblower scandal
While President Donald Trump is facing an impeachment inquiry, Democratic presidential hopefuls are still gearing up for the primary.
Here's how some of the frontrunners are responding to the Trump-Ukraine phone call and whistleblower complaint:
Former Vice President Joe Biden, who, along with his son Hunter, is at the center of the turmoil, tweeted Friday that he believes "our elections should be decided by the American people - not foreign governments," seemingly referring to Trump's phone call with Ukrainian President Volodymyr Zelensky. There is no evidence of wrongdoing by either Joe or Hunter Biden.
After the release of the call's transcript, Massachusetts Sen. Elizabeth Warren similarly stated that, "No one is above the law - not even the president."
Meanwhile, Vermont Sen. Bernie Sanders called the President "the most corrupt president in the modern history of this country."
California Sen. Kamala Harris, who sits on the Senate Intelligence Committee, cited a specific segment of the whistleblower's complaint, while calling for White House officials to testify under oath.
11:49 a.m. ET, September 28, 2019
What do we know (and don't) about the whistleblower
In August, an unidentified whistleblower filed an official complaint centering on a phone-call between President Donald Trump and Ukrainian President Volodymyr Zelensky. Trump has consistently suggested the whistleblower has a "known bias" — but little is actually known about the complaint's author.
What we know:
What we don't know:
The whistleblower's identity: Not even senior US intelligence officials and lawmakers have been told the identity of the whistleblower or where the individual works in the government.
Political bias: Though Trump has accused the whistleblower of working with a "political operative," the whistleblower's political opinions and identity are still unknown. The Justice Department has said there are some indications that the whistleblower opposes Trump's reelection, but the complaint was indeed credible. They used lawful channels to file the complaint and get the message to Congress.
8:42 a.m. ET, September 28, 2019
It was a busy week in Washington. Here's a day-by-day look at how it all unfolded.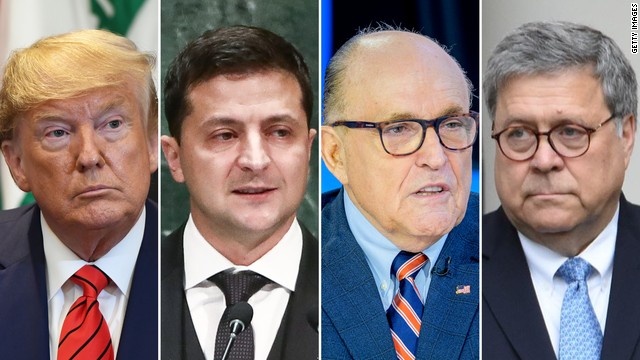 This past week was a whirlwind of political turmoil stemming from a July 25 phone call between President Trump and Ukrainian President Volodymyr Zelensky and the complaint a whistleblower filed about it.
Here's how this week unfolded:
So what happens next? The House Intelligence Committee is preparing for hearings as soon as next week, and Democrats are hoping to possibly impeach by Thanksgiving.
8:48 a.m. ET, September 28, 2019
No president has even been removed from office because of impeachment
The House has launched a formal impeachment inquiry into President Donald Trump. While many US presidents have been threatened with impeachment, Congress has only conducted two presidential impeachment trials.
How impeachment works: A sitting US president can be impeached for treason, bribery or "other high crimes and misdemeanors." The House of Representatives votes for impeachment, and if a majority of members vote in favor, the Senate conducts a trial. A two-thirds majority in the Senate is required to convict and remove a president from office — which has never successfully happened.
Richard Nixon wasn't actually impeached: He faced possible impeachment for obstruction of justice, abuse of power, and contempt of Congress during the Watergate scandal. He resigned before the House could vote. 
But Andrew Johnson and Bill Clinton were: Congress has only conducted two presidential impeachment trials: Johnson in 1868 for firing a cabinet secretary without the consent of Congress, and Clinton in 1998 for perjury and obstruction of justice. Both presidents were acquitted and stayed in office. 
The impeachment threat comes up a lot: Every president since Ronald Reagan has been threatened with impeachment by members of the House — including Trump, who faced three separate resolutions for impeachment in 2017. 
9:55 a.m. ET, September 28, 2019
The House is in recess, but some Democrats have been told to stay put in DC
Members of the House Intelligence Committee have been told to be prepared to potentially return to Washington during the upcoming two-week recess as Democrats try to wrap up their impeachment inquiry this fall, according to sources familiar with the matter.
Here's why: It's possible the committee could hear testimony from the whistleblower and again from Intelligence Community Inspector General Michael Atkinson, according to lawmakers. Other witnesses are possible, but it's unclear yet who will come.
But nothing is set: They have not been told what they need to be in Washington for or what hearings have been scheduled.
Yesterday, Reps. Eric Swalwell and Jackie Speier — both Democrats from California — announced they canceled events in their home districts next week to prepare for action in the House Intelligence Committee.