The latest on the Trump impeachment inquiry
6:51 p.m. ET, September 30, 2019
Intel Inspector General pushes back at claims that whistleblower's information was secondhand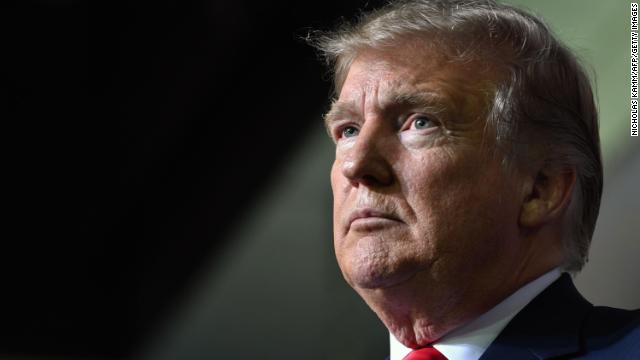 The intelligence community inspector general forcefully pushed back today on assertions by President Trump and some Republicans about the lack of first-hand knowledge and rules regarding how whistleblower complaints are processed. 
In a statement released today, the IC IG said the whistleblower had "direct knowledge of certain alleged conduct."
The statement appears to debunk a theory that has been pushed by Trump and several of his Republican allies who have sought to raise questions about the complaint's credibility by falsely claiming that it is based on "hearsay."
"As part of his determination that the urgent concern appeared credible, the Inspector General of the Intelligence Community determined that the complainant had official and authorized access to the information and sources referenced in the complainant's letter and classified appendix, including direct knowledge of certain alleged conduct, and that the complainant has subject matter expertise related to much of the material information provided in the complainant's letter and classified appendix," the statement said.
"In short, the ICIG did not find that the complainant could 'provide nothing more than second-hand or unsubstantiated assertions,' which would have made it much harder, and significantly less likely, for the Inspector General to determine in a 14-calendar day review period that the complaint 'appeared credible,' as required by statute. Therefore, although the complainant's letter acknowledged that the complainant was not a direct witness to the President's July 25, 2019, telephone call with the Ukrainian President, the Inspector General of the Intelligence Community determined that other information obtained during the ICIG's preliminary review supported the complainant's allegations," the statement reads.
The IC IG response makes it clear that a whistleblower is not required to have first-hand knowledge in order to submit a complaint and confirms that the IC IG obtained other information during his preliminary review that supported the allegations.
5:20 p.m. ET, September 30, 2019
Mike Pompeo was on Trump call with Ukrainian President, source says
Secretary of State Mike Pompeo was on the call between President Trump and Ukrainian President Volodymyr Zelensky, a source familiar told CNN.
The Wall Street Journal first reported that Pompeo was on the July 25 phone call between the two leaders.
CNN has asked the State Department for comment but has not heard back.
The only public comment from Pompeo was last week when he was asked about the whistleblower complaint at the United Nations Assembly General. He said at the time he had not yet read the full whistleblower complaint.
Asked if he or his staff acted improperly, Pompeo said that to the best of his knowledge, "each of the actions that were undertaken by State Department officials was entirely appropriate."
5:30 p.m. ET, September 30, 2019
Trump pressed Australian Prime Minister to help with Justice review of Russia probe origins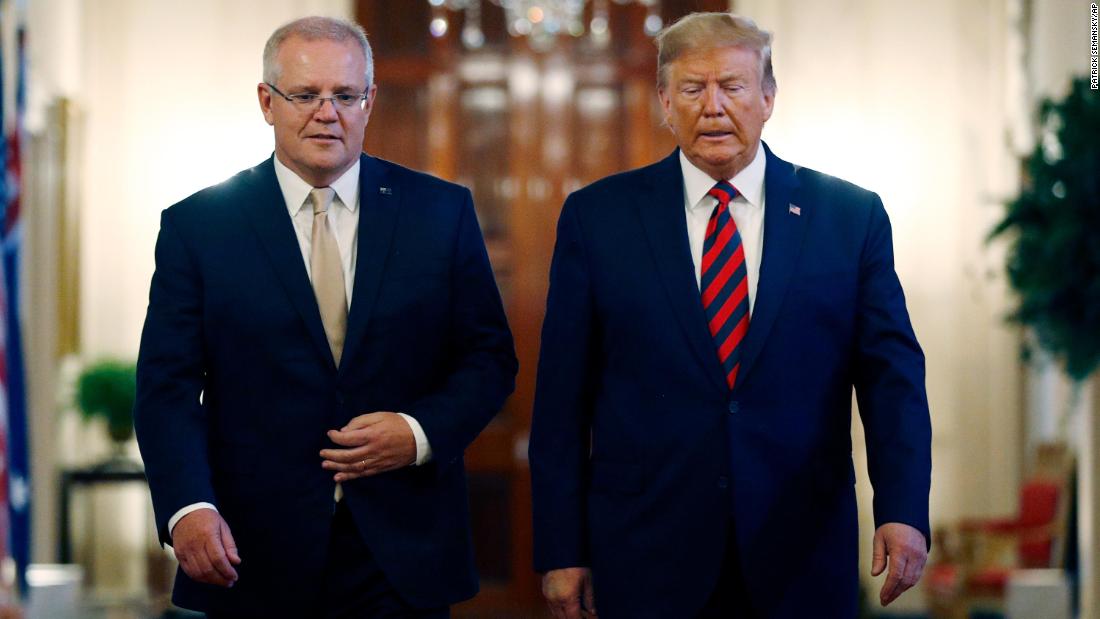 President Trump pressed Australia's Prime Minister during a recent phone call to help Attorney General William Barr with his review of the origins of the Russia probe, according to an official familiar with the call.
The call happened with Barr's knowledge and at his suggestion, the official said. The New York Times first reported this call.
The official notes this is seeking assistance with the review, which is being conducted by US Attorney John Durham, and so is seen as appropriate and completely different from the Ukraine matter. Justice Department officials say that it is appropriate for the attorney general and the President to seek help from foreign countries with an investigation of 2016 election interference.
Durham is examining what intelligence came from other countries that propelled the investigation that eventually became the Trump-Russia probe.
An official briefed on the matter said the attorney general has asked the President to request the help of several countries, including Australia, with the Durham review.
Officials believe that requesting foreign help with a retrospective look at 2016 election interference differs vastly from Trump's request made in the Ukraine call transcript released last week.
Some background: A rough transcript released by the White House shows Trump repeatedly pushed Ukrainian President Volodymyr Zelensky to investigate former Vice President Joe Biden, Trump's potential 2020 political rival, and his son Hunter Biden. There is no evidence of wrongdoing by Joe or Hunter Biden.
5:16 p.m. ET, September 30, 2019
Senate Democrats want William Barr to testify on the whistleblower complaint
Democrats from the Senate Judiciary Committee want Attorney General William Barr and others to be called to testify on the whistleblower's complaint.
In a letter to committee chairman Lindsey Graham, Democrats also asked to hear from Department of Justice officials. They are...
White House counsel Pat Cipollone
Assistant Attorney General Brian Benczkowski
Assistant Attorney General Steven Engel
Assistant Attorney General John Demers
Inspector General Michael Horowitz
Intelligence Community Inspector General Michael Atkinson
4:08 p.m. ET, September 30, 2019
About half of Americans support removing Trump from office, poll says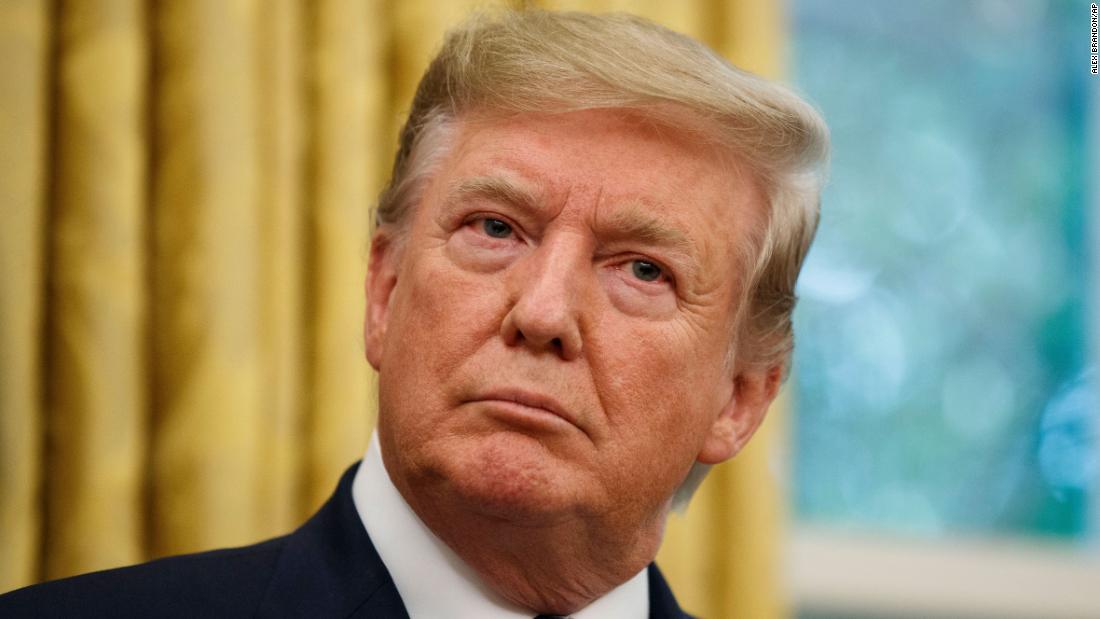 Americans are about evenly split over impeaching President Trump and removing him from office, as support for that move has risen among independents and Republicans, according to a new CNN poll conducted by SSRS after the announcement of a formal impeachment inquiry by House Democrats last week.
Here are the key numbers:
About half, 47%, support impeaching the President and removing him from office (That's up from 41% who felt that way in a CNN poll in May).
The share who favor impeachment and removal from office now narrowly outpaces the share who say they don't feel that way — a first in CNN polling — although the two figures are within the poll's margin of sampling error.
Opposition stands at 45% in the new poll, down from 54% who said so in May and the lowest point in CNN polling on this topic.
5:22 p.m. ET, September 30, 2019
House Intelligence Committee subpoenas Giuliani for Ukraine documents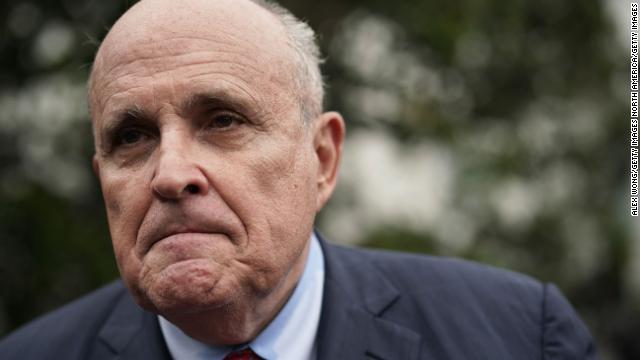 The House Intelligence Committee has subpoenaed President Trump's personal attorney Rudy Giuliani for documents related to the Ukraine controversy to be turned over by Oct. 15.
Foreign Affairs Committee Chairman Eliot Engel, House Intelligence Committee Chairman Adam Schiff and Oversight Committee Chairman Elijah Cummings requested the documents in a letter they sent to Giuliani, according to their joint statement.
"A growing public record indicates that the President, his agent Rudy Giuliani, and others appear to have pressed the Ukrainian government to pursue two politically-motivated investigations," the chairmen said in the statement. "The committees have reason to believe that you have information and documents relevant to these matters."
What we know about Giuliani: The former New York City mayor has become a central figure in the unfolding scandal surrounding Trump's communications with Ukrainian President Volodymyr Zelensky that have led to a House impeachment inquiry into the President's conduct. 
According to a White House-released transcript of a July call between the two leaders, Trump asked Zelensky to work with Giuliani and Attorney General William Barr to investigate former Vice President Joe Biden and his son, Hunter, though there is no evidence of wrongdoing by either Joe or Hunter Biden.
4:34 p.m. ET, September 30, 2019
Whistleblower's attorney says his client is "entitled to anonymity"
Andrew P. Bakaj, one of the lawyers representing the whistleblower, tweeted today that his client is "entitled to anonymity" and that retaliating against the individual is "a violation of federal law."
More on this: President Trump said today that he is trying to find out the identity of the whistleblower and wants to speak to this person.
2:52 p.m. ET, September 30, 2019
Trump: "We're trying to find out about a whistleblower"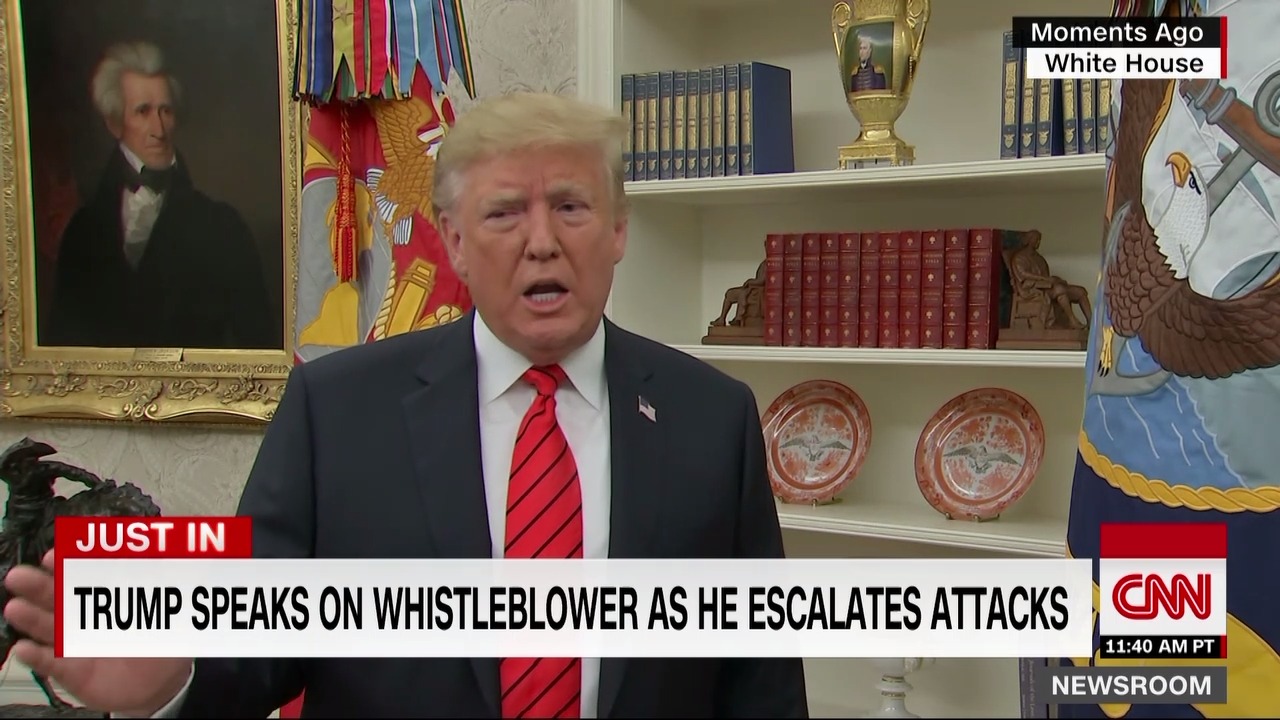 President Trump said he's "trying to find out" about the whistleblower who filed an anonymous complaint against him.
"We're trying to find out about a whistleblower. We have a whistleblower that reports things that were incorrect," the President said at the White House moments ago.
An important note: Many details in the whistleblower's complaint about Trump's July 25 call with the Ukrainian president match up with the White House's rough transcript of the call. Both the complaint and the transcript were released last week.
Trump over the weekend demanded to meet the whistleblower, whom he referred to as his "accuser."
Today, Trump again defended his phone call with the Ukrainian leader.
"The statement I made to the president of Ukraine — a good man, a nice man, new — was perfect. It was perfect. But the whistleblower reported a totally different statement like the statement was not even made," Trump said.
2:37 p.m. ET, September 30, 2019
How the impeachment inquiry could affect the 2020 race
With impeachment taking center stage, the Democratic presidential primary race will shift to the backburner. Most of the oxygen will be sucked up by what's unfolding on Capitol Hill. But this shift is surely temporary — the Iowa caucuses are happening in February no matter what.
The Ukraine affair is about Trump's alleged misconduct. But Trump's underlying actions were all about prodding Ukraine to investigate 2020 Democrat Joe Biden, dirtying up the Democratic frontrunner. It's early, but Trump is trailing Biden by large margins in general election polls in pivotal swing states.
Remember: There's no evidence of wrongdoing on Biden's part.
What this means for the GOP: Republicans could turn the tables and try to turn the impeachment trial into a platform to highlight Biden's supposed wrongdoing. Trump and his allies have been spreading debunked conspiracy theories about Biden and his son Hunter Biden regarding their actions in Ukraine.
What this means for Democrats: Biden's Democratic opponents are in a tough spot. They are outraged that Trump tried to get Ukraine to investigate Biden — but they don't want the public anger to be so strong that it helps Biden secure the nomination. They will continue hitting Biden on the trail on policy issues, but they'll need to steer clear of giving credence to the false attacks Trump spreads about Biden.