Whistleblower alleges White House coverup
7:56 p.m. ET, September 27, 2019
Kurt Volker, US special envoy to Ukraine, has resigned, sources say
Kurt Volker, US special envoy to Ukraine, has resigned one day after the release of a whistleblower report alleging a coverup by the White House of a call between President Trump and the Ukrainian leader, three sources familiar with the matter confirmed to CNN.
The State Department has not returned messages seeking comment.
The State Press, the school paper of Arizona State University, first reported the development.
What we know about Volker: He has become a key player in the unfolding scandal surrounding the whistleblower complaint concerning Trump's July 25 phone call with Ukrainian President Volodymyr Zelensky, in which Trump pressured Ukraine to investigate former Vice President Joe Biden and his son, Hunter.
CNN has reported that Ukrainian President Volodymyr Zelensky had joked with Volker about Rudy Giuliani, Trump's personal attorney, in a meeting before the phone call. Volker later set up the meeting between Giuliani and a Zelensky adviser in an effort to get the Biden matter out of official talks. There is no evidence of wrongdoing by either Joe or Hunter Biden.
6:16 p.m. ET, September 27, 2019
Trump met with White House lawyers and personal counsel to discuss impeachment investigation strategy
President Trump met today with White House lawyers and his personal counsel to discuss strategy for dealing with the Democrats' impeachment investigation, according to a source familiar with the matter.
"No war room is being set up," said Jay Sekulow, a personal attorney for the president. 
ABC was first to report the meeting.
5:36 p.m. ET, September 27, 2019
Intel Inspector General will brief lawmakers behind closed doors next week
Michael Atkinson, the Inspector General of the Intelligence Community, is expected to brief the House Intelligence Committee behind closed doors on Oct. 4, a committee source tells CNN.
What we know about Atkinson: Atkinson is widely regarded as a career non-partisan with little interest in the public limelight but he currently finds himself at the center of the high profile controversy related to whether the whistleblower complaint.
Why is the IC IG an important player here? At the end of August, two weeks after Atkinson received the whistleblower's complaint about President Trump's July phone call with the Ukrainian leader, he notified his superior, the acting Director of National Intelligence Joseph Maguire. Atkinson believed the complaint to be a credible complaint and found it worthy to be handled by the intelligence community.
5:20 p.m. ET, September 27, 2019
Giuliani says he won't testify without consulting Trump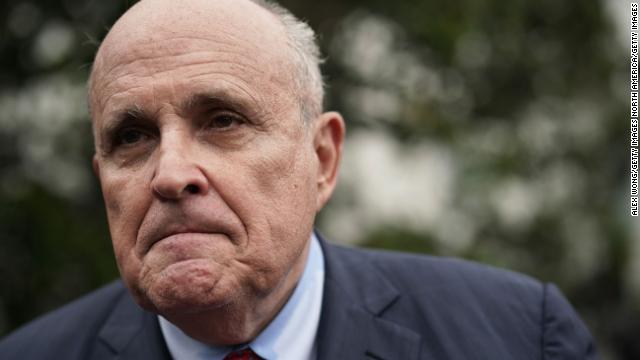 Rudy Giuliani told CNN today he would not testify for the House of Representatives' impeachment inquiry without consulting his client, President Trump.
Giuliani, Trump's personal lawyer, said his work for the President should be protected by attorney-client privilege.
"Ultimately, if I were to say 'yes' and he were to say 'no,' I can't testify," Giuliani said, adding that he has not talked to Trump about the possibility he would testify.
Giuliani said he has not heard from any of the three House committees investigating whether Trump acted improperly in his communications with the Ukrainians. Asked if he was concerned he would be subpoenaed by the House, Giuliani laughed.
"I consider them a joke. A sad joke. They have no legitimacy. I would think of challenging their subpoena on the grounds that they're not a legitimate committee," Giuliani said.
Giuliani is among those who House Democrats have told CNN they would like to hear from.
CNN's Manu Raju, Haley Byrd and Alex Rogers contributed to this reporting.
4:51 p.m. ET, September 27, 2019
3 House committees subpoena Mike Pompeo for failure to produce documents on Ukraine
Secretary of State Mike Pompeo has been subpoenaed by three House committees for failure to produce documents on Ukraine.
The chairs of House committees for Foreign Affairs, Intelligence and Oversight sent Pompeo a letter on Sept. 23 requesting documents pertaining to President Trump, his lawyer Rudy Giuliani and the Ukrainian government to be delivered to the Hill by Thursday.
Pompeo failed to meet the deadline from the chairmen. The subpoena is for Pompeo to produce Ukraine documents by Oct. 4.
"The subpoenaed documents shall be part of the impeachment inquiry and shared among the committees. Your failure or refusal to comply with the subpoena shall constitute evidence of obstruction of the House's impeachment inquiry," the chairmen wrote in a letter to Pompeo.  
2:27 p.m. ET, September 27, 2019
Pentagon will provide "whatever information" it can on Ukraine aid
Secretary of Defense Mark Esper said the Pentagon officials will provide "whatever information" they can to Congress around the matter of delaying US military aid to Ukraine.
"We will make, we will provide to Congress and whomever whatever information we can provide with regard to this incident, just—with regard to this matter, just as we would with any other matter," he said.
Esper also said that at "no time" did the delay in US military aid to Ukraine affect US national security. 
"Most of the money is out the door. And at no time or at any time has any delay in this money, this funding, affected US national security," Esper said today.
Some background: Trump considered blocking $250 million in military aid to Ukraine, effectively pausing disbursement of the funds during a formal review process. This happened more than a month after the phone call between Trump and Ukrainian President Volodymyr Zelensky which prompted a whistleblower to complain.
Days later, the administration hold on Ukraine aid was lifted.
2:04 p.m. ET, September 27, 2019
Joe Biden: US elections should be decided by voters — "not foreign governments."
Former Vice President and current 2020 presidential candidate Joe Biden tweeted that US elections should be "decided by the American people — not foreign governments."
Why we're talking about Biden: A whistleblower's complaint, which was released yesterday, said President Trump repeatedly pushed for Ukrainian President Volodymyr Zelensky to investigate Biden — who is his potential 2020 rival — and Biden's son, Hunter, during a July 25 phone call.
There is no evidence of wrongdoing by either Joe or Hunter Biden.
Here's Biden's tweet:
1:26 p.m. ET, September 27, 2019
There are now 12 House Democrats who haven't called for impeachment
The list of House Democrats who have not called for President Trump's impeachment continues to shrink as Democratic presidential candidate and Rep. Tulsi Gabbard changed her position today and now supports the inquiry.
Gabbard said in a statement, "Up to this point, I have been opposed to pursuing impeachment because it will further divide our already badly divided country."
She continued: "However, after looking carefully at the transcript of the conversation with Ukraine's President, the whistleblower complaint, the Inspector General memo, and President Trump's comments about the issue, unfortunately, I believe that if we do not proceed with the inquiry, it will set a very dangerous precedent."
Here are the 12 House representatives who haven't made public statements in support of impeachment, or have offered only conditional support.
Rep. Lucy McBath of Georgia
Rep. Jared Golden of Maine
Rep. Collin Peterson of Minnesota
Rep. Jeff Van Drew of New Jersey
Rep. Xochitl Torres Small of New Mexico
Rep. Max Rose of New York
Rep. Anthony Brindisi of New York
Rep. Kendra Horn of Oklahoma
Rep. Joe Cunningham of South Carolina
Rep. Eddie Bernice Johnson of Texas
Rep. Ben McAdams of Utah
Rep. Ron Kind of Wisconsin
12:34 p.m. ET, September 27, 2019
Vermont GOP governor backs the impeachment inquiry into Trump
Republican Vermont Gov. Phil Scott said he supports an impeachment inquiry into President Trump, making him the first GOP governor to do so.
"I support getting the facts in that inquiry that's happening today," Scott told CNN affiliate WCAX yesterday. "So I think this is, these are serious allegations we need to — we need to make sure that we do the fact finding and figure out what exactly did happen."
Scott's move is a notable departure from the largely party-line Republican response to a mounting Ukraine controversy. While governors play no official role in an impeachment process, Scott's support for an inquiry joins a surging number of House Democrats who have come out in support for the politically divisive escalation in recent days as scrutiny over Trump's interactions with Ukraine has grown.
Scott has previously broken rank with the Republican party in his role as governor. In July, Scott allowed a comprehensive abortion rights bill to become law and in April 2018, he signed into law sweeping gun control measures for the state.