Virginia politics in chaos
9:49 a.m. ET, February 11, 2019
Northam refers to enslaved Africans as "indentured servants from Africa"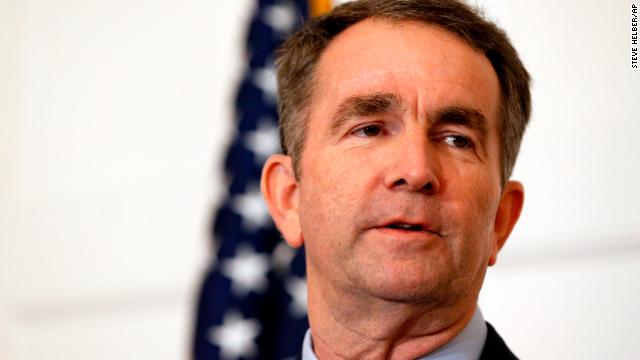 Despite the controversy over a racist photo his medical school yearbook page, Gov. Ralph Northam insists he is the best person to lead Virginia, once the heart of the Confederacy, and says he can help the state "heal."
Northam referenced the state's 400 years of slavery in his interview with Gayle King on CBS' "Face the Nation," and referred to enslaved Africans as "indentured servants from Africa."
"Also known as slavery," King interjected.
"Yes," Northam said.
In a statement provided to CNN Monday, Northam responded to criticism of his use of the term "indentured servants" saying, "During a recent event at Fort Monroe I spoke about the arrival of the first Africans in Virginia and referred to them in my remarks as enslaved. A historian advised me that the use of indentured was more historically accurate -- the fact is, I'm still learning and committed to getting it right."
A quick history lesson:
Enslaved Africans first arrived in Virginia in 1619. Before slavery was fully institutionalized in the British colonies, some enslaved Africans were freed after working for a certain period of time or after a debt had been paid, according to the National Museum of African American History and Culture. It was still slavery -- Africans were brought to these shores forcibly and they weren't paid. And it wasn't long before the colonies became economically dependent on enslaved labor and by extension, the slave trade.
This post has been updated with Northam's statement.
11:36 a.m. ET, February 10, 2019
Northam has no plans to resign. But he says Fairfax should if the allegations are true.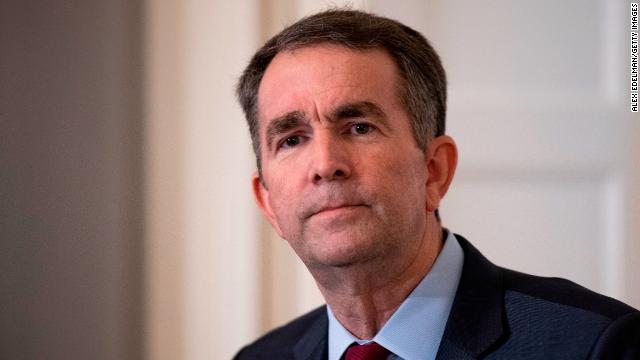 Virginia Democratic Gov. Ralph Northam said Lt. Gov. Justin Fairfax should resign if the allegations of sexual assault against him are true, in an interview with Gayle King on CBS News' "Face the Nation."
Here's the exchange between Northam and King.
Northam: "These accusations are very, very serious. They need to be taken seriously. As you know Gov. Fairfax has called for an investigation. I really think where we are now we need to get to the truth; the truth is important. And certainly…."
KING: "He too is calling for an investigation."
Northam: "He is and I support that. And if these accusations are determined to be true. I don't think he has any other option but to resign."
Northam is facing resignation calls of his own over the controversy surrounding a racist yearbook photo. But he said he has no plans to resign.
 "Right now, Virginia needs someone that can heal. There's no better person to do that than a doctor. Virginia also needs someone who is strong, who has empathy who has courage and who has a moral compass, and that's why I'm not going anywhere. I have learned from this. I have a lot more to learn but we're in a unique opportunity now." 
9:02 a.m. ET, February 10, 2019
Fairfax accusers say they are willing to testify at impeachment hearings
Both women who have accused Lt. Gov. Justin Fairfax of sexual assault say they are willing to testify at possible impeachment hearings, the pair say in separate statements released by their respective legal teams.
Dr. Vanessa Tyson, the first accuser to come forward with allegations against Fairfax, will "cooperate in any investigation that occurs," the statement reads.
Separately, Meredith Watson, the second accuser to allege sexual assault, "stands ready, although it will be painful, to tell the Virginia Legislature what Mr. Fairfax did to her when she was 20 years old," the press release reads.
Read the full statement from lawyers:
Our client, Dr. Vanessa Tyson, is fuiiy (sic) prepared to testify at impeachment proceedings and to cooperate with law enforcement in any investigation of Lt. Governor Justin Fairfax. As Dr. Tyson detailed in her February 6, 2019 statement, Lt. Governor Fairfax sexually assaulted her in 2004, forcing her to perform oral sex without her consent.
In response to two credible claims of sexual assault, by women with no connection to one another, Lt. Governor Fairfax has claimed that the women lied about what he insists were consensual sexual encounters and has baselessly and callously attempted to discredit these women. Lt. Governor Fairfax's assertion that these sexual assaults were consensual, while simultaneously trying both on and off the record to discredit the victims, says all you need to know about his lack of fitness to serve in public office.
We are confident that once the Virginia legislature hears Dr. Tyson's harrowing account of this sexual assault, the testimony of many corroborating witnesses, and evidence of his attempts to mislead the public about The Washington Post's decision not to run a story in 2018, it will conclude that he lacks the character, fitness and credibility to serve in any capacity. Again today, he has attempted to mislead the public by volunteering to submit to an investigation by the FBI, which has no jurisdiction in this matter. Nevertheless, Dr. Tyson will cooperate in any investigation that occurs.
Read the full statement from Watson's lawyers:
Justin Fairfax's latest statement re-victimizes Ms. Watson and Dr. Tyson. He claims that two women, who never spoke or met each other, but who describe very similar sexual assaults, are lying. Fairfax says both women's claims are "unsubstantiated." False - they corroborate each other.
 Fairfax, now, for the first time admits sexual contact with Ms. Watson, but now claims that it was "consensual." There was nothing consensual about the rape of Ms. Watson and the only post rape interaction between them consisted of Ms. Watson confronting Mr. Fairfax about the assault. We will provide at least two witnesses whom Ms. Watson told of the assault the day after Fairfax raped her. We will also produce documentary evidence of Ms. Watson revealing to others the fact that Fairfax raped her. Fairfax says he "passed" two FBI background checks. Ms. Watson was never interviewed by the FBI, so he was "cleared" of nothing related to his rape of Ms. Watson. 
Mr. Fairfax claims to want due process, saying he seeks an FBI investigation. But he knows as a former Prosecutor, that the FBI has no jurisdiction over this matter. Indeed, my client may contact North Carolina authorities about a possible criminal prosecution. 
For real due process, not hidden from the public, we invite Mr. Fairfax to join Ms. Watson and her witnesses in testifying at an impeachment hearing. Ms. Watson stands ready, although it will be painful, to tell the Virginia Legislature what Mr. Fairfax did to her when she was 20 years old.
From CNN's Dana Bash and Ryan Nobles
7:12 p.m. ET, February 9, 2019
Fairfax denies sexual assault allegations, asks for due process and full investigation
Virginia Lt. Gov. Justin Fairfax issued a statement on Saturday defending himself from a pair of sexual assault allegations. In a statement obtained by CNN's Ryan Nobles, Fairfax wrote:
This has been a devastating week for my family. It has been an especially devastating time for the great Commonwealth of Virginia.
I say again without reservation: I did not sexually assault or rape Meredith Watson, Vanessa Tyson or anyone else. Our American values don't just work when it's convenient — they must be applied at the most difficult of times.
As an officer of the court and a former federal prosecutor, I have dedicated my life to the law and due process. Consequently, I call on all appropriate and impartial investigatory authorities, including the FBI, to investigate fully and thoroughly the allegations against me by Ms. Watson and Dr. Tyson. I ask that all three of us be respected during this process. 
The one thing I want to make abundantly clear is that in both situations I knew at the time, and I know today, that the interactions were consensual.
I heard from Dr. Tyson after the 2004 Convention, and she never said or otherwise indicated that our interaction was not consensual or caused her any discomfort. 
Regarding Ms. Watson, I knew Ms. Watson in college both before and after the encounter, and she never said to me that our interaction was not consensual or caused her any discomfort. 
What I have just expressed is the truth. I want to stand here in that truth and restate that my truth, as well as the truth of Dr. Tyson and Ms. Watson, should be fully investigated and thoroughly assessed. I believe and trust that due process will provide the fairness, justice and honesty that is necessary. I am asking that no one rush to judgment and I am asking for there to be space in this moment for due process.
4:24 p.m. ET, February 9, 2019
Rapper name-dropped by Herring responds to recent blackface controversies
Earlier this week, Virginia Attorney General Mark Herring admitted he wore blackface as a 19-year-old to dress up as a rapper at a party in the 1980s.
Now, hip-hop legend Kurtis Blow, who Herring named in his statement, is speaking out about the blackface controversies that are dominating headlines.
"It is unfortunate that in this current climate we are confronted with the use of blackface as a barometer of where we are as a society," an Instagram post from Blow, whose real name is Kurtis Walker, began.
Here's the rest of his post:
"I am a Black man, a father, a husband, a minister, and a pioneer of Hip Hop. It is my hope that these regrettable actions can be turned into teachable moments. Moments that lead us to an increased understanding of how certain acts can impact others and reopen historical scars. We are in trying times as a country, and I ask that we come together and focus on our commonalities and not our differences. Love is the answer. Love defeats hate. Love conquers all."
11:28 a.m. ET, February 10, 2019
These politicians are calling on Justin Fairfax to resign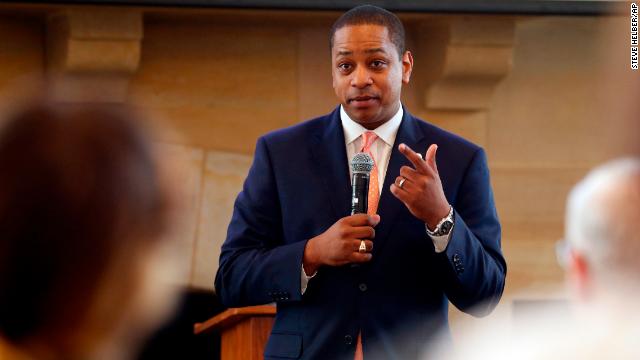 Democrats called for investigation, not resignation, after Justin Fairfax was accused of sexual assault earlier this week.
But now that a second woman has accused the Virginia lieutenant governor of rape, prominent Democrats are roundly calling on the 39-year old politician to step down.
Here's a list of people so far who have called for Fairfax to resign now:
Former Virginia Gov. Terry McCauliffe
Sen. Cory Booker
Sen. Bernie Sanders
Sen. Kamala Harris
Sen. Kirsten Gillibrand
Sen. Elizabeth Warren
Sen. Amy Klobuchar
Sen. Tim Kaine
Democratic presidential candidate Julián Castro
Former Colorado Gov. John Hickenlooper
The Virginia House and Senate
The Virginia Legislative Black Caucus
Virginia House Speaker Kirk Cox
Rep. Donald McEachin, a prominent congressman for Virginia's 4th congressional district
Democratic Party of Virginia Chair Susan Swecker
And here's a list of those who say Fairfax should resign if the allegations are true:
Virginia Gov. Ralph Northam, who is also facing calls to resign over a racist photo on his yearbook page
Sen. Mark Warner
Rep. Bobby Scott, a congressman for Virginia's 3rd congressional district
2:23 p.m. ET, February 9, 2019
Washington Post: Virginia Gov. Northam says he wants 'to heal that pain' of racial inequality, won't resign
Embattled Democratic Virginia Gov. Ralph Northam said Saturday he feels he should remain in office to help his state heal and use the rest of his term to pursue racial "equity" — hoping to move on from a racist photograph scandal and admission of donning blackface in the past.
He acknowledged that he has "a lot more to learn," the Post reported.
Read more about his interview with the paper here.
2:36 p.m. ET, February 9, 2019
Fairfax out as chair of the Democratic Lieutenant Governors Association
Lt. Gov. Justin Fairfax is no longer the chair of the Democratic Lieutenant Governors Association. The group announced late on Friday night that Fairfax was out as chair and that his role would be filled by Bethany Hall-Long of Delaware and Cyrus Habib of Washington.
They did not say whether Fairfax stepped down on his own or if he was forced out.
Fairfax was chair starting in August 2018.
1:39 p.m. ET, February 9, 2019
Virginia Lt. Gov. Justin Fairfax faces second sexual assault allegation
On Friday, a second woman came forward to say that she was raped by Democratic Virginia Lt. Gov. Justin Fairfax.
Meredith Watson alleged that Fairfax's assault on her was "premeditated and aggressive" when they both attended Duke in 2000 and that the two were friends but not romantically involved, according to a statement from her legal counsel, the firm Smith Mullen. Fairfax denied the allegation.
"Ms. Watson shared her account of the rape with friends in a series of emails and Facebook messages that are now in our possession. Additionally, we have statements from former classmates corroborating that Ms. Watson immediately told friends that Mr. Fairfax had raped her," the statement reads.
Watson is the second woman to accuse Fairfax of sexual assault. Vanessa Tyson, a professor in California, released a lengthy statement early this week detailing her alleged encounter with Fairfax during the 2004 Democratic National Convention in Boston.
"Ms. Watson was upset to learn that Mr. Fairfax raped at least one other woman after he attacked her. The details of Ms. Watson's attack are similar to those described by Dr. Vanessa Tyson." Fairfax has previously denied Tyson's allegation.
Read more on the allegation here.