As it happened: US, UK and France strike Syria
11:37 p.m. ET, April 13, 2018
A look at a missile used in the strikes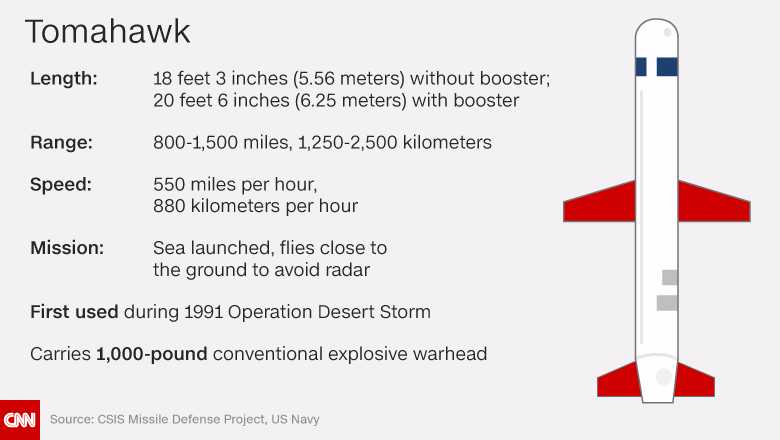 11:09 p.m. ET, April 13, 2018
This photo shows the moment France's president ordered the strike
The Elysee Palace took this photo of French President Emmanuel Macron as he ordered French forces to intervene in Syria tonight.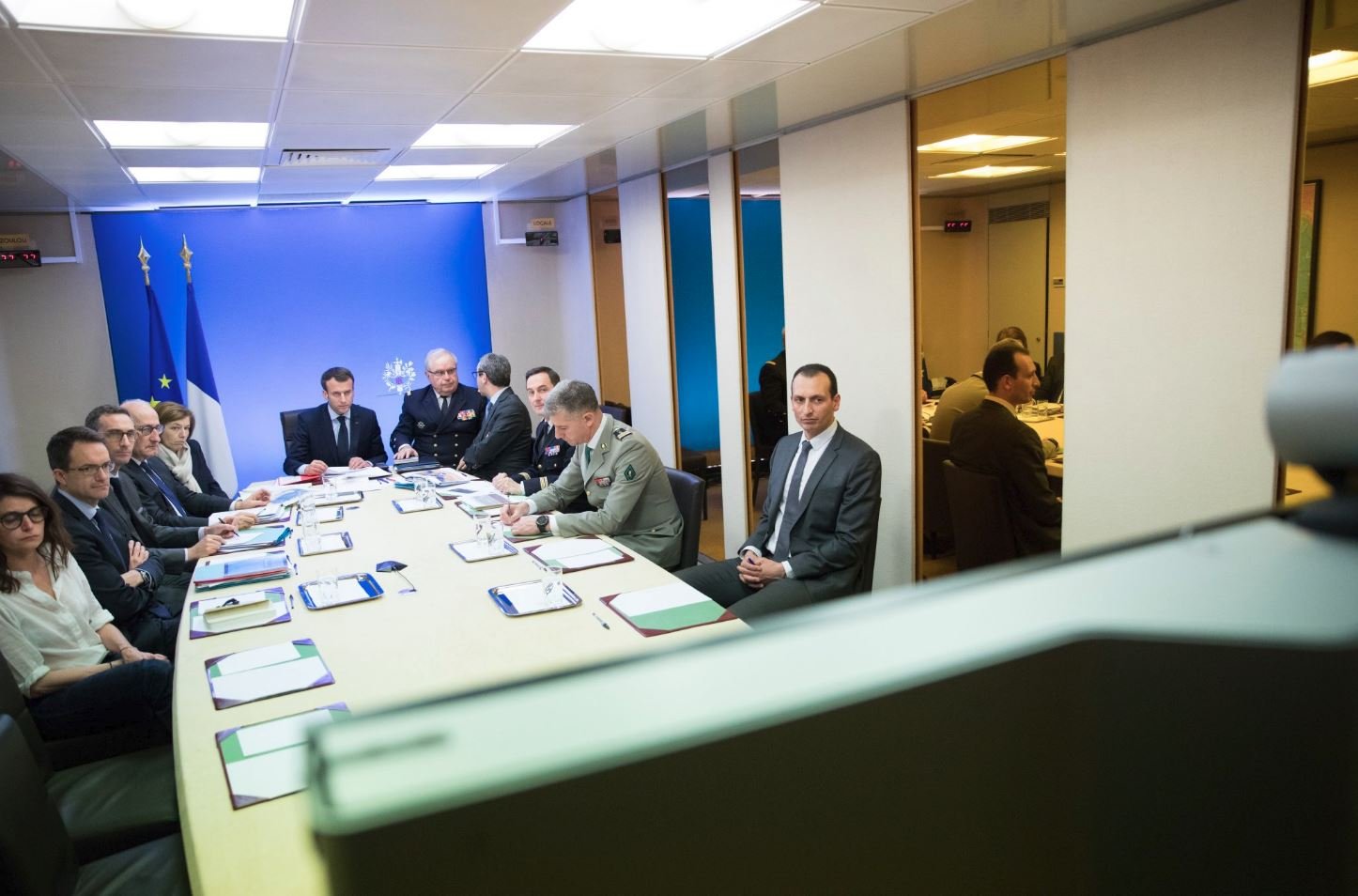 10:57 p.m. ET, April 13, 2018
McCain applauds Trump's decision — but calls for a comprehensive strategy
Sen. John McCain, chairman of the Senate Armed Services Committee, issued a statement praising President Trump's decision to strike Syria as punishment for the chemical weapons attack.
But McCain also called on Trump to set a "comprehensive strategy" in both Syria and the Middle East.
"I applaud the President for taking military action against the Assad regime for its latest use of chemical weapons, and for signaling his resolve to do so again if these heinous attacks continue. I am grateful to our British and French allies for joining us in this action. "I hope these strikes impose meaningful costs on Assad. The message to Assad must be that the cost of using chemical weapons is worse than any perceived benefit, that the United States and our allies have the will and capability to continue imposing those costs, and that Iran and Russia will ultimately be unsuccessful in protecting Assad from our punative response."To succeed in the long run, we need a comprehensive strategy for Syria and the entire region. The President needs to lay out our goals, not just with regard to ISIS, but also the ongoing conflict in Syria and malign Russian and Iranian influence in the region. Airstrikes disconnected from a broader strategy may be necessary, but they alone will not achieve U.S. objectives in the Middle East."
10:54 p.m. ET, April 13, 2018
Mattis: Right now, tonight's strike is "a one-time shot"
US Defense Secretary James Mattis was asked if the US and its allies planned to continue military operations beyond tonight's strikes in Syria.
He said it all depends on Syrian leader Bashar al-Assad.
"Should he decide to use more chemical weapons in the future and of course — the powers that have signed the chemical weapons prohibition have every reason to challenge Assad if should he choose to violate that, but right now this is a one-time shot and I believe that it sent a very strong message to dissuade him to, to deter him from doing this again."
What Trump said earlier tonight
However, earlier tonight, Trump indicated the strikes would continue until the Syrian regimes use of chemical weapons ends.
"We are prepared to sustain this response until the Syrian regime stops its use of prohibited chemical agents," Trump said.
10:46 p.m. ET, April 13, 2018
Schumer warns Trump administration to "be careful" to avoid a greater war in Syria
Senate Minority Leader Chuck Schumer, who was reportedly on a commercial flight when President Trump announced the Syria strikes, has issued this statement warning the Trump administration to avoid getting the US in a "greater and more involved war in Syria."
A pinpointed, limited action to punish and hopefully deter Assad from doing this again is appropriate, but the administration has to be careful about not getting us into a greater and more involved war in Syria.
Schumer, a New York Democrat, praised "the professionalism and skill of our Armed Forces" in April 2017, the last time Trump ordered strikes on Syria, saying it was "the right thing to do."
He also added that "it is incumbent on the Trump administration to come up with a strategy and consult with Congress before implementing it."
11:47 p.m. ET, April 13, 2018
At least one US Navy warship based in Red Sea was used in strike
At least one US Navy warship based in the Red Sea participated in today's strikes according to two US military officials.
US B-1 bombers were also used in the strikes in Syria, according to two US defense officials.
10:37 p.m. ET, April 13, 2018
Russian ambassador to US warns of "consequences" after strikes on Syria
Anatoly Antonov, Russian ambassador to the US, issued a statement on Facebook in response to the strikes on Syria.
He accused the West of carrying out a "pre-designed scenario." He said there would be "consequences," and the responsibility for them lies with Washington, London and Paris.
Antonov added: "Insulting the President of Russia is unacceptable and inadmissible," and said that the US "has no moral right to blame other countries" since it possesses a large arsenal of chemical weapons of its own.