As it happened: US, UK and France strike Syria
3:54 a.m. ET, April 14, 2018
France: Assad "hasn't hesitated to break international law"
Speaking at the Elysee Palace in Paris, France's Foreign Minister Jean-Yves Le Drian said the country had "acted in accordance with our words, in accordance with our responsibility and in coordination with our allies."
"The regime of Mr Assad deliberately decided to break the taboo of the 20th century, which is the use of chemical weapons," Le Drian said in a statement on behalf of French President Emmanuel Macron.
"(Assad) hasn't hesitated to break international law."
He added France had three imperatives going forward: The dismantling of the Syrian chemical weapons program, a ceasefire across Syria, and a crisis exit plan.
At 3 a.m. Paris time, French forces "in close coordination with US and British troops" conducted an operation in Syria, said French Defense Minister Florence Parly.
"On a practical level, this operation required air and naval means, multi-mission frigates accompanied by support ships were deployed in the Mediterranean Sea. At the same time an air raid left at night from multiple air bases in France," she said.
"These different means fired... cruise missiles at the chosen targets in close coordination with our British and American partners."
She added that France does "not seek confrontation, and we refuse any possibility of military escalation."
"We had ensured that the Russians were warned beforehand," Parly said.
12:59 a.m. ET, April 14, 2018
Russia's air and naval bases were not hit in strikes
The airstrikes did not hit Russia's air and naval bases, Russia's Defense Ministry said in a statement on Saturday, state news agency TASS reported.
According to TASS, the statement said that "none of the launched missiles entered the zone of responsibility of Russian Federation air defense units, protecting facilities in Tartus (naval base) and Hmeymim (air base).
12:28 a.m. ET, April 14, 2018
Syrian state TV reports 3 people injured in strikes
Three civilians were injured by airstrikes in the city of Homs, according to Syria State TV.
"Several missiles were intercepted and derailed, thus they wounded civilians "Syria state TV said.
12:50 a.m. ET, April 14, 2018
A year ago, the US launched a military strike against Syria
One year ago the US launched its first military assault against the Syrian regime, a move some thought would be a game-changer in that country's gruesome civil war.
On President Trump's orders, US warships pummeled a government airbase with missiles on April 6, 2017, a day after more than 80 Syrians died in a chemical attack.
Trump said he took action in response because that chemical attack "crossed a lot of lines for me."
Here's how the attack unfolded:
— US warships launched 59 Tomahawk cruise missiles at a Syrian government airbase that was home to the warplanes that carried out the chemical attacks.
— The strike took place at 8:40 p.m. ET (3:40 a.m. local time), when there would have been minimal activity at the base.
— Six people were killed in the retaliatory US airstrike, which US Secretary of Defense James Mattis claimed last year destroyed about 20% of the Syrian government's operational aircraft.
— It targeted aircraft, aircraft shelters, petroleum and logistical storage, ammunition supply bunkers, air defense systems, and "the things that make the airfield operate," Pentagon spokesman Capt. Jeff Davis told reporters.
It was the first direct military action taken by the US against the regime of Syrian President Bashar al-Assad in the country's seven-year civil war. 
12:35 a.m. ET, April 14, 2018
Acting secretary of state called members of Congress when strikes started
Acting Secretary of State John J. Sullivan spent Friday engaged in the Syria strikes, according to a State Department official.
As soon as the strikes started, Sullivan called several members of Congress, according to the official. 
The acting secretary is speaking with foreign counterparts now.
Sullivan and staff were camped out at the embassy in Peru for the National Security Council meeting and the calls. Sullivan and staff watched President Trump's speech on television. 
The State Department official said they've "been working this issue the entire time," including joining President Trump's calls with French President Emmanuel Macron and British Prime Minister Theresa May on Wednesday and participating in the NSC principals meeting Thursday. 
12:18 a.m. ET, April 14, 2018
UN Secretary-General urges "restraint in these dangerous circumstances"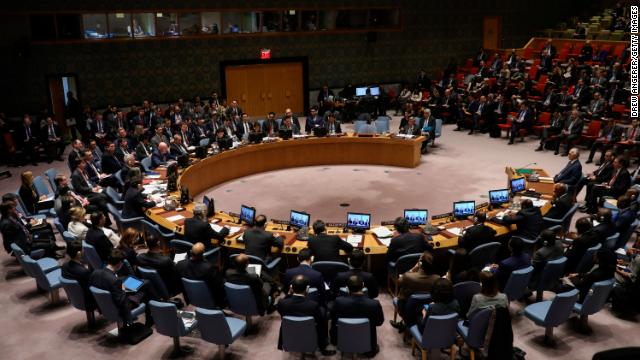 UN Secretary-General António Guterres urged members to "show restraint in these dangerous circumstances."
He also called on nations to "avoid any acts that could escalate the situation and worsen the suffering of the Syrian people."
"I call on the members of the Security Council to unite and exercise that responsibility," Guterres said.
"Any use of chemical weapons is abhorrent," he continued. "The suffering it causes is horrendous. I have repeatedly expressed my deep disappointment that the Security Council failed to agree on a dedicated mechanism for effective accountability for the use of chemical weapons in Syria. I urge the Security Council to assume its responsibilities and fill this gap. I will continue to engage with member states to help achieve this objective."
11:57 p.m. ET, April 13, 2018
Air-launched cruise missiles were used in strikes
Air-launched cruise missiles were among the munitions used in the strikes against Syria, according to two US defense officials. 
Air launch cruise missiles are fired from aircraft in flight and can be done from outside the range of Syrian airspace.
CNN reported earlier that US B-1 bombers were used in the strikes. B-1 bombers are capable of firing air launched cruise missiles.
11:46 p.m. ET, April 13, 2018
US struck Syria when it had chance at peace, Russian official says
Russian Foreign Ministry spokeswoman Maria Zakharova, in a statement on Facebook, said the US struck Syria when the country finally had a chance at peace.
"One must be really exceptional to strike Syria's capital when the country finally got a chance for a peaceful future," she wrote.
Zakharova accused the White House of relying on media reports to make its decision on whether to strike Syria.
"The White House said that the confidence in the Damascus standing behind the chemical attack is based on 'the media, reports of symptoms, videos and photos, as well as on credible information'," she wrote. "15 years ago [before invading Iraq], the White House used a test tube and its State Department, now instead of a test tube Washington has used the media."
12:51 a.m. ET, April 14, 2018
UK Ministry of Defense: "Let these united actions send a clear message to the regime"
The UK Ministry of Defense has issued a statement on the air strikes in Syria, saying it has joined allied in "a precision strike on Syrian installations involved in the regime's use of chemical weapons against its own people."
"The UK element of the carefully coordinated joint action was contributed by four Royal Air Force Tornado GR4s," the statement said. "They launched Storm Shadow missiles at a military facility -- a former missile base -- some fifteen miles west of Homs, where the regime is assessed to keep chemical weapon precursors stockpiled in breach of Syria's obligations under the Chemical Weapons Convention."
The British Minister of Defense has said "the international community has responded decisively with legal and proportionate military force."
"Let these united actions send a clear message to the regime," the statement said.