President Trump meets Abe in Japan
5:26 a.m. ET, May 25, 2019
Trump blames Federal Reserve for preventing economic growth
President Trump returned to a reliable frustration -- the Federal Reserve -- during remarks Saturday in Tokyo.
Lamenting the body's decision to raise interest rates, Trump said the stock market would have been substantially higher had they kept rates steady.
The stock market, he said, would be anywhere 7,000 to 10,000 points higher. He also said the US growth rate would have exceeded 3%.
"But they wanted to raise interest rates," he said. "You'll explain that to me."
The Federal Reserve raised rates after economic data showed a strong US economy. They have since signaled they will keep rates steady.
5:18 a.m. ET, May 25, 2019
President Trump optimistic for US-Japan trade deal
President Trump says he's working to instill "fairness and reciprocity" in US-Japan trade as he negotiates a new bilateral agreement with Tokyo.
He said negotiators were "hard at work" on the trade talks, which he initiated after withdrawing from the twelve-nation Trans Pacific Partnership.
"Japan has had a substantial edge for many, many years but that's ok," Trump said during remarks with Japanese business leaders in Tokyo. "We'll get it a little bit more fair."
In a new trade deal, Trump said he hoped to "address the trade imbalance" and "remove barriers to US exports."
"We're getting closer," Trump said.
5:17 a.m. ET, May 25, 2019
Japan orders large amount of military equipment from the US, Trump says
President Donald Trump says Japan is ordering a large amount of military equipment from the US.
"We make the best equipment in the world -- the best jets, missiles, the best rockets, the best everything," he said. "So Japan is doing very large orders and we appreciate that."
"It's probably appropriate for everything going on," Trump added. "The world is changing."
5:15 a.m. ET, May 25, 2019
Trump escapes a hostile political environment with a trip salted with flattery and pomp
President Donald Trump's trip to Japan will provide an altogether more pleasant vibe than in Washington, where talk of impeachment is now rampant and Trump is seething at Democrats' investigations into his administration.
And though Japanese officials and analysts said the honor of an inaugural state visit would have been afforded any US leader, it still reflects a bid to charm a flattery-prone President who still finds himself besieged by investigations back home. The trip kicks off an intensive schedule of foreign travel that will take Trump to Europe and then back to Asia over the next month.
In the Japanese capital, ringside seats at a sumo wrestling tournament, an imperial dinner banquet and a visit to a naval base are being arranged by Abe, who has spent more than two years making a crack at becoming Trump's best global friend.
5:15 a.m. ET, May 25, 2019
What's it like aboard Air Force One?
As President Donald Trump's visit to Tokyo kicks off a summer of global jet-setting that takes him to five separate countries, we find out what it's like aboard the presidential aircraft.
Not always an eager traveler, Trump has complained in the past about the pace of his foreign travel or the accommodations arranged for him abroad. It's his aides, however, who sometimes dread boarding Air Force One for a lengthy flight overseas, knowing full well the boss will make little use of the bed wedged into the nose of the plane.
"It's like being held captive," one official said of traveling with the President on Air Force One.
Televisions stream Fox News constantly. And if the headlines flashing across the bottom of the screen are unfavorable to their boss, aides know it's time to buckle up for a turbulent ride.
When Trump first took office, staffers clamored to travel on overseas trips. But now, in the third year of his presidency, several officials said they do their best to avoid staffing the trips because of the chaotic nature that typically accompanies them.
Read more about what it's like aboard Air Force One here, which is based on interviews with five current and former officials who have traveled with the President:
5:16 a.m. ET, May 25, 2019
Greeted by Japanese Foreign Minister
After disembarking Air Force One, President Trump was greeted by Foreign Minister Taro Kono.
Trump will be holding discussions with Japanese Prime Minister Shinzo Abe -- with trade and North Korea seen high on the agenda.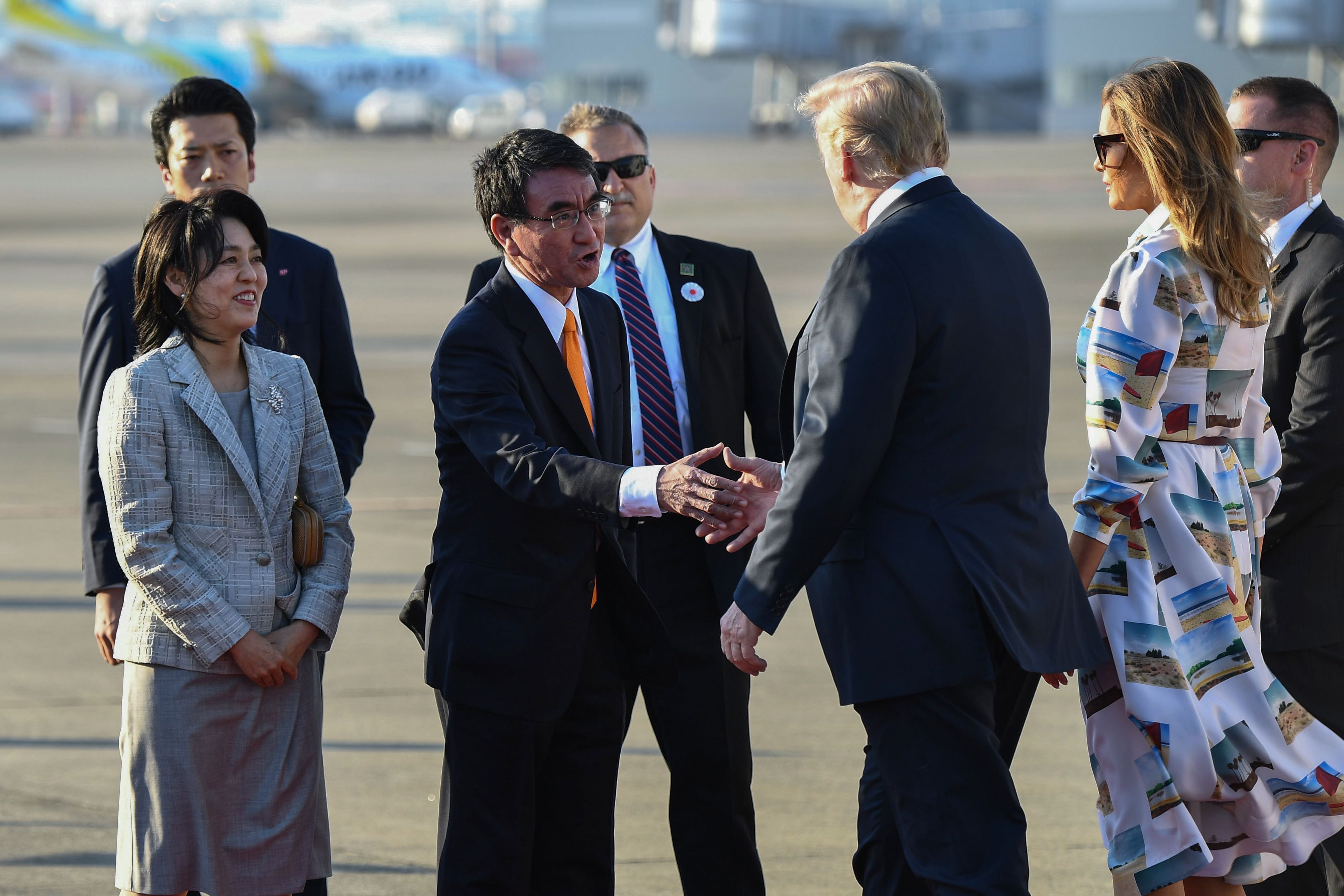 4:41 a.m. ET, May 25, 2019
Trump and first lady disembark Air Force One
US President Donald Trump and first lady Melania Trump have disembarked from Air Force One at Haneda International Airport.
During the four-day state visit, Trump will be the first foreign leader to meet Japan's new Emperor.
4:22 a.m. ET, May 25, 2019
Trump touches down in Japan
President Trump and first lady Melania Trump have arrived in Japan ahead of a largely ceremonial visit to recognize the country's new emperor.
Air Force One touched down Saturday at Haneda International Airport in Tokyo just before 4 a.m. ET (5 p.m. local) after a roughly 14-hour journey from Washington.
Trump is expected to participate in an arrival ceremony at the airport before attending an event with business leaders in the capital city.
His series of engagements with Prime Minister Shinzo Abe and Emperor Naruhito begin on Sunday.
4:02 a.m. ET, May 25, 2019
Trade is on the agenda for Trump and Abe during this visit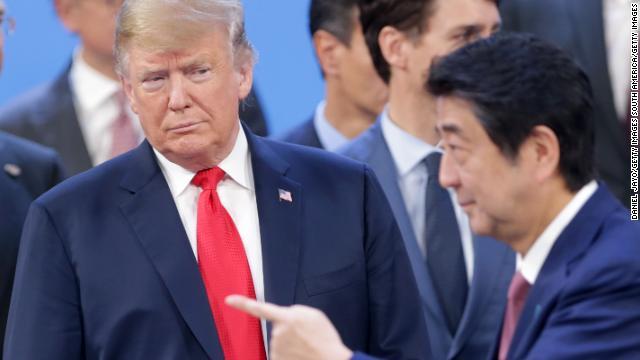 Trade, too, has provided heartburn for Japanese Prime Minister Shinzo Abe in his dealings with President Trump.
Here's why:
The US withdrew from the 12-nation Trans-Pacific Partnership early in Trump's tenure, which Japan had advocated for as a trade bloc that could provide a counterweight to China. Instead, Trump stated a preference to negotiating one-on-one trade agreements, including with Japan.
Last week, Trump decided to delay new auto tariffs as his administration negotiates bilateral trade agreements with Japan and Europe — but only for six months, a tight deadline for the two sides to reach an agreement that suits him.
Even as he lifted tariffs on steel and aluminum from Canada and Mexico last week, Trump has maintained those tariffs on Japanese metals, despite Abe's protestations. Trump has insisted the $68 billion trade deficit with Japan be lowered, and he carries a long-held view of the country as a fierce economic rival (he took out a full-page newspaper ad in 1987 declaring "Japan and other nations have been taking advantage of the United States").
Those disputes aren't likely to be entirely resolved this week, officials said in previewing the trip.