President Trump signs his first veto
6:05 p.m. ET, March 15, 2019
Our live coverage of President Trump's veto event has concluded. Scroll through the posts below to see how it unfolded.
5:45 p.m. ET, March 15, 2019
DHS chief thanks Trump for veto
Sec. Kirstjen Nielsen just thanked President Trump for his veto:
5:10 p.m. ET, March 15, 2019
Read Trump's official veto message to Congress
President Trump signed the first veto of his presidency earlier today, rejecting a measure that would reverse that national emergency he declared on the southern border.
Moments later, Trump sent a message to the House of Representatives outlining his decision for the veto.
"This situation on our border cannot be described as anything other than a national emergency, and our Armed Forces are needed to help confront it," he said.
Read his full statement: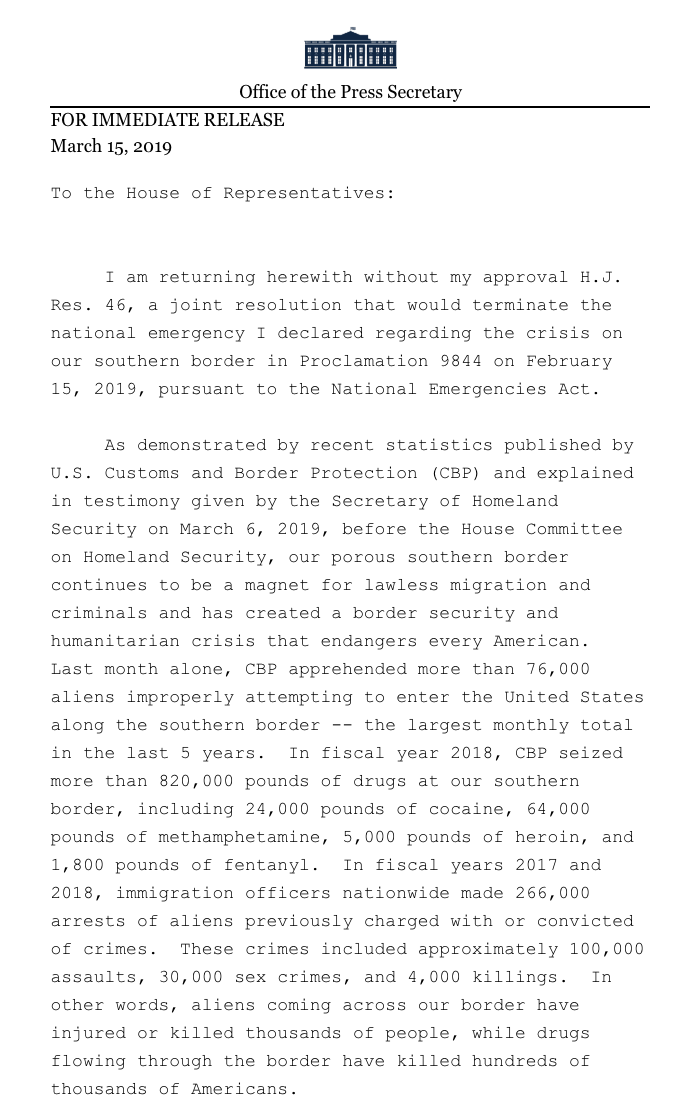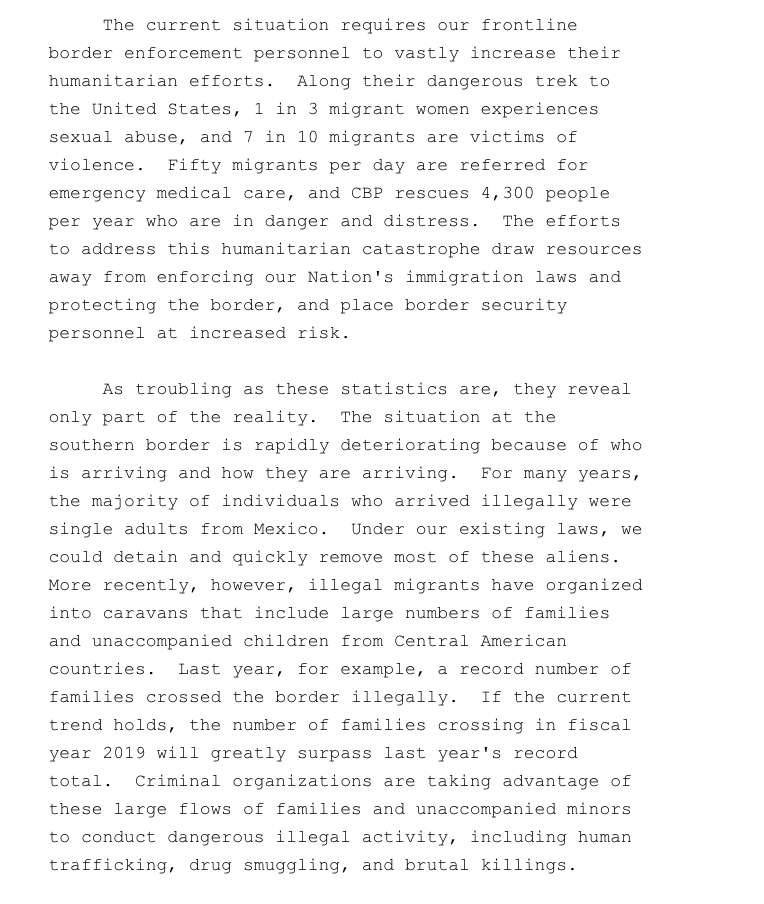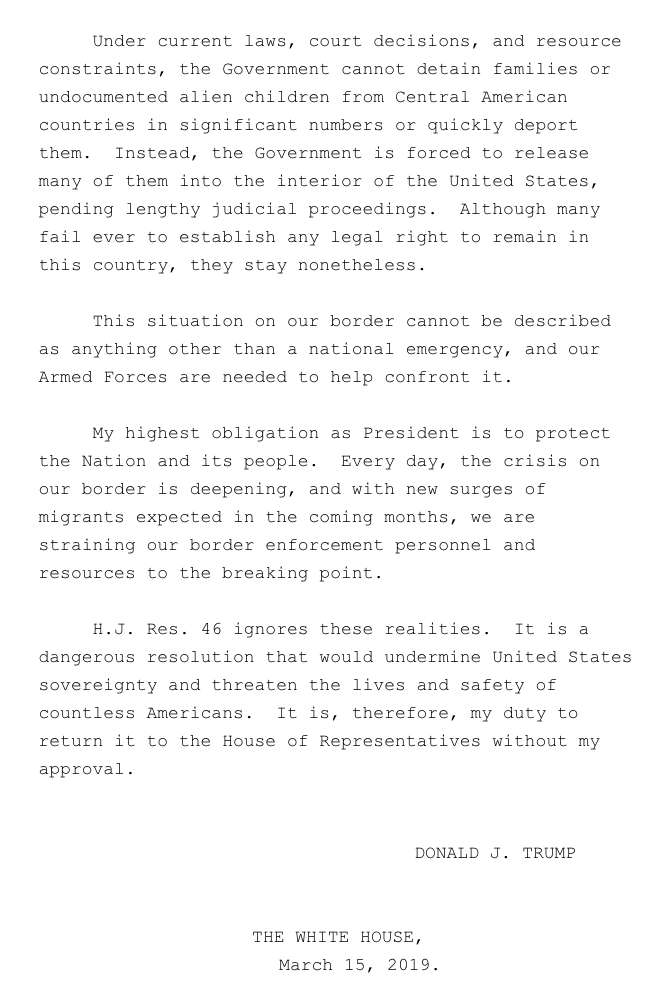 5:02 p.m. ET, March 15, 2019
Here's what construction is currently underway at the border
From CNN's Priscilla Alvarez
Much of what Customs and Border Protection has been working on along the border is replacement barrier.
According to CBP, the agency used fiscal year 2017 funds to construct "approximately 38 of 40 miles of wall in place of outdated designs in San Diego and El Centro, California, Santa Teresa, New Mexico and El Paso, Texas."
A CBP official said "this barrier replaced dilapidated infrastructure, half of which was Normandy-style vehicle barrier." Vehicle barriers are low to the ground. It would stop a car, but people can easily step over it.
CBP also said construction has "started on the San Diego Secondary replacement, the first project funded in FY 2018," adding that "the first new wall project, where no barrier currently exists, is anticipated to start in April in Hidalgo County of the Rio Grande Valley Sector."
The spending bill passed in February included $1.375 billion for approximately 55 miles of new barriers in the Rio Grande Valley sector. 
4:37 p.m. ET, March 15, 2019
House will vote on March 26 on veto override
From CNN's Ashley Killough 
Speaker Nancy Pelosi said the House will vote on March 26 on a measure to override President Trump's veto.
Note: Lawmakers hardly have the votes to approve it.
"The House and Senate resoundingly rejected the President's lawless power grab, yet the President has chosen to continue to defy the Constitution, the Congress and the will of the American people," Pelosi said in a statement.
She continued:
"House Republicans will have to choose between their partisan hypocrisy and their sacred oath to support and defend the Constitution."
4:15 p.m. ET, March 15, 2019
Trump says he signed veto to block "reckless" resolution passed by both House and Senate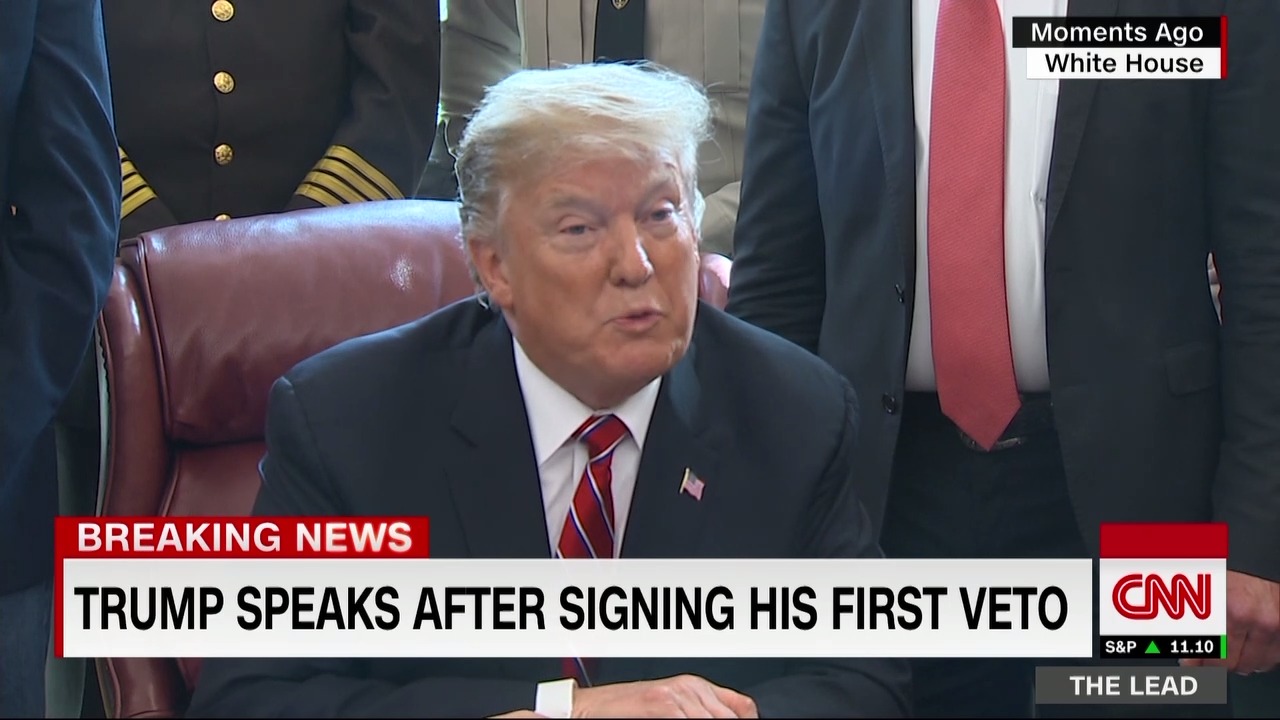 Telling reporters at a veto signing ceremony that "the protection of the nation is my highest duty," President Trump described the resolution blocking his national emergency declaration — which passed both houses of Congress — as "dangerous," claiming it put "countless Americans in danger."
He added:
"Congress has the freedom to pass this resolution and I have the duty to veto it. I'm very proud to veto it."
3:56 p.m. ET, March 15, 2019
Attorney General says national emergency on border is legal
From CNN's Kevin Liptak
Attorney General Bill Barr defended President Trump's national emergency declaration as legal during a veto ceremony in the Oval Office today.
Barr said the measure was "clearly authorized under the law" after Congress voted to reverse it.
Barr said the southern border situation was precisely the type of situation that would warrant a national emergency.
3:53 p.m. ET, March 15, 2019
Trump just signed the veto
From CNN's Kevin Liptak
President Trump has signed the first veto of his presidency, rejecting a measure that would reverse that national emergency he declared on the southern border.
We are waiting for video footage of the signing.
3:50 p.m. ET, March 15, 2019
Justice Department defends Trump's authority to declare national emergency
From CNN's Laura Jarrett
The Justice Department set forth a robust defense of the President's authority to declare a national emergency in a letter to Senate Majority Leader Mitch McConnell earlier this month, according to a copy obtained by CNN. 
 "The President acted well within his discretion in declaring a national emergency concerning the southern border," wrote Assistant Attorney General Stephen Boyd.
The letter set out the legal basis for the proclamation under the National Emergencies Act and additional statutory authorities, which largely tracks an internal memo issued by the Office of Legal Counsel at DOJ. 
"The President's emergency Proclamation reasonably described the current situation as an ongoing 'border security and humanitarian crisis,'" Boyd added. "The crisis at the border ... may qualify as an emergency even though it, too, is not entirely new."