President Trump speaks about Venezuela
5:52 p.m. ET, February 18, 2019
Our live coverage of President Trump's remarks has ended. Scroll through the posts below to see how it unfolded or read more about it here.
5:36 p.m. ET, February 18, 2019
Trump warns US socialists: "America will never be a socialist country"
While he avoided tying Democratic politicians to the socialist government in Venezuela as he has in the past, President Trump briefly turned his speech on Venezuela to domestic politics, vowing the US will "never be a socialist country." 
"And to those who would try to impose socialism on the United States, we again deliver a very simple message: America will never be a socialist country," Trump said toward the end of his speech in Miami on Monday. 
"We are born free and we will stay free, now and forever," he added.
In closing, the President tailored his message about the triumph over socialism to the community of Latin American immigrants in the Miami area. 
"We know what freedom can do in Venezuela because we have seen that future right here in Doral. We know what freedom can do in Cuba because we have seen that future right here in Miami. We know what freedom can do in Nicaragua because we have seen that future in Sweetwater," Trump said. "And one day soon with God's help we are going to see what the people are going to do in Caracas and Managua and Havana. And when Venezuela is free and Cuba is free and Nicaragua is free, this will become the first free hemisphere in all of human history."
5:26 p.m. ET, February 18, 2019
Trump warns Maduro supporters: "The eyes of the entire world are upon you"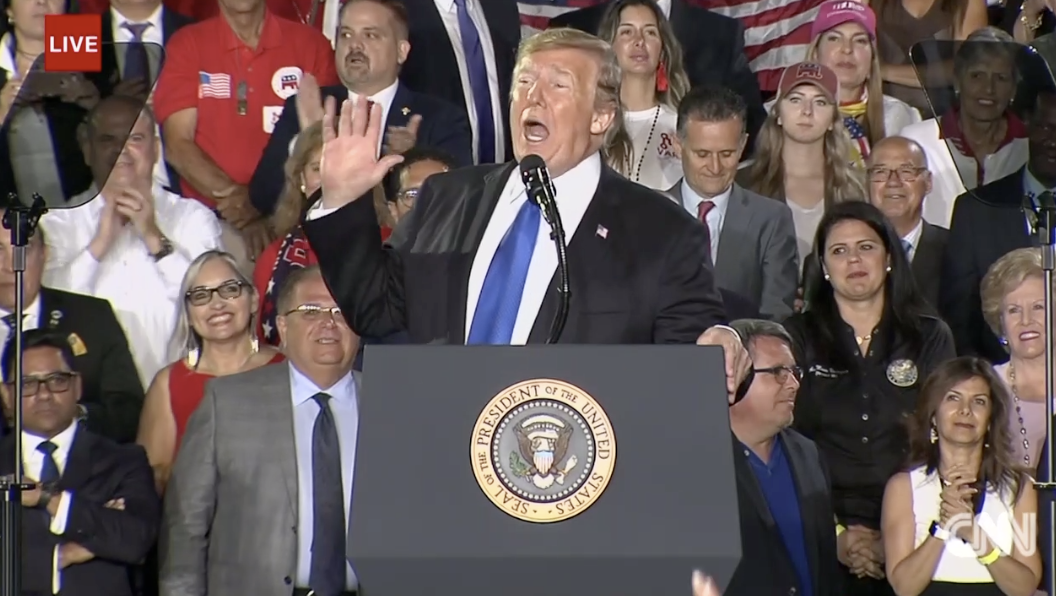 President Trump offered a warning directly to the supporters of Venezuelan President Nicolás Maduro regime: "The eyes of the entire world are upon you."
Trump warned, seemingly to troops loyal to Maduro, "you must not follow Maduro's orders" to block humanitarian aid. He also warned against causing harm to the Venezuelan people or interim president Juan Guaido.
"We seek a peaceful transition of power but all options are open," Trump said to thunderous applause.
"You will lose everything," he warned.
 Trump continued: "Let your people go, set your country free."
5:30 p.m. ET, February 18, 2019
Trump: "Maduro is not a Venezuelan patriot, he is a Cuban puppet"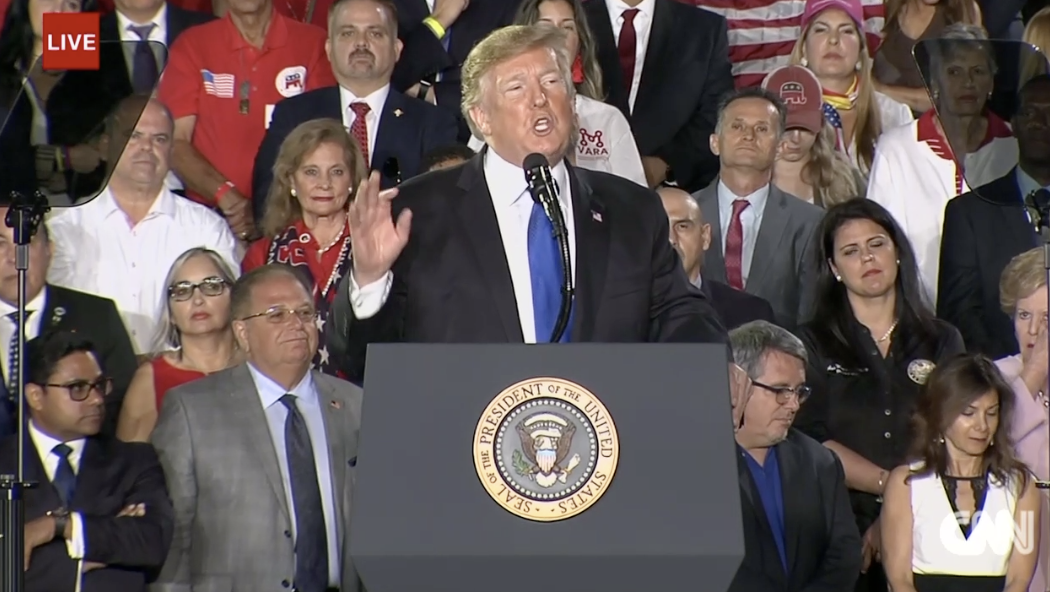 President Trump lambasted Venezuelan President Nicolás Maduro for preventing humanitarian aid from entering the country and accused him of being a "Cuban puppet."
Trump noted that there are "truckloads" of humanitarian aid stalled at the Venezuelan border "waiting to help millions and millions in need."
"Two days ago the first US Air Force C-17 landed in Colombia loaded with crucial assistance, including thousands of nutrition kits for little Venezuelan children," Trump said.
"Unfortunately dictator Maduro has blocked this life-saving aid from entering the country. He would rather see his people starve than give them aid."
Trump pointed the finger not just at Maduro, but at the "small handful at the top of the Maduro regime" who he accused of plundering the nation.
"We know who they are and we know where they keep the billions of dollars they have stolen," Trump said.
Trump also warned that Venezuelan military officials who continue to back Maduro are "risking their future."
"They are risking their future, they are risking their lives and Venezuela's future for a man controlled by the Cuban military and protected by a private army of Cuban soldiers," Trump said. "Maduro is not a Venezuelan patriot, he is a Cuban puppet. That's what it is."
5:29 p.m. ET, February 18, 2019
Trump: "The twilight hour of socialism has arrived in our hemisphere"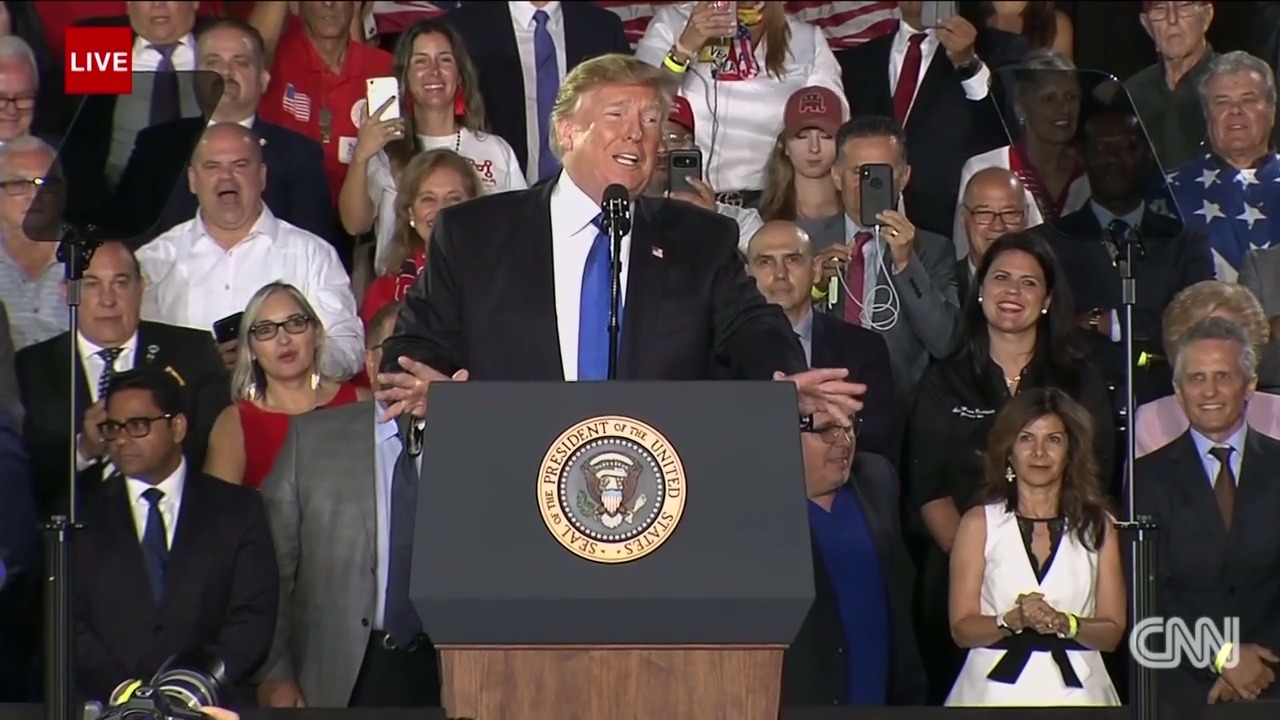 President Donald Trump railed against socialism during a speech on Venezuela, echoing sentiments in his State of the Union address and remarks at a recent El Paso campaign rally.
"Socialism by its very nature does not respect borders. It does not respect the boundaries or the sovereign rights of its citizens or its neighbors. It's always seeking to expand, to encroach, and subjugate others to its will," he told the crowd in Miami. 
Trump vowed that "the twilight hour of socialism has arrived in our hemisphere."
"The days of socialism and communism are numbered, not only in Venezuela, but in Nicaragua and in Cuba as well," he said, adding that both countries have "such unbelievable potential."
During his SOTU speech, Trump took these sentiments a step further: "Here, in the United States, we are alarmed by new calls to adopt socialism in our country. America was founded on liberty and independence -- not government coercion, domination and control."
4:58 p.m. ET, February 18, 2019
Venezuelan Interim President Juan Guaidó spoke via video before Trump
Juan Guaidó just appeared at the Miami event via video and made remarks. Here's an English translation from the pool:
"I want to take this opportunity and venue to thank the people of the United States and President Trump for his determination and clear leadership in support of democracy and just causes in response to what is happening now in Venezuela. The humanitarian tragedy is one which keeps families separated because of the migration and one that does not allow us to nourish our children and that does not allow our elderly to obtain medicines. 
Now there is a debate between the democracy and dictatorship — one between life and death. Today this fight is existential. The fight that we Venezuelans have begun after years where a majority of us have mobilized people and civic groups to obtain freedom. In this process, this international coalition and the determined support of the international community has been fundamental in this process and for democratic progress, and to allow the entry of humanitarian assistance that will save lives. 
This is a moment for Venezuelans where we are determined to reach decisive moments in which we should pressure the dictatorship that has done away with rule of law, maintains political prisoners, and has persecuted many Venezuelans. 
We must take advantage of this opportunity. The moment is now for change in Venezuela with determination and pressure from within Venezuela. With a peaceful mobilization and international cooperation, it will allow Venezuela to become free and a friend of everyone in the region. Many thanks to the state of Florida that has taken in so many Venezuelans and opened its door. Our thanks to President Trump and all Americans who are determined and decidedly supporting freedom. May God bless."
4:53 p.m. ET, February 18, 2019
NOW: Trump and the first lady take the stage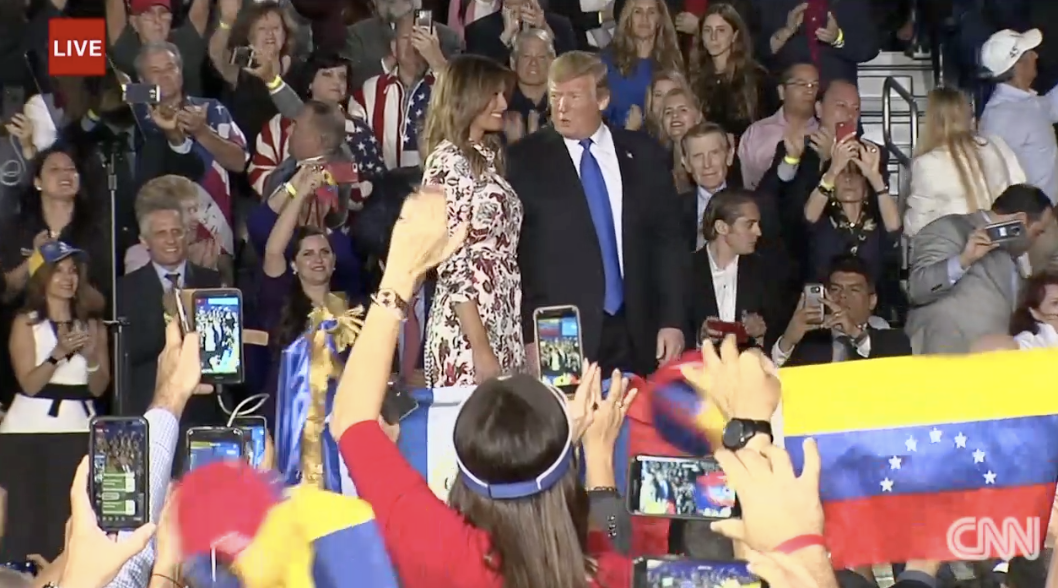 President Trump and first lady Melania Trump just took the stage at Florida International University.
Melania Trump opened the event by speaking about the crisis in Venezuela.
"Many of you in the room know what it feels like to be blessed with freedom after living under the oppression of socialism and communism," she said.
She went on to say that Americans are standing by the people of Venezuela.
"There is hope, we are free and we pray together loudly and proudly that soon the people of Venezuela will be free as well," the first lady said.