President Trump speaks at the UN
3:13 p.m. ET, September 25, 2018
Our live coverage of Trump's UN General Assembly speech has ended. Scroll through the posts below to see how his morning played out.
1:54 p.m. ET, September 25, 2018
Trump: My tone last year on North Korea was "somewhat different" than this year's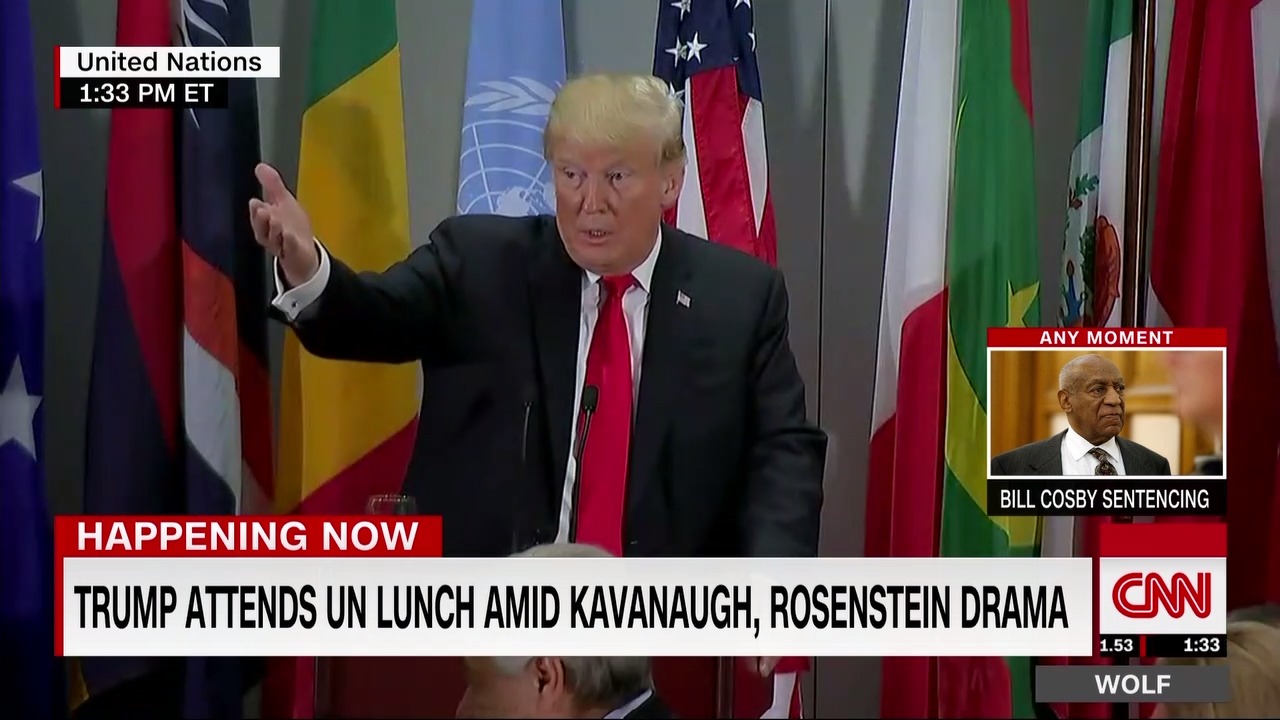 President Trump acknowledged his changed tone on North Korea during remarks at a UN luncheon on Wednesday.
 "Last year my tone was somewhat different on North Korea than it is now," Trump said. 
He said he was expecting progress in his dealings with Kim Jong Un, but acknowledged: "As the expression goes, who knows."
During his address to the UN last year, Trump called Kim "Rocket Man" and warned warned the US would "totally destroy North Korea" if forced to defend itself or its allies
But this year, he said North Korea has taken "encouraging measures" following his summer summit with Kim. He even thanked the North Korean leader for the country's progress.
12:48 p.m. ET, September 25, 2018
Trump, announcing sanctions, calls for "restoration of democracy" in Venezuela
President Trump said the US would be announcing sanctions targeting Venezuela today and appealed to other nations to call for the "restoration of democracy" in the South American country.
Watch more:
11:17 a.m. ET, September 25, 2018
Trump: We will only give foreign aid to "those who respect us and frankly our friends"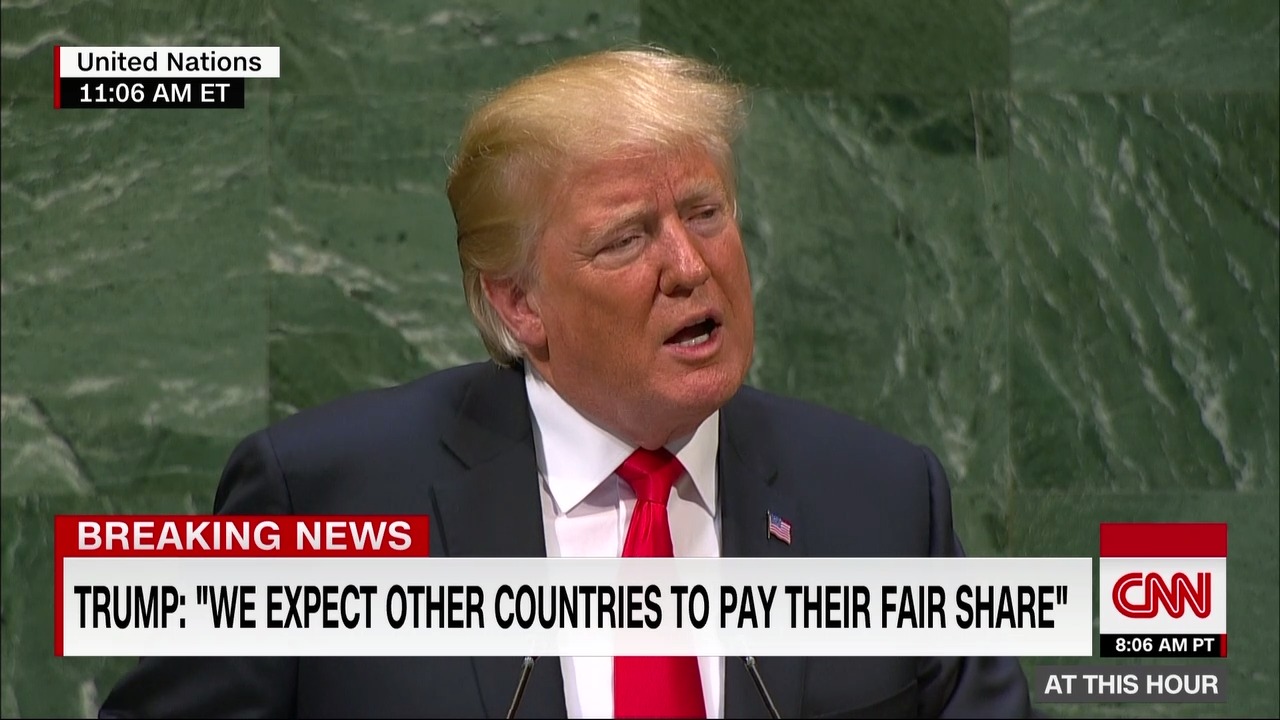 President Trump said the US is "taking a hard look" at the foreign aid it sends to other countries and the financial support it provides to international organizations.
"Few give anything to us. That is why we are taking a hard look at US foreign assistance. We will examine what is working, what is not working and whether the countries who receive our dollars and our protection also have our interests at heart," Trump said. "Moving forward we are only going to give foreign aid to those who respect us and frankly our — our friends. And we expect other countries to pay their fair share for the cost of their defense."
Promising to make the UN "more effective and accountable," Trump also vowed to change how the US funds the international body's various programs and where US dollars are spent.
"Only when each of us does our part and contributes our share can we realize the UN's highest aspirations," Trump said.
11:24 a.m. ET, September 25, 2018
Human rights group: Trump's remark against the ICC is "music to the ears of tyrants"
President Trump, claiming the U.N. Human Rights Council had become "a grave embarrassment to this institution," said the US would not return to it without real reform and would provide neither support nor recognition to the International Criminal Court for similar reasons.
He added, "We will never surrender America's sovereignty to an unelected, unaccountable, global bureaucracy."
Those comments, Human Rights Watch just said in a statement to CNN's Richard Roth, "are music to the ears of tyrants and war criminals."
"His opposition to justice for victims of mass slaughter is yet another retreat by this administration on human rights. But this attack on international justice will backfire, just as it did under the Bush administration," Richard Dicker, director of Human Rights Watch's international justice program, said.
See it:
11:11 a.m. ET, September 25, 2018
Trump: Making other countries "great again" will end migration
In a play on his campaign slogan, President Trump said on Tuesday that a global migration crisis can be resolved by making every country "great again."
He said the US would not sign onto a global migration pact, saying individual nations should instead set their own policies. 
"Only by upholding national borders, destroying criminal gangs, can we break this cycle," he said.
He said the US would "recognize right of every nation in this room to set own policy."
The only way to prevent people from leaving their nations is to "make their countries great again."
Watch Trump talk about immigration at the UN:
11:11 a.m. ET, September 25, 2018
President Trump goes after China trading practices
President Trump told world leaders on Tuesday "we are systematically renegotiating broken and bad trade deals."
Citing his bids to renegotiate trade deals around the world, Trump said during an address at the United Nations that "many nations in this hall will agree the world trading system is in dire need of change."
Singling out China for its trade abuses and theft of US intellectual property, Trump said "we will no longer tolerate such abuse."
"We will not allow our workers to be victimized, our companies to be cheated," Trump said.
Stressing he still has "great respect and affection" for Chinese President Xi Jinping, Trump said "America will always act in our national interests."
Watch: