President Trump speaks at the UN
10:55 a.m. ET, September 25, 2018
Some world leaders laugh as Trump claims his administration accomplished more than others
There was a moment of levity at the top of President Donald Trump's United Nations speech, when some in the crowd chuckled as Trump touted his administration's successes.
Trump began his address at the United Nations this morning by boasting, "In less than two years, my administration has accomplished more than almost any administration in the history of our country."
There was some muted laughter.
"So true," Trump said. "I didn't expect that reaction, but that's okay," he said, prompting louder laughter and some applause.
10:27 a.m. ET, September 25, 2018
Trump, offering little, says progress with North Korea "far greater than the media would understand"
President Trump quickly addressed reporters on his way into the United Nations where he claimed he's made "tremendous progress" with North Korea -- "far greater than the media would understand or know" -- and yet offering little on any movement towards denuclearization.
"As you know," Trump said, "there have been no tests, no nuclear tests, no rockets, no missile launches. And we got our hostages back. We're getting the remains of our great heroes back. That's already started, that process, and many more are coming in the very short future. So we're doing very well with North Korea. Again, far greater than anybody would know."
10:33 a.m. ET, September 25, 2018
Trump says Iran leaders must "change their tune" before he'll meet with them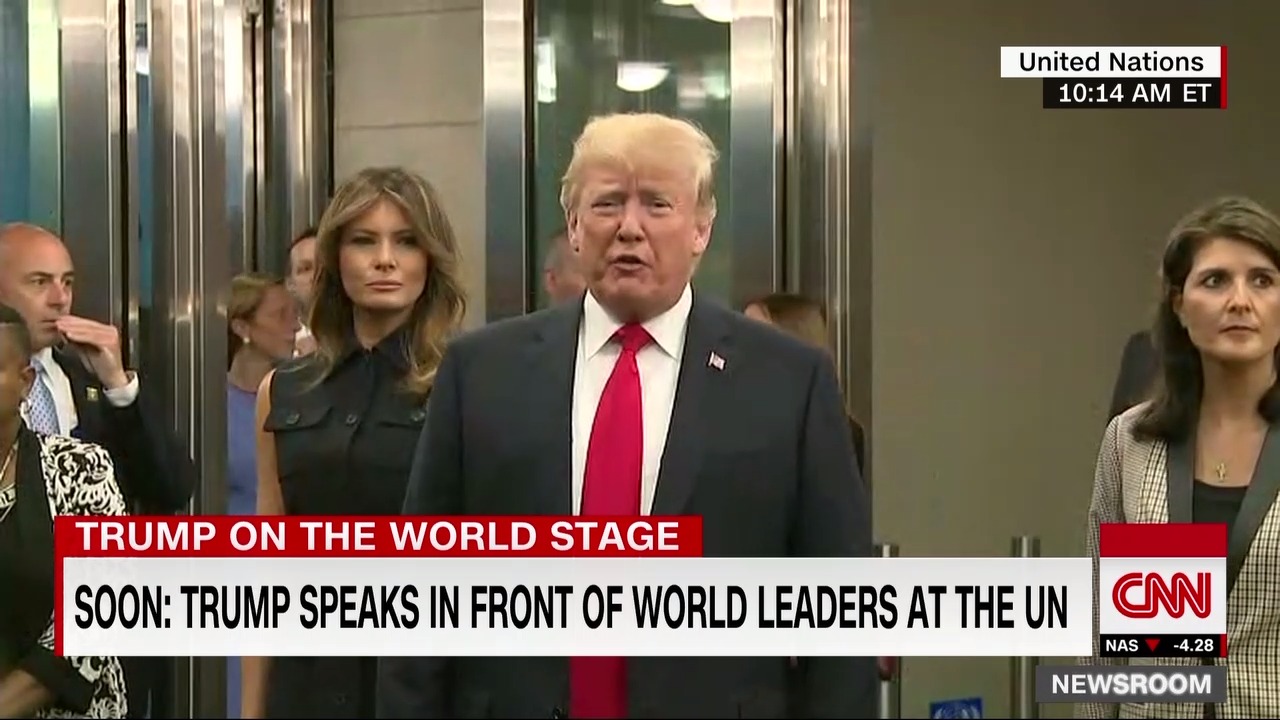 President Trump just arrived at the United Nations in New York and approached the press to preview his remarks on a few topics. Here's what he said on Iran:
"Iran has to change its tune before I meet with them. They want to meet. I'm not meeting with them until they change their tune. It will happen. I believe they have no choice. We look forward to having a great relationship with Iran. But it won't happen now."
Earlier on Tuesday President Trump tweeted that "despite requests," he has no plans to meet with Iranian President Hassan Rouhani. "Maybe someday in the future. I am sure he is an absolutely lovely man!" he added.
But earlier, in an interview with CNN's Chief International Anchor Christiane Amanpour, Rouhani denied making any such request.
"Not this year, nor last year. We have never made such a request for a meeting with the President of the United States," Rouhani said. He added, "Under the current conditions, when it comes to a meeting, I do not see it as beneficial nor appropriate. But you should ask him who made such requests."
10:14 a.m. ET, September 25, 2018
Trump set to stress US sovereignty in UN speech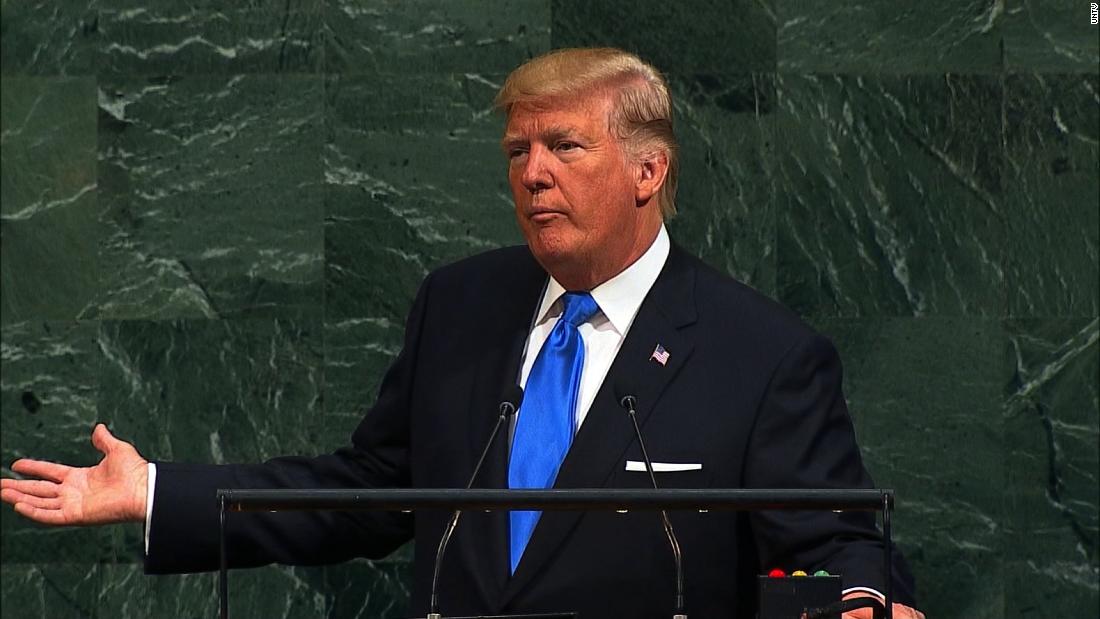 President Trump will emphasize US commitment to its sovereignty above all international organizations and multilateral agreements on the heels of several moves that have put that effort on display, including most recently a decision to cut funding for the UN agency that supports Palestinian refugees and a speech by his national security adviser John Bolton undercutting the International Criminal Court.
John Bolton's influence: Bolston, a longtime and fiercely ideological critic of the UN and the former US ambassador to the body, is certain to leave his imprint on Tuesday through Trump's speech.
Speaking ahead of the address on Monday, Bolton said:
"We, the people, are sovereign in America, so that infringements on our sovereignty are not infringements on abstractions or infringements on the government. They're an infringement on the people themselves. And it's why we believe -- and of course, I'm speaking in secular terms here -- that the Constitution is the highest authority that we recognize. So in a number of different ways, the President's going to address this issue."
Addressing the sovereignty theme, Secretary of State Mike Pompeo also said Monday Trump will deliver "a recap about [how] his call for every nation to do its part has paid dividends for the United States and the world over this past year."
And Nikki Haley, the UN ambassador, has also said Trump will "lay down a marker" on foreign aid, remaining generous, but only "to those that share our values ... that want to work with us."
10:04 a.m. ET, September 25, 2018
Trump's in New York for the UN, but there's a lot happening back in Washington
Trump embarks upon another "America First" crusade at the world's foremost diplomatic institution this week.
But while Trump in New York, there are several key political events unfolding back in Washington, DC...
9:50 a.m. ET, September 25, 2018
This is how Trump's 2017 UN speech went down (and how 2018's might be different)
In his first speech before the United Nations, President Donald Trump stood before the hall's iconic green marble wall and deployed for the first time in person his infamous moniker aimed at North Korea's leader Kim Jong Un.
"Rocket Man is on a suicide mission for himself and for his regime," Trump declared as he warned that the United States was prepared to "totally destroy North Korea."
A year later, as he prepares to deliver his second UN speech on Tuesday, the US President has almost entirely abandoned his fiery rhetoric in favor of trumpeting his personal diplomatic efforts to resolve the North Korean nuclear crisis. He has retired the "Rocket Man" moniker — and its "Little Rocket Man" variation — since last winter and has even promised to deliver a CD with the eponymous Elton John song to Kim.
That the cutting insult has achieved inside joke status between the two leaders exemplifies the extent of the diplomatic détente between the US and North Korea in the year since Trump delivered those jarring threats at the UN and its lightning-fast pace. In that span of time, Trump and Kim turned from exchanging a menacing volley of insults and threats of annihilation to...
Showering each other with praise
Making broad commitments to ending a decades-old war footing
Watch some of Trump's 2017 speech in the video below:
9:29 a.m. ET, September 25, 2018
4 key themes to watch for in Trump's UN address
President Trump's UN speech will start around 10:15 a.m. ET. It will probably last around 40 minutes. Here are the key themes to watch for:
China: President Trump is expected to defend his tariffs, insisting on fairness in global trade, and calling on China to adhere to international law on things like IP and maritime disputes. How forceful he is on Beijing will be one of the major things to watch since he requires China's help on North Korea. 
Sovereignty: Trump will strike "sovereignty" as a major theme, lobbing criticism of international bodies that Trump believes aren't useful (like the ICC and UN human rights council). He'll maintain his belief that unilateral work between countries is a more useful avenue for progress. 
Iran: The withdrawal from the nuclear deal a still a major point of contention, with new sanctions set to come. Trump will underscore destabilization efforts and support for terrorists. 
North Korea: Trump will trumpet North Korea progress a year after "rocket man." He is preparing to meet again with Kim.