The latest on Trump's Ukraine drama
11:53 a.m. ET, September 23, 2019
John Kasich calls out Republicans for not pressuring the Trump administration to hand over whistleblower complaint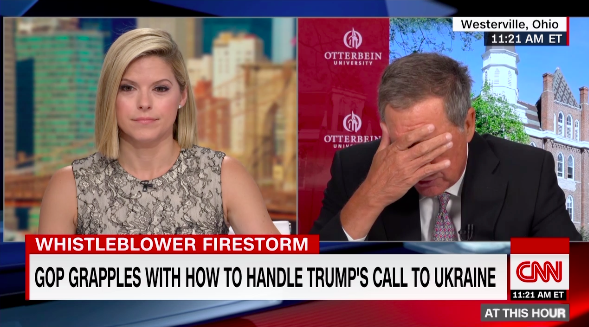 Former Ohio governor John Kasich called on Republicans in Congress to push the Trump administration to turn over the whistleblower complaint to the House Intelligence Committee.
"I am waiting for one or two Republicans to strongly say that this is wrong, but let's investigate, maybe there's some excuse out here that we don't know. I'm fine with that. But we need to know what happened," Kasich said in an interview with CNN.
"You have to make sure you're not putting your party and your own little hide ahead of what is correct in this case," Kasich said. "All you should be calling for is for all of this to be sent to the intelligence committee. That's what the law says and that is what you should be advocating."
On the whistleblower's credibility, Kasich said:
"This was not made by somebody living in outer space. This was somebody who was very concerned about what they heard on a communication, turned it over to the inspector general, who declared it a major problem. And now the administration won't follow the law. That's what they need to do, follow the law."
Kasich said he is "very, very, very concerned" and accused Republicans of "hiding." Kasich also appeared to challenge lawmakers to act more forcefully in getting the administration to release the whistleblower information.
"If you can't take the heat, get out of the kitchen. Go do something else," Kasich said.
11:54 a.m. ET, September 23, 2019
Al Gore calls for impeachment investigation after Ukraine drama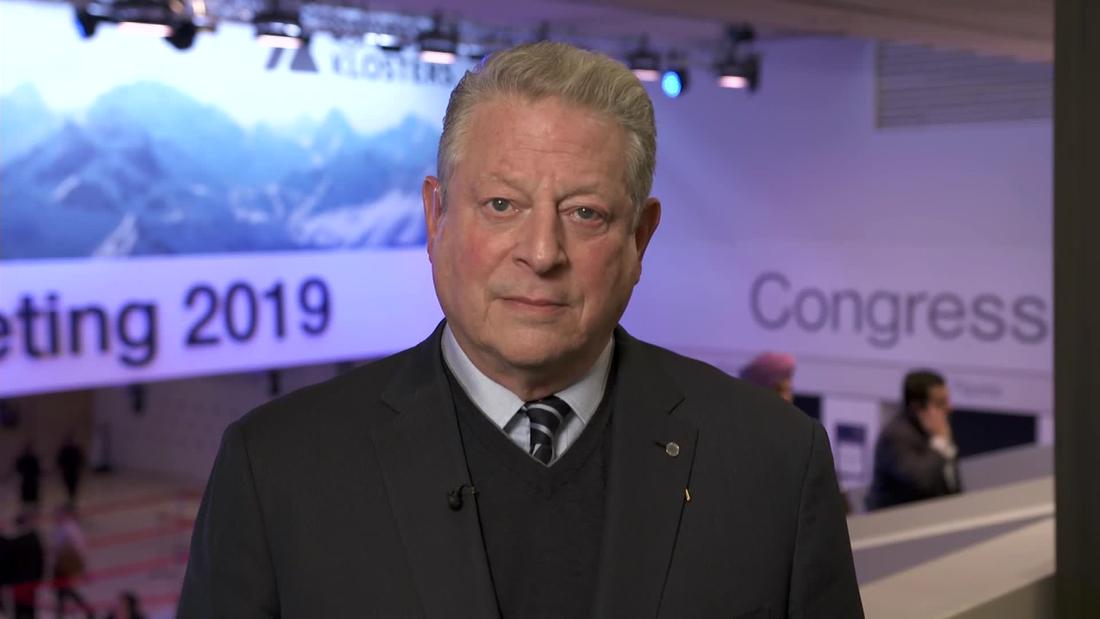 Former Vice President Al Gore said there should be an impeachment investigation around the whistleblower report and President Trump's conversations with Ukraine's president.
"This latest accusation, like some of the others, falls into a rare category, the only remedy is an impeachment investigation," he said in an an interview with CNN's Christiane Amanpour today.
Gore continued: "Were it to be true, and not addressed, it would normalize the most obscene and outrageous behavior, threaten the rule of law and the promise of democracy and self governance. That much is at stake."
The interview will air later this week.
11:45 a.m. ET, September 23, 2019
Trump questions which "side" the whistleblower is on
President Trump in a pair of new tweets questioned who is the "so-called 'whistleblower'" and whether he is "on our Country's side."
"Where does he come from. Is this all about Schiff & the Democrats again after years of being wrong?" Trump tweeted, referencing House Intelligence Chairman Adam Schiff.
Trump also quotes ally Rep. Devin Nunes on Fox and Friends. Here are the tweets:
11:17 a.m. ET, September 23, 2019
Trump: "The one who's got a problem is Biden"
President Trump has arrived inside at the United Nations General Assembly, where he talked about Joe Biden and what he called a "Democratic witch hunt."
"The one who's got the problem is Biden, because if you look at what Biden did, Biden did what they would like to have me do except there's one problem: I didn't do it," Trump said.
"What Biden did is a disgrace. What his son did is a disgrace. His son took money from Ukraine, his son took money from China. A lot of money from China. China would love to see — can think of nothing they'd rather see than Biden get in. Cause they would take this great deal that we're about to make and they would really have themselves a deal." 
More context: Trump on Sunday acknowledged that he discussed former Vice President Joe Biden in a July call with Ukraine's president Volodymyr Zelensky. CNN previously reported Trump pressed Zelensky in the call to investigate former Vice President Joe Biden's son, Hunter, according to a person familiar with the situation. That call was also part of a whistleblower complaint submitted to the Intelligence Community Inspector General, another person familiar with the situation told CNN. There is no evidence of wrongdoing by either Joe or Hunter Biden.
11:10 a.m. ET, September 23, 2019
House Democrats say they're nearing a "tipping point" on impeachment
House Democrats this morning say that they are close to a "tipping point" on impeachment in the wake of the Trump administration's blocking the whistleblower complaint and the President's admission of discussing the Bidens in his phone call with the Ukrainian leader. 
Democrats, both freshmen from Trump districts and moderates who have resisted calls for impeachment, are telling their colleagues privately they are prepared to announce their support for impeachment proceedings. This is especially true if the controversy continues to grow — namely if there's evidence that Trump sought to withhold military aid to Ukraine in exchange for investigating the Bidens, according to Democratic sources involved in the conversations. 
That could change the calculus for Speaker Nancy Pelosi, who has in part resisted moving forward on impeachment because she has sought to protect vulnerable Democrats in GOP-leaning districts who could face voter backlash over impeachment. But if those members come out in support of impeachment proceedings, Pelosi is bound to shift her positioning as well, according to Democrats close to the speaker.
Rep. Gerry Connolly, a Democrat on the House Oversight and Foreign Affairs panels, told CNN this morning: "I think we're reaching a tipping point both within our base and within our caucus."
"This weekend, all I hear at home is when are Democrats going to get tough?" Connolly said. "We are looking weak."
Rep. Vicente Gonzales, a Texas Democrat who has been cautious on impeachment, told CNN that his view on impeachment is shifting as well, saying, "I don't think we will have a choice" but to impeach if the controversy expands.
12:07 p.m. ET, September 23, 2019
Sources: White House officials are considering releasing a transcript of President Trump's call with the Ukrainian president
White House officials are considering releasing a transcript of President Trump's call with the Ukrainian president, multiple sources tell CNN.
However, some senior administration officials, like Secretary of State Mike Pompeo and Treasury Secretary Steven Mnuchin, are against the idea because of the precedent releasing it could set with future foreign leaders — and because putting it out could give Congress ammunition to demand transcripts of Trump's calls with Russian President Vladimir Putin. 
White House officials were soliciting opinions from outside advisers over the weekend about whether they should release the transcript of Trump's call with the Ukrainian president, as well as how advisers think the White House should message it if the transcript was "embarrassing."
A person familiar with the discussions said the White House Counsel's Office is currently involved in evaluating whether the transcript should be released and in what form. The person saying the release could happen "soon."
11:01 a.m. ET, September 23, 2019
Trump defends phone call with Ukraine president as "perfect"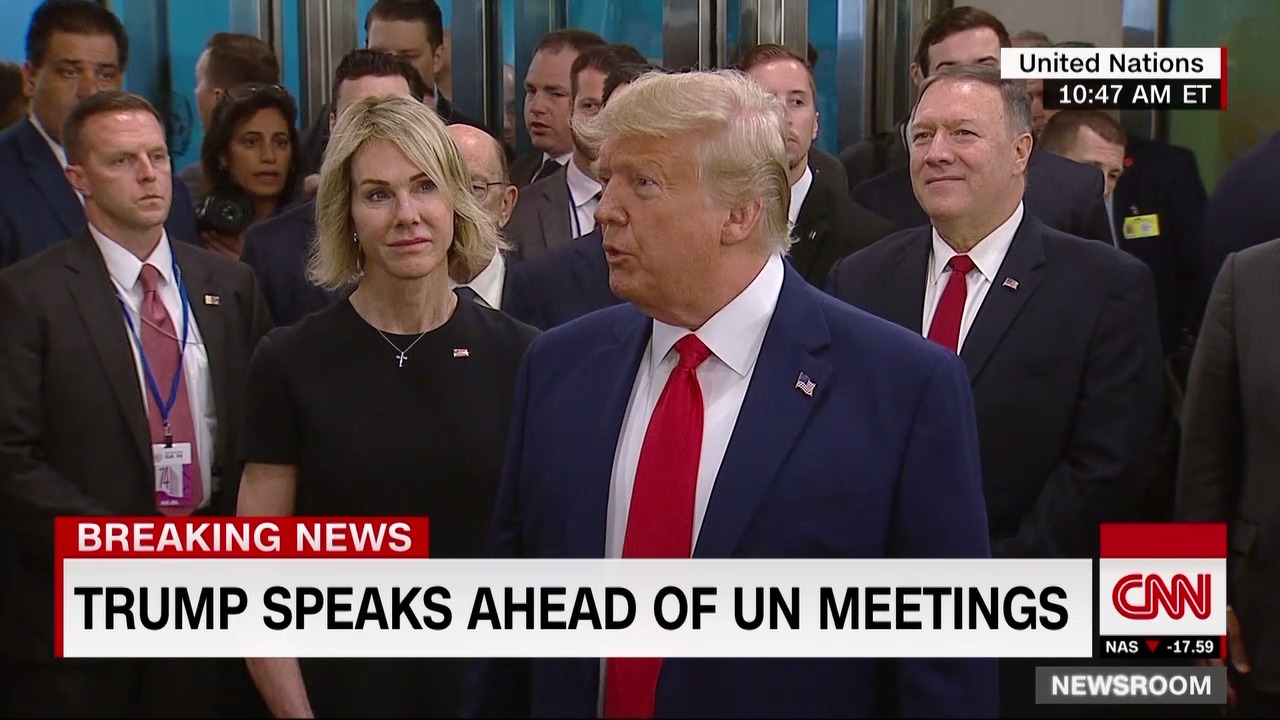 President Trump said he had a "perfect" phone call with the president of Ukraine and added that he's not taking impeachment threats from the Democrats seriously.
A reporter at the United Nations General Assembly just asked Trump how seriously he's taking the impeachment talk.
"Not at all seriously. We had a perfect phone call with the president of Ukraine. Everybody knows it's just a Democrat witch hunt. Here we go again," Trump responded.
Some context: Weighing in on the Ukraine controversy on Sunday, House Intelligence Committee Chairman Adam Schiff said that impeachment "may be the only remedy" to Trump's refusal to make public the complaint and phone call transcript.
10:35 a.m. ET, September 23, 2019
Republican 2020 candidate on Ukraine scandal: "It's treason, pure and simple"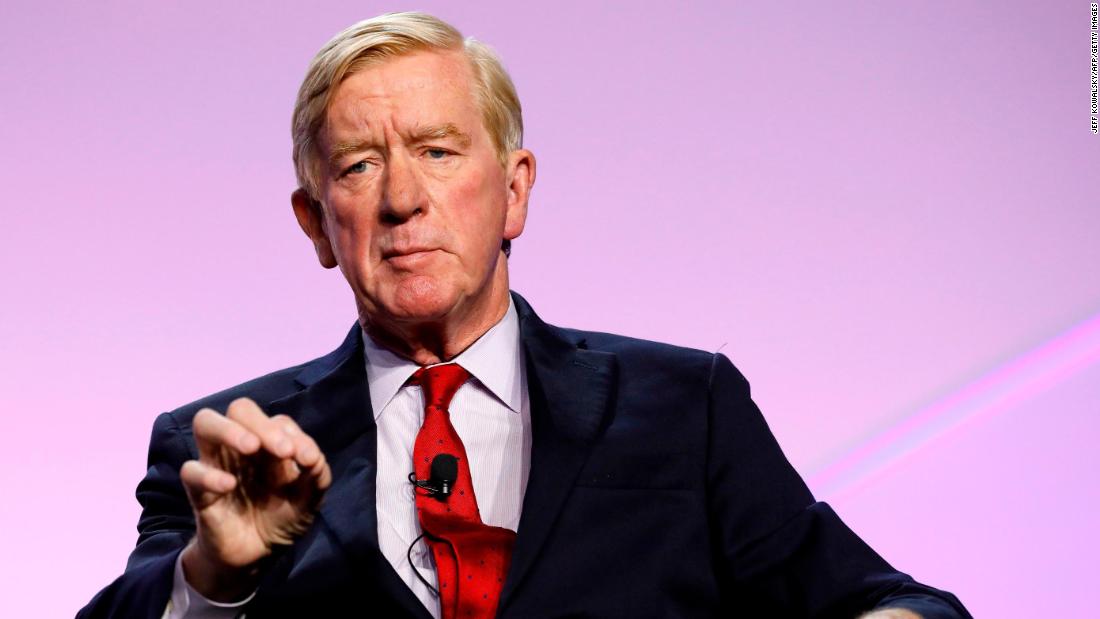 Bill Weld, who is running against President Trump for the GOP 2020 nomination, said the President's call to Ukraine is "treason, pure and simple."
In an interview with MSNBC, Weld was asked about the report that Trump pressured Ukraine to investigate his potential Democratic general election opponent Joe Biden. 
"It couldn't be clearer, and that's not just undermining democratic institutions, that is treason," Weld said. "It's treason, pure and simple, and the penalty for treason under the US code is death, that's the only penalty."
9:59 a.m. ET, September 23, 2019
Trump says he's open to releasing the call transcript. Some officials think that's a bad idea.
Trump and his top aides appear split on whether or not it's a good idea to release the transcript of the call in question between him and the Ukrainian president.
Trump says release the transcript: Trump was asked by reporters Sunday about releasing the transcript of the July 25 call and responded: "I hope they can put it out."
Some of his top administration officials think it's a bad idea.
Secretary of State Mike Pompeo said there's no evidence such an action "would be appropriate" at this time.
"We don't release transcripts very often. It's the rare case," Pompeo added during an interview Sunday on ABC's "This Week." "Those are private conversations between world leaders, and it wouldn't be appropriate to do so except in the most extreme circumstances. There's no, there's no evidence that would be appropriate here at this point."
Treasury Secretary Steve Mnuchin also weighed in, telling CNN Sunday that he thinks releasing the transcript "would be a terrible precedent," arguing that "conversations between world leaders are meant to be confidential."