Trump heaps praise on May's handling of Brexit
4:43 p.m. ET, June 3, 2019
Here's what Melania Trump is wearing tonight
Melania Trump is wearing a Dior Haute Couture ivory silk crepe gown with silk tulle detail, per Stephanie Grisham, spokeswoman for the East Wing.
Her hair is pulled back.
White, it should be noted, seemed to be the theme of the night. Her Majesty the Queen; Camilla, Duchess of Cornwall; and Catherine, Duchess of Cambridge are all dressed in white for the state dinner.
Watch more:
4:51 p.m. ET, June 3, 2019
Queen Elizabeth hails the US-UK alliance and references Trump's Scottish heritage in welcome remarks
Queen Elizabeth welcomed President Trump and the first lady with a speech.
"Visits by American presidents always remind us of the close and long standing friendship between the United Kingdom and the United States," the Queen said, adding she was "glad that we have another opportunity to demonstrate the immense importance that both our countries attach to our relationship."
She spoke of the 75th anniversary of D-Day, noting, "On that day and many occasions since, the armed forces of both our countries fought side by side to defend our cherished values of liberty and democracy."
The Queen added that the anniversary "reminds us of all that our countries have achieved together."
Citing Trump's Scottish ancestry, the Queen reminded the President that he too has a "particular connection to this country."
"Mr. President, as we look to the future, I'm confident that our common values and shared interests will continue to unite us. Tonight, we celebrate an alliance that has helped to ensure the safety and prosperity of both our peoples for decades, and which I believe will endure for many years to come," she said.
Watch more:
3:57 p.m. ET, June 3, 2019
From steamed halibut to Windsor lamb, here's what they're eating at the state dinner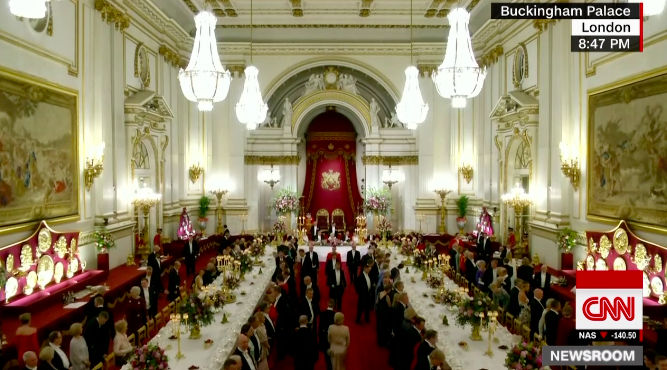 US President Trump will be served three course meal at the State banquet at Buckingham Palace this evening, including fresh fruit, coffee and petit fours according to the Press Association.
 Here's the full run down of the menu:
Steamed fillet of halibut with watercress mousse, asparagus spears and chervil sauce.
Saddle of new season Windsor lamb with herb stuffing, spring vegetables, port sauce.
Strawberry sable with lemon verbena cream.
Selection of assorted fresh fruits.
Coffee and petit fours.
And these are the wines:
Windsor Great Park 2014
Chassange-Montrachet 1er Cru "Morgeot" 2014
Domaine Duc de Magenta
Monopole Clos de la Chapelle, Louis Jadot 
Chateau Lafite Rothschild 1990 
1er Cru Classe, Pauillac
Hambledon Classic Cuvee Rose NV
3:49 p.m. ET, June 3, 2019
The Trumps and the Queen arrive at the state dinner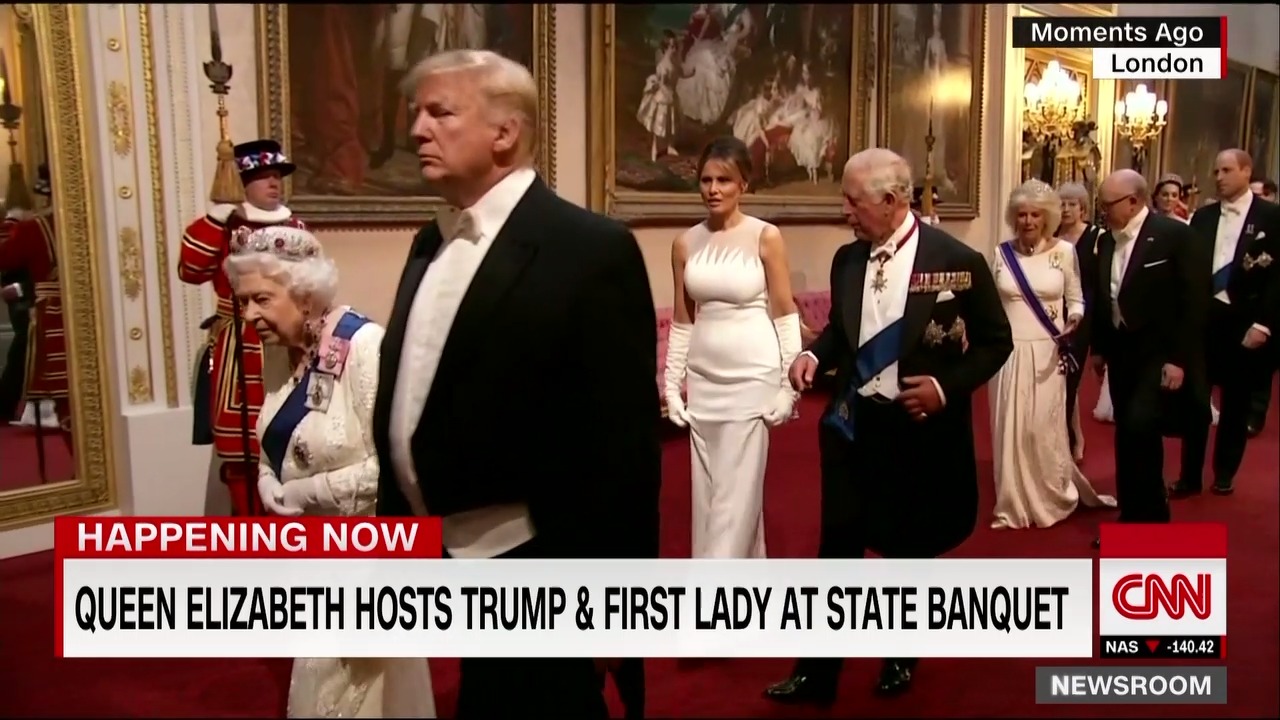 President Trump and first lady Melania Trump just arrived at the State Dinner at Buckingham Palace. Queen Elizabeth II and Prince Charles walked in with the two leaders.
3:16 p.m. ET, June 3, 2019
Protesters greeted Trump as he arrived at Buckingham Palace
Marine One, carrying President Trump and first lady Melania Trump, flew past a crowd of protestors on its way to tonight's state dinner. Their signs read, "Stop Trump's nuclear arms race," "No to Trump, no to war," and "campaign for nuclear disarmament."
While Buckingham Palace, where the dinner will be, and Winfield House, where the Trumps are staying, are only 3 miles apart, the first couple has been using the helicopter between the buildings and avoiding central London streets.
Trump has tweeted that he hasn't seen any protests in London so far:
3:08 p.m. ET, June 3, 2019
President and first lady arrive at Buckingham Palace for state banquet
Marine One has landed at Buckingham Palace for the State Banquet with Queen Elizabeth and the royal family.
First the President and first lady will participate in a presentation of guests with Her Majesty before the banquet officially begins at 3:45 pm ET.
The royal family posted a sneak peak of the banquet table:
3:00 p.m. ET, June 3, 2019
Ivanka Trump to join her father at bilateral meeting with Theresa May
In addition to her attendance at today's ceremonial events at Buckingham Palace, Ivanka Trump will be participating in the business roundtable and bilateral with Prime Minister Theresa May alongside her father on Tuesday, a White House official tells CNN.
Trump, a senior adviser to the President, and her husband, Jared Kushner, are both members of the official US delegation. She's expected to discuss workforce development at the business roundtable.
Her siblings Don Jr., Eric, and Tiffany Trump, are also in London and are expected to attend the State Banquet at Buckingham Palace this evening.
The President's eldest daughter has previously met with May and has worked with her on global anti-human trafficking efforts. Later this week, she will travel to The Netherlands to deliver a keynote speech at the Global Entrepreneurship Summit 2019, part of WGDP initiative.
2:51 p.m. ET, June 3, 2019
Trump tweets his trip is "going really well" and he's seen no protests
President Trump tweeted that the "London part of trip is going really well" and the royal family has been "fantastic."
He said that he's seen no protests yet but is "sure the Fake News will be working hard to find them."
Trump's motorcade passed through empty streets that were cleared by security. Protests in London have, in fact, begun.
1:06 p.m. ET, June 3, 2019
Here's what we know about tonight's state dinner (so far)
President Trump and first lady Melania Trump will sit down for a lavish state banquet in Buckingham Palace on Monday evening.
Here's what we know so far:
The guest list: About 170 guests are expected. Along with members of the royal family, Trump's own adult children Ivanka Trump, Donald Trump Jr., Eric Trump and Tiffany Trump will be there. The other guests are reportedly invited based on their links to the US.
The venue: The dinner will take place on a horseshoe-shaped table in the palace's ballroom, with the Queen and Trump seated at its head, flanked by first lady Melania, heir to the throne Prince Charles and his wife Camilla, Duchess of Cornwall.
The food: The menu is yet to be revealed, but we do know it will be served on historic dinner sets with six drinking glasses — for water, a champagne toast, red and white wines, a dessert wine and port.
The dress code: Trump, like the other male guests, will be expected to wear a white tie or national dress.