Trump heaps praise on May's handling of Brexit
9:30 a.m. ET, June 3, 2019
Here's what the Queen gave Trump as a gift
The Queen gave Donald Trump an abridged first edition of Winston Churchill's book, "The Second World War."
The book, printed in 1959, is presented in a crimson and gold-tooled cover. It features a gold royal cypher, silk endpapers and hand-sewn headbands in the colors of the US flag.
Churchill wrote a series of books on World War II, published between 1948 and 1953, which were written with the help of his own notes and diaries compiled during the conflict. Trump is known to be an admirer of the former prime minister.
The Queen also gave Trump a three-piece pen set, comprising a fountain pen, rollerball pen and ball point pen with a royal cypher, in a presentation box.
Melania Trump, meanwhile, received a specially-commissioned silver box with a handcrafted enamel lid. The box features rose, thistle and shamrock images, as seen in the ceiling pattern in Buckingham Palace's music room.
9:18 a.m. ET, June 3, 2019
Trump's lavish state banquet by the numbers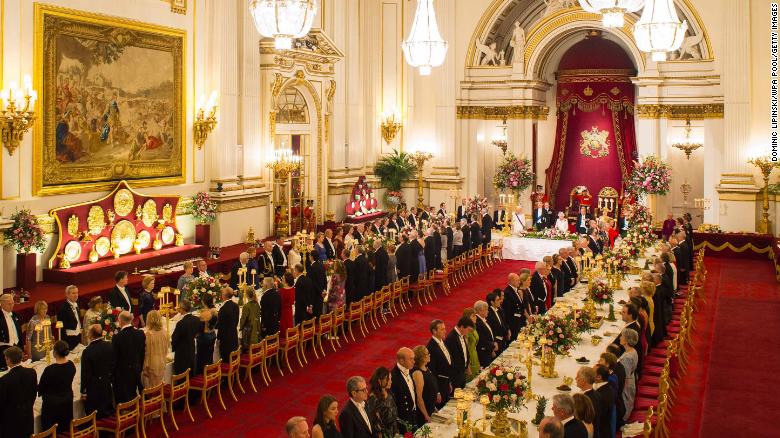 The state banquet laid on for the Trumps on Monday evening is no small affair.
When America's first couple sit down to the lavish dinner in Buckingham Palace, they will be treated to an exquisite menu that was six months in the planning, and a table that took royal staff three days to set.
Around 170 guests are expected at the dinner, personally overseen by Queen Elizabeth II, in what will be a highlight of US President Donald Trump's first state visit to Great Britain.
The menu -- which is yet to be revealed -- will be served on historic dinner sets with six drinking glasses, for water, a champagne toast, red and white wines, a dessert wine and port, according to the UK's Press Association.
The table arrangement is a painstakingly precise process. Each place is set exactly 18 inches (45 centimeters) apart and every chair is an equal distance from the table.
Around this will be 19 serving stations -- staffed by a page, a footman, an under butler and a wine butler -- who will coordinate the delivery of plates, dishes and wine.
Beneath glittering chandeliers, a string orchestra will play throughout the evening. But guests will need to keep an eye out for 12 pipers entering the room -- an unusual tradition started by Queen Victoria -- the signal that the banquet is over.
8:44 a.m. ET, June 3, 2019
Trump's having lunch with Prince Harry right now. Their conversation could get interesting
President Trump is inside Buckingham Palace having lunch with the royals — including Prince Harry.
The pair could have an interesting conversation, the political editor of The Sun newspaper, Tom Newton Dunn, told CNN.
Some background here: Trump recently made comments about Harry's wife, Meghan during an interview with Newton Dunn in the lead-up to his trip. He's also made lewd comments about his late mother, Princess Diana, shortly after her death in 1997.
"Harry might just take the opportunity to take his revenge and have it out with the President," Dunn told CNN's Hala Gorani.
But, he added, "I suspect he won't," noting that the royals are used to keeping their feelings to themselves.
One person who won't be meeting Trump during the visit is London mayor Sadiq Khan, whom Trump insulted moments before landing in the UK. But those insults "work quite well" for Khan, Newton Dunn said. "It bigs him up as the great enemy of Donald Trump … his supporters will like him even more for that," he said.
8:43 a.m. ET, June 3, 2019
Ivanka and Jared look on during Trump's welcome
Donald Trump's daughter Ivanka and her husband, White House adviser Jared Kushner, watched from a balcony at Buckingham Palace as the US President and Prince Charles surveyed the troops in the palace garden.
Ivanka arrived in London ahead of her father, posting a picture taken outside the city's Victoria & Albert Museum on Instagram on Sunday.
8:19 a.m. ET, June 3, 2019
Protesters gear up for anti-Trump rally
In addition to the pomp and pageantry, President Trump is also expected to be be greeted by thousands of protesters during his state visit to the UK.
A rally will take place in London on Tuesday, timed to coincide with Trump's meetings at Downing Street. Activists plan to "follow" Trump from Trafalgar Square towards Downing Street, or any other locations he visits.
Labour leader Jeremy Corbyn has encouraged people to attend the demonstrations and voice their opposition to Trump's views, saying on Twitter that the protests are "an opportunity to stand in solidarity with those he's attacked."
"This is about sending a strong message that people in the UK don't accept the divisive right-wing policies that Trump stands for and that inviting him for a state visit is totally inappropriate," the Stop Trump Coalition, which is organizing Tuesday's protest, said.
During Trump's visit to the UK last year, mass protests took place in the UK's capital and across the country.
Since this trip is occurring during the week, rather than at a weekend, turnout numbers may be lower this time, but one defining feature of those protests will be back: the Trump Baby blimp.
The 20-foot-tall balloon depicting the President as a wailing baby in a nappy will fly over London again during the march.
"Trump Baby destroys his fantasy about how the world sees him," one of its creators, Leo Murray, told CNN in April.
8:09 a.m. ET, June 3, 2019
Watch Trump and Prince Charles inspect troops
Donald Trump joined Prince Charles to review a group of bearskin-hatted guardsmen in Buckingham Palace's gardens during his ceremonial welcome to London.
The US President stopped to chat with several of the soldiers at length. The guard of honor was formed by members of the Nijmegen Company Grenadier Guards.
The Queen's Guards have been charged with protecting official royal residences since the 17th century.
Before stepping into the garden, the Trumps and the royals spent time in the Bow Room in Buckingham Palace; the Queen introduced senior members of her household to the President and First Lady, and Trump did the same with senior members of his entourage.
7:52 a.m. ET, June 3, 2019
About Melania Trump's white crepe dress and matching hat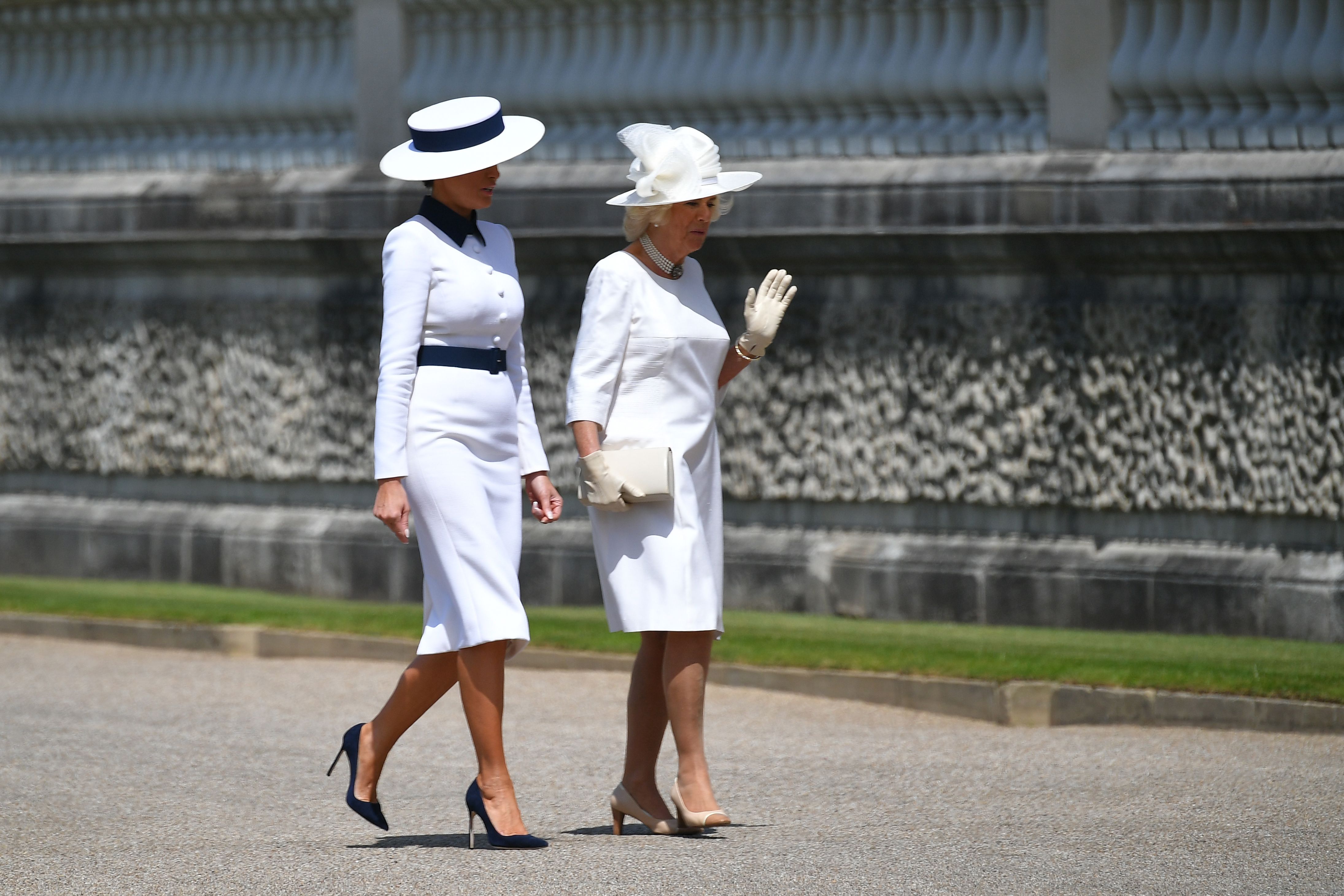 Melania Trump today is wearing a custom white crepe dress with navy details by Italian fashion house, Dolce & Gabbana. 
The hat is a design from her personal designer/wardrobe adviser, Hervé Pierre, who also designed the white hat she wore last year during the State Visit of the Macrons to the White House. 
Here's a copy of Pierre's hat sketch: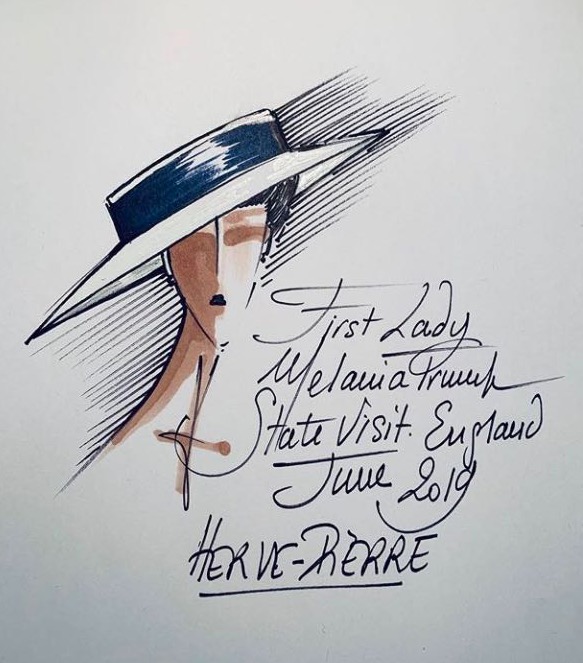 About diplomacy and fashion: Diplomacy can sometimes come in the fashions worn by a first lady on a foreign trip, something Melania Trump has learned from previous visits abroad. In France, for example, she has worn the iconic French fashion house Christian Dior. The last times she visited London, she opted for a dress for an event that was made by Britain's Stella McCartney.
Sometimes the label matches the country in that sense, but sometimes, for Trump, it does not. On her recent trip to Japan, she donned a $3,500 jumpsuit by Italian fashion house Loro Piana.
7:39 a.m. ET, June 3, 2019
This state visit is about celebrating military ties between the US and the UK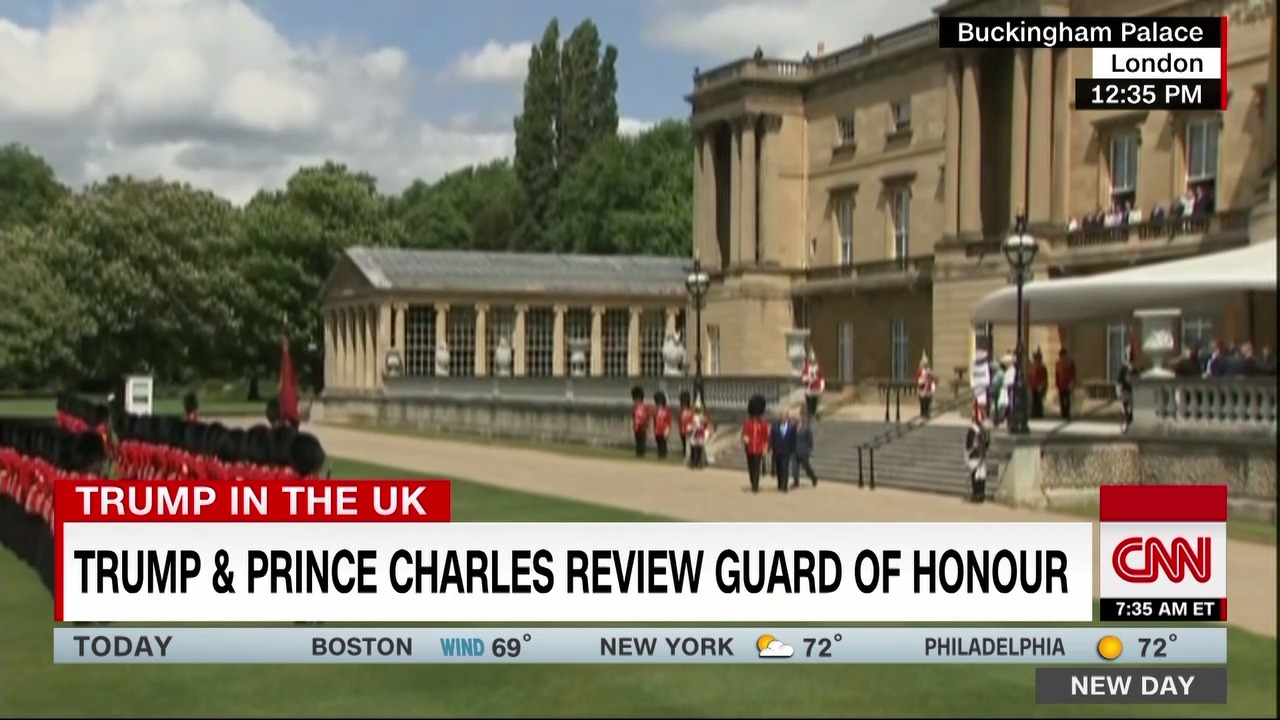 President Trump, first lady Melania Trump and Queen Elizabeth are watching as British guards perform a ceremonial welcome for the President.
The US and UK national anthems are being played, and soon President Trump will be invited to inspect the guard, CNN's Max Foster explained.
"This is a formal moment celebrating ties between the two countries," Foster said." And It is particularly about military ties this visit, showing the joint security and joint military is away ahead — something we can all agree upon — from the horrible politics."
7:26 a.m. ET, June 3, 2019
The Queen greets President Trump
Queen Elizabeth II just greeted President Trump at Buckingham Palace for his first official engagement of a two-day state visit to the United Kingdom.
Trump was escorted by Prince Charles to the palace's West Terrace as guns were fired in nearby Green Park.
The President happily greeted the smiling monarch. Trump and the first lady were then escorted inside the palace, where they will attend a lunch with the Queen.