Trump heaps praise on May's handling of Brexit
7:28 a.m. ET, June 4, 2019
Anti-Trump protest march London sets off
Demonstrators have set off on a protest march through central London against US President Donald Trump's state visit to the UK.
Crowds are streaming from Trafalgar Square towards the Houses of Parliament, where the "Trump Baby" blimp is slowly being deflated.
Placards reading "No to Racism: No to Trump" are being waved by several protesters, who are chanting "Donald Trump's not welcome here."
Several protesters are also waving EU flags, and making clear their opposition to Brexit and Trump -- which they see as aligned political forces.
But the standout feature of the march is a 16-foot robot depiction of Trump, sitting on a golden toilet and tweeting, which is being pushed along the route by protesters.
As it moves, the robot repeats slogans including "I'm a very stable genius," "no collusion," and "you are fake news."
"I wanted people here to know that people in America do not support Trump," Don Lessem, the American creator of the spectacle, told CNN.
Jeremy Corbyn, leader of Britain's opposition Labour Party will make a speech at the rally later. The party's foreign affairs spokeswoman, Emily Thornberry, earlier described Trump as a "bully" in an interview with CNN.
6:50 a.m. ET, June 4, 2019
Trump and May are viewing a 1941 US-UK wartime document. Here's why that matters.
President Trump and UK Prime Minister Theresa May are viewing several documents, including a copy of the Declaration of Independence, at 10 Downing Street
Another notable artifact they'll see is a copy of the Atlantic Charter, a joint declaration signed by former Prime Minister Winston Churchill and former President Franklin D. Roosevelt that set Allied goals for a post-war world.
May is also expected to give Trump a copy of Churchill's personal draft of that charter.
CNN's Max Foster said there's a lot of symbolism involved here: The Queen started that messaging last night in her state dinner speech, when she stressed the importance of "institutions that emerged out of wartime to promote global peace," he said.
Here's how Foster put it:
"Those institutions are the UN, they are the World Trade Organization, they are NATO — all organizations which President Trump has criticized and that's created a huge amount of unsettled feeling here in Europe, where we rely on a lot of those organizations and, perhaps, at a slightly different perspective from President Trump."
7:29 a.m. ET, June 4, 2019
Doing a deal with Britain won't be easy for Trump
"Stick around, let's do this deal," Donald Trump told the departing British PM Theresa May at a breakfast roundtable this morning.
The only problem? Getting a UK-US deal done will be exceedingly difficult. Once formal discussions on a US-UK trade deal can start, they're likely to last years and could be doomed by a thorny set of political issues.
"Under the current state of play, there really isn't much investment in this at all," said Marc Busch, a professor of international business diplomacy at Georgetown University.
Some background: The European Union is Britain's largest economic partner, accounting for 49.4% of its trade. The United States ranks second, with 14.7% of total UK trade in goods and services.
The White House said Monday that Trump is eager to make economic ties even stronger "through an ambitious new trade agreement." Trump added Tuesday that the deal would be "substantial" and "very fair."
Yet many of the demands made by the Trump administration, which has taken a confrontational approach to trade with both rivals and allies, appear to be non-starters in Britain.
Read more on the pitfalls facing a UK-US trade deal here.
Correction: An earlier version of this post incorrectly stated the percentage of UK trade done with the United States and the European Union.
6:22 a.m. ET, June 4, 2019
Trump and May just arrived at 10 Downing Street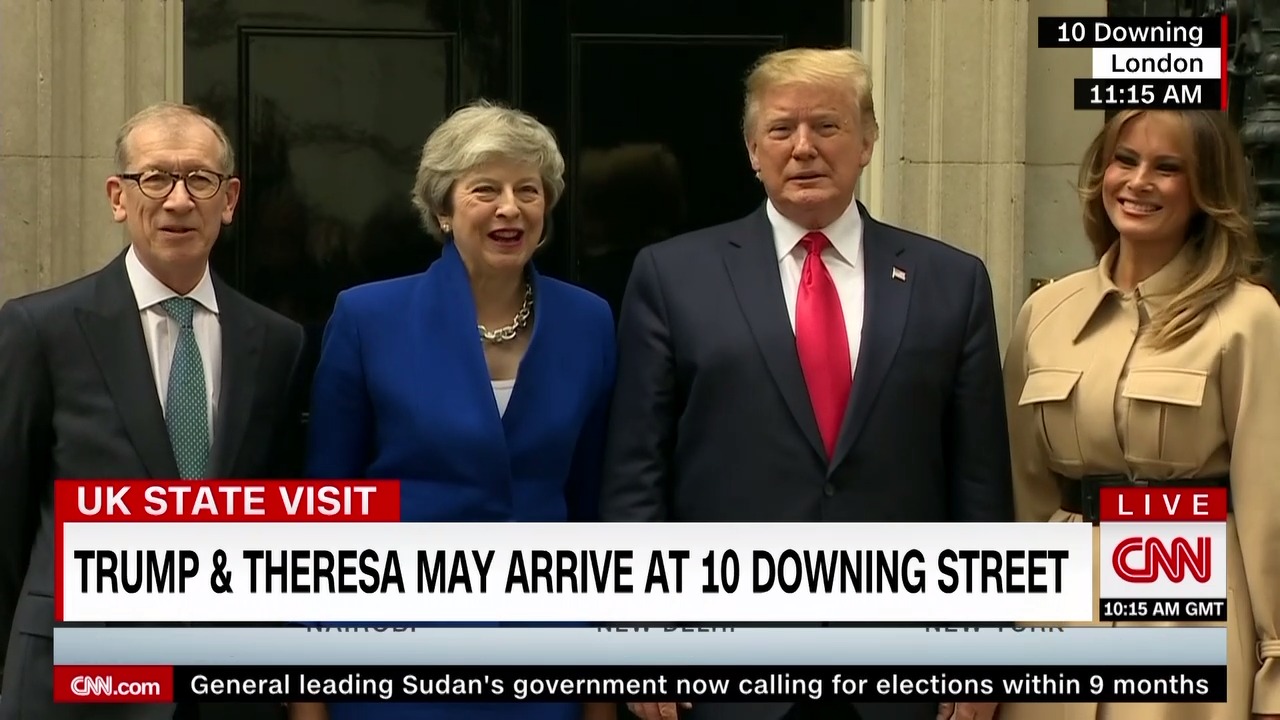 President Trump and outgoing UK Prime Minister Theresa May just arrived at 10 Downing Street in London. The two leaders will have talks before holding a joint news conference.
Officials have said the talks will include discussion of Iran, Chinese telecom giant Huawei, and trade. The meetings come days before May stands down as leader of the conservative party.
First Lady Melania Trump and May's husband, Philip May, are there too. Philip May is hosting the first lady at a garden party, and he will also give her a tour of Downing Street and join her for tea. 
Secretary of state Mike Pompeo arrived ahead of the President.
6:13 a.m. ET, June 4, 2019
Protesters sending "serious message" to Trump
Protesters are starting to gather in London at Trafalgar Square and Parliament Square, where the "Trump Baby" blimp has been inflated.
"Yes it's fun, but there's a serious message behind this," Shaista Aziz, one of the organizers from the Stop Trump Coalition, told CNN. "We strongly object to the US administration's policies on climate change, on climate denial, on women's reproductive rights, on racism, on white supremacy."
Auriel Granville, 76, was mingling among the crowds dressed as the State of Liberty -- or, as her sign read, the "Statue of Taking Liberties." She told CNN she was there to voice her opposition to US President Donald Trump's climate change denial.
Other activists have come dressed as gorillas, with signs reading that they "only eat chlorinated chicken" -- a nod to concerns in Britain that a post-Brexit trade deal with the US would mean a decline in food standards for imported produce.
"Trump is a big follower of Brexit. Trump is very, very keen on Brexit for his means, and not for this country," one protester from Devon, in southwest England, told CNN.
Kaya Mar, a 64-year-old British artist, said he had been thinking of CNN's Jim Acosta as he painted the artwork he brought to the protest -- an image of Trump's head on a snake, strangling a pen.
"Trump is strangling the free press. Strangling the European Union, is strangling the British way of life, is strangling parliament," Mar said.
6:14 a.m. ET, June 4, 2019
Trump does not deserve "honor" of state visit, UK's shadow foreign secretary tells CNN
The foreign affairs spokeswoman for the UK's opposition Labour Party has launched a blistering attack on Donald Trump.
Speaking to CNN, Emily Thornberry, the shadow foreign secretary, listed a litany of complaints about Trump, including his policies on Iran, the Middle East and climate change.
And she said Trump was unfit to have been offered a state visit, with all the pageantry that it entails.
"It is wrong for you to be as racist as you are. It is wrong for you to be as misogynistic as you are. It is wrong for you to assault women. Why should we be afraid to say those things?" Thornberry added.
Thornberry noted that only three previous US Presidents had been welcomed on state visits.
"I don't think that this President, given his behavior, deserves the honor," she said, adding: "I do not see why our country should be a cute backdrop for President Trump's re-election campaign."
Labour leader Jeremy Corbyn, who turned down an invitation to the state banquet for Trump at Buckingham Palace, will address protesters at a London rally against Trump's visit later on Tuesday.
Corbyn has attended state banquets and events for other controversial world leaders who have faced questions over their human rights records, including Chinese President Xi Jinping.
Asked if it was hypocritical of Corbyn to boycott Monday evening's event, Thornberry said it was "a good question," but that the Labour Party was taking a different approach towards Trump "because of our closeness to America."
5:50 a.m. ET, June 4, 2019
Here's what Melania Trump is doing today
Melania Trump is joining the President at Downing Street today. She'll attend a garden party there while the President has meetings.
Prime Minister Theresa May's husband, Philip May, is hosting the first lady at the event, and he will also give her a tour of Downing Street and join her for tea. 
5:40 a.m. ET, June 4, 2019
The first event on Trump's schedule today is a business breakfast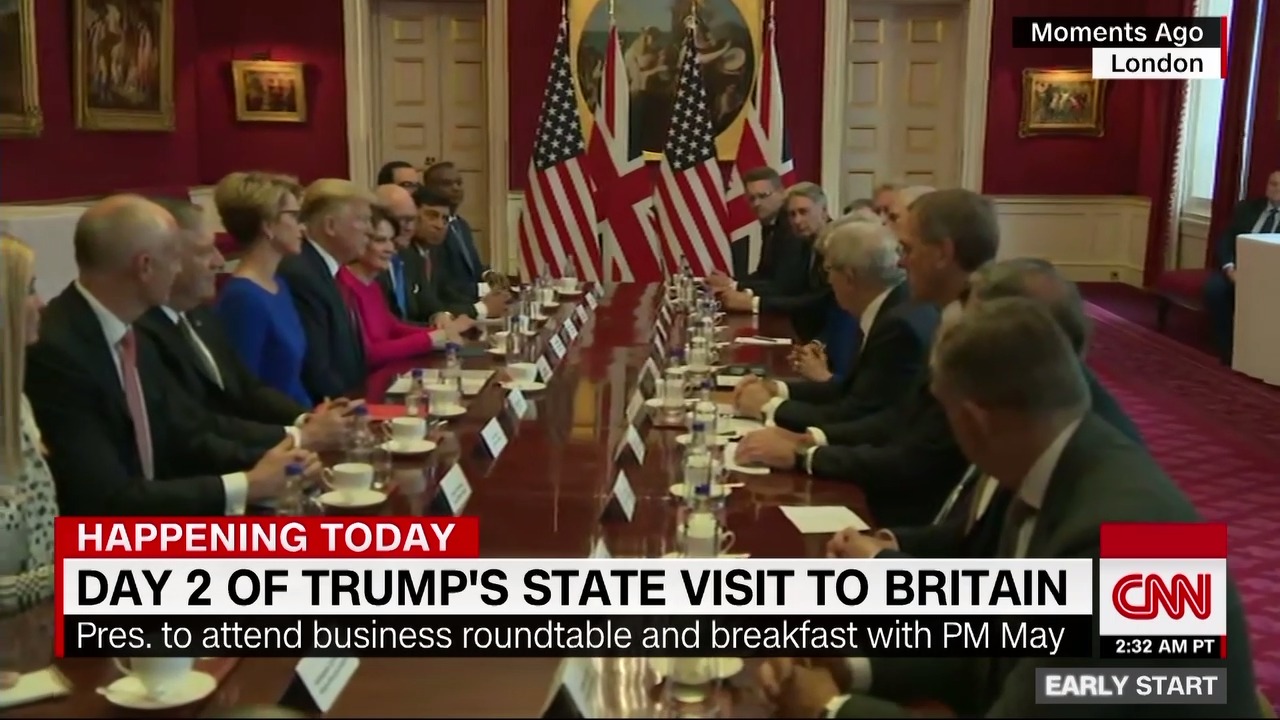 President Trump is starting his second day in the UK with a breakfast of business chiefs at the Tudor-era St. James's Palace.
He's there with outgoing Prime Minister Theresa May. They're also joined by the President's daughter and senior adviser Ivanka Trump and a dozen or so executives from American and British firms.
At the start of the session, Trump said it had been an "honor" working with his British counterpart and joked she should delay her departure as prime minister until a new trade deal is struck.
"It's an honor to have worked with you," Trump told May. "Stick around. Let's do this deal."
5:35 a.m. ET, June 4, 2019
If you missed Trump's first day in the UK, here's how it played out
President Trump's first day in the UK was filled with pomp and ceremony as he met with the Queen for an official state visit.
If you didn't catch all the action yesterday, here's what you need to know about how the day unfolded:
The welcome: Trump's first stop was at Buckingham Palace, where the Queen welcomed the President in the gardens as a guard of honor marched past and gun salutes were fired in nearby Green Park and from the Tower.
Lunch with the Queen: He inspected a cordon of guardsmen with Prince Charles before he had lunch with the Queen, who then took him on a tour of the royal collection, a collection of artifacts.
A trip to Westminster Abbey: Later, Trump went to the historic church for a wreath-laying ceremony and a tour.
Afternoon tea: He also had afternoon tea with Prince Charles, who has ardently warned of climate change for years. 
The state dinner: In the evening was the centerpiece of the visit — a state banquet back at Buckingham Palace, where both the Queen and Trump delivered toasts before a few hundred guests.