President Trump in the UK
10:26 a.m. ET, July 13, 2018
Happening now: London streets are flooded with protesters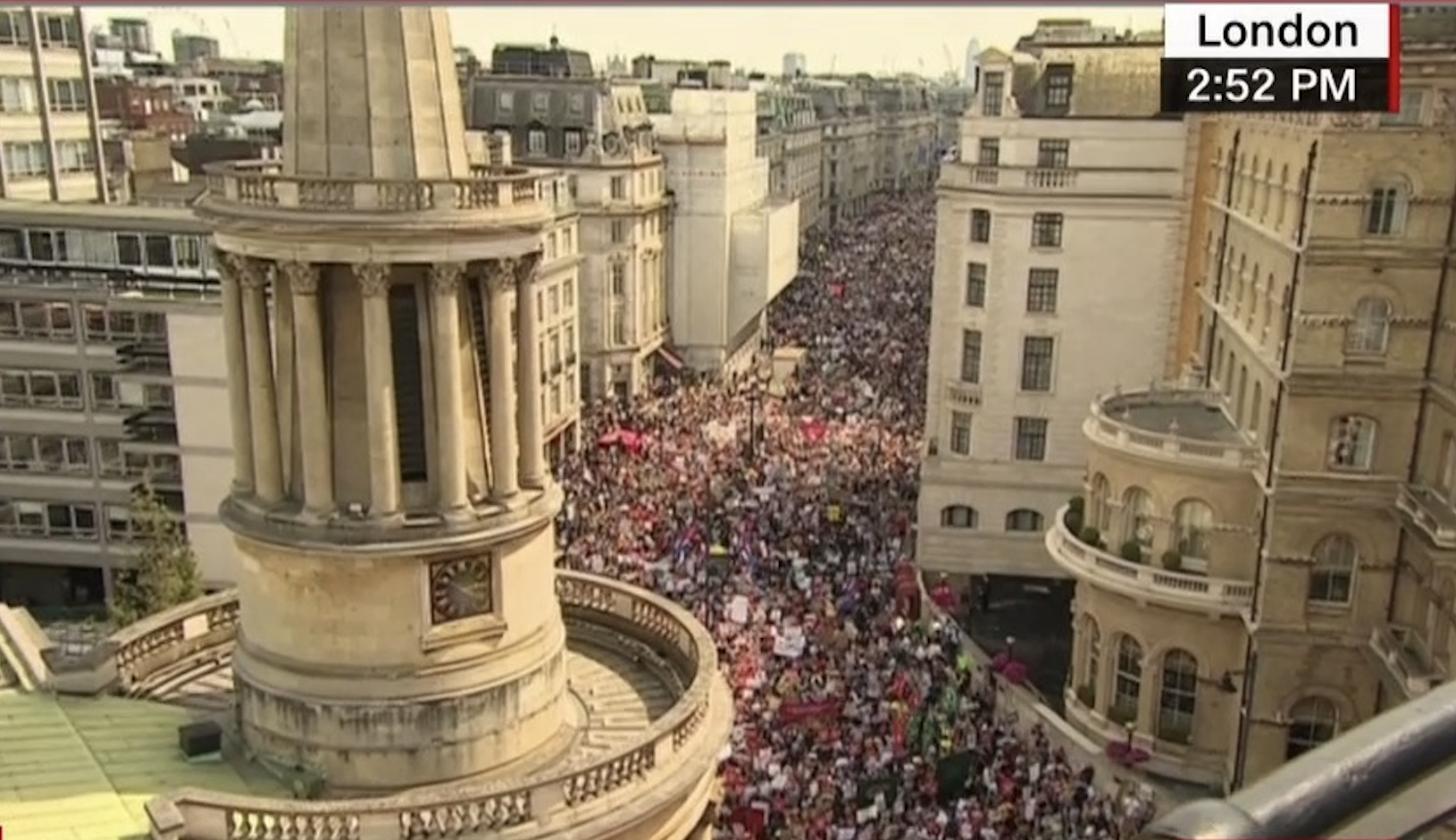 Demonstrators are protesting throughout London today as President Trump visits the country.
One group gathered outside the BBC in central London's Portland Place at 11 a.m. local time (4 a.m. ET) for a demonstration branded "Bring the Noise," led by the Women's March London.
Another group pf protesters released a giant, orange-hued balloon of a "Trump Baby" in a diaper over Britain's Houses of Parliament early Friday morning, in what organizers said was an attempt to speak to the leader "in a language that he understands, which is personal insults."
Aerial footage and images showed London streets packed with demonstrators.
10:16 a.m. ET, July 13, 2018
Trump heads to Scotland tonight. Here are the front pages that will greet him.
Scottish newspaper the Scotsman called Trump a "racist" and a "serial liar" in an editorial that is running during the President's UK visit.
"Donald Trump, due to arrive in the UK later today, is a racist, a serial liar, and either a sex abuser or someone who falsely brags about being one in the apparent belief that this will impress other men in a metaphorical 'locker room.'" 
The editorial also pointed out Trump's criticism of NFL players who protest the National Anthem, his claims the former President Barack Obama was not born in the US and his frequent cries of "fake news."
"As British politicians hide their distaste in an attempt to get a much-needed post-Brexit trade deal, we should all remember what kind of man Trump really is."
"We don't want you"
The Scotsman isn't the only critical cover Trump could see when he lands in Scotland.
The Daily Record ran this front page today, telling President Trump: "We don't want you."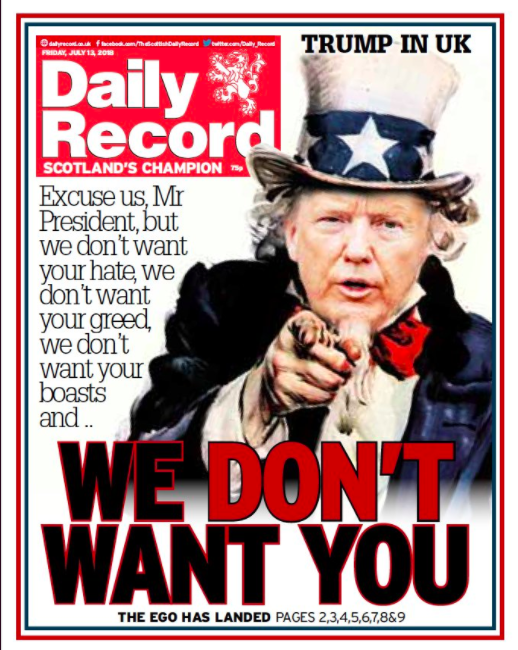 10:17 a.m. ET, July 13, 2018
Trump falsely claims he predicted Brexit during Scotland visit one day after Brexit vote
President Donald Trump again falsely claimed on Friday that he predicted the Brexit vote results ahead of the referendum during a visit to his Turnberry golf course in Scotland in 2016.
"Well, if you remember, I was opening Turnberry the day before Brexit," Trump said, "and I said, 'What's going on?' And all they wanted to talk about was Brexit and they asked for my opinion and I think you will agree that I said I think Brexit will happen. And it did happen. And then we cut the ribbon."
What Trump actually said: The then-presumptive Republican nominee hailed the UK's shock decision to "reassert control over their own politics, borders and economy" the day after Brexit, calling the decision of the voters "a great thing."
"They're angry over borders, they're angry over people coming into the country and taking over. Nobody even knows who they are," he said. "They're angry about many, many things. They took back control of their country."
10:02 a.m. ET, July 13, 2018
Here's a portion of audio from Trump's remarks to The Sun
The UK newspaper The Sun has released a portion of audio from its interview with President Donald Trump in which he criticized Prime Minister Theresa May's "soft Brexit" negotiations.
Trump told the press the paper's coverage of his interview was "fake news," that it left out or failed to highlight his positive remarks about May, and that he had apologized to the Prime Minister over it -- though she told him not to worry as "it's just the press."
Here's a portion of what they've released. Overall, the paper released about eight and a half minutes of audio, though the article specifies that the interview lasted 28 minutes.
9:52 a.m. ET, July 13, 2018
President Trump says he apologized to Prime Minister May over Sun interview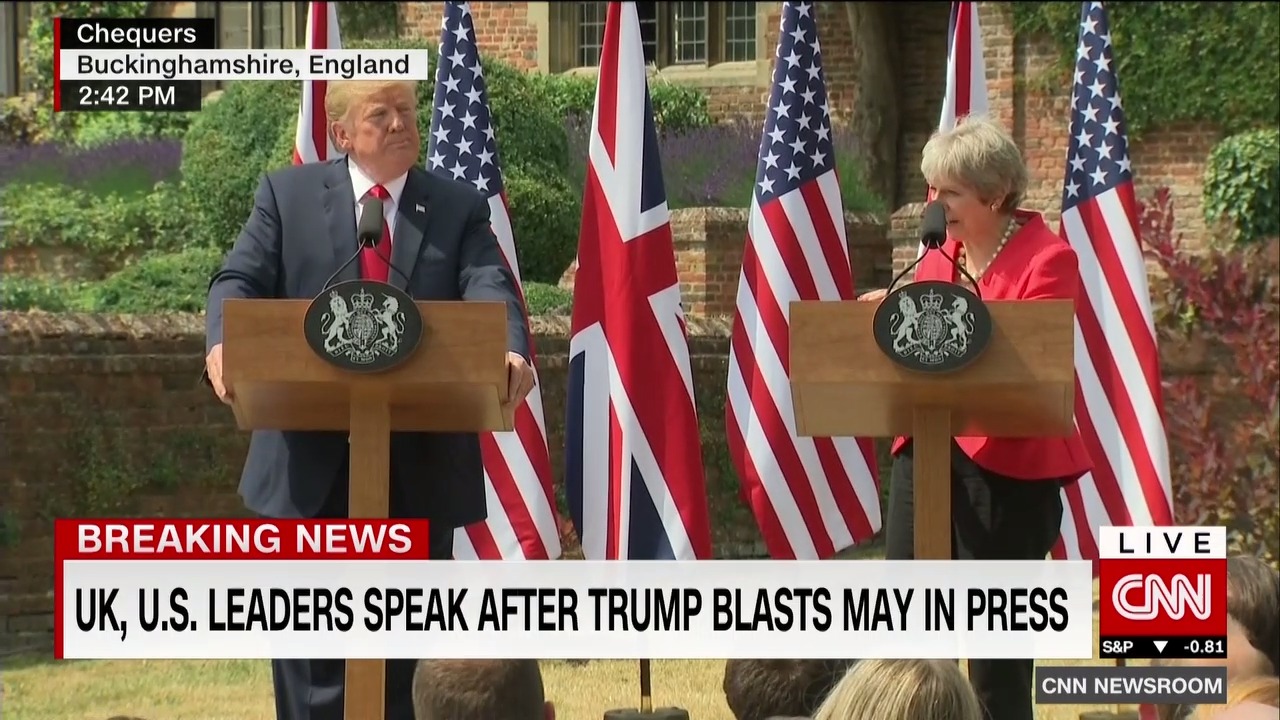 President Trump said he apologized to Prime Minister Theresa May this morning over the interview with The Sun, in which Trump said May had ignored his advice on Brexit and praised former Foreign Secretary Boris Johnson.
"She's a total professional," Trump said. "I said, 'I want to apologize because I said such good things about you,' And she said, 'Don't worry, it's only the press,'" Trump said of their purported conversation.
Trump added that he wished the paper put the "tremendous things" he said about May in its headline, but acknowledged, "That's one of those things."
9:38 a.m. ET, July 13, 2018
Trump: I gave Theresa May "a suggestion, not advice" on Brexit
President Trump described the US-UK relationship as the "highest level of special," before saying British Prime Minister Theresa May may have seen suggestions he gave her about Brexit as "too brutal."
"I would give our relationship with the UK, and now especially that have two days with your prime minister, I would say the highest level of special," Trump said.
Then Trump turned to suggestions he gave May about how to handle Brexit.
"As far as the advice, I did give her a suggestion — I wouldn't say advice — and I think she found it, maybe, too brutal. And I could see that," Trump said. "I gave her a suggestion, not advice. I wouldn't want to give her advice. I'd give her a suggestion.
What Trump said to a British newspaper: The President on Thursday night delivered an astonishing political knifing of the British Prime Minister, comprehensively undermining her fragile position in Britain's tortuous negotiations on leaving the European Union and getting his visit to the country off to the most explosive of starts.
In an interview with the Rupert Murdoch-owned newspaper The Sun, Trump said May had ignored his advice on Brexit, he praised former Foreign Secretary Boris Johnson -- who has just walked out of her Cabinet over the issue -- and he said May's cherished hope of a free trade deal with the US would be killed off by her softened approach.
9:32 a.m. ET, July 13, 2018
Trump blames Obama for Russian annexation of Crimea
President Donald Trump blamed his predecessor President Barack Obama for the Russian annexation of Crimea and claimed Crimea would not have been annexed had he been President then.
"This was an Obama disaster. I think if I were President then, he would not have taken over," Trump said. "I don't think he would have done that with me as President."
When pressed as to how he will now resolve the issue since he is now President, Trump said, "We will look at that just like I'm looking at many other disasters I've taken over."