President Trump pardons a turkey
2:28 p.m. ET, November 20, 2018
Our live coverage has ended. Scroll through the posts below to see how this year's turkey pardon went down, or read more here.
2:01 p.m. ET, November 20, 2018
So what happens to the turkeys now?
From CNN's Betsy Klein
Unlike the nearly 50 million turkeys Americans will eat this Thanksgiving, the two lucky birds that visited the White House today will not face the butcher.
While Peas was chosen to receive the presidential pardon, both he and Carrots will live out the rest of their turkey lives -- an expectancy of 10 years -- at Virginia Tech's "Gobblers Rest" exhibit.
The birds will be cared for by students and veterinarians in the university's Animal and Poultry Sciences Department.
Last year's White House turkeys, Drumstick and Wishbone, were also sent to Gobblers Rest, where they joined Tater and Tot, the turkeys former President Barack Obama pardoned in 2016.
1:43 p.m. ET, November 20, 2018
Trump gives thanks for "blessing after blessing after blessing" in Thanksgiving message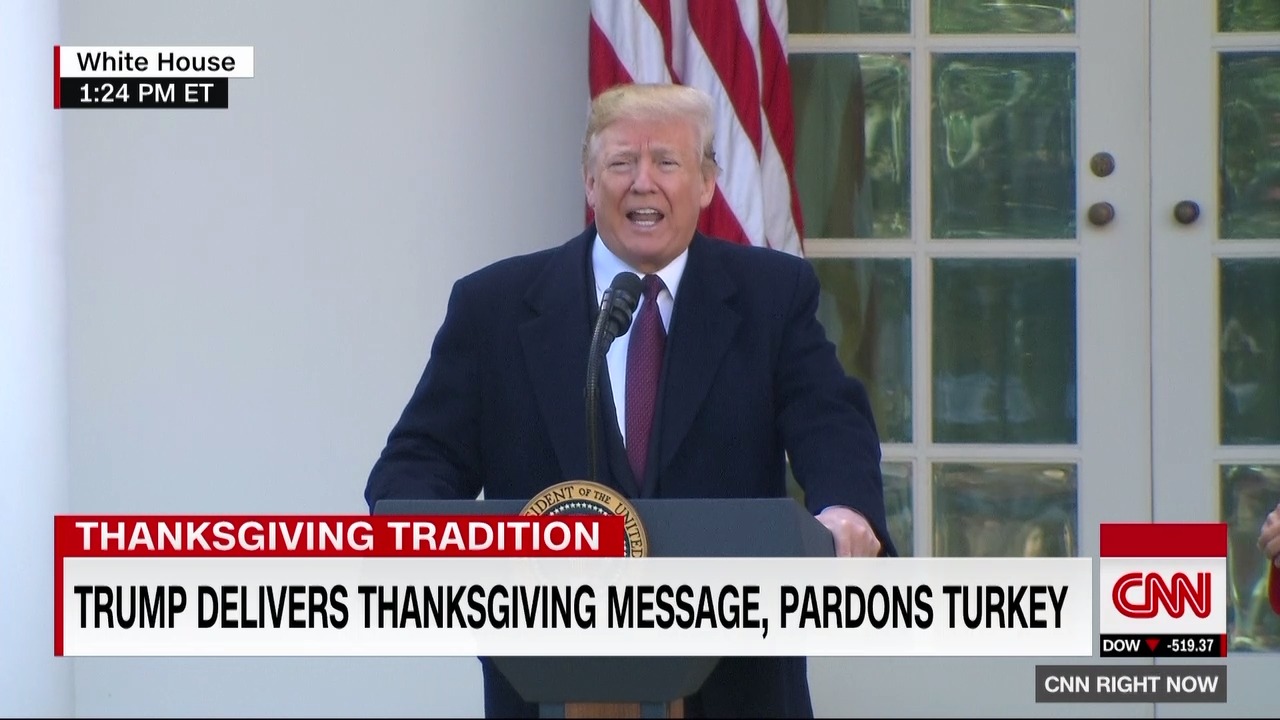 President Trump took a moment during the turkey pardoning ceremony to remember the victims of California's devastating wildfires and honor US troops for their service.
In a special holiday message, Trump wished everyone "a very, very happy Thanksgiving."
"We are truly blessed to be Americans. This is an incredible time for our country. Prosperity is soaring across our land," he said.
Read his full message below:
"As we pause to give thanks for all of the blessings that we have been bestowed, it really has been blessing after blessing after blessing. We are all very thankful.
We also pray for those in need, especially our fellow citizens impacted by the devastating wildfires in California where I just came back. I have never seen anything like it. Probably nobody has. All American hearts are joined with theirs. We give thinks for the loved ones who enrich our lives and lift our spirits and fill our days with joy. We give thanks to God who continues to shed his almighty grace upon this land that we all love so very much.
We are truly blessed to be Americans. This is an incredible time for our country. Prosperity is soaring across our land.
We are especially thankful for the men and women who protect our families and who protect our flag. As we gather together this week with those we love, we share our gratitude to all of those who spent this holiday very, very far from home serving in our military overseas. We send our eternal gratitude to the heroes who keep America safe, strong, proud, prosperous and free. And we ask god to always watch over these incredible brave Americans as they faithfully defend our nation and as they defend our home.
Watch the moment:
1:28 p.m. ET, November 20, 2018
Trump says Peas won the vote in a "fair election" — but Carrots refused to concede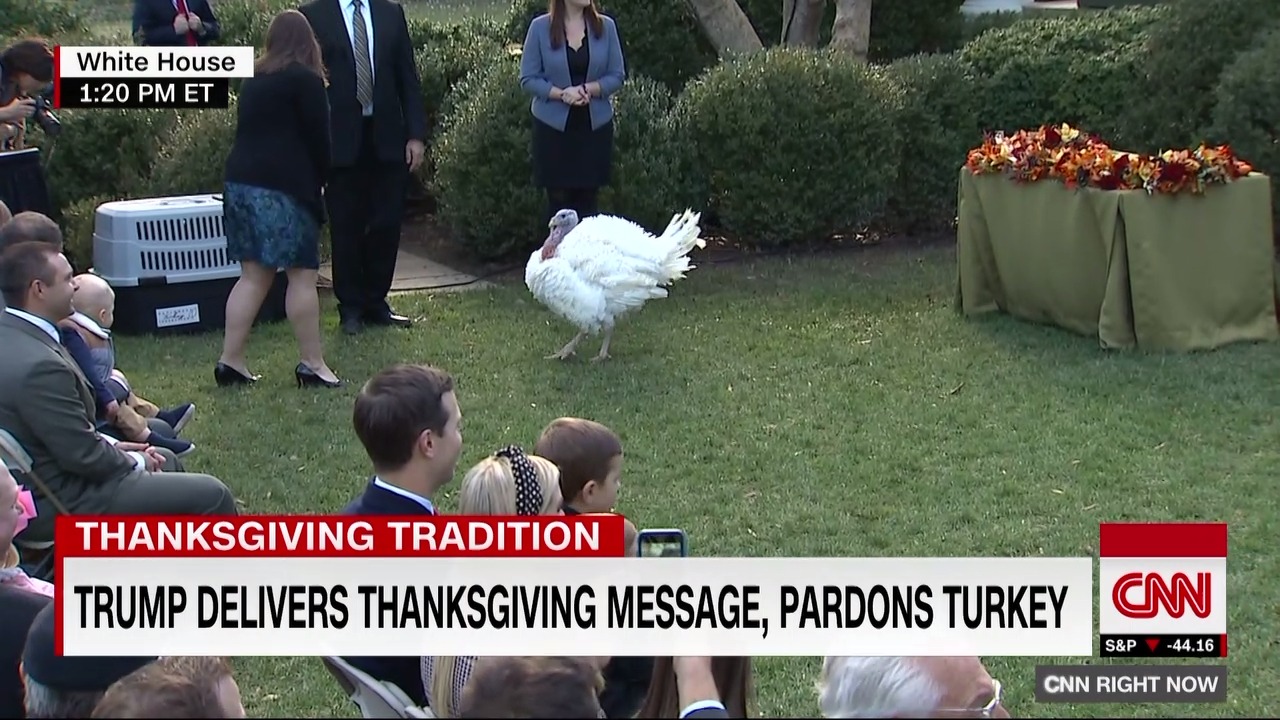 President Trump just announced that Peas the turkey will get this year's presidential pardon — but added that carrots "refused to concede and demanded a recount."
"The winner of this vote was decided by a fair and open election conducted on the White House website. This was a fair election. Unfortunately Carrots refused to concede and demanded a recount and we are fighting with Carrots."
Trump's joke appears to be a reference to the hotly contested Senate and gubernatorial elections in Florida. Democrats Bill Nelson and Andrew Gillum eventually conceded to their Republican opponents after a recount process.
Watch more:
1:22 p.m. ET, November 20, 2018
The turkey pardon has begun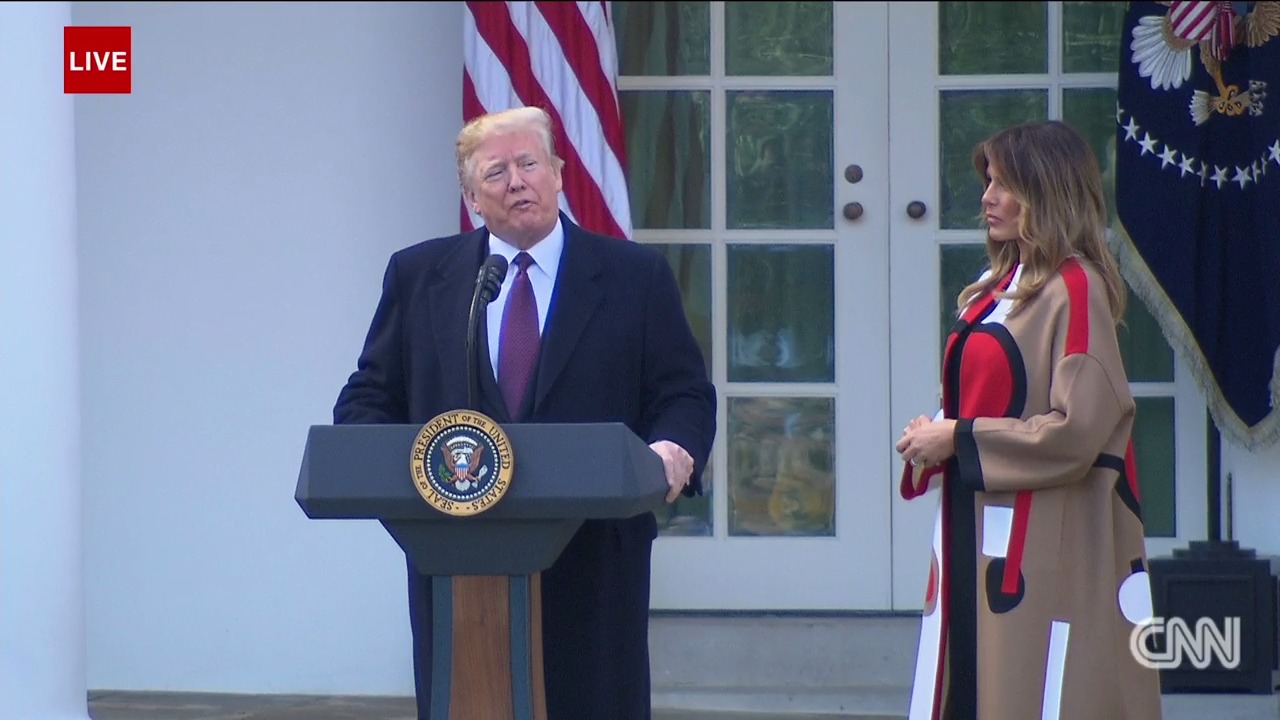 President Trump is speaking at the White House, delivering a Thanksgiving message ahead of this year's turkey pardon.
"At this time of the year, we reflect on all of the many blessings in our lives," Trump said. "Thank you very much for being here. Thank you. Thanksgiving is a time of great American traditions and today we continue a very special one when a lucky Turkey gets a presidential pardon. That Turkey is so lucky."
Standby to see which turkey gets the pardon...
12:43 p.m. ET, November 20, 2018
How turkey pardoning became a White House tradition
From CNN's Brenna Williams
President Trump is pardoning a turkey today, an annual White House Thanksgiving tradition.
Here's what we know about how this tradition got started:
The early rumors: Rumors of turkey pardons go back as far as the Lincoln administration, when the president's young son supposedly begged his father to spare a pet turkey that was destined for the dinner table.
The first: The first documented turkey pardon was given by President John F. Kennedy in 1963.
Not so fast: The pardoning didn't catch on, however. President Gerald Ford saw fit to pardon President Richard Nixon, but neither one of them saw fit to officially spare their turkeys.
Today's tradition: According to the White House, it wasn't until 1989 that pardoning resurfaced as part of the turkey presentation. That year, President George H.W. Bush started what became a tradition upheld by every president since.
See how President Trump's first turkey pardon went down last year in the clip below:
12:17 p.m. ET, November 20, 2018
One of the turkeys just made an appearance in the White House briefing room
One of the turkeys -- Peas? Carrots? We don't know which one -- just made an appearance in the White House briefing room where it refused to respond to reporters' shouted questions asking if it had agreed to anything in exchange for its pardon or whether it plans to recuse itself from the Mueller investigation.
Watch:
11:07 a.m. ET, November 20, 2018
Here's the scene at the White House ahead of turkey pardoning
The press is assembling to document this historic event:
10:40 a.m. ET, November 20, 2018
Meet this year's candidates for National Thanksgiving Turkey
The polls are open for Americans to vote for which turkey will be named the National Thanksgiving Turkey and get the official presidential pardon.
Peas and Carrots both hatched on June 28 in South Dakota — but they have distinct personalities, according to profiles released by the White House.
Carrots — the heavier bird (by two pounds) — has a strong and confident gobble. Carrots loves M&Ms, Elvis and Yoga.
Meanwhile, Peas has a "boisterous" gobble and dreams of flying one day. Peas loves ice fishing, Brad Paisley and watching planes go by.
You can vote for your fowl of choice with this Twitter poll.